How to Obtain a Marriage and Divorce Certificate in Wake County
Marriage and divorce certificates are critical legal documents that become valid immediately after marriage or divorce, respectively. Provided the parties involved are alive, the records remain helpful forever. You can get your marriage and divorce certificate in Wake County at your convenience.
The process of obtaining a marriage and divorce certificate in Wake County is hectic and time-consuming, especially if it is your first time. In both cases, you will be required to fill out your details on the respective application forms and provide other documents to prove the truthfulness of the information you have provided.
Fortunately, you can use DoNotPay, which has simplified your process through its Marriage Certificate and Divorce Certificate products.
Divorce Certificates and Divorce Decrees Explained
A divorce certificate is a legal document not issued by the court but by your state department of vital records. Unlike a divorce decree, a divorce certificate is a simple document that indicates that:
You have divorced
The date when your divorce happened
The place where your divorce happened
The names of the parties involved in the divorce
A divorce certificate can be used in the following instances:
When remarrying
Any place where you need to show proof of divorce
When applying for documents such as passport
When applying for a travel visa
When changing your name
On the contrary, a divorce decree is a document issued by the court to finalize your divorce. It elaborates on issues such as child support, custody and property division. Some divorce decrees are thorough and clarify issues such as who will be responsible for getting life and health insurance. They also explain whether the wife will take the maiden name and how the family debt will be shared among the parties involved.
After you have received a divorce decree, it is essential to do the following:
File an appeal immediately if you feel the court decision was unfair
Amend your will
Change the beneficiaries of your insurance policy
Update emergency contacts for your children
Change your power of attorney
Change your credit cards
Who Is Allowed to Obtain a Divorce Certificate Copy in Wake County?
Divorce records are designated public information that is available to everyone. However, to prevent malicious activities, anyone who requests them is supposed to provide identifying information, including:
Full names of the individuals in the divorce records
The date of the divorce
Location of the divorce
Though divorce letters are labeled as public documents, they are available to only eligible individuals.
How Much Does It Cost to Get a Divorce Certificate Copy in Wake County?
You need to pay a $24 check or a money order for the first copy to obtain a divorce certificate. For any additional copy, you are supposed to pay $15. Take note that the payment should be made to the Wake County, NC Vital records office.
How Long Does It Take To Get a Copy of a Divorce Certificate in Wake County?
It will take six months to one year to get your processed divorce certificate in Wake County.
How to Obtain Marriage and Divorce Certificates in Wake County?
You can obtain a marriage and divorce certificate in Wake County by mail, online or in person at the vital records department. Alternatively, you can find your marriage and divorce certificate on third-party websites. You can also contact Wake County through the following:
Wake County Register of Deeds Contact Information
Address
300 S Salisbury St

Raleigh, NC 27601

Phone Number
919-856-5460
Though you might use DIY methods to request your marriage and divorce certificates, the process is tiring and time-wasting. It involves tedious form application and provision of the relevant documents to prove eligibility. You can simplify the process by engaging DoNotPay, in which helps you get a marriage and divorce certificate in less than two minutes.
How to Obtain a Marriage or Divorce Certificate in Wake County Using DoNotPay
Follow these steps below to apply for a marriage and divorce certificate in Wake County using DoNotPay:
1. Go to the Certificates of Divorce product on DoNotPay.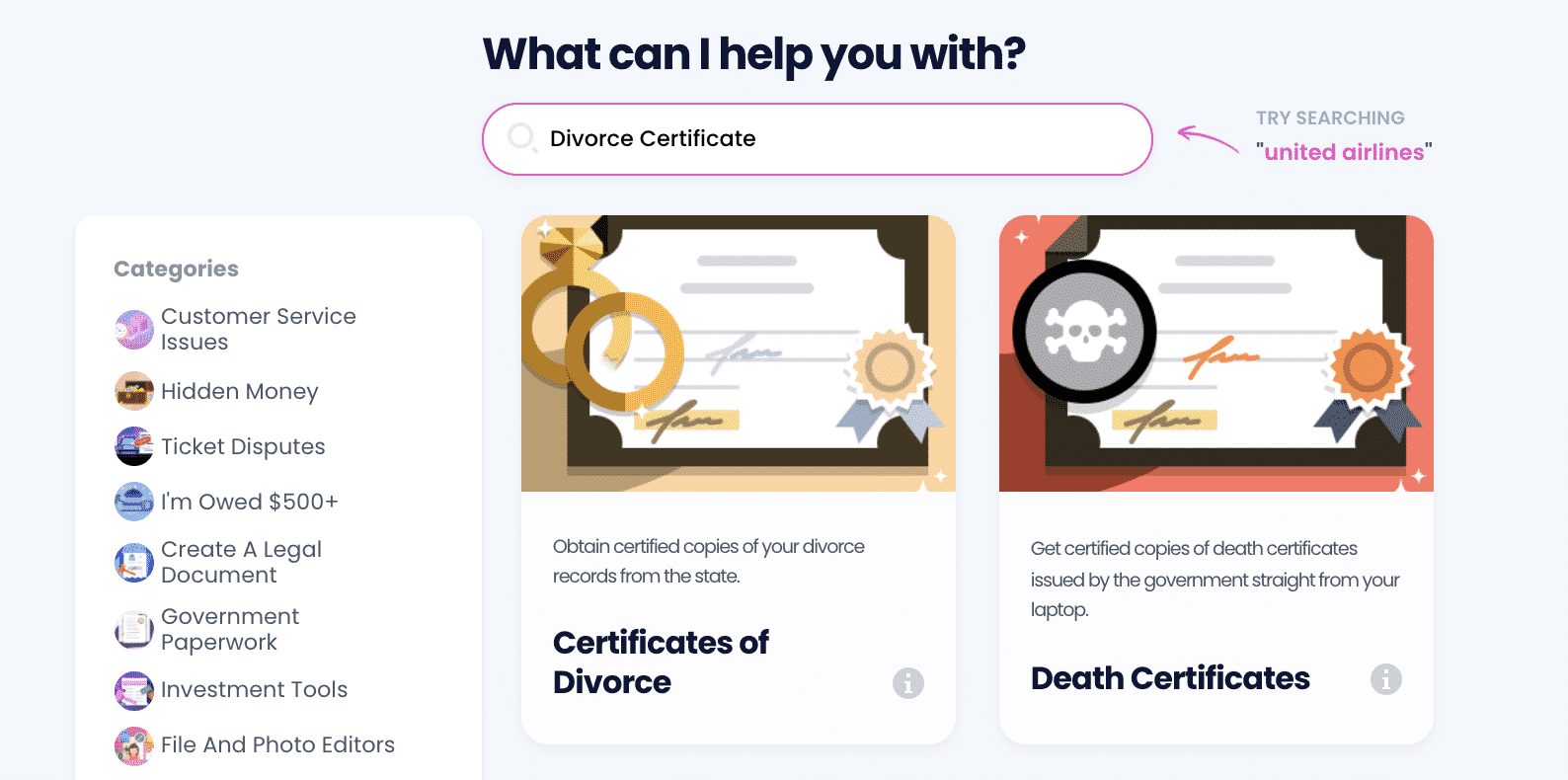 2. Select whether the certificate belongs to you or a relative/loved one. If it belongs to someone else, enter the details of both people on the certificate and select/upload evidence that proves your relationship with them. If the certificate is yours, enter the details of your spouse.*Please note: some states only allow people named on the certificate to apply.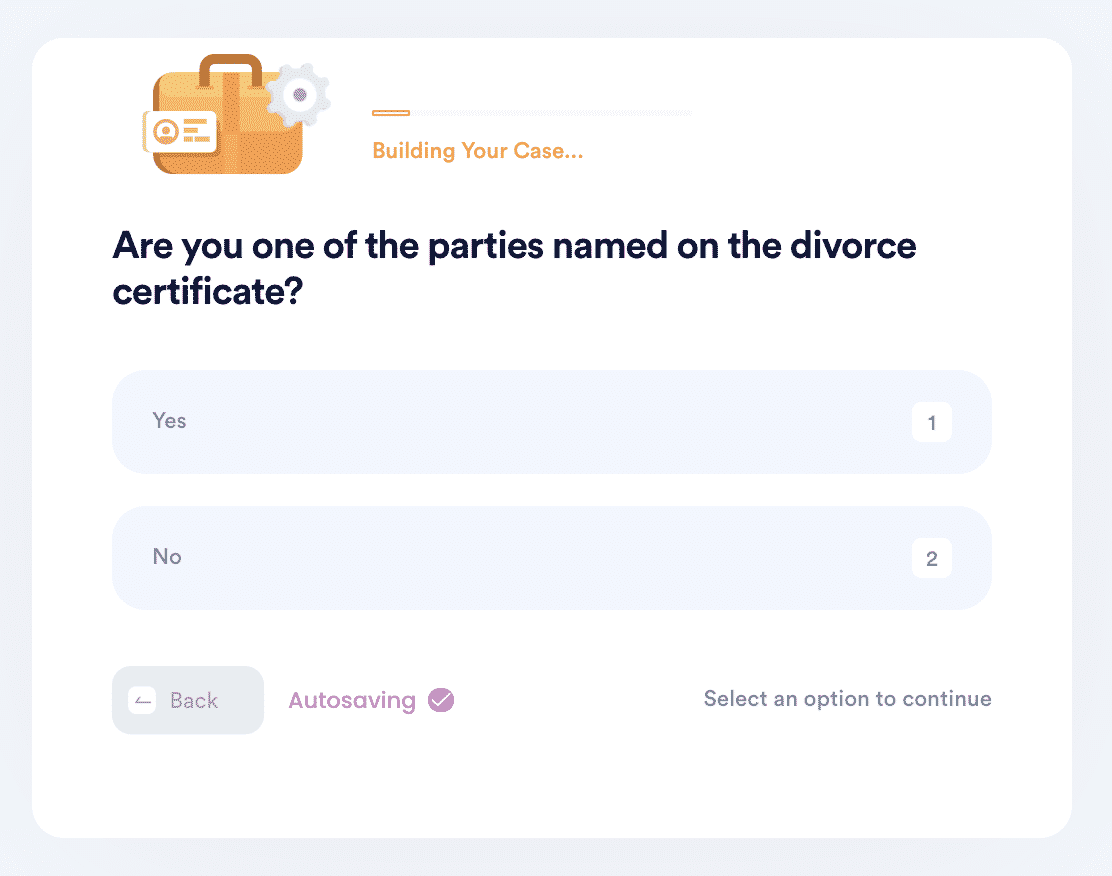 3. Enter the city, state, and county where the divorce certificate and original divorce certificate were issued as well as the dates they were issued.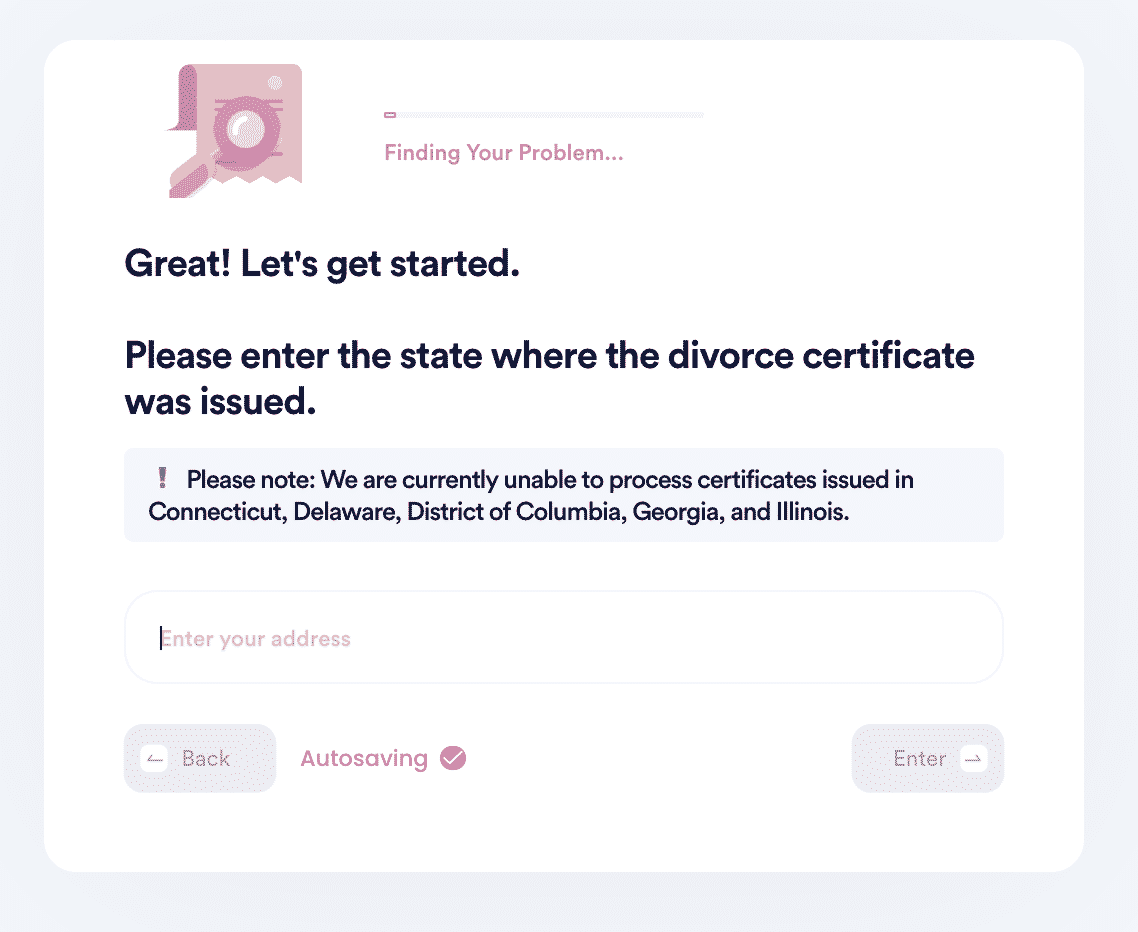 4. Indicate what you will be using this certificate for, and choose whether you need an authorized or certified copy.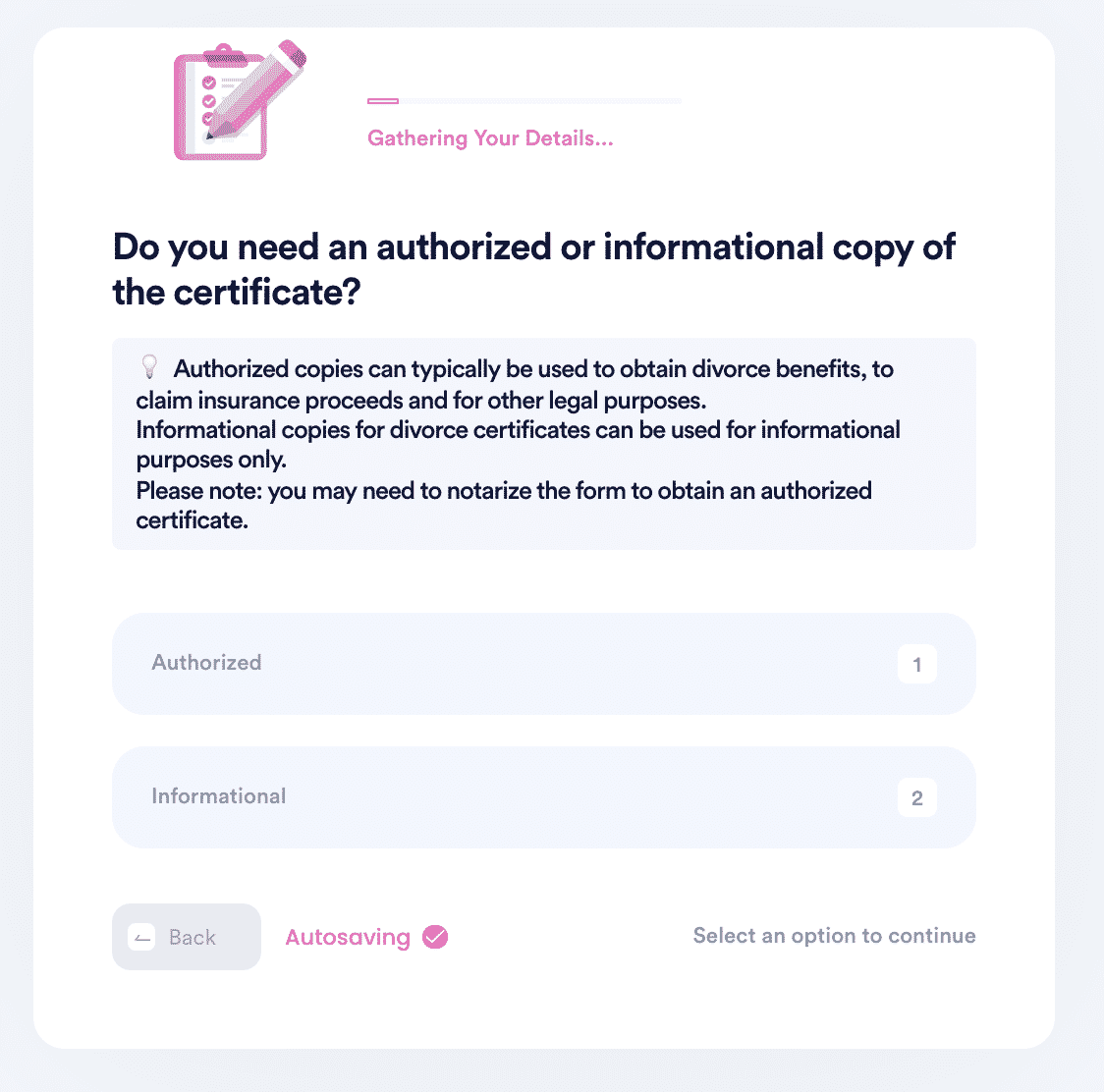 5. Enter your contact information and shipping address. Upload copies of your government-issued identification, such as a driver's license.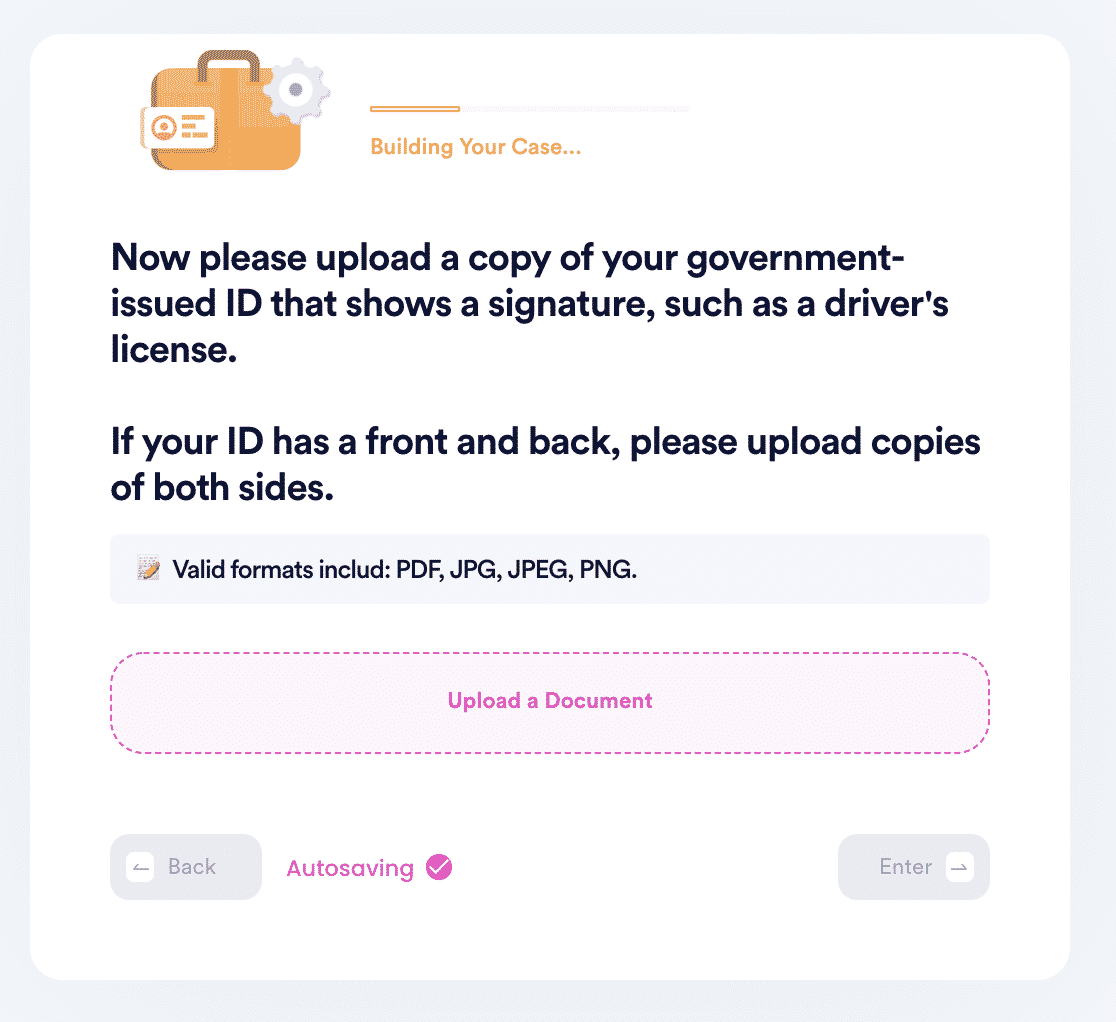 6. Choose whether you would like to electronically sign this form or not. Once we generate the form, verify that all of the information is correct.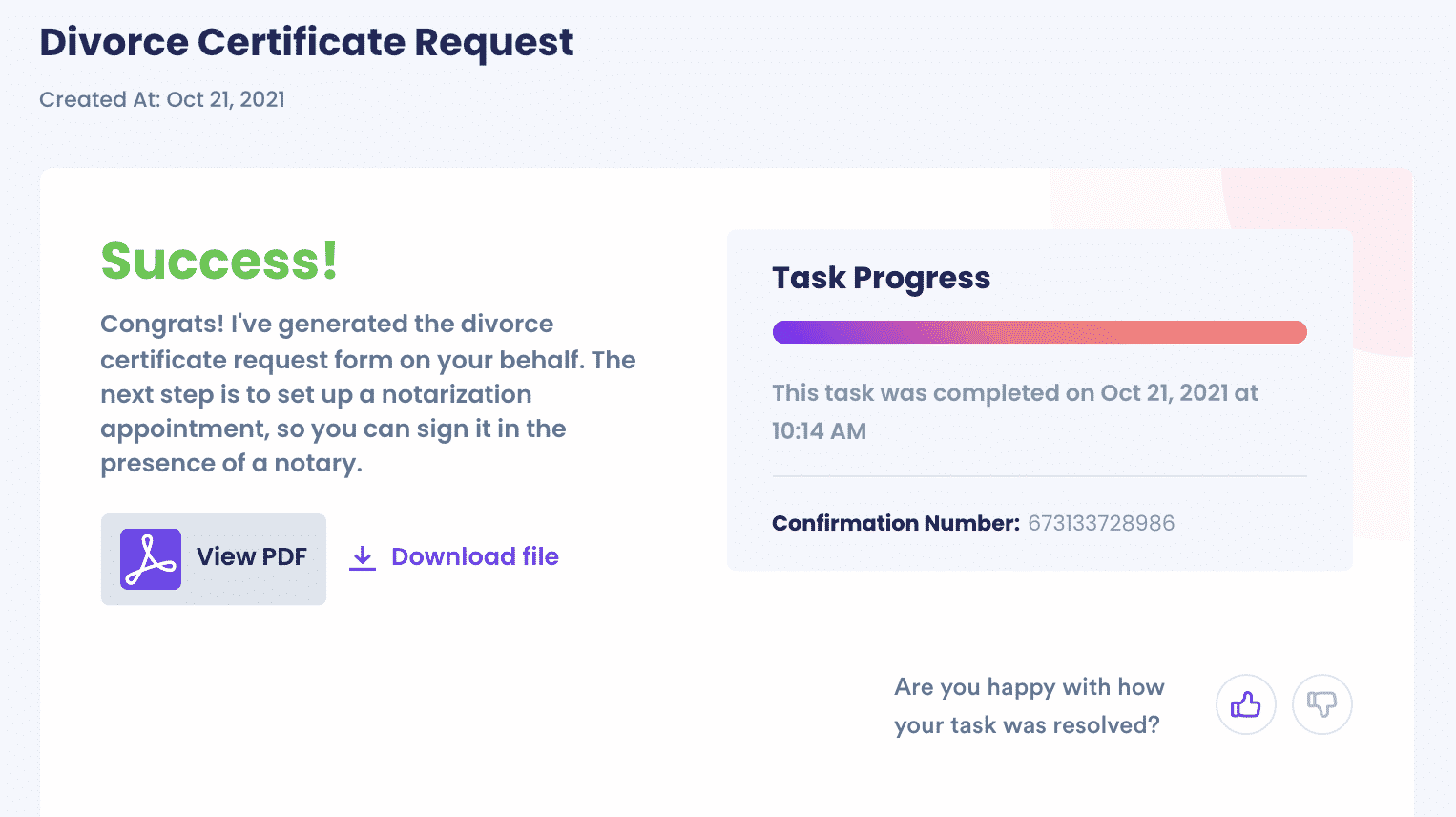 7. If you need the document to be notarized, schedule a notarization appointment using our Notary product. Otherwise, proceed to our Mail Checks product and let DoNotPay mail in your request form with a check on your behalf.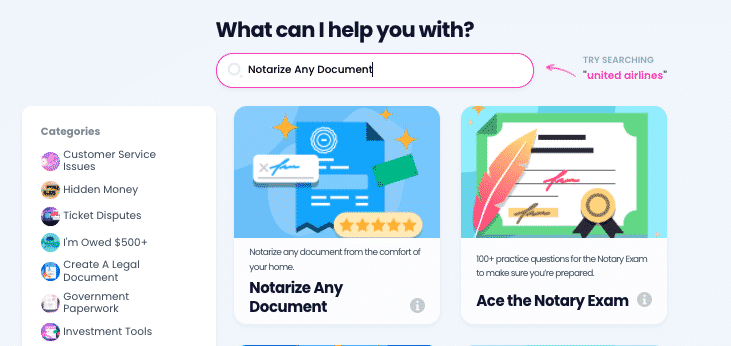 What Other Problems Can DoNotPay Can Help You Solve
We can help you get your marriage and divorce certificate in Texas, Arkansas, Nevada, California, New York, and Florida. DoNotPay is an excellent hub that can easily help you obtain your marriage and divorce certificates in Wake County. Contact us today and permit us to guide you through this hassle.