Hurry Up and Wait—Each State's Waiting Period for Divorce Listed by DoNotPay
Divorce is a painful and traumatic process, and the sooner it is finalized, the better for all concerned.
Although filing for divorce is made easy in many states, there are caveats—you can't always expect the process to be completed in a few days. Many states impose mandatory waiting or cooling-off periods before a final divorce decree is granted.
DoNotPay has all the info you need to see whether you are in for a waiting period for divorce finalization!
How Does the Divorce Process Work?
Most states make divorce an easy option by accepting no-fault cases, meaning that you don't have to prove your spouse has done anything wrong before you file.
Filing for a no-fault divorce is a simple process, generally consisting of:
Filing a petition or complaint for divorce
Working out a settlement agreement
Filing a Petition or Complaint for Divorce
Filing for divorce consists of filling out and lodging the correct papers with the clerk of your county court. The papers will usually include:
A petition or request for the court to grant a divorce
Financial affidavits outlining your and your spouse's assets, liabilities, income, and expenses
Details of any children from the marriage
A summons notifying your spouse that you have filed for divorce
Serving the Divorce Papers
Your spouse needs to be given copies of the papers you have filed and should sign to confirm receipt of the summons.
Working Out a Settlement Agreement
Your settlement agreement is a legal document between you and your spouse that details how your responsibilities and finances should be divided after your divorce has been granted.
If the two of you have been able to draw up an out-of-court settlement before filing, the agreement can be filed with your other documents as a part of uncontested divorce paperwork.
If the agreement is still under negotiation when you file, you can usually lodge it before your case comes to court. In friendly divorces, you can often lodge your settlement agreement in time and avoid any court appearances.
Why Do Some States Make You Wait?
Because a no-fault divorce is an easy and cheap way of dissolving a marriage, some states have decided on a mandatory waiting period to ensure that you are certain about your decision.
Depending on the state in which you file for divorce, you may be subject to:
No waiting period
Mandatory separation before divorce
A cooling-off period before you can file for divorce
A waiting time before your divorce can be granted
The divorce waiting periods by state are as follows:
You should check the exact requirements in your state before you start the divorce process.
Can You Circumvent the Rules?
If you live in a state with a mandatory waiting or separation period but want your divorce to move ahead quickly, you may be tempted to move to a different state to get around the rules.
While this would appear to be an easy solution, you need to remember that most states require you to have been a resident for a certain time before you can file for divorce.
The required residency period can be up to a year, depending on where you live—this may negate any advantage you gain by avoiding your original state's waiting period.
How Can You Speed Up the Process?
The best way to speed up your divorce process once you are allowed to file is by working together with your spouse.
Litigation takes time due to:
Courts being overbooked
Extended discovery phases being necessary to establish facts in contested cases
Judges requiring affidavits and proof for any allegations made
The best way to avoid lengthy court proceedings is to aim for an uncontested case, which will often result in a judge granting your divorce without your appearance.
Uncontested cases are also considerably cheaper than contested divorces, and you may be able to limit your costs to:
Divorce filing fees
Service costs
If you and your spouse can agree on your settlement, you may also be able to avoid using attorneys, meaning you save both time and money.
How Can You Get a Divorce Settlement Agreement Drawn Up?
Your divorce settlement agreement sets out how your lives should be divided after divorce and covers such areas as:
To have your settlement agreement drafted, you have the following choices:
Lawyer
Online
Lawyer
A lawyer can negotiate and compose your agreement, but this can become a costly and lengthy exercise. If attorneys are involved, even uncontested divorces can cost $5,000 per spouse—the better you and your spouse can work together, the less you need attorneys.
An alternative to the lawyer route is to use a mediation service to help you negotiate with your spouse. A trained mediator can help you focus on desired outcomes and work out a deal that is acceptable to both sides.
Online
There are a multitude of online providers offering divorce templates for you to download and fill out.
A word of caution, though—many of these templates are highly generic and may not be adequate for the specifics of your situation. Also, some may not be valid in your state or county.
DoNotPay offers the best of both worlds—we can create a comprehensive, tailor-made settlement agreement for you without expensive lawyers!
DoNotPay Speeds Up Your Divorce Wherever You Are!

DoNotPay understands the frustration that a lengthy divorce process can cause!
We are here to help, and our Divorce Settlement Agreement feature is designed to give you the document you need to get your uncontested divorce granted as soon as possible.
To create your bespoke settlement agreement, all you have to do is:
Sign up with DoNotPay in your web browser
Click on our Divorce Settlement Agreement product
Follow the prompts and fill out the terms you and your spouse have agreed on
Once we have all the details, we will generate your document in no time. You and your spouse just need to sign it in the presence of a notary.
Don't know where to find a notary in your area? No need to worry—you can use our online notarization service to get your agreement signed and sealed!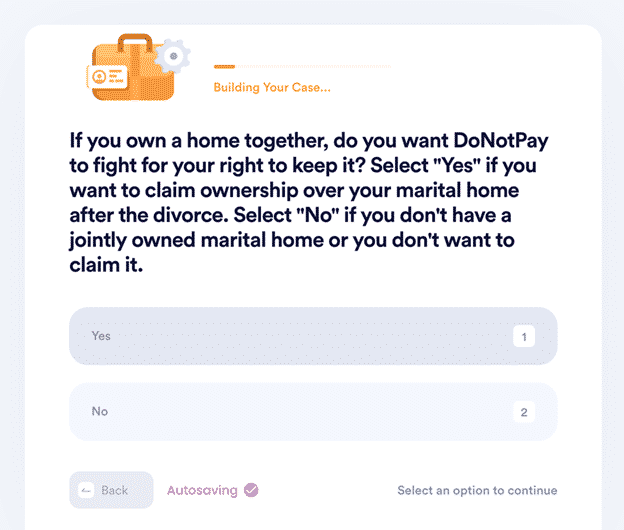 Our App Solves Your Legal Issues!
Do you really have to set aside astronomical amounts to pay lawyers for drafting legal documents or taking a person or business to small claims court?
The answer is no—all the cash remains in your pocket, thanks to DoNotPay! From now on, you can perform many legal tasks from home with the help of our app. It enables you to create flawless powers of attorney, divorce settlement agreements, and child travel consent forms in a snap.
That's not all—once we generate these documents for you, we also help you have them notarized via a video meeting. No need to waste your time and fuel visiting notary offices.
Check Out Other Perks DoNotPay Offers!
DoNotPay provides a wide selection of services, from creating virtual credit cards and burner phone numbers to getting refunds from companies and canceling subscriptions. Have you received an unfair parking ticket? Appeal it with our app before you know it! Are email spam and robocalls making your life a living hell? No scammer stands a chance against our efficient AI-powered tools and features!
We also work in your favor when it comes to safety. Our app offers perfect ways to prevent copyright infringement, stalking and harassment, work discrimination, sex offenses, and disputes with annoying neighbors.