Wahkiakum County Divorce Without Remorse
Heading down the divorce aisle doesn't have to end in trial. You can avoid the unnecessary hassle of a costly, time-consuming, and complicated procedure if you opt for a friendly divorce with your soon-to-be ex-spouse.
What are the specifics of a Wahkiakum County divorce? We offer valuable information and an innovative divorce settlement agreement tool.
File for Wahkiakum County Divorce via Mail
You can file for divorce in Washington State by mail in case of an uncontested divorce. If you and your spouse agree on all matters, including alimony, child custody and support, and the division of property, you:
What Is the Fastest Way To Get a Wahkiakum County Divorce?
An uncontested divorce is the fastest, least complicated, and least expensive process you can go through.
If you and your spouse reach an out-of-court settlement, the served party should file a response to officially show he or she agrees with the divorce.
In case you need assistance with any divorce matters, you can try mediation or consult an experienced lawyer.
How To Initiate a Divorce
To initiate a divorce, you need to file a petition for the dissolution of marriage. Here's a complete list of requirements you'll need to meet to start a divorce:
Pay the filing fee of $294
File the:

Confidential information form
Petition for divorce (dissolution of marriage)
Besides the above-listed, you should provide a self-addressed envelope (with postage paid) to return the pink form, stating:
Your court-assigned case number
Scheduled dissolution date
Documents received
Payment receipt
The required 90-day waiting period starts when either of the following takes place:
Your spouse signs a joinder
You file a proof of personal service confirming your spouse has been served with the divorce papers
Prepare the Necessary Forms
Both spouses can prepare the required divorce papers independently by:
Getting in touch with the Wahkiakum County Superior Court clerk's office
Downloading the necessary forms
Hiring an attorney
Get the Right Forms From the Clerk's Office
If you'd like to receive hard copies of the necessary divorce papers, you should contact the Wahkiakum County Superior Court clerk's office. Keep in mind that you'll need to pay:
$28.00 to receive appropriate forms for a divorce without children
$48.00 to get the necessary forms for a divorce with children
Get the Free Online Forms
To avoid paying for pre-printed packets of forms, you can download them free of charge from the following websites:
Washington Courts—Click on the Family Law box to access the divorce forms
Washington LawHelp—This website also provides a do-it-yourself tool you can use to prepare the forms without hiring a lawyer
Consult an Attorney
If you cannot agree with your spouse on key divorce issues, you might need to hire an experienced lawyer to help you with negotiations and procedures.
An attorney can provide a complete service—i.e., prepare all the necessary documents from scratch, file the paperwork, negotiate with your spouse's attorney, and represent you at court—but it can be pricey.
To save some money, you can consult an attorney only about certain matters or have him or her review the documents you prepare.
Wahkiakum County Divorce Filing Requirements
When filing for divorce in Wahkiakum County, you should pay attention to the following:
Documents
Keep in mind that the court will not accept:

Copies of documents—Make sure to file the original documents with ink signatures
Documents printed on both sides of the paper
Verification of Findings of Facts form if not signed and notarized—use DoNotPay's Notarize Any Document feature to have your documents notarized 24/7

Case Number
You shouldn't write the case number on your divorce papers as the county needs to assign you one first
advice
You shouldn't expect the court to:

Provide any advice
Help you fill out or correct any documents

Make sure you review all forms carefully before filing them
to get help with creating your divorce settlement agreement for a smooth uncontested divorce.
Get a Rock-Solid Divorce Settlement Agreement With DoNotPay
Our AI-powered app is proficient in state laws and regulations, and we can help you prepare a reliable divorce settlement agreement in a few clicks.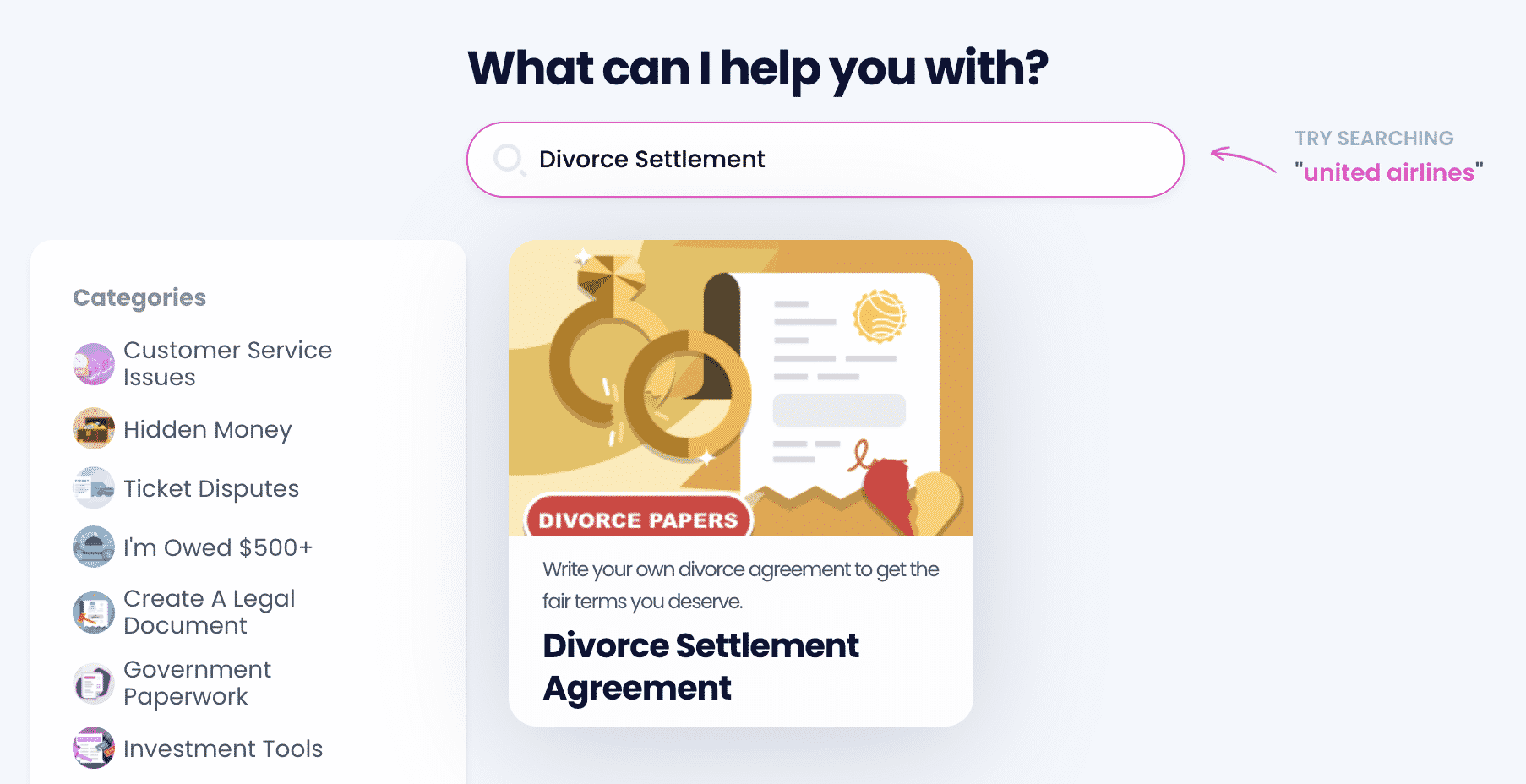 and follow these steps:
Enter Divorce Settlement Agreement in the search box
Answer our chatbot's questions
Provide data about your income, assets, and debts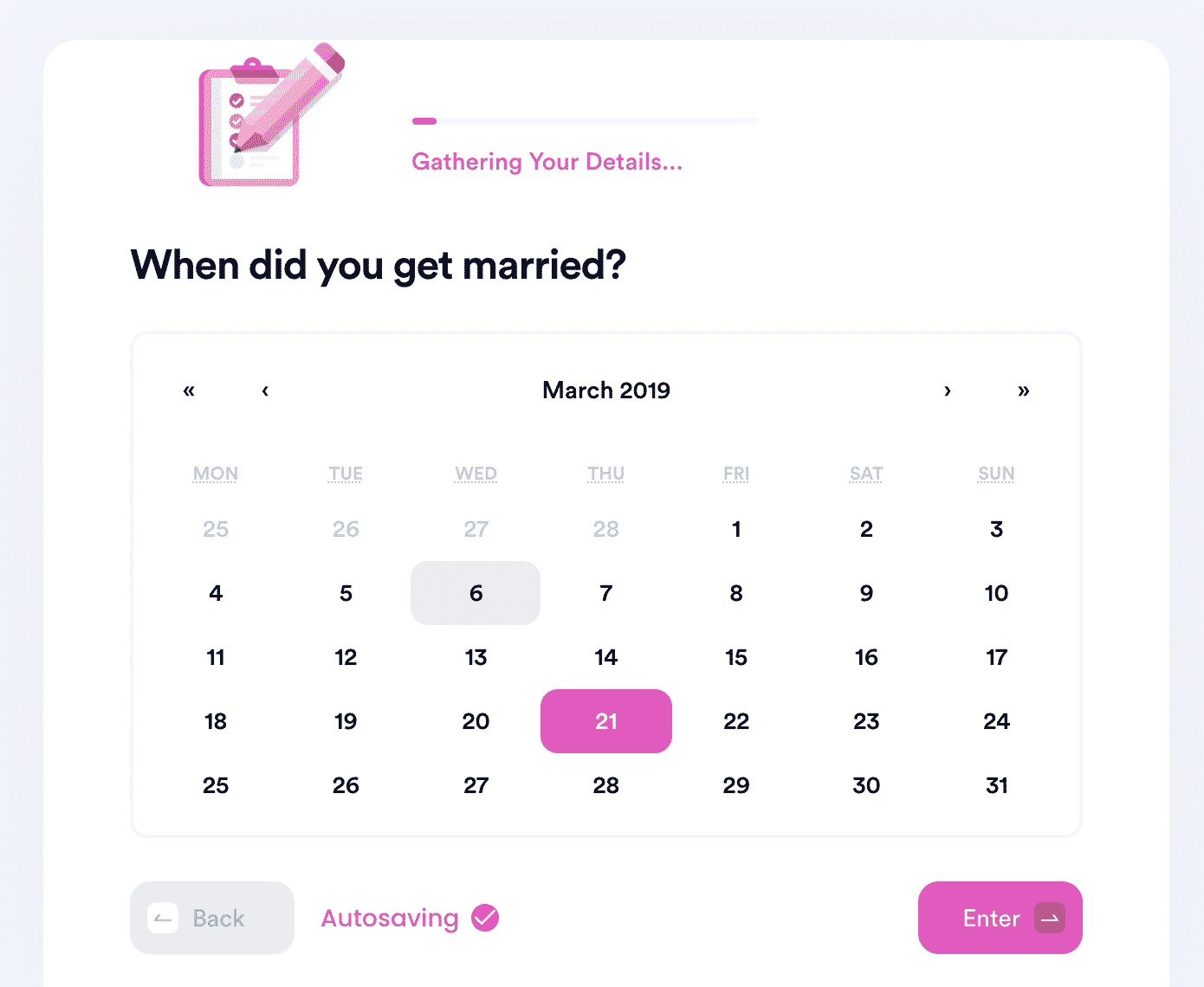 We'll use the official requirements and your provided information to generate a document tailored to your specific state, county, and situation.
Since you need to have most divorce documents notarized, we can connect you with online notaries available 24/7 via a live video call!
Get Familiar With Other Divorce-Related Topics
Our extensive learning center can be a basis when researching divorce procedures. Find answers to some common questions, such as:
Do More With DoNotPay's Useful Features
DoNotPay offers a unique service when it comes to filing for divorce or drafting a divorce settlement agreement, but we don't stop there! Our app can also help you draft, fax, and get other legal documents notarized in a flash! From powers of attorney to child travel consent forms—we assist you every step of the way!
If you need to file an insurance claim, fight workplace discrimination, or sue a company in small claims court, you can use our app to get it done with ease.
Deal With Companies Stress-Free
If you like to shop and you often make purchases, you know that companies can cause all kinds of issues along the way. DoNotPay has a trick up its sleeve that helps you deal with any issue a company causes like a pro!
Wasting hours waiting for a customer support rep to pick up becomes a thing of the past once we get involved. We'll show you how to request a refund, cancel a subscription, apply for free trials, use a virtual credit card, and claim a warranty easy-peasy!
If your package is damaged or missing, we'll show you how to track it and file a missing package claim.