What Is Wage Discrimination and How To Deal With It
If you can prove you are earning less than your co-workers but doing the same tasks and the same amount of work—if not more—you may be experiencing pay discrimination in the workplace.
Wage discrimination has become particularly noticeable since more women started to enter the employment market during and after the Second World War.
The issue persists today, but DoNotPay can be your go-to resource to help eradicate wage discrimination in the workplace.
How Does Discrimination Affect Wages in the U.S.?
Despite strong federal legislation to combat it, wage discrimination is still rife and is often closely linked to other forms of discrimination related to:
This means that those employees who experience workplace discrimination based on age, race, or gender may find that it manifests itself in lower earnings.
As an example, the 2018 Census Bureau data—as analyzed by the Center for American Progress—showed that women of different ethnicities earned the following compared to $1 earned by a white male:
| | |
| --- | --- |
| Category | Median Earnings |
| White | $0.79 |
| Black | $0.62 |
| Hispanic | $0.54 |
| Asian | $0.90 |
| Native American | $0.57 |
These numbers are significant and are even more worrying if you look at the earnings over a 40-year career. In that case, the difference between a white male's total earnings and those of women belonging to these population groups will be significant:
| | |
| --- | --- |
| Category | Total Earnings Difference |
| White | $527,440 |
| Black | $941,600 |
| Hispanic | $1,121,440 |
| Asian | $240,280 |
| Native American | $1,035,360 |
Some discrepancies in wages can be explained as being due to:
Different hours worked

Variances between different industries

Local pay rates versus state or national averages
The law stipulates that these reasons do not necessarily mean someone is being discriminated against if they are paid less. Discrimination can only occur within a company and pertaining to single jobs.
What Does the Law Say About Wage Discrimination?
The Equal Pay Act of 1963 demands equal pay between men and women performing the same job for the same employer.
When a company determines its anti-discrimination policies, it needs to look not at job titles but at the actual work performed. If a female employee's job title is HR Clerk but she performs the same tasks as a male HR Specialist, she should be paid the same salary.
The Equal Pay Act covers all aspects of remuneration, including:
Salaries or wages

Benefits

Leave allowances

Overtime

Bonuses

Expenses

Stock options or shares
If any employees are experiencing wage discrimination, the law says that the employer is not allowed to lower other employees' wages to achieve parity—any adjustments must be made upwards.
What Can You Do About Wage Discrimination?
If you can prove you are a victim of wage discrimination, you can launch a lawsuit without first reporting your case to the Equal Employment Opportunities Commission (EEOC).
You can contact a discrimination lawyer for advice on how to proceed, but the lawyer may determine that the wage discrimination you are experiencing is linked to other discrimination problems your employer is guilty of. If your lawyer finds other areas of discrimination, you may still have to file a charge of discrimination with the EEOC to proceed with a lawsuit.
Once you have lodged a complaint with the EEOC, this federal agency is mandated to:
Inform your employer of your charge

Investigate your allegations

Approach your employer for more information

Commence legal action if your allegations have enough evidence to support them
You may find that your private lawsuit is no longer necessary if the EEOC is willing to proceed against your employer. Whatever the case, the EEOC will offer advice and support on your best course of action.
Filing a complaint with the EEOC can be difficult and time-consuming, though. !
How Can DoNotPay Help?
DoNotPay is here to help you lodge your complaint with the EEOC in a flash—here's what you need to do: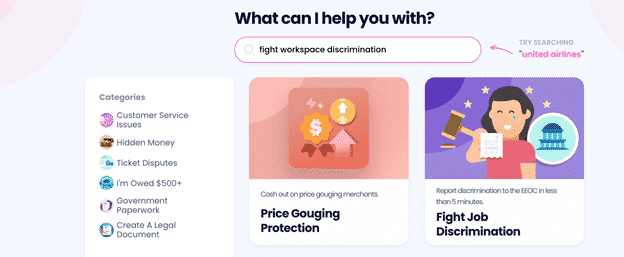 Go to DoNotPay in your web browser and

Look for our

Fight Workplace Discrimination

service

Fill in the details of your case by following the prompts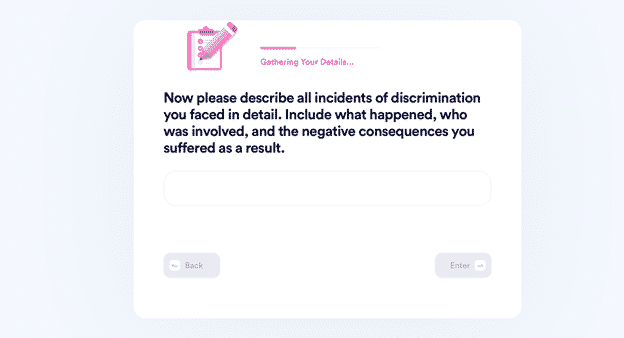 We will do the rest—your charge of discrimination will be lodged with the nearest EEOC office, and you can wait for further instructions regarding your case.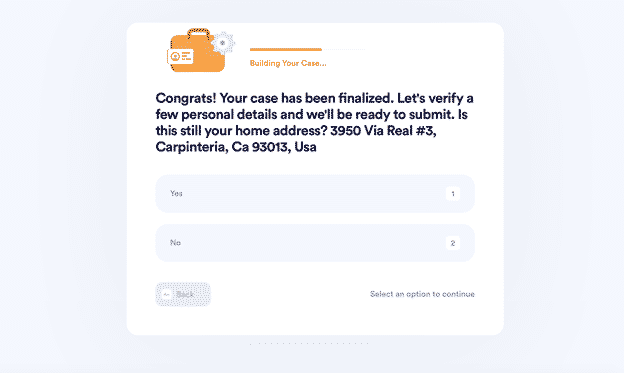 What Compensation Can I Get if I Win My Case?
If you are successful in winning a lawsuit against your employer, you could potentially win:
Reimbursement of lost pay

Damages for emotional trauma

Damages as punishment to the company

Reinstatement of lost benefits

Reimbursement of your legal costs
Is Wage Discrimination the Only Problem?
Wage discrimination is often only one aspect of many employment discrimination cases. Other common kinds of discrimination you may encounter are:
LGBTQ+ discrimination

Harassment

, including:

Retaliation
All of these are illegal, and DoNotPay can be your partner in the fight to eradicate all forms of discrimination.
You Can Rely on DoNotPay's Can-Do Attitude
Facing discrimination in the workplace can make you feel drained and depressed, but DoNotPay will be that pick-me-up that you need. Our platform is built around the idea that everyone can and must fight for their rights, so we keep providing you with the most efficient tools and resources to do so.
We've found ways to cut out the middleman in numerous bureaucratic processes and support you by saving your time, energy, and money. DoNotPay can help you:
Accomplish More With DoNotPay
Our platform helps you protect your rights, deal with annoying administration, and increase your overall productivity. We strive to identify complicated procedures that plague everyone's existence and make them as simple as possible.
You can use our app to:
Long story short—DoNotPay does it all, and it's meant for everyone who could use some more help, time, and money!