Wage Deduction Authorization Agreement From A to Z
Are you an employer who has a justified reason to deduct an employee's wage? By law, the employee must sign a wage deduction authorization agreement to allow you to take away an agreed-upon amount from his or her pay. If you'd like to learn how to create this agreement, you are in the right place.
DoNotPay will explain what a properly written wage deduction authorization agreement should include and tell you whether you should hire a lawyer. We will also assist you in creating numerous contracts in a few clicks!
What Is a Wage Deduction Authorization Agreement?
A wage deduction authorization agreement is a legal document that permits you—the employer—to deduct the agreed-upon amount from an employee's salary. 
The reasons for the salary reduction vary. These are some of the most common situations that require you to have a wage deduction authorization agreement:
You provided work-related items to an employee—such as a computer, work uniform, safety glasses, and similar—and the employee needs to reimburse the money you spent 

An employee asked for an advance and needs to repay it 

An employee was responsible for loss or breakage of inventory storage, merchandise, and other work-related items, and he or she needs to compensate you

You provided payment for insurance premiums or medical, retirement, and other benefits  
While the agreement authorizes you to reduce the pay in most cases, the Fair Labor Standards Act imposes certain limitations. For example, you must not lower an employee's pay rate to below the minimum wage if salary reduction is for your benefit. 
Which Info Should Your Wage Deduction Authorization Agreement Cover?
Each wage deduction authorization agreement should:
Include both the employee's and your name in the introduction

State that the employee agrees and understands that you can deduct his or her wage in certain circumstances

Spell out all the reasons that justify salary reduction

Record that you—the employer—abide by wage laws of the state in which the business operates

Include the date of signing the contract as well as your and your employee's signatures 
Most of these agreements are written in the first person, from the employee's point of view. 
Is Writing a Wage Deduction Authorization Agreement by Yourself Risky?
Even though a wage deduction authorization agreement is a relatively simple document, writing one by yourself can be a tricky task. You need to be familiar with your state's laws to ensure the agreement you write is valid. This can be challenging if you're not familiar with legal terms or if you don't have an education in law. 
The best option is to hire a lawyer and pay him or her to create a wage deduction authorization agreement for you. Since lawyers are usually super expensive, it's understandable why you'd want to attempt to create the agreement on your own.
If you're on a budget and can't set aside enough money for a lawyer, you can find some contract templates online. Wage deduction authorization agreement templates can give you an idea of what to include in your document. 
While helpful, relying on contract templates isn't an ideal approach because they are usually too general and probably won't include everything you need. Finding a sample that's perfect for your situation is close to impossible. This means that you will have to waste time modifying the agreement you find online.
Need To Write Other Documents? Try DoNotPay!
You might need to spend ages adjusting a wage deduction authorization template, but this doesn't have to be your only option when writing other documents. DoNotPay has developed a nifty product that can create documents on your behalf. Your only task is to respond to our chatbot's questions, and we will generate a customized contract according to your answers.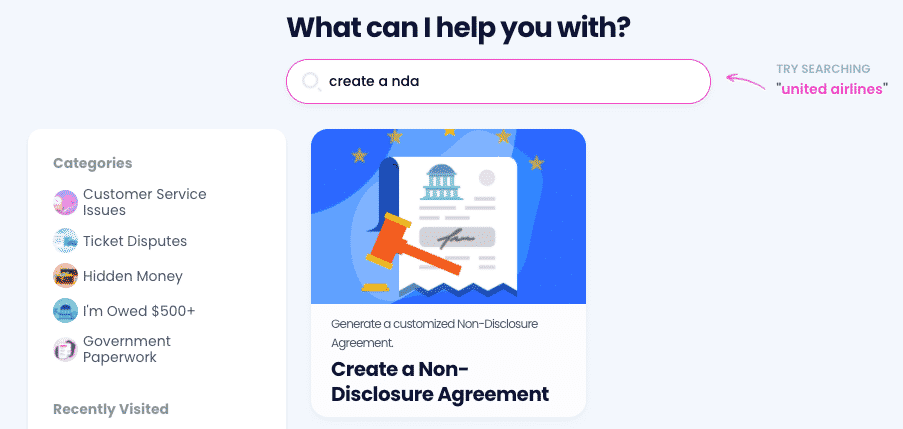 If you'd like to use our app to draw up various agreements, you should complete these steps:
Type in the name of the contract you need

Provide us with the necessary details
Once we create the document, you can print it or download it to your tablet, computer, or smartphone.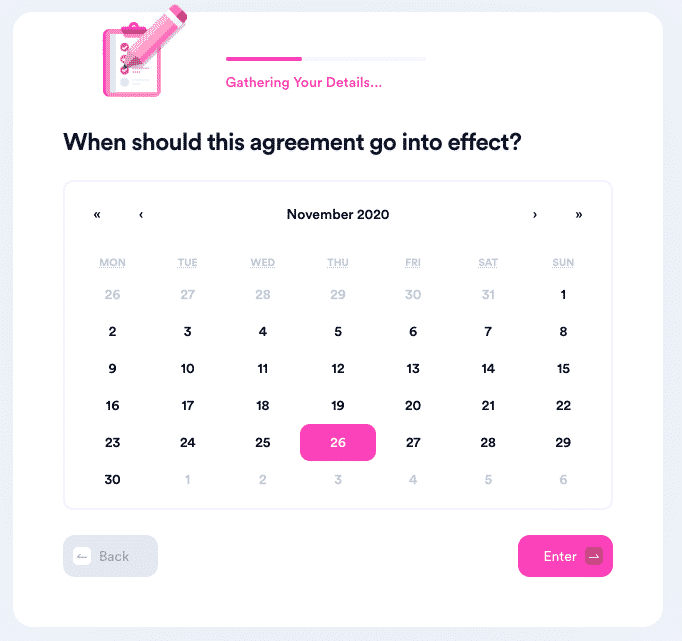 Don't forget to get your contract notarized to ensure it's legally enforceable. Most documents require a notarial certificate, but the traditional notarization procedure can be tedious. You'll be glad to know that you can use our app to have your documents notarized remotely. 
We will help you:
Set up a meeting with an

online notary

 

Take care of the whole notarization process from your car, house, or office
An added convenience is that notaries public we work with operate 24 hours a day, every day of the year.
Find Out Which Legal Documents You Can Draft With DoNotPay's Help
, you can create various legal documents, including:
Business Contracts

General Business Contract

Other Documents

Quitclaim Deed

Promissory Note

General Affidavit

Intent To Purchase Real Estate

Child Care Authorization Form
DoNotPay Can Help You Solve Pesky Issues Stress-Free
Dealing with everyday issues can become overwhelming, especially if they include bureaucracy. DoNotPay can help you handle numerous problems in a few minutes. With us, you can schedule your DMV appointments, get documents notarized remotely, and create various legal documents—including child travel consent statements and demand letters for neighbor complaints—in a snap.
Do you need help paying your bills, disputing parking tickets, or getting cash back for your gift cards? Once you register for DoNotPay, you'll be able to manage all of these and many more issues in no time. 
What Else Can You Use Our App For?
Besides helping you handle tedious administrative hurdles, DoNotPay can do much more for you! You can use DoNotPay to:
With us, you can send online faxes or mail letters from the comfort of your home. Do you have friends or family members who are serving time? We can help you connect with inmates in a flash by enabling you to locate them and send them letters.