How to Try a VPN Unlimited Free Trial With a Virtual Credit Card

When it comes to using a streaming service without hassle, VPN is your perfect solution. Due to the exclusive features of VPN service, it's quite popular among users. If you're looking to get the perks of VPN unlimited, try their free trial. The 7 days will help you uncover the features. This is a great way to decide whether you need to buy it or not.
Let's look at what  have to offer. Also, we will help you to get access to VPN unlimited free trial.
Does VPN Unlimited Offer a Free Trial Option? 
A big yes, you can try for absolutely free. The free trial period will go up to 7 days without you being worried. This is a feature that helps you to get an inside look. Remember, this offer is given to first-time users of VPN unlimited. If you have used it before, you won't get it again. The first test drive will be free & you need to follow a few steps. Your free trial account will have access to features like
Kill switch.
Choice of any server.
Protocol switching.
Geo-blocked content access.
You can connect to 5 devices.
How to Get VPN Unlimited Free Trial Without Getting Charged? 
If you wish to try the , follow these few steps in detail. Remember, you will get a free trial for only 7 days, after which you will be charged. So be sure you keep an eye out for the completion date to avoid charging.
Go to VPN Website
Fill out the details like valid email address & password.
Soon you will receive an email verification code. Verify your email & continue the process
You will offer a link & then head to the download page.
Select any app that suits your device. Then, you will get an option to install it. Opt for the standalone option to download the application.
You're ready to install the application & log in with the needed information.
If you wish to continue after the  you can upgrade it. The upgraded pack comes with a money-back guarantee offer. The app gives you 7 days to get your money back. Once the 7 days are completed, you won't claim the money. So be sure you know when to claim your money. If claiming a refund isn't easy for you, feel free to use the refund product of DoNotPay. It is a product that helps you to get your hard-earned money back.
Does VPN Unlimited Free Trial Automatically Renew Into a Paid Subscription?
Yes, it does. In case you miss canceling the subscription, you will be charged. Also, you won't be able to claim your money after a 7-day period. Have a look at the simple process to cancel the auto-renewal subscription.
Head up to KeepSolid Account.
Fill out your login details & enter your account.
Select your ID present at the top & then move to Purchase history.
Go to your & click on Manage Subscription.
There you will find a cancellation subscription. Click it & cancel your subscription.
Once your pack is completed, you won't be renewed again. It will cancel your subscription without any hassle.
You can also  also check VPN's Unlimited plans here:
| | | |
| --- | --- | --- |
| 1 Month | $11.99/month | $11.99 Billed monthly |
| 1 Year | $5.83/month | $69.99 Billed yearly |
| 3 Years | $99.99 | Billed once |
| Lifetime | $199.99 | Billed once |
How Can I Get a VPN Unlimited Free Trial Using DoNotPay Virtual Credit Card?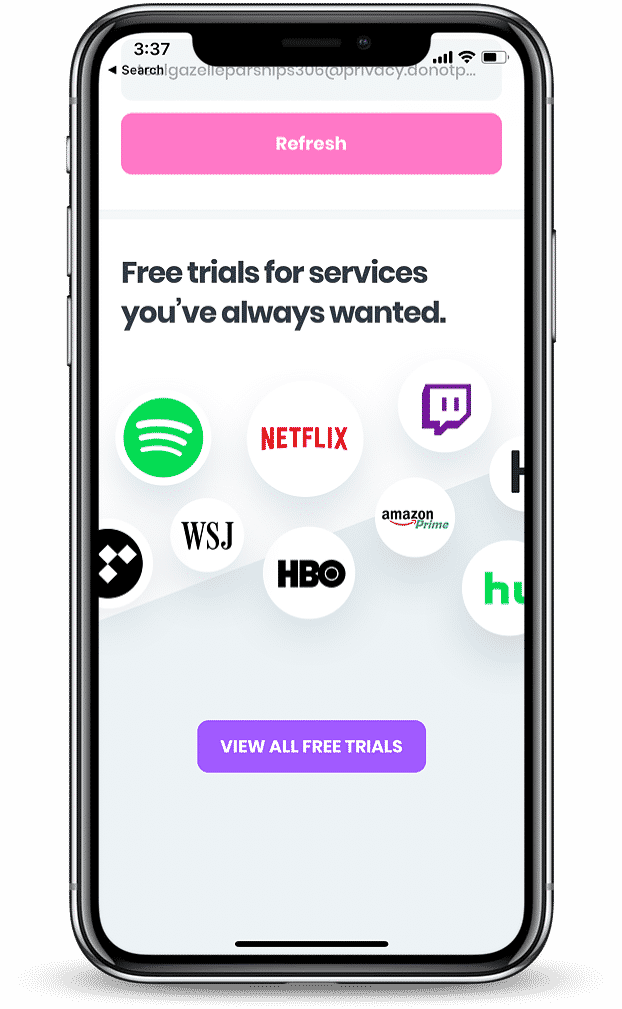 Sometimes missing out on a cancellation date can lead to serious issues and money loss. This is where it is quite important to end the subscription plan on  time If you don't wish to have these hassles, DoNotPay can help. 
DoNotPay virtual credit card will help you to use the free trials. And that, too, without any hassle or frustration. You can freely access the product with any web browser. When you use the services, you gain an array of benefits too. Here's a look at how the platform works & gives you the best help.
Easy to use a product that allows you to try free trials effortlessly.
No need to fill in your credit card details or personal data.
A product that automatically cancels the subscription when the plan ends.
Stress-free money and time-saving features are available.
This is a great way that helps you to sign up on multiple platforms. The card generates a number that can be used during the signup. Also, DoNotPay offers an email address that can help you to sign up at any platform. When you don't have to enter personal details, you can enjoy free services freely. 
What Are the Other Things That DoNotPay Offers?

 is a trusted platform that helps you in the long run. You can enjoy the free trial services without any hassle. To save time and money using the services, create your account today. Need help with other tasks too? Scroll down to check out the links & services that we offer.
Sign up with DoNotPay today to enjoy the products & services. If you need any other help, contact our customer service team.