Get the Scoop on the Volusia County Divorce Process
Terminating a marriage is usually depicted as a long, stressful, and complicated affair. It doesn't always have to be that way. Having the right information and assistance can make the procedure run smoothly.
We'll break down the Volusia County divorce process and give you all the necessary details. Sign up for DoNotPay to acquire a rock-solid marital settlement agreement and speed up your uncontested Florida divorce.
Divorce in Volusia County, Florida—From A to Z
Getting a marriage dissolution requires some research. Before filing your petition, you should understand the key aspects of a Volusia County divorce. Here's what you should know:
On what grounds you can get divorced
Which requirements you have to meet before filing the petition
Grounds
Divorces in Florida—and all of its counties—are no-fault-based. This makes the petitioning process much easier because neither spouse has to take responsibility for the breakdown of the marriage. Grounds for marriage dissolution in Volusia County include:
Irretrievable breakdown of the marriage, without any chance of reconciliation
Mental incapacity of one of the spouses that's lasted for at least three years prior to petitioning
Requirements
Not everyone can get a divorce in Volusia County—you have to meet certain residency requirements. A court cannot complete your divorce if it doesn't have jurisdiction. To file for divorce in any part of Florida, you or your spouses must have been a resident of the state for at least six years before filing the petition.
Cost
Divorce expenses vary from one state to another. How much a divorce is going to cost in Florida and its counties depends on various factors. The amount can range from slightly over $400 to more than $100,000. If you and your spouse can settle disputes on your own and agree on important matters, you can get divorced without a lawyer. To get an uncontested divorce in Volusia County, you won't have to pay more than filing fees, which are $400 on average.
Duration
The divorce type, case-specific details, and other factors determine the duration of a divorce in Florida. The mandatory waiting period between filing a petition and the hearing is 20 days, so it can't be less than that. What affects the duration the most is the type of dissolution. If you and your spouse can negotiate between yourselves and agree on the major issues, you can expedite the process considerably.
Who Qualifies for an Uncontested Divorce in Volusia County, FL?
Are you ending your marriage on friendly terms? You might be eligible for an uncontested divorce, but you should see if you meet the requirements.
To qualify for a simplified dissolution of marriage, you and your spouse have to meet all of the following criteria:
Both of you have to agree on the type of divorce
You don't have minor (under 18) or dependent children together
The wife is not pregnant
At least one of you meets the residency requirements
You agree on the grounds of the divorce
Neither one of you is requesting spousal maintenance
You have agreed on how to divide your debts and assets
Which Forms Do I Need for an Uncontested Divorce in Volusia County?
Preparing the paperwork is the first step to getting a marriage dissolution in Florida. Here are the documents you need to file for an uncontested divorce in Volusia County:
Petition for Dissolution of Marriage

With Dependent or Minor Children
With Property but No Dependent or Minor Children
With No Dependent Minor Children or Property

Family Law Financial Affidavit
Notice of

Current Address
Social Security Number

Divorce Settlement Agreement
How To File for a Volusia County Divorce
With the right instructions, getting a divorce without a lawyer doesn't have to be demanding. Consult the following table to learn the steps to filing for divorce in Volusia County:
Steps
Clarification
File documents with the court
Fill out the forms following the instructions from the Florida Courts website. Make two copies of each document—one for you and the other for your spouse—and file the original document with the clerk at the Circuit Clerk's office
Serve divorce papers
There are several ways to serve your spouse with divorce papers in Florida:

Have a person older than 18 and not involved in the case deliver them in person
Hire a professional process server
Have the county sheriff deliver the papers

Wait for an answer
Your spouse has 20 days to file an answer to your petition—otherwise, the court can enter a "default" and proceed with the process without your spouse
Minimize the Risks—Let DoNotPay Draft a Settlement Agreement for You!
If you qualify for an uncontested divorce, you'll need a well-crafted divorce settlement agreement to outline the terms you and your spouse have negotiated. It's possible to write it on your own, but it is risky. Making even a trivial mistake can invalidate the document. Don't take any chances—let the first robot lawyer help you out!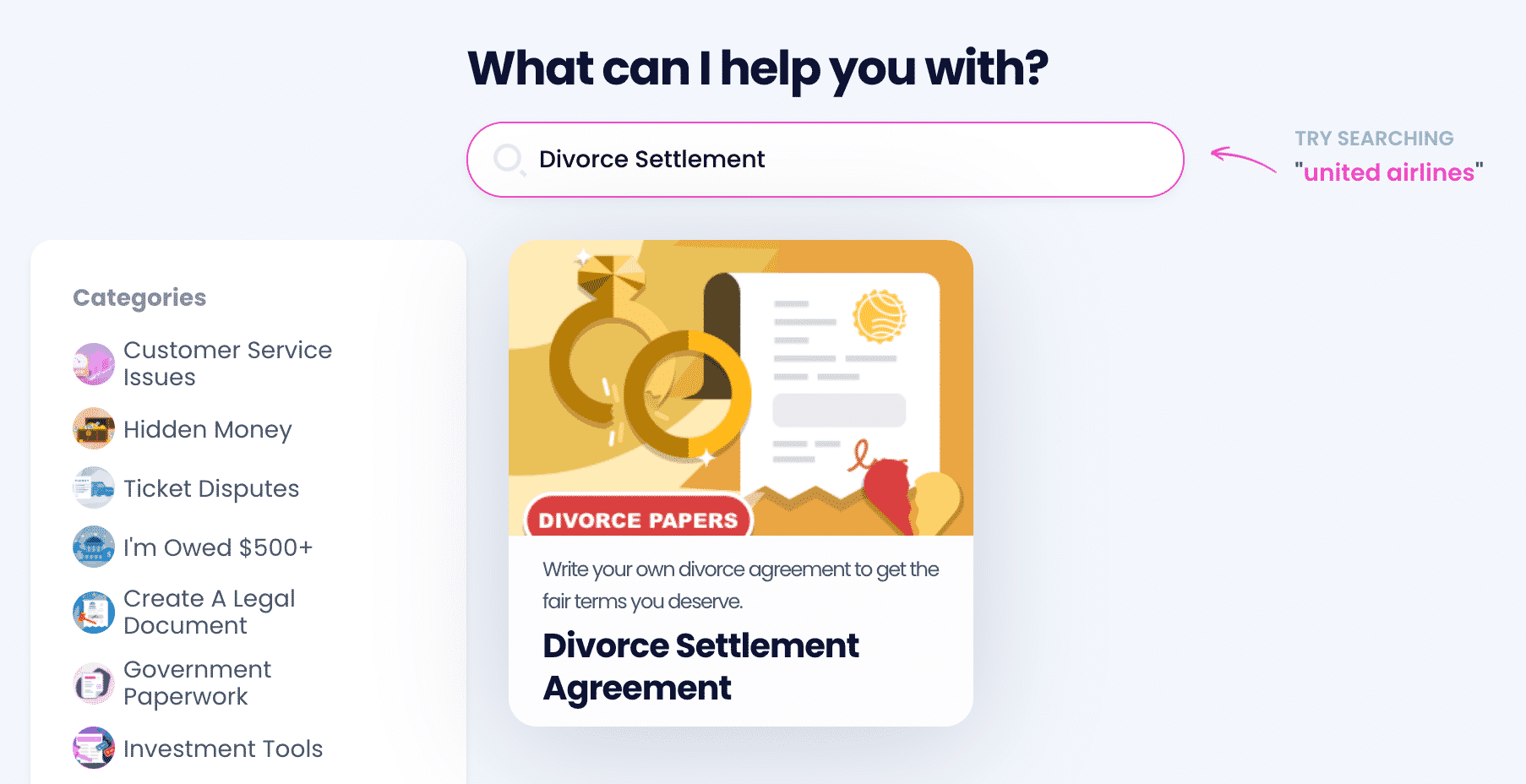 We have an extensive database of all state divorce laws and requirements and use it to create the most suitable custom-made divorce settlement agreements.
Here's everything you need to do:
Choose the Divorce Settlement Agreement tool
Answer our chatbot's questions regarding your marriage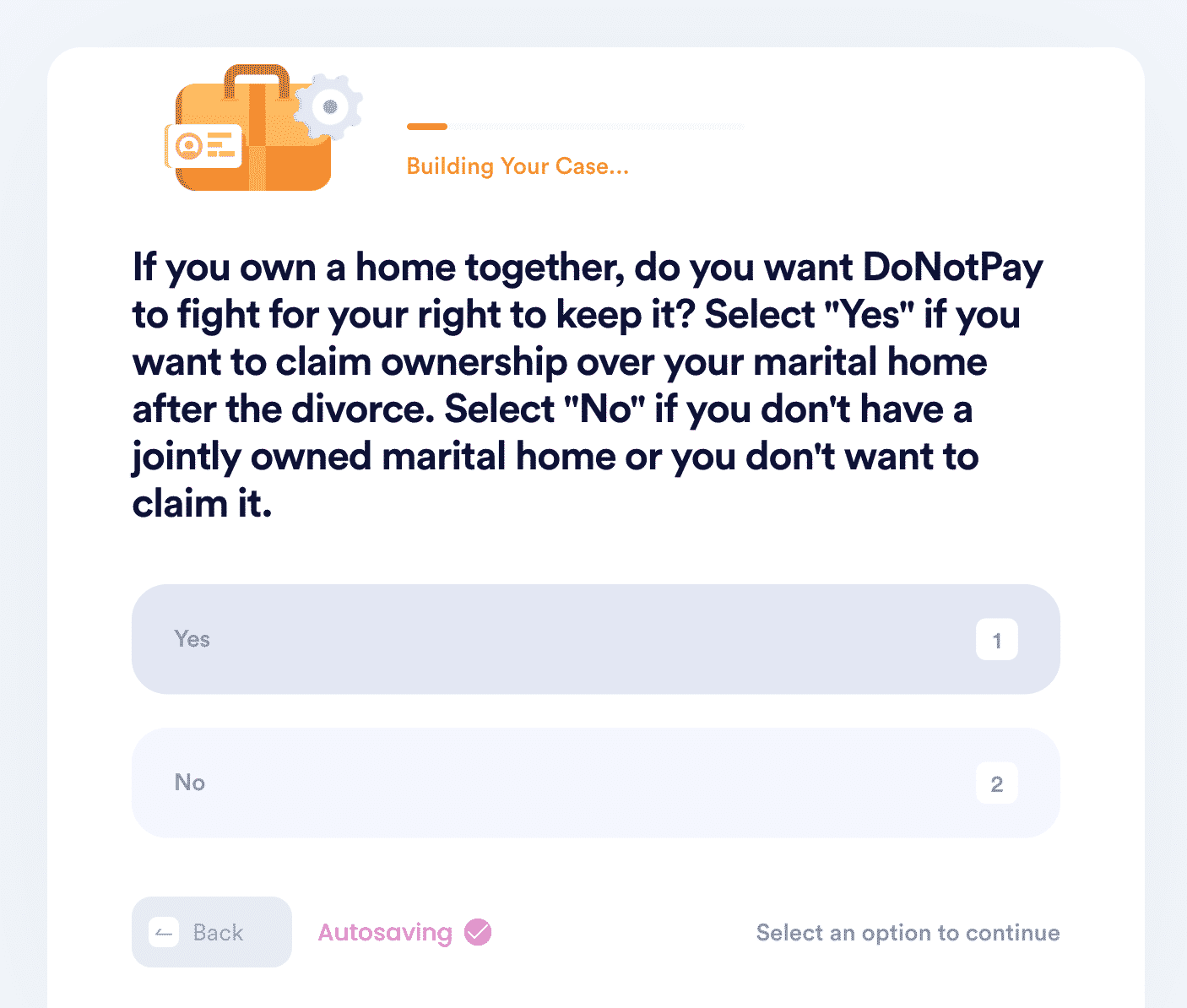 You'll receive a personalized divorce settlement agreement within minutes! Do you have to get it notarized? While filling out the questionnaire, check that you need a notary public, and we'll help you set up an appointment.
Want to know if you can get a quickie divorce in Florida or how to file for a Florida divorce without a spouse? Visit our learning center to find answers to these and other frequently asked questions, such as:
DoNotPay Can Help You With Almost Anything
DoNotPay's goal is to have a multitude of features that can be useful to you with handling various issues. Whether you want to apply for clinical trials, prepare for government tests, or even get in touch with your locked-up friends or family—DoNotPay has got you covered!
For a small yearly fee, our AI-based app will help you:
Want To Save and Earn Money at Once? Subscribe to DoNotPay
DoNotPay can help you earn and save a buck or two. We'll assist you in reducing your property taxes, canceling any unused subscriptions, and signing up for free trials with our virtual credit card.
As if that wasn't enough, we'll save you money and spare you from a headache if you receive any faulty deliveries by filing a refund or an item return request in your stead! This is just the tip of the iceberg of features that DoNotPay has in store for you.