Virginia Victims Fund From A to Z
Violent crime victims and their loved ones need time to heal after the traumatic event. Having to deal with unexpected medical, funeral, or moving expenses can make the already traumatizing situation even more difficult.
If you were a victim of a crime that took place in Virginia, you might be eligible to get crime victims compensation. Virginia Victims Fund was created with the purpose of helping violent crime victims and their family members deal with the financial burden of the crime. 
Learn All About the VA Victims Compensation Fund
The State of Virginia created the Virginia Victims Fund (VVF) to provide financial assistance to:
Violent crime or

terrorist attack

victims who suffered physical and emotional injuries

Family members or dependents of victims who passed away from crime-related injuries

Individuals responsible for funeral bills of deceased victims

Adults responsible for minor victims' (parents or legal guardians)

Residents who got hurt trying to prevent a crime
The fund covers crime-related expenses, such as prescriptions, medical bills, funeral costs, relocation expenses, and similar. The program receives funding for violent crime victims from:
Offender fines and fees, such as:

Felonies—$30

Misdemeanors—$20

Drunk driving conviction—$20
Virginia crime victims should turn to their collateral sources—medical insurance, restitution, workers compensation, and similar—first. If those sources can't cover all expenses, they can apply for crime victims compensation. The maximum compensable amount per claim in Virginia is $25,000.
While crime victims compensation boards administer compensation programs in most states, the VVF is managed by the Virginia Workers' Compensation Commission.
DoNotPay Can Help You Apply for Virginia Crime Victims Compensation Quickly!
Since most crime victims compensation programs have a complicated application process, most victims decide not to apply for compensation. Some individuals don't even know about the existence of these funds and programs. 
DoNotPay wants to help victims and their family members deal with the financial challenges that a crime can bring. You can use our app to file your Virginia Victims Fund application in a matter of minutes.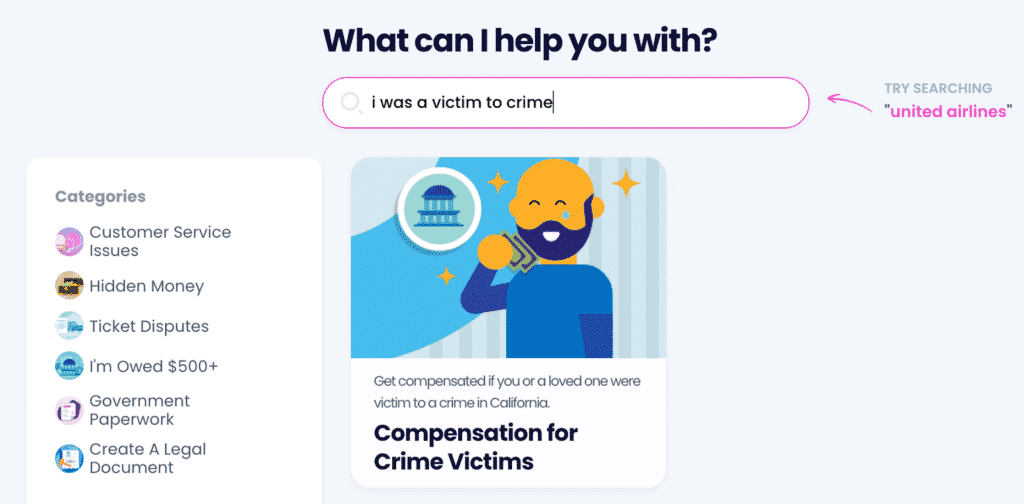 Apply for any crime victims compensation program quickly by signing up for DoNotPay and following these steps:
Select our

Compensation for Crime Victims

feature

Tell us whether you're:

The victim

Another claimant

Answer our questions regarding the crime and expenses

Verify your signature
Once you hit the Submit button, DoNotPay will fill out your application and send it to the appropriate office in Virginia. 
DoNotPay's Compensation for Crime Victims product works in any state, including:
Do You Qualify for Crime Victims Compensation in Virginia?
To qualify for crime victims compensation in Virginia, you need to:
Have filed a police report within 120 hours (five days) of the crime

File a VVF application within one year of the incident

Cooperate with law enforcement agencies
You won't get compensation if you:
Participated in illegal activities at the time of the incident

Provoked or were involved in the crime that caused the injuries

Knowingly included incorrect info in your VVF application
Which Expenses Are Covered by the Crime Victims Compensation Fund in Virginia?
The Virginia Victims Fund covers the following crime-related costs:
Compensable Costs
Maximum Compensable Amount

Medical expenses, such as:

Prescriptions

Medical exams

Treatments

Not specified

Mental health counseling for victims 

Not specified

Mental health counseling for family members of homicide victims 

$2,500 per family member

Lost wages and support

Two thirds of a victim's average weekly salary as long as it doesn't exceed $600 a week

Funerals

$5,000

Crime scene cleanup

Not specified

Relocation (if a victim's safety would be jeopardized in his or her current home)

$1,000

Replacement services (housekeeping and child care while a victim is in hospital for crime-related injuries)

Not specified

Travel for medical assistance

Not specified
The VVF doesn't cover:
Property loss

Pain and suffering

Attorney fees

Car accidents (unless the driver was operating the vehicle under the influence)
What Happens After You Apply for VA Crime Victims Compensation?
Once you submit your application, the Virginia Victims Fund will need around six months to collect all required documents and make a decision. While the VVF usually obtains the documents directly, the claim will move quicker if you can provide the required info. 
Once the program director makes the decision, you'll receive an award letter. When it comes to compensation check, you or the service provider will get it within 30 days of the date you receive the award letter.
You can request an informal reconsideration within two years of being informed about the program director's decision. If you want to appeal the decision with a Workers' Compensation Commission's deputy commissioner, you have 45 days from the notice of the decision to do so. Should the deputy commissioner reject your application, you have 30 days to file an appeal with the Court of Appeals.
DoNotPay Can Do Your Paperwork for You! 
Feeling like you're in bureaucratic hell? Our app will draft the paperwork you need and get you out of any hurdle before you know it! 
We can compose most of the documents that you require for any administrative purpose in your jurisdiction, most notably:
More of What We Can Do for You 
Our multifaceted app can call and record the conversation with the customer service of the company that just won't let you go! If you are having trouble canceling an unwanted service via the traditional channels, use DoNotPay to get it over and done with!
We can help you stop the persistent robocalls and robo texts from the nagging company and request a refund for unused services in a matter of minutes.
We'll also lend a helping hand in stopping spam mail—whether it's electronic or paper. Our Spam Collector product unsubscribes you from unwanted emails and cleans up your physical mailbox too!