Virginia Sex Offender Registry—Get Regular Safety Reports From DoNotPay
Virginia is in 29th place by the number of sex offenders per 100,000 people, so it's not one of the top sex offender residences. You cannot know how many of them live in your area without consulting the Virginia Sex Offender Registry.
The problem is that other obligations will easily squeeze out the seemingly non-urgent scans of the state's sex offender registry from your busy schedule.
Fortunately, you can subscribe to DoNotPay and receive regular notifications on the registered sex offenders moving into your area.
Virginia Sex Offender Search Through the State Registry
Virginia Sex Offender Registry can be searched by:
ZIP code
A perimeter around an address

One mile
Five miles
Ten miles

First name, last name, or an alias
County
City
School they currently attend
You can conduct the search manually, or you can set email alerts for new or repeated registrations.
Virginia Sex Offender Data Available in the Registry
The search results for any query within the Virginia Sex Offender Registry will give you the following data on the registrants:
Photograph
Full name
Home, work, and school address
City
County
State
ZIP code
Some of the details may be missing since all updates depend on institutions other than the police, as well as the offenders themselves.
Beware that this data changes quickly, so you need to always be on the lookout. Email alerts may automate this process to a degree. Their flaw is that you can use only your ZIP code as the parameter for your alert.
Another downside of Virginia's Sex Offender Registry system is that you cannot get a visual representation. Some states offer a map search of the registered offenders, but Virginia's registry doesn't.
Virginia Sex Offender Laws
Virginia Sex Offender Registry holds information on all convicted offenders (Tier I, Tier II, and Tier III). This includes the perpetrators found not guilty by reason of insanity as well as juvenile offenders.
Sex Offenders in Virginia—Registration and Verification Requirements
According to the law, all sex offenders need to report to the local law enforcement authority for registration after their release from prison.
Besides the information available to the public through the Virginia Sex Offender Registry, they must also submit:
Vehicle registration information
Email address
Instant messaging and chat names
All other identities used for internet communication
After the initial registration, they will have to verify their personal details with the law enforcement regularly.
Tier
Registration and Verification Periods
Tier I and Tier II
Report to the authorities once a year
Tier III
Report to the authorities every 90 days
All tiers
Report :

Plans to move to another state ten days in advance
Changes of any of the personal data within three days
Change of email address or internet identities within 30 minutes
Restrictions and Penalties for Sexual Offenders In Virginia
Sex offenders are required to respect many prohibitions depending on the local legislation and their crimes.
Compliant sex offenders in Virginia whose crimes involved minors don't have residential restrictions, but they aren't allowed on school grounds.
Virginia-based offenders can travel to other states, but they will need to report to the local authorities once they arrive at their destination.
If an offender fails to register or verify their information on time, they can be penalized in the following way:
Tier I offender—12 months in prison
Tier II offender—one to five years in prison
Tier III offender—ten years in prison
Customized Sex Offender Reports—Have DoNotPay Automate and Simplify Your Search
Vicious sexual predators can live anywhere in the State of Virginia, and children are the most vulnerable. You need to know the background and read the behavior of people who come in contact with your kids to prevent them from falling victim to a pedophile.
Megan's Law made a pivotal change in the USA by allowing all citizens access to the state sex offender registries. While the Virginia State Police Sex Offender Registry can help you remain updated, there is a problem. The email notification system is too broad and unreliable. You could go for the manual search, but that is time-consuming and inefficient.
DoNotPay can solve this problem as it allows you to set weekly alerts with personalized search parameters. You'll get relevant information available on your device in one click.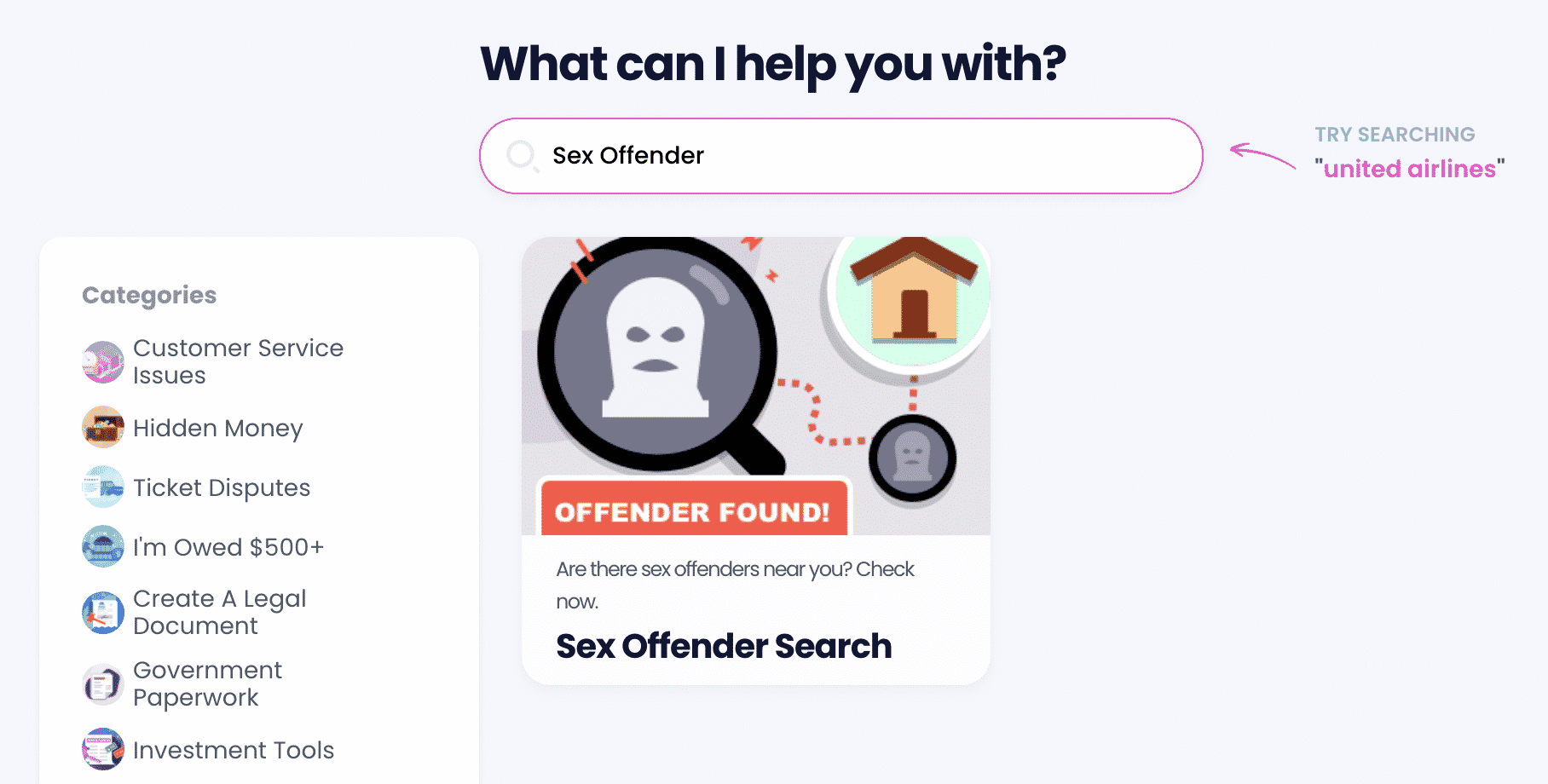 By choosing our app, you'll get:
Fast and on-point service
A personalized search function—base your search on an offender's name or desired address
Weekly alerts for the set of parameters you choose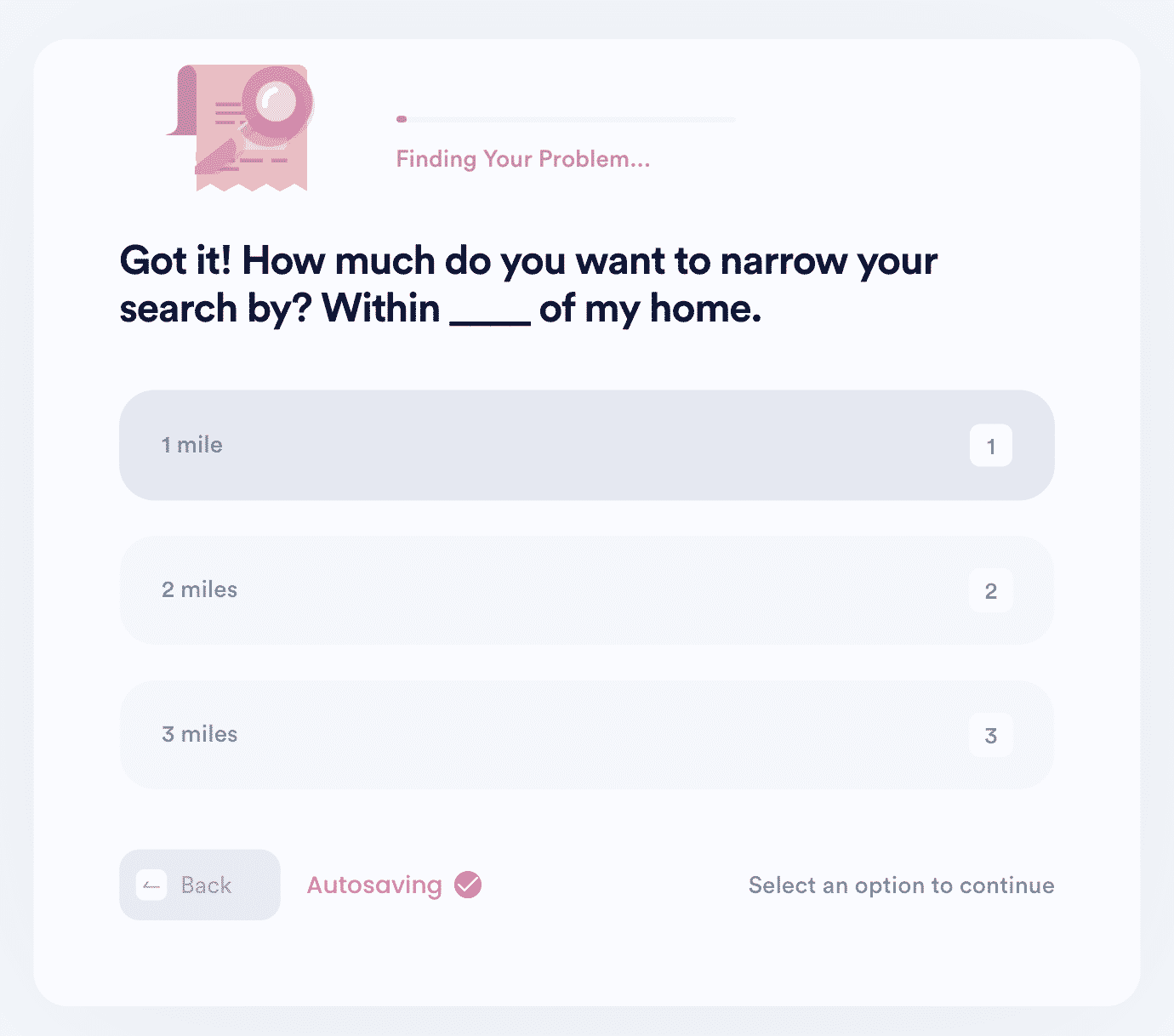 You can conduct your sex offender search through DoNotPay in few steps:
Open your DoNotPay account and find the Sex Offender Search tool
Pick your search method (by an offender's name or within your desired area)
Choose the proximity you want to search (one, two, or three miles)
Our app conducts a search and comes back to you with a full report on the nearby offenders.
Why Waste Money on Lawyers When You Have DoNotPay?
Although certain tasks require you to get a lawyer's assistance, you don't have to spend hundreds of dollars for their service. With DoNotPay, you can avoid figuring out the legal jargon and have peace of mind dealing with bureaucratic tasks the easy way.
Need help preparing for a small claims court appearance or composing a neighbor's complaint letter? Looking for an easy but efficient way to draft a power of attorney or divorce settlement agreement? Use DoNotPay's features to draft legal documents, sue companies, request refunds, claim warranties, and file insurance claims while still saving a pretty penny!
Communication Is the Key
The best way to resolve issues is through clear communication, but companies don't always make it easy to do so. That's why DoNotPay came up with various features that help make communicating and solving problems a piece of cake. Sign up for our app and forget about waiting in lines for hours to speak to a customer service rep!
Here's what you can do with our app: