How to Find the Best Virginia Scholarships for You
Is Virginia on the list of places where you want to seek higher education? If the schooling expenses make you second-guess your choice, we have some good news for you.
You can get different types of financial aid—scholarships and grants, for example—that are reserved for Virginia residents or students planning to attend a college in the state. Still, finding the right scholarships can be a challenge if you don't know where to look.
This is why we made this guide to help you find the best Virginia scholarships the fastest and easiest way.
How To Find the Best Scholarships in Virginia
Scholarships are awarded by different providers, such as the government, for-profit companies, NGOs, higher education institutions like Virginia Tech, etc. With scholarship opportunities scattered all over, knowing where to start your search can save you time and frustrations.
The following resources are a good place to start:
Financial aid offices of your prospective schools—Most institutions of higher learning have a financial aid office that can help you identify the opportunities available for you—at the institution and from other providers. You can also check the department's section on the school's website before visiting the office
Federal agencies—You can learn about the opportunities available to you by completing the FAFSA form, regardless of your state
State grant agencies—The Virginia Department of Education can help you find programs that you can benefit from
Past scholarship recipients—Ask those who have been awarded any scholarships about how they landed them. If you don't know anyone, you can get a list from your high school
High school counselors—They may have a lot of helpful information on how and where you can apply for a high school or college scholarship
Different organizations and groups—Religious or organizations focused on minorities may have valuable resources for African students, Filipinos, Hispanics, Muslim students, Catholic students, and others
Scholarship websites
DoNotPay
There are many scholarship opportunities that you are qualified for but may never discover on your own. DoNotPay is the real game-changer when it comes to finding those opportunities. You can now and see the full list of scholarships in Virginia that are available for you right away.
Types of Scholarships in Virginia
Virginia offers a wide range of scholarships intended to assist different types of students. Whether you are a veteran, international student, disabled, mom, college freshman, adult, woman—you will certainly meet the standard criteria for a good number of opportunities.
Here is a summary of some of the best scholarships in Virginia for students in different categories:
Scholarship Type
Scholarships
Scholarships for college students in Virginia

VSGC Undergraduate STEM Research Scholarship Program
QuestBridge Scholarship
VSGC Community College Scholarship
ASLA Council of Fellows Scholarship

Scholarships for high school seniors in Virginia

The Granville P. Meade Scholarship
George Mason University Scholarship
Graybar Construction Trades Scholarship
Innovation in Education Scholarship

Scholarships for Virginia residents

Virginia Museum of Fine Arts Fellowship Program
SREB Doctoral Scholarship for Virginia Residents
Virginia Tuition Assistance Grant Program
Virginia State Endowment Scholarship

Scholarships for graduate school students in Virginia

Virginia Teaching Scholarship Loan Program
Steven G. King Play environments Scholarship
Linda Moore Endowment Scholarship

Scholarships for minority students in Virginia

Hispanic Scholarship Fund
Hershey Company Tribal Scholarship
APIA Scholarship Program
Virginia Latino Higher Education Network
How To Apply for Scholarships in Virginia
There is no standard application procedure that you can use for every scholarship. You have to check and follow the application guidelines for each program.
Here are some general tips that can improve your chances of landing a scholarship:
Search for as many scholarships as you can—This is usually the difficult part, but with DoNotPay, you'll only need a few minutes
Read the scholarship eligibility requirements carefully—Many programs will require you to prove specific academic achievements or demonstrate financial need
Confirm the application deadlines—Application timelines are essential, and you should always plan to submit the application early enough. If the program intake is closed for the current year, move to the next award
Prepare all the required documents—Some programs will require you to write an essay and submit other documents, for instance, a personal statement, recommendation letter, and FAFSA form
If you are successful, you will receive an offer from the scholarship provider. In case you have multiple offers from different providers, compare and select the one that suits you best.
Is There an Easier Way to Find the Best Scholarships for You?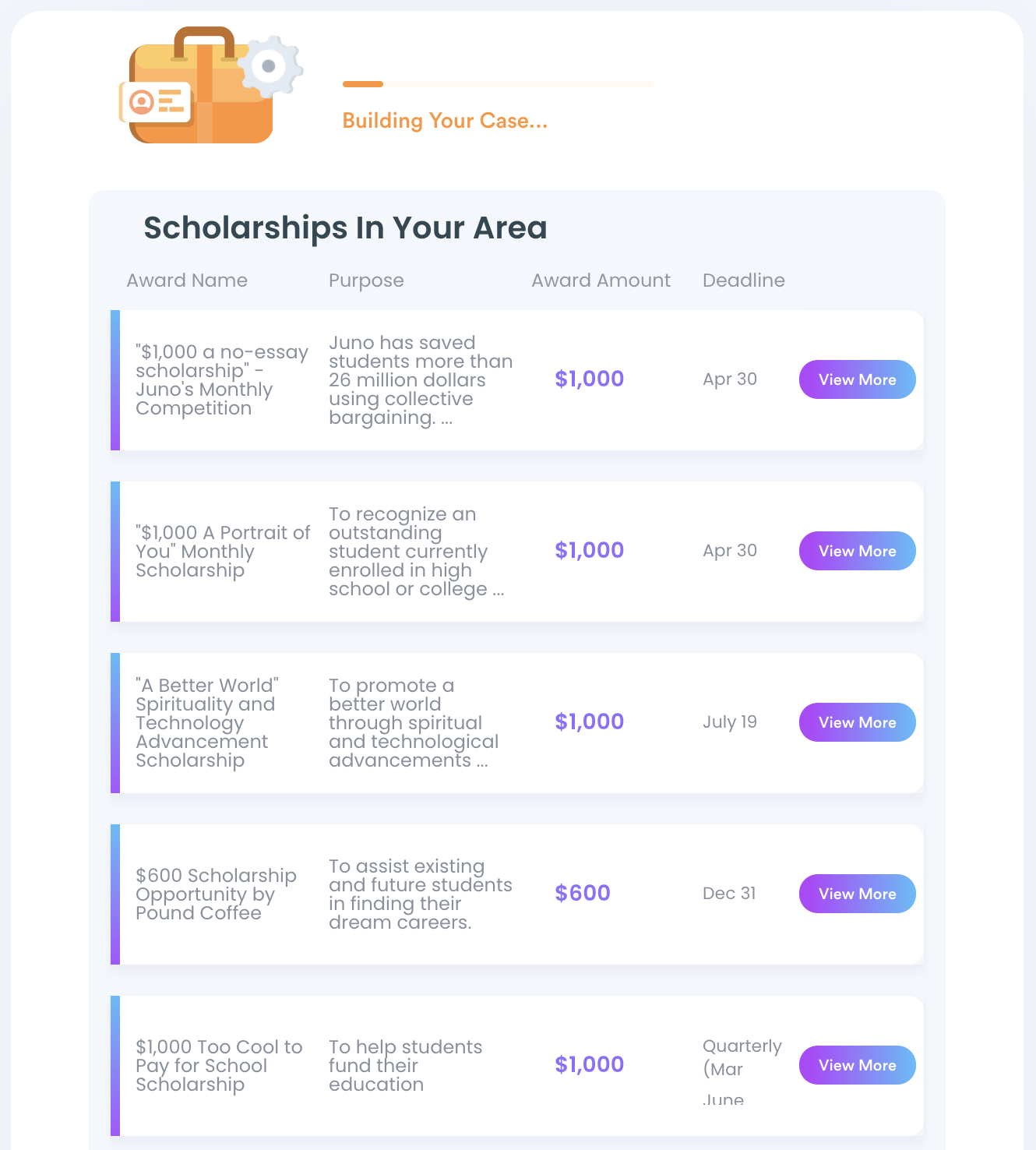 The scholarship search and application process can discourage you from seeking the financial support you need. With DoNotPay, that problem is solved! Our app can get you a list of the scholarships you are eligible for in a few minutes.
You only need to provide us with some details about your education, location, and academic interests. Follow these steps to proceed:
Go to Apply for Scholarships
Answer a couple of questions
You can also opt to have DoNotPay send your applications automatically for no-essay scholarships.

We Have All the Resources You Need
Are you looking for additional assistance from our app? We're happy to inform you that DoNotPay provides you with a number of useful tools that you can use to complete mundane tasks in the blink of an eye! Sign up for our app and let us help you get:
You don't have to struggle to figure out how to resolve financial problems yourself when you have our app at your disposal. In only a few clicks, you'll be able to discover any unclaimed money under your name, submit insurance and warranty claims, or request compensation for delayed flights.
But that is not all! Lowering your utility bills, appealing parking tickets, or canceling memberships and subscriptions is also something you can do in no time and with minimum effort if you use DoNotPay! Work smarter, not harder!