Virginia Property Tax Assessment
Deciphered
According to the statistics from Business Insider, Virginia isn't a state with low property taxes, as its residents annually pay more than $2,100 in property taxes. 
The crucial step during the tax calculation is a property tax assessment. If you live in the Old Dominion, getting familiar with this procedure is essential for understanding why your tax bills are high and finding a way to pay less. This guide will explain how Virginia property tax assessment works and what the best methods for lowering your taxes are.
Why Do Residents of Virginia Need To Pay Taxes?
All U.S. states—including Virginia—mandate their citizens to pay taxes on houses, buildings, business premises, and other properties they own. The state government invests the funds in the enhancement of essential public systems, including:
Sanitation

Public transportation

Road works and constructions

Schools, libraries, and education

Hospitals and health care system

Green areas, parks, and recreational centers

Fire and police protection and other emergency services

Various local government services
Property Tax Assessment in Virginia
Explained
The tax amount you will pay as a Virginia resident depends on two factors:
Local property tax rate (it varies from county to county)

The assessed value of your property
The local government officials, known as assessors, come to your property to evaluate it. They consider various factors, including:
Property age

Your home size—square footage, number of rooms, etc.

Overall home features and renovations

Potential malfunctions or damage

The value of similar houses in the neighborhood
The assessors perform estimates periodically. While some jurisdictions do it every year, in most cities, the local officials reassess your property every four years. In counties, the maximum assessment time cycle is six years.
While you can't do much about changing the tax rate, you can decrease your estimated property value by following our handy tips.
How Can You Lower Your Property Taxes in Virginia?
In most cases, property taxes are an inevitable expense, but you can use specific tricks to cut them a little. There are several methods you can opt for, all presented in the table below:
Method
Explanation

Attend the evaluation of your home or property 

You know every corner of your house, which is why you should be present during the property assessment. You can notice right away if the assessor makes a mistake and report it, avoiding the risk of a tax increase

Inspect your tax records

Each county in Virginia, including

Fairfax County

,

Chesterfield County

,

Loudoun County

, and many more, has its official website and an accessible tax record database. Check your tax information and revise your property assessment details. The assessors may have made an error or reported something inaccurately

Appeal your previous tax assessment

If you believe the officials wronged you and didn't evaluate your home properly, you can submit a

property tax appeal

and ask for a reassessment

Refrain from home improvements

Upgrading your house may be tempting, but each renovation increases your assessed property value, and consequently, your annual property tax. This is a valid reason to avoid such ventures, especially if the assessment date is approaching

Use applicable property tax exemptions

If you are a

senior citizen

,

veteran

, or

disabled person

, there's a chance you can use certain tax relief options. According to the

Code of Virginia

, each county has specific rules regarding the available property tax exemptions
Not Sure Which Property Tax Exemption You Qualify For? Ask DoNotPay
Property tax exemptions are a great way to cut down on your taxes, but many people are unaware they exist. The authorities don't inform citizens about tax benefits. The only way residents can find out about them is by researching on their own.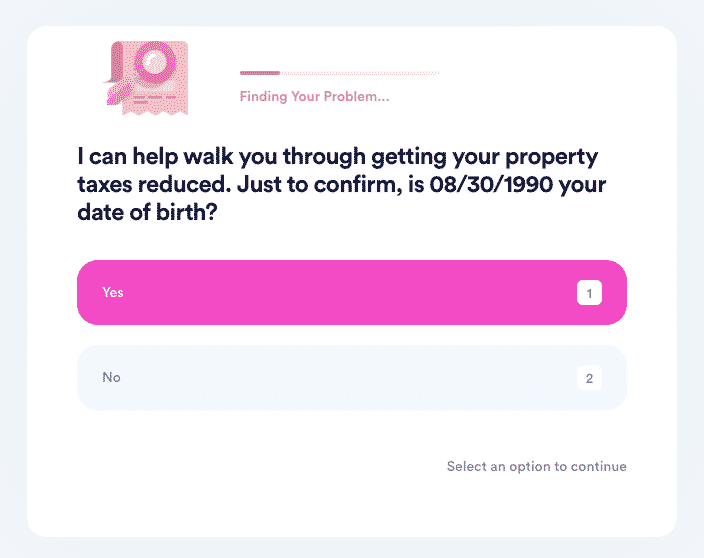 If you don't know where and how to start, we can help! DoNotPay ensures you get all the essential details and instructions in a comprehensive manual we'll create for you. We will teach you how to:
Find out which property tax exemptions you are entitled to

Get the additional supporting documentation

Complete the application forms properly

Submit your application to the right institution
To get this guide, proceed as follows:
Sign in to DoNotPay in your preferred

web browser

Open our

Property Tax

feature

Answer a few questions to provide your property details
Not only can we help you get the deserved tax relief in Virginia hassle-free, but we can teach you a few tricks on how to use the available tax exemptions in: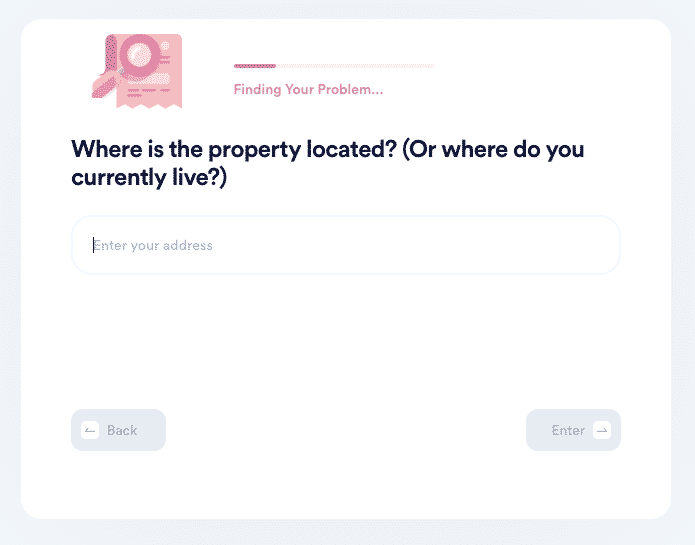 How To Appeal Your Previous
Virginia Property Tax Assessments
With DoNotPay
Realizing that the assessor has made a mistake while estimating your property can lead to a tax reduction if you file an appeal. It's a tricky task, and that's why DoNotPay offers to help with this procedure too.
In our guide, you'll get great advice on:
Communicating and negotiating with your assessor

Gathering the evidence to support your claims

Composing your appeal letter properly
Our learning base offers practical tips on appealing your previous assessment in various counties, such as:
Need Help Fighting Bureaucracy? Use DoNotPay!
As the world's first robot lawyer, DoNotPay can help you resolve a plethora of tedious administrative issues. Our app will assist you in getting justice in small claims court, getting refunds from merchants, reporting annoying spam emails and text messages, reporting copyright infringement, bypassing phone number verification, and so much more!
You can also rely on DoNotPay's help when it comes to subscriptions. If you want to sign up for a free trial, cancel a service you no longer use, and skip the phone queue when doing so, our app will provide its assistance.
Our App Saves You Time and Money
Are you unable to pay your bills? Use the world's first robot lawyer app to cover them! Do you want to appeal your traffic or parking tickets? DoNotPay will help you appeal them in the blink of an eye.
Our app can do so much more than that, though—with DoNotPay by your side, you can sign up for clinical trials, ace government tests, claim any type of warranty, schedule an appointment with the DMV, and handle any other bureaucratic task.