How To Compose Proper Virginia Lease Agreements
Once you find a convenient apartment or house to rent in Virginia, reaching a verbal agreement with the landlord may seem enough, but this option is too risky. The best bet is to sign a written lease agreement to protect the rights of both parties and ensure smooth cooperation.
Composing a contract can be complicated for anyone who doesn't know much about legal documents. Our guide will focus on introducing you to the essentials of Virginia lease agreements and help you write them fast and easy!
What Is a Virginia Lease Agreement?
A Virginia lease agreement enables the tenant and landlord to establish rental terms and conditions. It outlines the essential regulations both signing parties must comply with to prevent potential misinterpretations.
The landlord allows the tenant to occupy the accommodation for a certain period in exchange for monthly rent. They can sign one of the following contracts:
Standard annual lease agreement

—This contract lasts for a year and doesn't renew automatically. Once it ends, you can choose if you want to terminate the lease, renew it, or switch to a month-to-month lease contract

Month-to-month lease agreement

—This is a short-term contract that lasts for 30 days. It can be renewed as long as the involved parties want to continue their cooperation
The Virginia Residential Landlord and Tenant Act (VRLTA), a law regulating specific lease-related rules in this state, covers all residential rental agreements except for:
Single-house agreements

Townhouse rental agreements

Condominium rental agreements

Condo rental contracts for the owners who lease four or fewer units
What Sections Should the Virginia Lease Agreement Contain?
According to the VRLTA, a valid lease agreement in Virginia should contain the sections presented in the table below:
Sections
Details
Personal and general details

Name of the landlord

Name of the tenant

Contact details of both parties—phone numbers, email addresses, physical addresses

Lease type

Lease duration—the start and end date

Property details

Property address

Premises condition and description

Furniture availability

Parking availability

Rent details

Amount

Payment method

Security deposit amount and details

Penalties for late or missing monthly fees—amount and changeability

Responsibilities

Furniture and appliances

General maintenance

Utility bills

Pet policy

Homeowners association duties

Smoke and carbon monoxide detectors

Termination details

Notice requirements—in Virginia, it's three months for a standard lease or 30 days for a month-to-month lease

Resolutions in the event of bankruptcy or death

Other mandatory disclosures

Mold

Move-in checklist

Defective drywall

Lead-based paint disclosure

Methamphetamines disclosure

Military zone disclosure

Air zone disclosure

Planned demolition

Ratio of utilities
Does a
Virginia Rental Agreement
Need To Be Notarized?
The document becomes legally binding as soon as both concerned entities sign it, which means that having your lease agreement notarized is unnecessary. It can also serve as evidence in the court in case of incidents or rule violations.
DoNotPay Helps You Create the Best Lease Agreements
If you need help with composing your lease contract without a lawyer, DoNotPay has a fast and affordable solution! Our app offers a vast collection of standardized contract templates you can personalize and make as many legal documents as you need! This means you don't have to waste unreasonable amounts on legal experts or write your contract from scratch. All you need to provide is a few pieces of information—we will do the rest!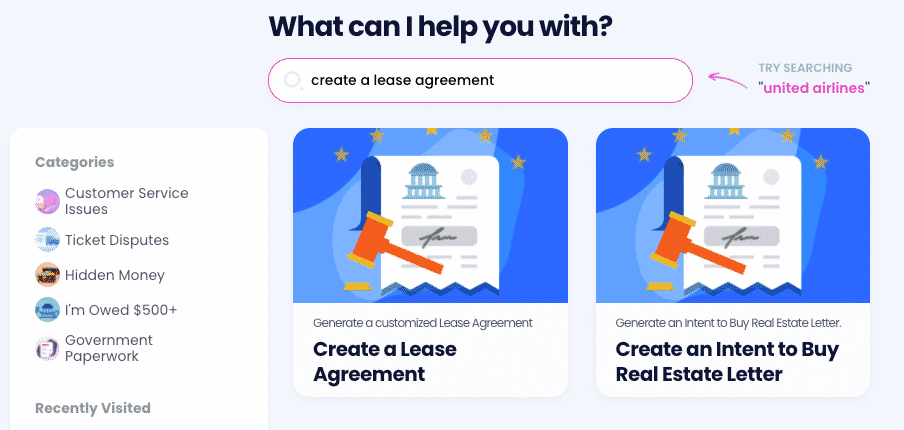 Here's how to use our service:
Log in to DoNotPay using your preferred

Pick the desired document template

Complete a short questionnaire about the details you want to include in your contract
Once you submit the necessary info, we will create a customized document you can sign or get notarized right away!
Do you need other contracts? Our database offers numerous legal documents, including:
General Business Contract

Estoppel Certificate

Quitclaim Deed

Intent To Purchase Real Estate

General Affidavit

Promissory Note

Child Care Authorization Form

Residential Lease Agreement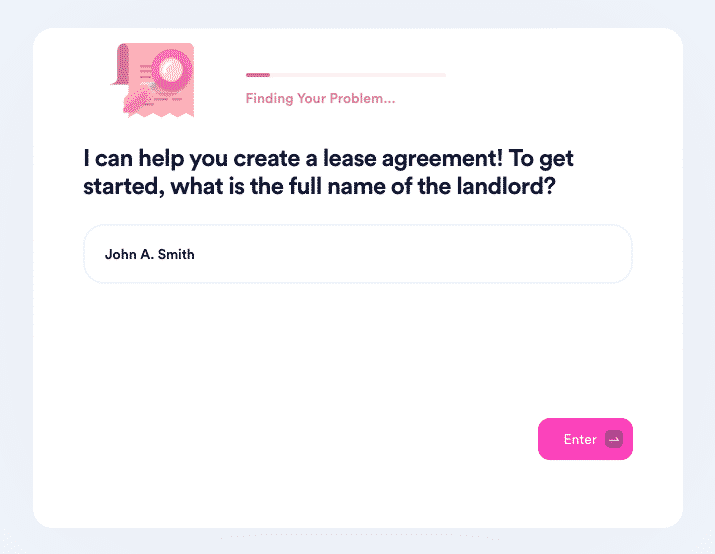 Find Out More About Various Contracts in a Snap
Educating yourself on various types of agreements and legal documents can come in handy in business or any other collaboration, which is why you should check out 's knowledge base.
It has loads of handy articles explaining how lease agreements work in various parts of the USA, such as Utah, Colorado, New Jersey, New Mexico, Tennessee, Oklahoma, etc.
Besides residential lease agreements, our guides explain the essentials of other contracts, including:
Need Help Fighting Bureaucracy? Use DoNotPay!
As the world's first robot lawyer, DoNotPay can help you resolve a plethora of tedious administrative issues. Our app will assist you in getting justice in small claims court, getting refunds from merchants, reporting annoying spam emails and text messages, reporting copyright infringement, bypassing phone number verification, and so much more!
You can also rely on DoNotPay's help when it comes to subscriptions. If you want to sign up for a free trial, cancel a service you no longer use, and skip the phone queue when doing so, our app will provide its assistance.
Our App Saves You Time and Money
Are you unable to pay your bills? Use the world's first robot lawyer app to cover them! Do you want to appeal your traffic or parking tickets? DoNotPay will help you appeal them in the blink of an eye.
Our app can do so much more than that, though—with DoNotPay by your side, you can sign up for clinical trials, ace government tests, claim any type of warranty, schedule an appointment with the DMV, and handle any other bureaucratic task.