How to Get a Virginia Hunting License the Easy Way
If you're an outdoor enthusiast who's looking for a place that has incredible natural beauty and amazing wildlife, look no further than Virginia. If you're into hunting, the Appalachian Mountains are a prime location for big game like deer, elk, and bear. There are also plenty of turkey and small game species to be had. But before you head out into the woods, you need to obtain a Virginia hunting license.
This simple document is issued based upon your residency. You are only allowed to hunt species that are listed on the license type you've purchased. For example, if you have a small game hunting license you cannot hunt big game species, and visa versa. Getting a hunting license in Virginia can be a pain, especially with COVID restrictions. With DoNotPay, you avoid all the usual issues and your Virginia hunting license is issued fast.
What Is Hunting in Virginia Like?
Spectacular natural beauty, challenging terrain, and a large number of prey species make Virginia a great place to hunt. Deer hunters appreciate a success rate of 60%, which makes Virginia one of the best places to hunt deer.
In fact, Virginia is one of the top states for big game hunting in the country. There are also ample opportunities for small game hunting, fishing, and more.
Who Is Eligible to Get a Hunting License in Virginia?
You must know that the majority of people are required by law to carry a hunting license in Virginia. There are exceptions for children under 12, adults over 65, as well as individuals hunting on private land are exempt from the hunting license requirement. To obtain a hunting license in the Commonwealth, you must:
Show definitive proof of state residency (to obtain a resident hunting license).
Provide a valid out-of-state ID (for non-resident hunting licenses).
Hunter's Safety Courses are required for hunters 12-14 years of age before obtaining a license.
What Are the Different Types of Virginia Hunting Licenses?
As with other states, Virginia offers a different type of hunting license for each species or type of animal. It is your responsibility to purchase the correct hunting license and you must carry it whenever you're out hunting. Options for hunting licenses in Virginia include:
Small Game Hunting License
Dove, Woodcock, Snipe, Gallinules, or Rail Hunting License
Bear, Deer, or Turkey License
Waterfowl Hunting License
Archery Tackle Hunting License (Required in addition to one of the hunting licenses listed above.)
Muzzleloader Hunting License (Required in addition to one of the hunting licenses listed above.)
Hunting License Costs in Virginia
The cost of a hunting license in Virginia depends upon a few things. Your residency status, the type of hunting license you wish to purchase, your age, and other factors will determine your final costs.
Type of License
Resident
Non-Resident
Sportsman's License
Age 16 and above -  $100.00/year

Includes a hunting license, bear license, deer/turkey license, archery license, muzzleloading license, freshwater fishing license, and trout license.

Junior Hunting License
Age 12 to 15 - $8.50/year
Age 12 and below - $13.00

Age 13 up to 15 - $16.00

Youth Combination Hunting License
Age 12 to 15 -  $16.00/year

Includes a Virginia hunting license, bear license, deer/turkey license, archery license, and muzzleloading license.

Underage 16 - $31.00/year
Hunting License
16 and above - $23.00/year
16 and above - $110.00
Senior Citizen Hunting License
65 and above - $9.00/year
These are only a few of the types of hunting licenses and costs you may incur in Virginia.
How to Get a Virginia Hunting License
When you're ready to get your hunting license in Virginia, you have a couple of options for doing so.
Visit one of the many retail establishments and other locations that sell Virginia hunting licenses in person.
Use the commonwealth's online portal to request a hunting license via the internet.
Call and speak to a customer service representative to get your license.
The trouble is, all of these options are time-consuming, sometimes confusing, and not a whole lot of fun. You'd rather be planning your hunting trip than dealing with that. Leave the hard work to DoNotPay and you'll be out in the woods in no time.
Trouble Getting a Hunting License? Follow These Steps
Maybe you're too busy to drive around to find a place to buy a hunting license in person. Perhaps you're experiencing technical difficulties trying to access the website. Long hold times on the phone aren't appealing either. Luckily, there's a way to get a Virginia hunting license fast, without all that hassle. 
Here's how you can use DoNotPay to get your hunting license:
1. Search "hunting license" on DoNotPay and select the state you would like a hunting license for.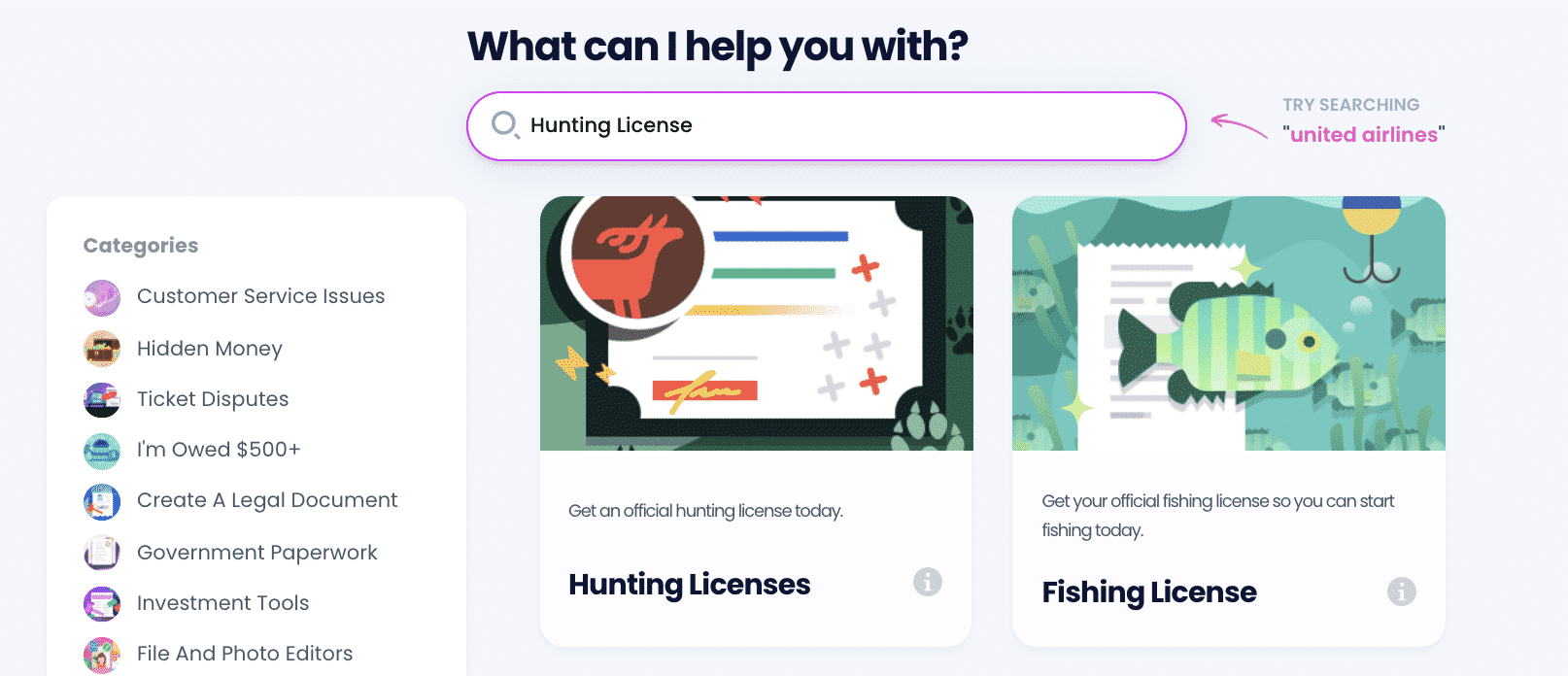 2. Indicate whether you are a resident or non-resident, and choose the type of license you want. For example, an annual or one-time pass, big game or small game license, bear tag, etc.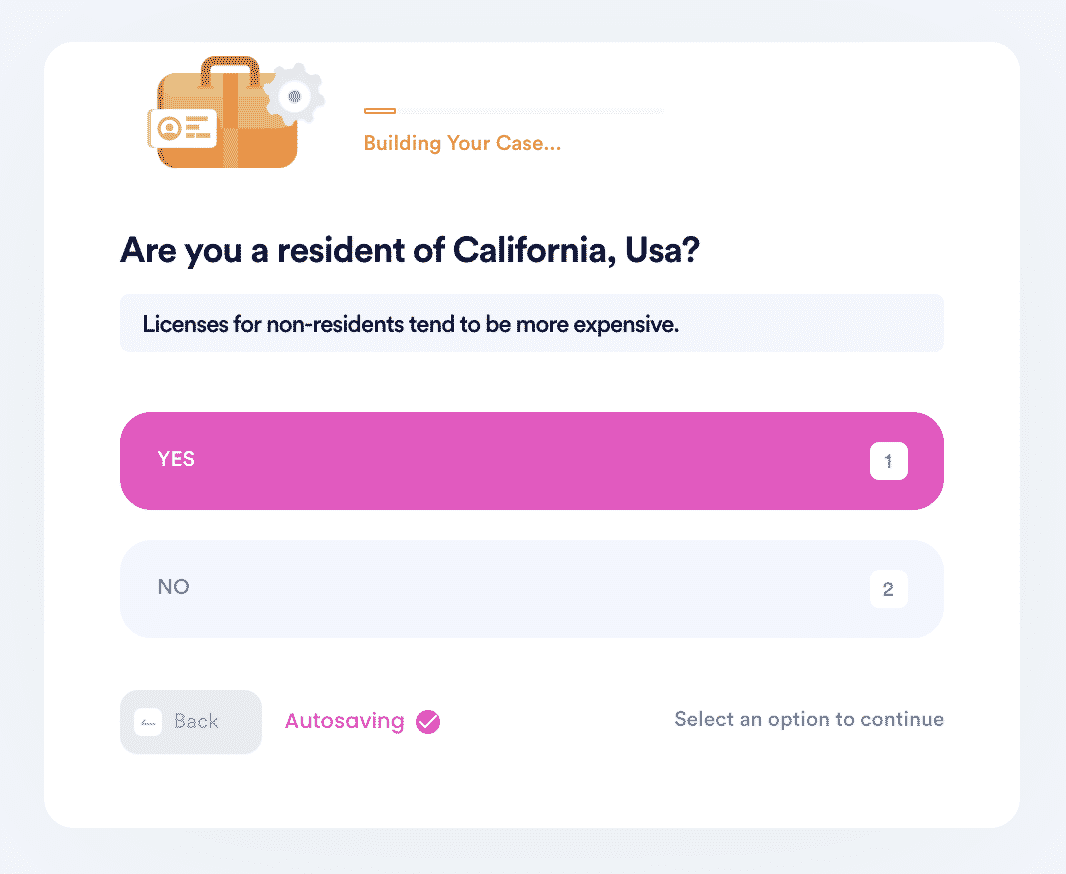 3. Provide your contact information, a copy of your government-issued ID, and pay the fee required by the state.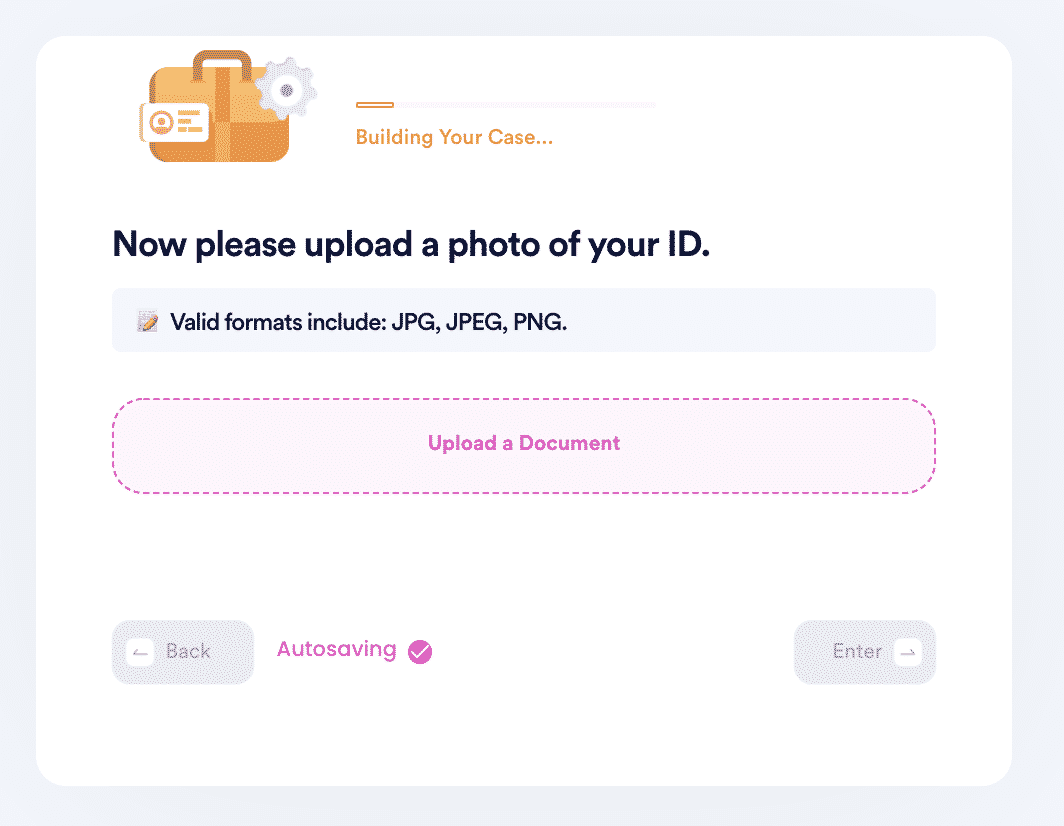 And that's it! DoNotPay will get the hunting license on your behalf, which will be valid immediately. Just download the file and print it as a temporary license, while a physical copy gets processed and sent to you by mail.
Why Use DoNotPay to Get a Virginia Hunting License
There are so many options when it comes to a Virginia hunting license that it can get exhausting real quick. Cut the confusion and get the license you need in mere minutes with DoNotPay.
Incredibly Fast—You don't want to drive around town, wait in line, and then wait for your hunting license. With DoNotPay, you don't have to. You can have your valid hunting license in minutes.
It's So Easy—Just answer a few questions, verify your residency, choose the licenses you're interested in, pay the fees, and download your license immediately.
Go Hunting Today—Waiting isn't an option when the hunting is good. With DoNotPay, you won't miss a good opportunity for a hunt.
What Else Can DoNotPay Do?
The world's first robot lawyer can do more than file for a hunting license in Virginia. In fact, it can get you a hunting license in any state quickly and easily. But, that's just the tip of the iceberg. This innovative app can do so much more including (but not limited to:)
Visit DoNotPay today to discover all the ways this amazing app can help you manage life better, faster, and easier.