Find Out How a Virginia DMV Power of Attorney Works
Dealing with power of attorney documents can be complicated, especially if you don't know how the legal system works.
In this guide, DoNotPay will teach you everything you need to know about a Virginia DMV power of attorney without breaking a sweat.
What is a DMV Power of Attorney in VA?
The Virginia DMV power of attorney (POA) form is a legal document for transferring powers to make decisions about a vehicle from the principal to the agent. After signing, this POA supersedes all previous agreements and POAs. With this document in hand, the agent has the authority to make the following transactions:
Buy or sell a vehicle
Register a vehicle
Transfer ownership of a vehicle
You can choose more than one person as a power of attorney, but they all must act in your best interests and have clearly defined roles.
How To Change Ownership With a DMV Power of Attorney in VA
Here is how you can change ownership with a DMV power of attorney document in Virginia:
Record the change of ownership on the car title
Fill out the DMV power of attorney form (VSA 70)
Submit it to the DMV clerk, along with the car title
Pay the title fee to change the name of the owner
Return old license plates to the DMV
Call the insurance company to cancel your plan
Legal Requirements for a Virginia DMV Power of Attorney
Virginia has specific legal requirements for creating powers of attorney. To ensure that a POA is valid, you must pay attention to the following:
The principal and agent must be above 18 years of age
The document must be signed by a notary public
You can sign the document in front of two witnesses for added protection
A VA DMV Power of Attorney Form
There are four sections in a DMV power of attorney form, as mentioned in the table below:
Info To Add
Details
Owner info

Owner's full name
Address, including city, state, and zip code
Co-owner (if any)

Agent info

Agent's full legal name
Address, including city, state, and zip code

Vehicle info

Vehicle make
Body type
Title number
Vehicle identification number (VIN)
Model year

Certification

Owner's and co-owner's signature
Effective date of the agreement
Drafting a POA document seems too big of a hassle? Sign up for DoNotPay to get a customized one in less than five minutes!
DoNotPay Can Create a Power of Attorney in a Matter of Minutes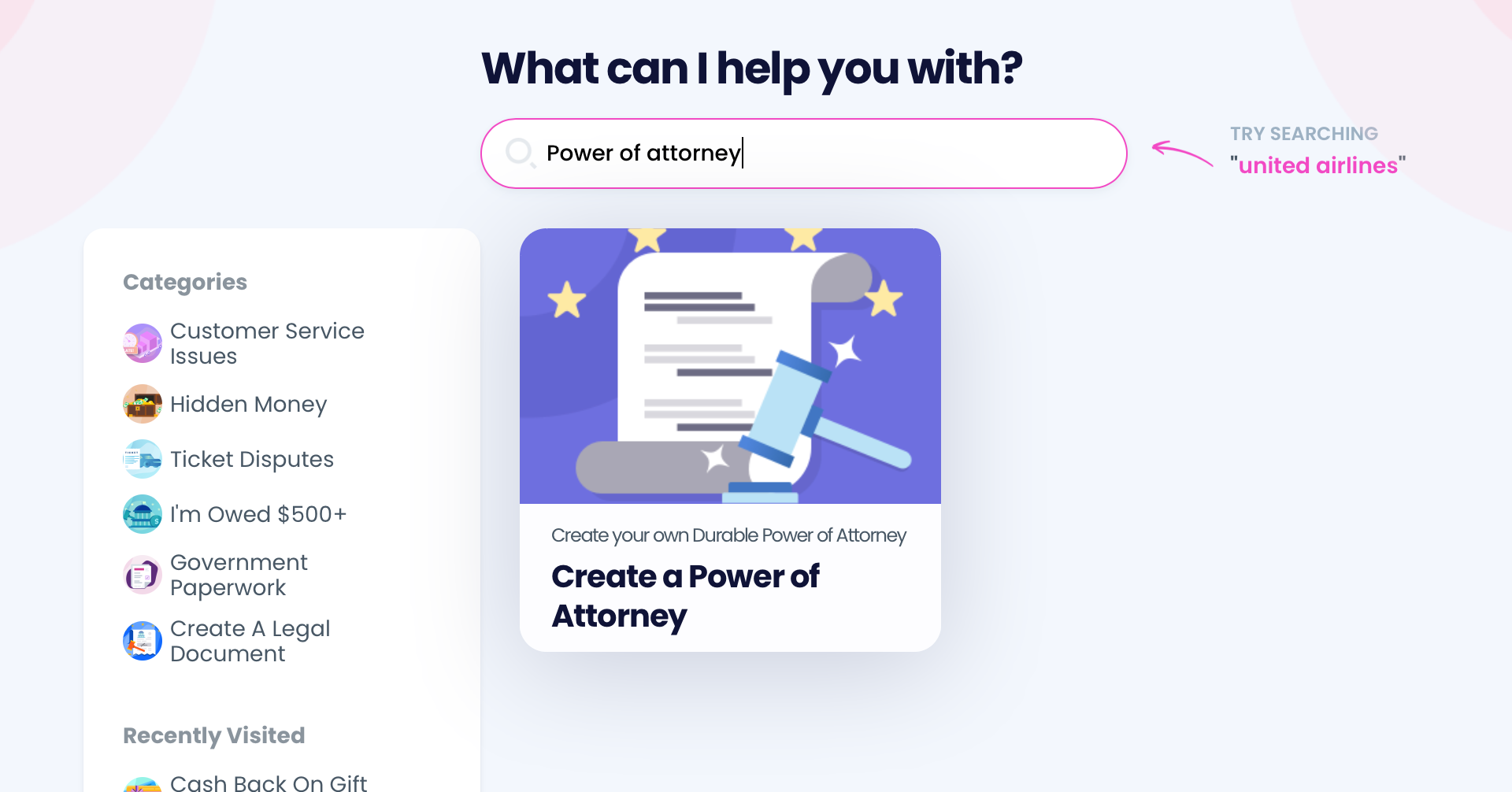 You don't need to waste your time and money to create a power of attorney letter—DoNotPay will do it for you! Here's what you need to do to get started:
Access DoNotPay from your web browser
Select the Power of Attorney feature
Provide answers to our chatbot's questions so we can customize the POA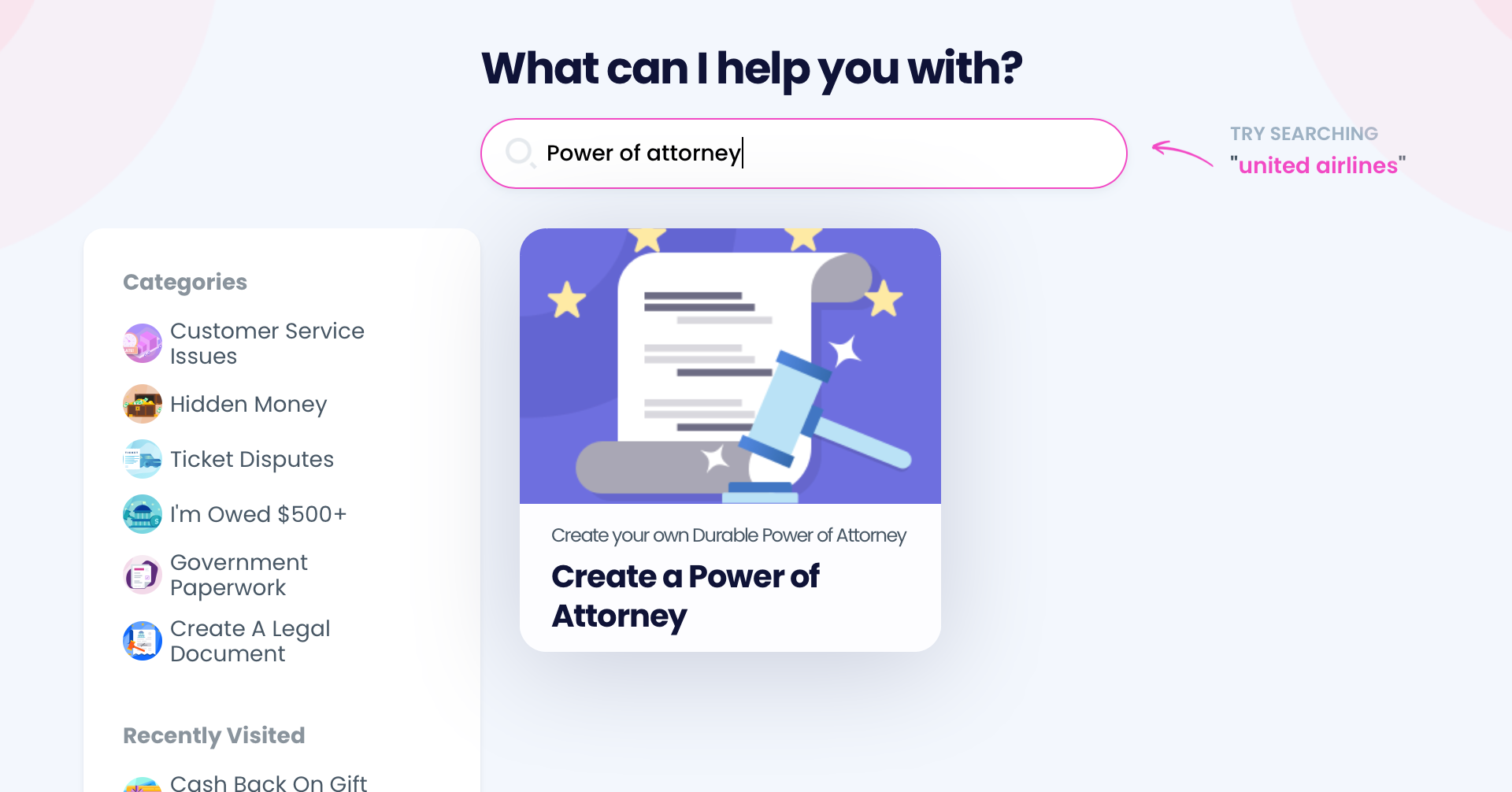 DoNotPay will send you the tailor-made document, along with two notices. The principal and agent need to read and understand the notices before signing the document.
Want To Notarize Your POA? DoNotPay Is at Your Service!
DoNotPay's service doesn't stop here! Since most states require you to get your POA notarized, we can connect you to an online notary. All you need to do is inform us when answering the POA questions.
You don't need to waste time booking an appointment with a local notary. Our notary feature will allow you to get your document notarized from the comfort of your home!
DoNotPay Has All the Info on Other Powers of Attorney
Depending on your requirements, there are different types of powers of attorney that are used in Virginia. Here is a list of the most popular ones:
General power of attorney—With a general power of attorney, the agent has broad powers to make decisions about the principal's financial, legal, and real estate matters
Durable power of attorney—A durable power of attorney—or a DPOA—is effective immediately after signing the agreement. It gives the agent the authority to act on the principal's behalf even if they are mentally or physically incapacitated. The agreement ends automatically if the principal passes away
Limited power of attorney—With this type of power of attorney, the principal delegates limited powers to the agent. This POA can only be used for specific purposes and expires once the purpose is achieved
Springing power of attorney—A springing or conditional power of attorney is triggered by a certain event or incident, such as the mental or physical incapacitation of the principal. It can also end at a specified time, depending on the principal's wishes
Medical power of attorney—This document allows the agent to make healthcare and medical decisions on the principal's behalf in case they are unable to do so themselves. Among others, it includes decisions regarding surgery, treatment, organ donation, and choice of healthcare facilities
Financial power of attorney—Based on a financial POA, the agent has power over the principal's financial matters, such as taxes, bank accounts, and mortgage payments
Get Rid of Pesky Issues in a Matter of Clicks
Dealing with administrative hurdles becomes infinitely easier once you sign up for DoNotPay. Your personal assistant will take care of your boring and annoying tasks, such as:
Companies Taking Your Hard-Earned Money? No More!
Has any company wronged you? We can take care of all the paperwork if you decide to take your case to small claims court! Do you need a customized legal document and have it notarized? No problem—DoNotPay can even help you mail or fax it in no time.
Do you suspect someone stole your delivery? File a refund claim with our app in just a few clicks! Are you dealing with rude or noisy neighbors? You can rely on the world's first robot lawyer to draw up a demand letter—that should do the trick.
If you need any other type of assistance, sign up and check out what else we can do for you!