Get All the Info on Virginia Divorce Laws on Alimony With DoNotPay
Getting a divorce in the Mother of States can be challenging, especially if you're not familiar with Virginia divorce laws on alimony, child support, division of assets, and similar. DoNotPay is here to offer a detailed guide to filing for an uncontested divorce in Virginia and help you create an airtight divorce settlement agreement in no time. If you want a friendly and quick divorce that won't cost you an arm and a leg, now!
What Is Alimony?
Alimony or spousal support is a series of court-ordered payments granted to an ex-spouse after the divorce. Alimony is there to help the spouse who's earning less with financial hardships.
There are three types of alimony in Virginia:
Temporary support—awarded to a spouse who needs financial help during the divorce. The judge will establish an amount that can help the recipient spouse while they wait for the divorce to be finalized
Rehabilitative support—should provide help for the dependent spouse until they find employment
Permanent support—available to spouses who can't become financially independent due to disability, age, or absence from the job market
Who Determines Alimony in Divorce?
The person who determines alimony in your divorce will depend on the divorce type you file for:
Contested divorce
Uncontested divorce
Who Determines Alimony in a Contested Divorce?
A contested divorce happens when two spouses can't reach an agreement on all terms of their divorce, including alimony, which means that a court gets to decide how they will handle divorce-related matters. In a contested divorce, a judge will determine who gets alimony, the amount that the supporting spouse needs to pay, and for how long the alimony needs to be paid.
In Virginia, alimony isn't meant as a punishment for a spouse that caused the marriage to fail, but the court can take into account all the reasons why the marriage ended. The factors that the court considers when awarding alimony are:
Financial resources of the spouses
Income from pension, profit-sharing, and retirement plans
The obligations and needs of the spouses
The duration of the marriage
The couple's standard of living
Age, physical, and mental condition of the couple, along with any other circumstances
The contributions of the spouses to the family, monetary and non-monetary
Division of the marital property and assets
A gap in the spouses' income
The property interests of the couple, both tangible and intangible
Each party's earning capacity
The ability and opportunity for the less-earning spouse to acquire the appropriate training, education, and employment to enhance the earning ability
Contribution of each spouse to the attainment of education, training, career position, or profession of the other spouse
All other factors that make sure the award is equitable, including tax consequences
Who Determines Alimony in an Uncontested Divorce?
In a no-fault, uncontested divorce, the spouses get to create a divorce settlement agreement that should spell out all of the issues regarding the divorce. Besides allowing you to make alimony and other divorce-related decisions on your own, an uncontested divorce also costs less than a contested one. This is a much better option, provided that you and your spouse can reach an agreement without involving a court.
Virginia Divorce Law Alimony—How Is It Calculated?
If the court determines that one of the spouses has to pay alimony, they will follow the pendente lite alimony guidelines that became effective on July 1, 2021. Consult the table below for details:
| Case | The Calculation |
| --- | --- |
| With children | 26% of the payer's gross monthly income minus 58% of the recipient's gross monthly income |
| Without children | 27% of the payer's gross monthly income minus 50% of the recipient's gross monthly income |
These pendente lite guidelines apply to all support cases in juvenile court, divorce cases in circuit court, and all other separate maintenance claims in circuit court.
Want To Take Matters Into Your Own Hands? File for an Uncontested Divorce
If you and your spouse wish to decide on all the terms of your divorce, including spousal support, filing for an uncontested divorce is a better option. A vital step to take during this process is drafting a divorce settlement agreement. This document should include the following information:
If you and your spouse aren't able to agree on all these terms, you can attend a few mediation sessions to try and settle your differences. Mediation is a process facilitated by a neutral third party who is supposed to help you reach a compromise. You will discuss all the points of alimony during mediation.
How To File for an Uncontested Divorce
To file for divorce, you need to complete the steps below:
Hire a mediator (optional)
Find the appropriate paperwork and divorce forms
Fill out the forms and file them with your county court
Create a divorce settlement agreement
If you want to reduce the cost of your divorce, you should create your divorce settlement agreement without involving mediators or lawyers. DoNotPay can help you draft a mistake-free divorce settlement agreement in under five minutes.
Rely on DoNotPay To Create a Divorce Settlement Agreement in a Jiffy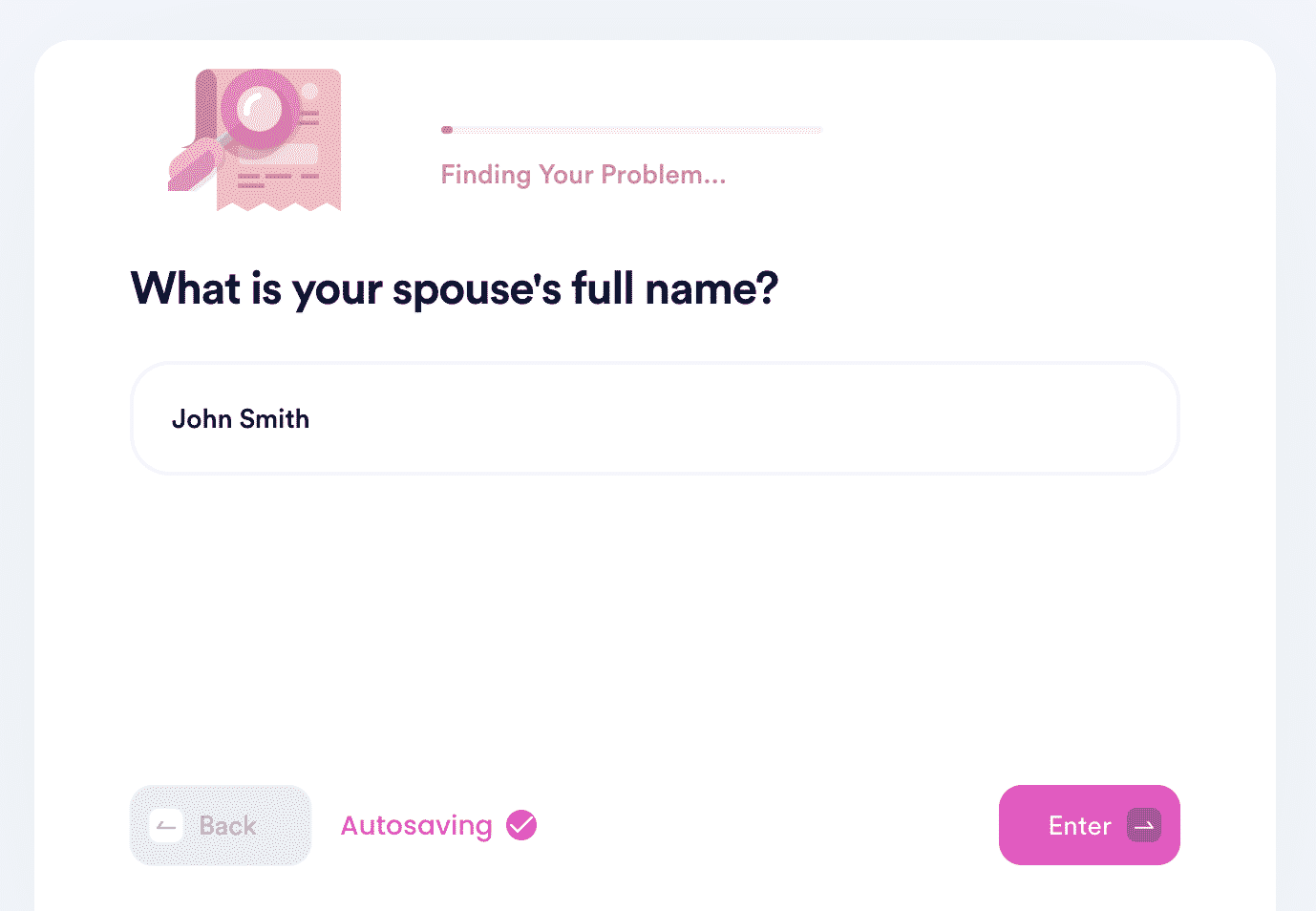 If you and your spouse can agree on everything, DoNotPay can create a settlement agreement for you to sign—all you need to do is and do the following:
Find our Divorce Settlement Agreement product
Add all the information about you, your spouse, children, assets, and similar
Tell us how you want to divide your property
We will generate your document automatically, and you can even get it notarized through our platform. DoNotPay enables you to schedule an appointment with an online notary who will witness your signing of the document.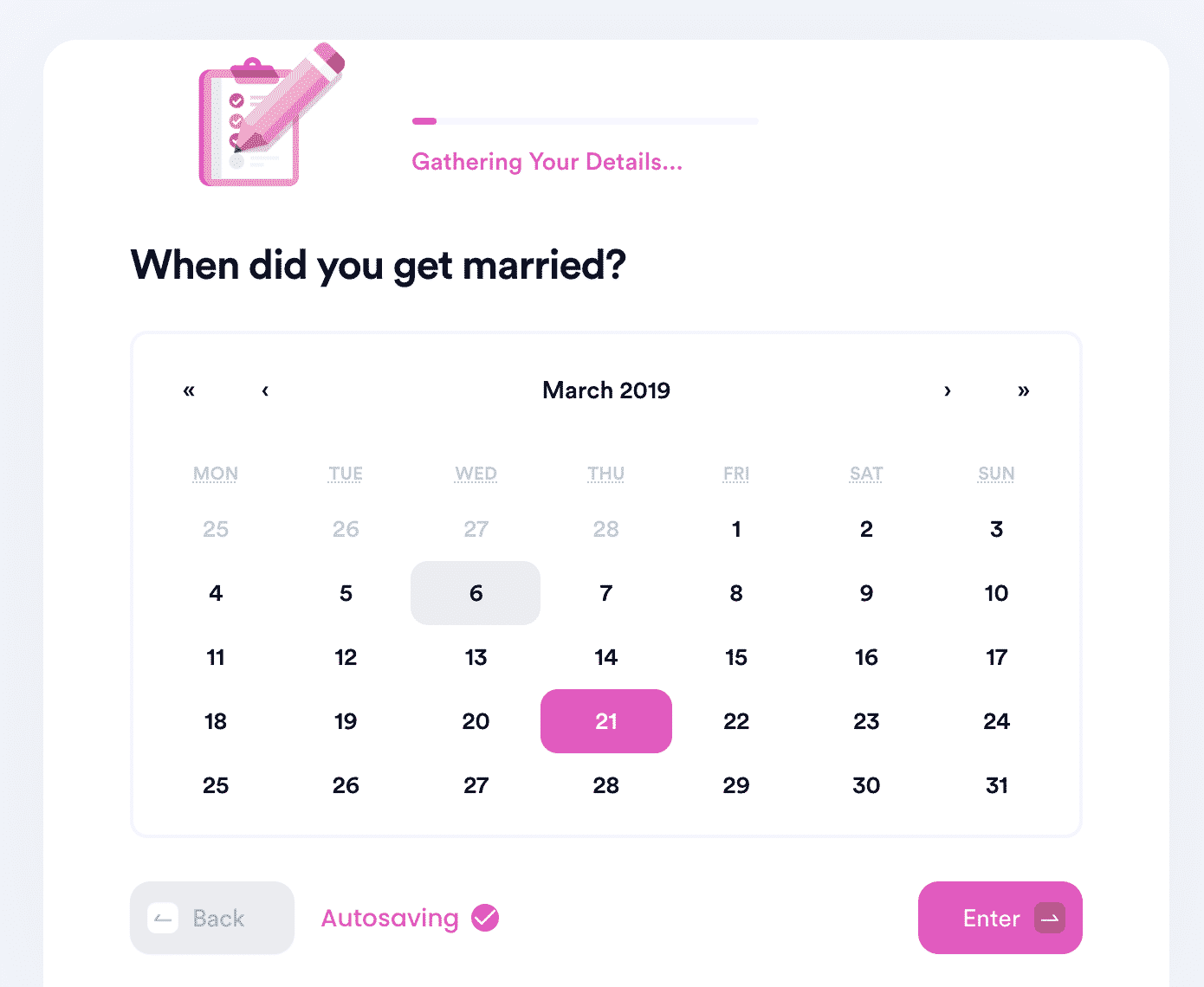 That's not all—DoNotPay has a helpful learning center that you can use to find more information on the divorce process in Virginia Beach and Fairfax County and various other divorce-related matters. Here are some of the questions you can get answers to:
DoNotPay Can Help You With Almost Anything
DoNotPay's goal is to have a multitude of features that can be useful to you with handling various issues. Whether you want to apply for clinical trials, prepare for government tests, or even get in touch with your locked-up friends or family—DoNotPay has got you covered!
For a small yearly fee, our AI-based app will help you:
Want To Save and Earn Money at Once? Subscribe to DoNotPay
DoNotPay can help you earn and save a buck or two. We'll assist you in reducing your property taxes, canceling any unused subscriptions, and signing up for free trials with our virtual credit card.
As if that wasn't enough, we'll save you money and spare you from a headache if you receive any faulty deliveries by filing a refund or an item return request in your stead! This is just the tip of the iceberg of features that DoNotPay has in store for you.