Get the Gist of Virginia Divorce Forms!
Are you getting a migraine figuring out what forms you should fill out when filing for divorce in VA? We're here to break down Virginia divorce forms and explain all you need to know about filing for a friendly divorce in the Mother of States.
Subscribe to DoNotPay, and get the scoop on various divorce-related concerns, including how much a divorce costs and how to file for one online!
All You Need To Know About Getting a Divorce in VA
Before you start gathering the required divorce papers, you should decide which divorce you and your spouse will file for—the contested or uncontested one.
Contested Divorce in VA
If you and your spouse can't reach an agreement on how you want to handle the divorce matters, you will likely have to file for a contested divorce. This process takes a lot of time, and you can't avoid going to court—a judge will have to make the final decision on your divorce matters.
You also won't be able to protect your privacy. All the details from your marriage that you may want to keep for yourself will become public knowledge.
Uncontested Divorce in VA
Filing for a low-cost uncontested divorce gives you the advantage of finalizing your divorce efficiently without going to court. To file for one, you and your spouse will have to reach an agreement on all important divorce matters, such as how marital property will be divided. In case you have children, you have to agree on who gets custody, who pays alimony, and similar.
If you're worried that you and your spouse won't be able to agree on every aspect of your divorce, don't be! You can always hire a divorce mediator to assist you in making those decisions. By engaging a VA divorce mediator, you can avoid wasting money on lawyers by reaching an out-of-court divorce settlement.
What Are the Required Divorce Papers in Virginia?
If you're curious about the potential forms you should fill out when filing for divorce in Virginia, check out the list below:
Complaint for divorce
VS-4 form
Cover sheet for filing civil actions
Parenting plan (if you have minor children)
Divorce settlement agreement
Final decree of divorce for:

No support
Spousal support with no children
Child support and/or spousal support

Affidavit of moving party
Affidavit of corroborating witness
Ore tenus hearing questions for moving party and corroborating witness
Confidential addendum for protected identifying information (Social Security numbers)
Waiver or acceptance of service of process
Waiver of future service of process and notice
Keep in mind that you probably won't have to get all of the forms listed above since each VA county has different requirements. Make sure to ask your county clerk about the specific forms you'll need. DoNotPay can help you find out more about the divorce process in Virginia Beach and Fairfax County!
Filing for Divorce in Virginia Without a Lawyer
Wondering whether to hire a lawyer if you and your spouse agree on everything? You can, but you don't have to.
A lawyer could help you better understand the process and explain what uncontested divorce papers you should fill out, but you can do it by yourself as well.
Uncontested Divorces in Virginia—Steps to Filing for One
To file for an uncontested divorce in VA, you'll have to seek a no-fault divorce and meet the VA residency requirements. Either you or your soon-to-be-ex need to be Virginia residents for at least six months prior to filing for divorce.
You and your spouse also need to have lived apart for at least a year (or six months if you don't have children) before filing for divorce.
Follow the next steps to file for an uncontested divorce in Virginia:
| | |
| --- | --- |
| Steps | Explanation |
| Fill out and file the required divorce papers | You need to fill out a Complaint for Divorce to initiate the process. Complete and file other divorce forms required in the county where you're filing for divorce |
| Serve your spouse | Getting a copy of your divorce papers and giving it to your spouse is merely a formality when filing for an uncontested divorce, but this step is mandatory |
| Draft a divorce settlement agreement | A divorce settlement agreement will include all terms and conditions you and your spouse agree on, so make sure to pay extra attention when drafting this document. Both you and your spouse should read the agreement carefully, sign it, and have it notarized |
VA Divorce Papers—Draft Your VA Divorce Settlement Agreement With DoNotPay Instantly!
DoNotPay saves you the trouble of writing your divorce settlement agreement by yourself! Why waste money on divorce attorneys when you can have our robot lawyer create your agreement in a snap? Complete the following instructions to get your agreement instantly:
Choose the Divorce Settlement Agreement feature
Answer our questions
Once you finish, DoNotPay will create the agreement that you and your spouse should sign and have notarized!
You can use our app to handle document notarization online! Do you want to avoid traveling to see a notary in person? Choose to have your agreement notarized once we draw it up and get it done the easy way.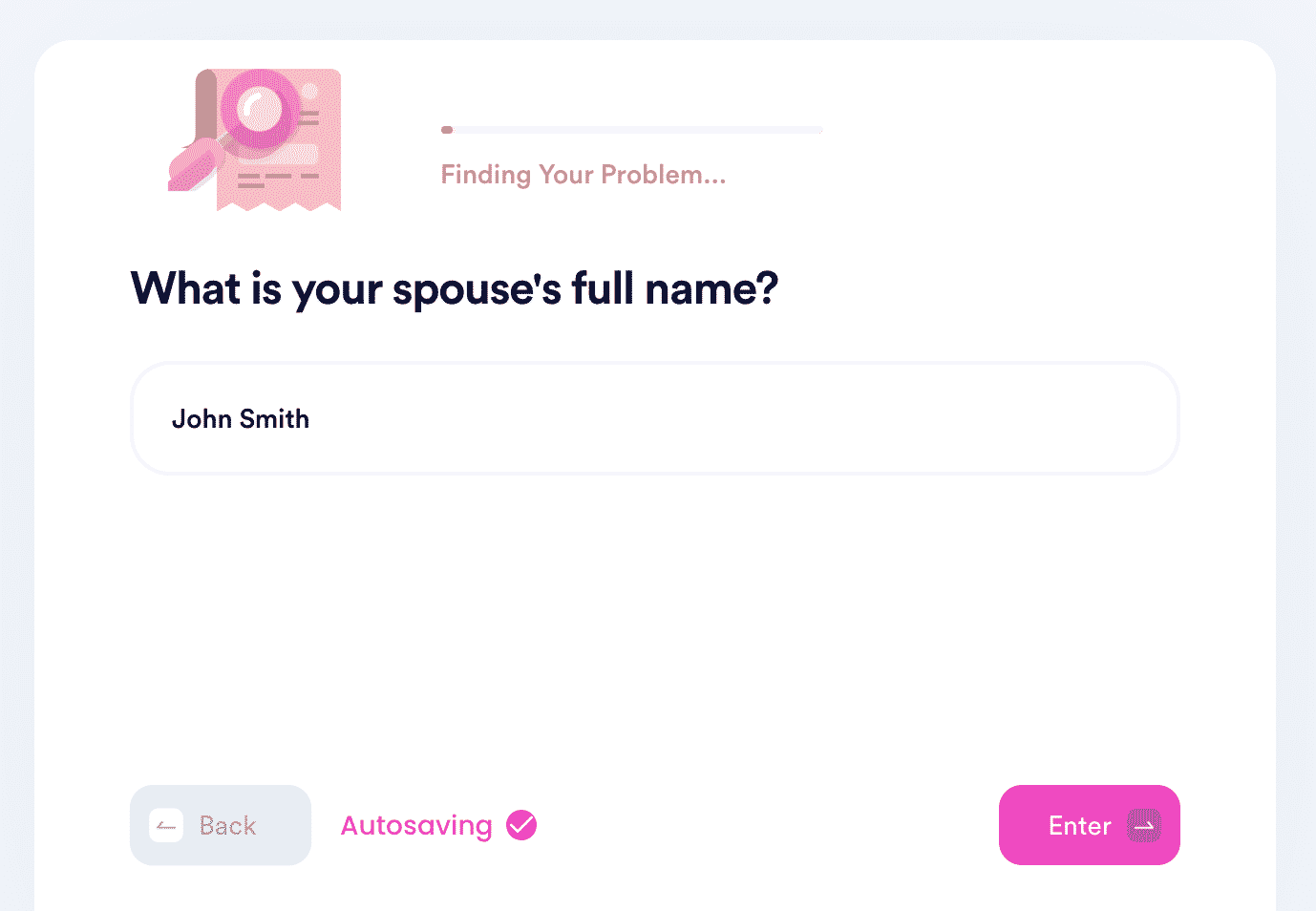 We can also answer various VA divorce-related questions and explain:
Subscribe to Various Services Hassle-Free With DoNotPay
Did you ever get charged by a subscription service after using their free trial? DoNotPay can put a stop to that once and for all! We can get you a virtual credit card or a burner phone number, which you can then use to subscribe to any service stress-free! When you want to cancel a subscription, turn to your virtual assistant for help, and we'll do it for you in seconds!
If the company is giving you a headache, we'll hook you up with their customer support or even sue them in small claims court. Possibilities with DoNotPay are endless!
DoNotPay can also turn mailing into a piece of cake and save your inbox from email and text spam!
Solve All of Your Bureaucratic Issues With DoNotPay
Do you need to file an insurance or warranty claim? Need help with setting up DMV appointments or appealing parking tickets around the U.S.? Don't worry because your AI-based helper can step in!
We can help you get professional powers of attorney and divorce agreements, so you don't have to waste money on expensive lawyers! Once we draw up these documents for you, we'll set you up with an online notary, and you can get them notarized in no time!