All About Virgin America Transfer Points
Virgin America is a West Coast-based airline that serves several US locations and a handful of airports in Mexico. Their flights are mostly centered along the West Coast, with connections to the East Coast from their major cities (San Francisco and Los Angeles).
Virgin America has promoted itself as a highly fantastic brand. And many people like flying with them. If you're a regular customer, you're wondering about Virgin America rewards points, how to transfer Virgin points, and what they may be used for.
Plus, Virgin America's "Elevate" points, potential uses, and inherent value are rising as the airline starts to fly out of Dallas, using gateways acquired as part of the American Airlines and US Airways merger.
Earning Virgin America Points and How Points Work
You'll receive five points for every dollar spent on a flight with the Elevate program. Virgin America Elevate is an excellent alternative if you value style, comfort, service, and convenience and are willing to pay a little money.
Instead of using the usual miles-flown process, Virgin America employs a cash-based mechanism.
As a result, redemptions are calculated based on the current cash value of the requested itinerary at the time of booking.
Though Virgin does not have a set value for their points, they often vary between 2.1 and 2.6 cents per point in practice. You may use your points to reserve any airline seat. However, the number of points required for more popular routes brings the redemption price down to the cents per point level.
You may also use the points to book flights on any of Virgin America's partners at a discounted cost. However, all partner flights must be booked over the phone, and many of them have significant fees and surcharges, unlike Virgin America flights.
Virgin America has also joined a Virgin Limited Edition program, letting consumers utilize hundreds of points for stays at select locations and resorts usually unavailable to book with points. For example, Sir Richard Branson's private island in the Caribbean is one member option.
Here are some Virgin Atlantic partners and their corresponding point worth:
| | | | |
| --- | --- | --- | --- |
| Partner Companies   | Point Ratio | Points Worth | Number of Points |
| Chase | 1:1 | $4,000 | 60,000 |
| Marriott Bonvoy | 3:1 | $5,000 | 60,000 |
| American Express | 1:1 | $6,000 | 100,000 |
How to Transfer Virgin America Points by Yourself
If you want to transfer your Virgin America points on your own, follow these steps.
Transfer Points By Yourself

Sign in to your Elevate account at the Points.com website to convert your Elevate points to Mileage Plan miles. If you haven't logged in for a while you may need to contact customer service to reset a password.
You'll be able to choose to transfer to the Mileage Plan after you've logged in. Before you make your initial transfer, you'll need to register both of your accounts. This can be a pain if you don't know all the details of a second account.
You may choose how many points you wish to transfer from the drop-down menu on the page. The bar will auto-complete with the matching amount of Mileage Plan miles.
DoNotPay offers a faster, more reliable and more secure way to transfer Virgin America airline points. Plus, it works for any organization. You can use DoNotPay to transfer points at any hotel, airline, or credit card company.
How to Transfer Virgin America Points with DoNotPay
Use DoNotPay to transfer your Virgin America quickly points easily with these steps.
Here's how to get started:
1. Search "points" or "rewards" on DoNotPay, and select the rewards program you're a part of / the type of points you have.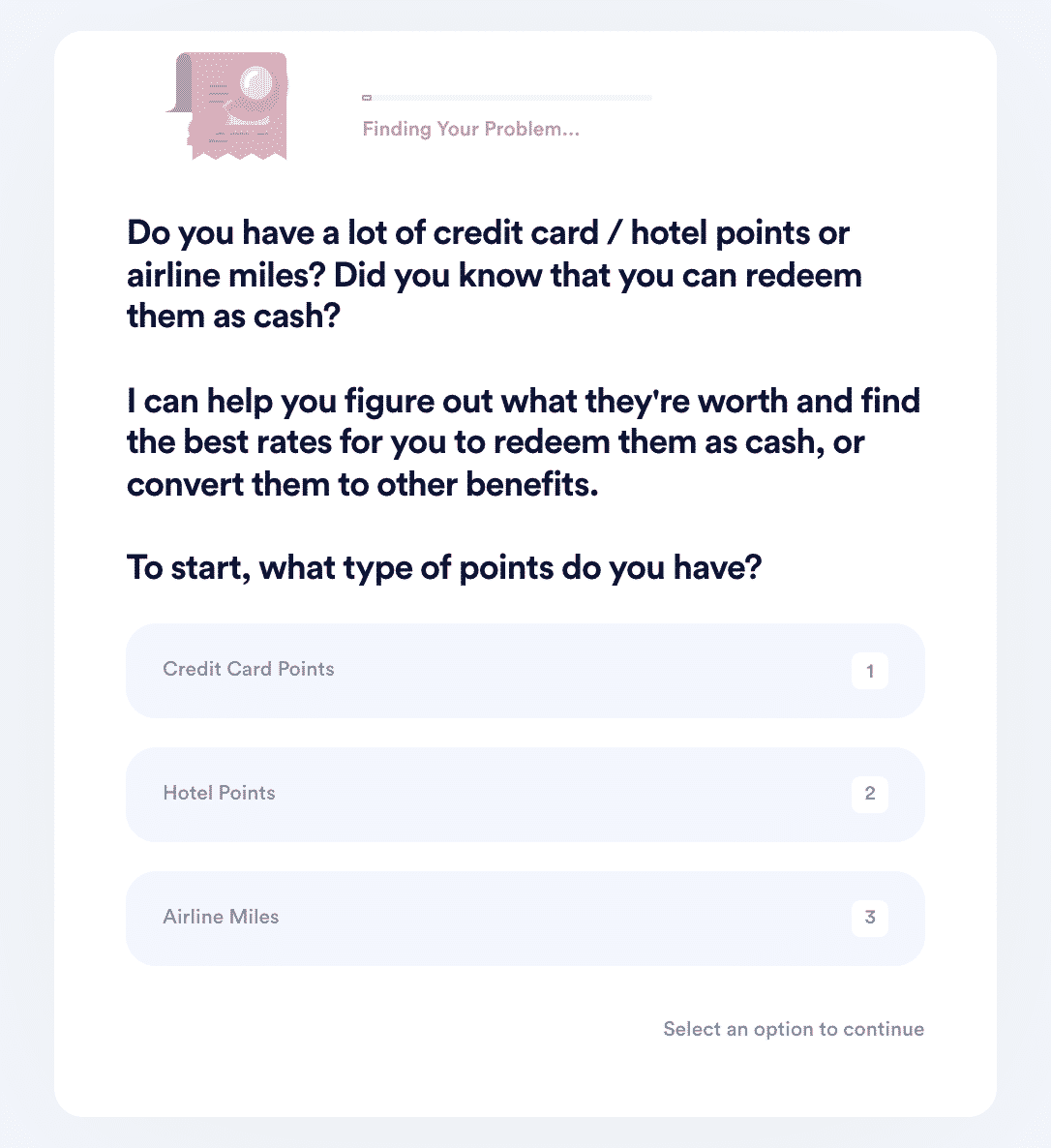 2. Choose whether you want to check your points balance, transfer your points, or sell them for cash.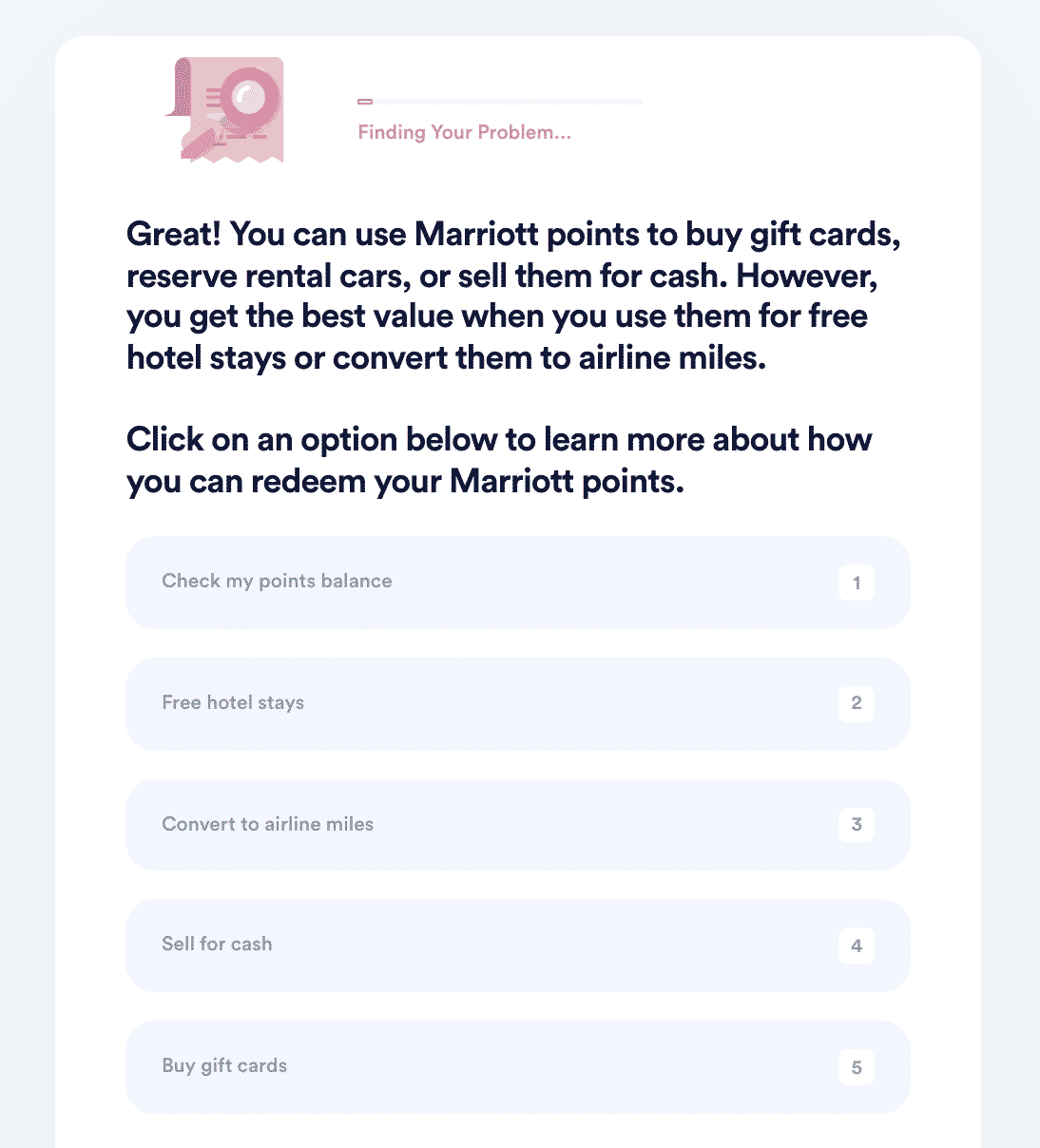 3. When you pick one of the first two options, DoNotPay can check your points balance or transfer your points to you. Otherwise, we can help you find the best deal through third-party vendors.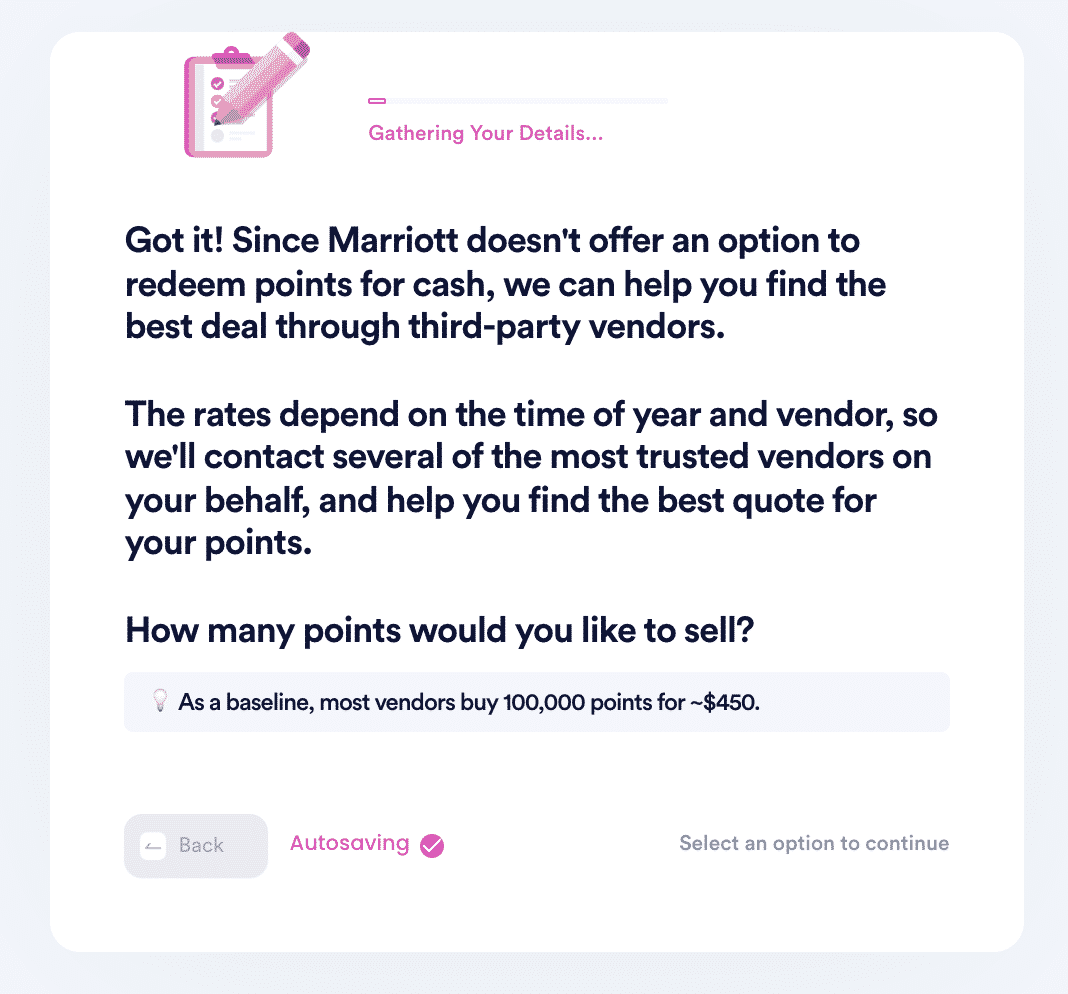 For example, if you are a Marriott Rewards member, you can transfer your points to airline miles or find discounted hotel rates to redeem the best value. We can help you find the best deal through third-party vendors if you want to sell your points.
Lastly, we can also help you check your latest points balance automatically. You'll always know exactly how much free traveling you can do if you use DoNotPay.
Why Use DoNotPay to Transfer Points to Virgin America?
Use DoNotPay to transfer your reward points because it is:
Fast— You won't have to wait for hours to sign in and transfer your points;
Easy— You won't have to strain to fill out tiresome paperwork or keep track of all the stages in the transfer process.
Successful— You may rest comfortably knowing that DoNotPay will present your case in the best possible way.
And you can rely on DoNotPay to help you manage all your rewards club points. We can help you keep tabs of American Airlines miles, Hilton hotel points, and Delta Skymiles. DoNotPay works across all entities with just a few clicks. You can even use it to sell airline miles from any provider, including United.
What Else can DoNotPay Do?
Transferring reward points is just one of many things DoNotPay can help you with. Here are some other services we'd love to share:
Are you ready to transfer your Virgin America points? Use DoNotPay today. Then try some of our other services.