A Rundown on Vietnam Tourist Visas
With stunning architecture, breathtaking landscapes, and affordable food and drinks, Vietnam caters to all types of tourists. A late or missing visa application can ruin your vacation before it starts, though.
DoNotPay helps you travel with peace of mind by explaining how Vietnam tourist visas work and whether U.S. citizens need to apply for one to enter the country!
Are Tourist Visas Mandatory in Vietnam?
Yes, U.S. citizens need to apply for a Vietnam tourist visa before they visit. A Vietnam tourist visa allows you to stay up to 90 days per one entry. Check the table below to find information about all available types of Vietnam tourist visas and costs:
| Visa Validity | Allowed Number of Entrances | Application Fee per Passport for the Regular Tourist Visa | Application Fee for Visa-on-Arrival (VOA) | Visa Stamping Fee |
| --- | --- | --- | --- | --- |
| One month | One | $21 | $18 | $25 |
| One month | Multiple | $26 | $21 | $25 |
| Three months | One | $34 | $28 | $50 |
| Three months | Multiple | $55 | $43 | $50 |
| One year | Multiple | $35 | N/A | $135 |
You can expedite the processing of Visa-on-Arrival applications by paying an extra:
$9 for next-day processing
$19 for same-day processing
If you have a three-month or one-year multiple entry visa, you need to leave Vietnam every 30 days as the government allows a 30-day stay per entrance.
How To Get a Vietnam Tourist Visa
To submit a complete Vietnam tourist visa application, you need to provide:
Your U.S. passport that must have two blank pages and be valid for at least six months after your departure from Vietnam
Two passport photos taken in the past six months
You can apply for a Vietnam tourist visa in two ways:
At the Embassy of Vietnam
Online (Visa on Arrival)
Request a Tourist Visa From the Embassy of Vietnam
When applying for a tourist visa at the Embassy of Vietnam, you can apply:
In person and receive the visa by mail
By mail and receive the visa the same way
Apply for a Vietnam Tourist Visa Online
When you apply for a Vietnam tourist visa online, you can choose to receive it:
How To Contact the Embassy of Vietnam
If you have any questions or concerns regarding your tourist visa application, contact the Embassy of Vietnam using the information from the table below:
COVID-19 Restrictions in Vietnam
The pandemic caused Vietnam to impose several travel restrictions, and some of them include:
All incoming travelers must have a completed Medical Declaration Form
Foreigners are not allowed to enter Vietnam until further notice. The following categories are exempt from this rule:

Experts
Officials
Diplomats
Skilled workers
Foreign investors
Get Acquainted With Vietnamese Etiquette
The Vietnamese cherish modesty and humility. To avoid unpleasant situations and show respect for Vietnamese history and culture, check the table below for common etiquette rules in Vietnam:
Category
Guidelines
Visiting sacred sites

Do not point your soles towards sacred statues
Wear covering and loose-fitting clothes
Do not touch anyone's head

Eating

Do not start eating before the oldest person at the table does so
Clean your plate as it is offensive to leave food on it
Feel free to hold your bowl while eating to avoid spills
Do not play with your food or utensils

Using body language/communicating

Don't stand with your arms on your hips or crossed
Remove your hat, if you're wearing one, when talking to someone older than you
Don't brag
Use DoNotPay To Learn How To Get Tourist Visas for Any Country!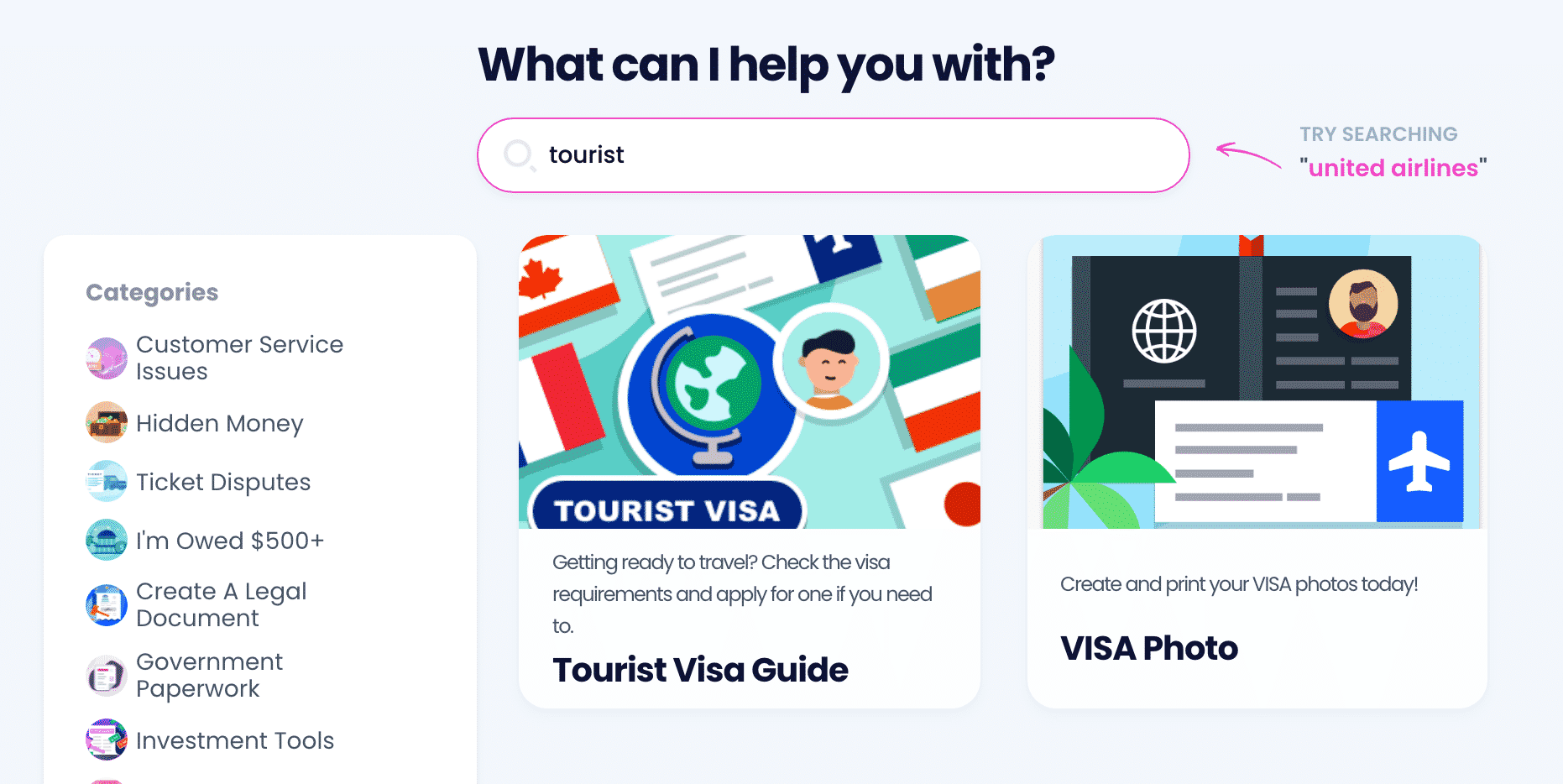 Were you gathering all of the required paperwork for your visa application only to find out you're missing some documents? Spending a lot of time researching visa requirements and submitting your application can cause you to reschedule your vacation.
Speed up your application process and rely on DoNotPay to provide you with up-to-date information about tourist visas for Vietnam or any other country you plan on visiting by:
Checking whether:

A remote application process exists and providing you with a direct link to the official application website if there is one
You have all of the paperwork necessary to complete your visa application

Creating a comprehensive step-by-step guide that explains how to submit your application at the nearest embassy of the country you're traveling to
To avoid bureaucratic hurdles and unnecessary stress before your next trip:
Search for Tourist Visa Guide
Answer our chatbot's questions

Get Comprehensive Guides to Visa Applications for Other Asian Countries
Are you done with Vietnam? Subscribe to DoNotPay to learn more about the visa requirements of other Asian countries so you can plan your next trip in time. We wrote about a plethora of Asian countries and their entry requirements, including:
DoNotPay Helps You Tackle All Kinds of Problems From the Comfort of Your Home
Are you too busy to go to Target, Walmart, or photo studios to get your passport photos taken? DoNotPay offers you the possibility of taking them yourself and having them edited without going anywhere!
Thanks to our app, you don't need to visit the post office if you want to initiate a return. You can also skip going to a notary office because we'll help you get your documents notarized.
Here are some other tasks you can complete with ease using DoNotPay:
We Help You Get Fuss-Free Subscriptions to Any Service
Interested in a specific service or platform? Make sure to get the best out of your free trial without getting charged and ending up with an unwanted paid membership. Even if you make a mistake, DoNotPay can end your subscription in a few simple steps!
Our system allows you to generate virtual credit card numbers to prevent platforms from getting your real bank details and using them for unauthorized transactions. We also offer burner phone numbers that will help you go through any subscription or verification procedure without disclosing personal details.