Sign Up For Video Studio Free Trial Without Giving Your Credit Card Info

Video Studio is an excellent video editing software that allows users to create engaging and high-quality movies out of their everyday photos and videos. You can enjoy several features while on the Video Studio free trial period without the need to upgrade to paid subscriptions.
But remember, if you sign in to the free trial and forget to opt-out, your account will automatically upgrade to the paid version. This is a common challenge with free trials on many products, and you may end up paying for subscriptions you no longer need.
Luckily, a virtual credit card can save you these expenses. It has no link to your bank account and thus can help you avoid wasting money on subscriptions you no longer need.
A free virtual credit card from DoNotPay can help you avoid unnecessary charges when your free trial ends on products such as NOW TV, BT Sport, PowerPoint Office, Shein, Disney Plus, Beer52, SkyCinema, or Slimming World Online.
Video Studio Free Trial
Video Studio has a 30-day free trial designed to allow users to access the video editing software and try it before they move to a paid subscription. Some of the features available to users during the free trial include:
GIF creator
Face effects
Animated AR stickers
Speech to text converter
Non-Linear Keyframing in variable speed
The free trial also has enhanced LUT Profiles and Media Library.
What Are the System Requirements For Video Studio Free Trial?
Before signing up for Video Studio's free trial, note that the format support for the trial depends on your operating software configuration. Your system should have Windows 11, 10, or 8. Other system requirements include:
RAM
4 GB Ram and above is great for standard videos.
However, HD and UHD videos require 8+ GB.
Hard Drive Space
At least 6 GB for complete installation.
Graphics Card
Minimum display resolution of 1366 by 768.
At least 512 MB VRAM and above is suitable for hardware acceleration.
Processor
If you have a standard video, your system should be AMD A4 series or Core i3.
If you have HD and UHD videos, your system should be AMD Athlon A10 or Intel Core i7.
Sound Card
Must be Windows-compatible.
How to Get Corel Video Studio Free Trial?
To avail of the free trial, visit the official Video Studio website.
Click 'Free Trials' on the upper bar of the home page. You can also scroll the page to the bottom to find the 'Free Trials' link.
Click the green 'Download Now' tab.
Why You Need DoNotPay Virtual Credit Card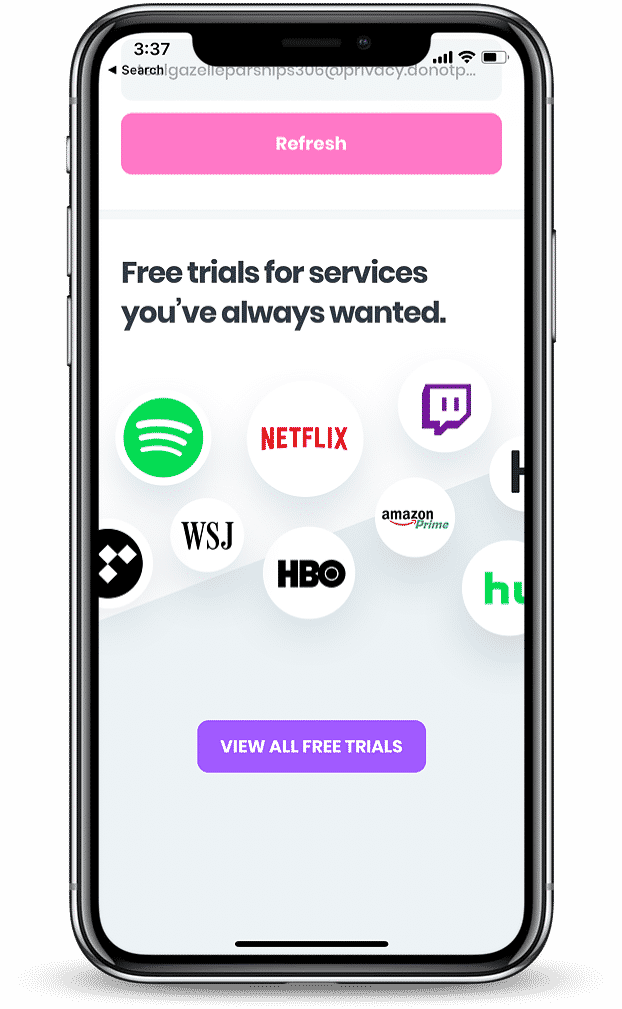 During Video Studio's free trial period, you'll enjoy all the available features at no cost. But if the free trial version comes to an end and you jump into a paid subscription, they charge the bill to your credit card. So, if you forget to opt out at the end of a free trial, you'll wake up to a reduced amount on your credit card. Given that the cheapest offer of a paid Video Studio version is £59.71, that's a big amount to part with, especially when you are not using the service.
DoNotPay had taken notice of this challenge among people using free trials. Therefore, we created a virtual credit card that you can link when signing up for free trials. You get a one-time credit card number to conform with the step that requires you to add a credit card when signing up for a free trial.
Therefore, once your Video Studio free trial period ends without your knowledge, you won't waste money on unwanted subscriptions. The virtual credit card has no link to your bank account and thus doesn't have your information.
Cost of Corel Video Studio After the Free Trial?
After the Video Studio free trial, you move into the paid subscription. Corel Video Studio has three premium versions, as shown in the table below.
Product Name
Standard Price
Current Offer Price
Software's

Major Strength

Bonus
NEW VideoStudio Pro 2022
£63.69
Help transform your videos into memorable and impressive keepsakes.
You'll get a free bundle worth £63.70 for exclusive video project enhancement.
NEW VideoStudio Ultimate 2022
£159.23
£143.31
Provide infinite options for creative output that impress your audience.
You'll get a free bundle worth £151.28 ParticleShop, artistic effects script, and exclusive video project enhancement.
NEW PhotoVideo Bundle Ultimate
£159.23
£143.31
Help in professional photo and video editing.
None
Five Most Popular Alternatives to Video Studio
You can check out these software to use in place of Video Studio:
Adobe Premiere Pro
Adobe Premiere Pro is among the top video editing software with excellent features, including motion graphics, colour correction, and video effects. It is super convenient for creative creators in any field.
Final Cut Pro
Final Cut Pro is another popular alternative to Video Studio. It offers almost all the professional tools you need for video editing and a vast library of features such as transitions, video effects, animations, and audio effects.
Renderforest
Renderforest is great for all video projects, including intro projects, animations, corporate slideshows, and corporate presentations. It is a user-friendly tool and thus easy to use even for non-experts who wish to create engaging videos.
iMovie
Another popular video editing software. It gives you plenty of tools to edit your videos while maintaining a friendly user interface. You can access iMovie even when you are off the grid since it does not need an active internet connection to function.
Animaker
This program is excellent for both amateurs and professional video creators. It features automated templates that help users to configure their preferred styles and make a unique product.
Are There Other Unlimited Offerings Featured on DoNotPay?

DoNotPay is not all about virtual credit cards. You can do much more with the help of this innovative solution.
For example, we can help you: