Finding the Best Video Converter for Mac
Are you looking for a reliable video converter you can use to convert video files on Mac? We're here to help! We'll show you where to find a quality video converter for Mac, and how to use it to convert your video files.
DoNotPay boasts one of the best file converters on the market—it is easy to use, quick, reliable, and 100% safe. Thanks to the fact that it's browser-based, you can use it to convert video files both on Mac and Windows. If you're in a hurry to convert your files, don't waste any more time. Sign up for DoNotPay and get started immediately!
What Is the Best Video Converter for Mac?
There are many video converters available on the App Store. But, not all of them will give you satisfactory results. Finding a reliable video converter for Mac is not an easy task—it will take hours to test out a dozen and compare the quality of the converted files. To save your time, we've made a list of the most popular video converters for Mac:
| Converters | Description |
| --- | --- |
| DivX Converter | DivX Converter is an excellent and proficient converter enabling you to convert AVI, MOV, M4V, WMV, etc. |
| Movavi Video Converter | Movavi Video Converter is a simple solution for converting your videos to any format. As well as regular videos, it also handles 3D and 4K files |
| VideoProc | VideoProc is video editing software that provides a large number of handy tools to help you edit your videos with ease |
| Leawo Video Converter for Mac | Leawo Video Converter for Mac is an easy-to-use app for converting videos on Mac with great audio and picture quality |
Keep in mind that these applications aren't the only tools for converting your videos on Mac. You can also use free online video converters, which are more convenient since they're generally faster and don't require any technical knowledge. Plus, most online converters are free, unlike downloadable apps that are often subscription-based.
The Drawbacks of Free Video Converters for Mac
Both downloadable apps and online converters have their disadvantages. Downloadable apps are often expensive and difficult to use for people who have no previous experience with file conversion.
Online converters have a lot more disadvantages, though. The main ones include:
Poor-quality output
High risk of downloading malware or viruses
Annoying ads
Inability to convert large files
A limited number of daily downloads
Inability to convert multiple files at once
Lack of customer support
Inability to edit the converted file
Privacy concerns—Some sites will sell your data to third parties
To protect your data and save time, thoroughly check the converter you chose before using it. Read its Privacy Policy, Terms and Conditions, and user reviews. Using a reputable converter is always the best decision.
Use DoNotPay to Convert Your Videos Quickly and Safely!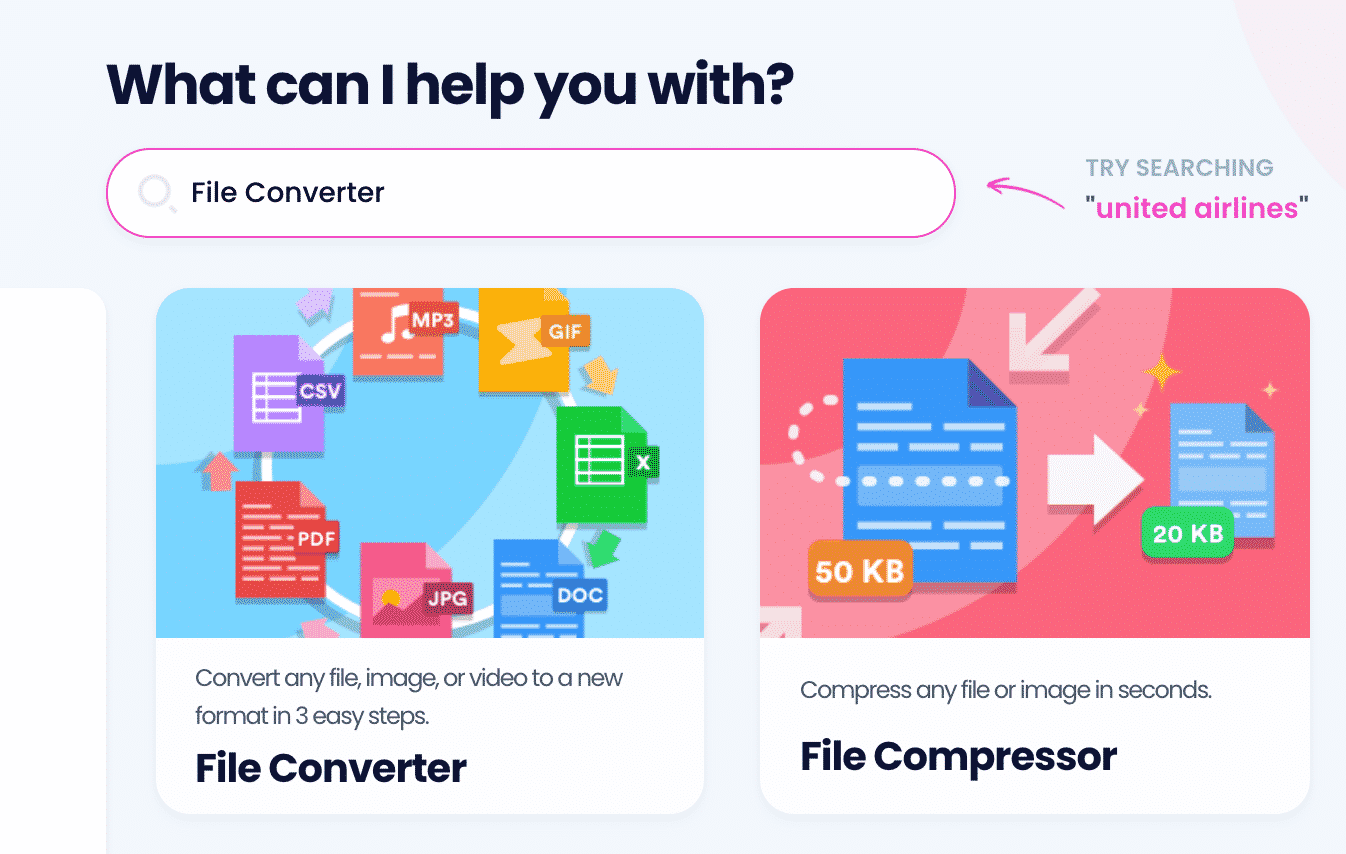 Using DoNotPay is the best way to prevent the security concerns and other issues we discussed before. Our priority is to keep your files completely safe during the conversion process—we will even delete them from our servers after 24 hours.
Follow the instructions below to convert your files in seconds with DoNotPay:
Open the File Converter product
Upload the file you want to convert
Select the output format
Once you've completed all the steps, wait for a couple of seconds for the conversion to finish, and go to the My Disputes page to download your file. Remember that you'll be able to convert as many files as you want with our nifty app—there are absolutely no restrictions!
What Other Files Can DoNotPay Convert?
DoNotPay can convert an array of files, some of which you can find in the table below:
Download and Compress Anything With DoNotPay
Converting hundreds of different file types is just one of many DoNotPay's file-management capabilities. Once you start using our app, you'll also be able to compress files in seconds, convert online videos to MP3s so you can play your favorite tunes on your PC and phone, as well as download videos from the web with a single click.
Once you understand how convenient and easy to use DoNotPay is, and once you understand how much time and energy it saves you, you'll never do any of these tasks manually again!
What Else Can DoNotPay Do?
DoNotPay is an ever-expanding app. We're constantly adding new products and features that will save you time, money, and energy!
From simplifying complex legal processes like creating a power of attorney and drafting a will to suing companies in small claims court, DoNotPay does everything in its power to improve the quality of life of the average person.
Are you sick and tired of annoying robocalls and email spam? Let us take care of it and enjoy your peace of mind.
Don't want to spend hours waiting on hold or filling out dozens of forms? Use DoNotPay to jump the phone queue, schedule a DMV visit, or cancel an unwanted service or subscription in seconds.
This is just a fraction of what DoNotPay can do for you! Sign up today and see for yourself why over 150,000 people rely on our award-winning app each month.