Finding the Best Video Converter for Androids
Looking for a quick way to convert your Android phone's videos to other formats, like MP4, MP3, MKV, or AVI? We're here to help! We'll show you where to find the best video converter for Androids, how to download it, and how to use it to convert your files.
We'll also explain some of the other ways to convert your videos and show you how to use the safest and most reliable file converter—DoNotPay. Once you access our app, you'll be able to convert over 100 different file types in just a few clicks!
What Is the Best Video Converter for Android?
Finding the best video converter for Android isn't as simple as you may think. To find it on your own, you would likely have to spend hours searching the internet for reviews and checking how every single app works. We're here to help you narrow the search down by providing you with a list of the most commonly used video converter apps for Android:
Video Converter by VidSoftLab
Media Converter
VidCompact
Video Format Factory
Video Converter
To convert your videos using the above-listed apps, you have to install them on your Android device first. After that, you need to import the file you want to convert, choose the format you want the file to be converted to, and wait for the app to finalize the conversion process.
Keep in mind that using these apps isn't the only conversion method you can try—using free video converters online is also a valid option, and it takes less time than installing and navigating an app. Using online converters is usually cheaper since some of the apps require you to pay a fee to use them. However, both of these options have their disadvantages, and we'll break them down for you.
The Disadvantages of Free Android Video Converters
There are several issues that you can encounter when using free Android apps and free online converters. The table below explains what they are:
Conversion Tool
Drawbacks
Android apps
This conversion method takes too much time and effort. Installing a video converter app can often require you to pay a certain fee
Free online converters

Your personal info and files aren't protected during the conversion
The quality of your files can be significantly downsized
Viruses and malware can easily infect your computer and corrupt your files
Luckily, using either of these conversion methods isn't necessary, and you can use DoNotPay as an alternative way to convert your files without running into any of the risks explained above.
Convert Your Videos With DoNotPay Safely and in Record Time!
DoNotPay helps you skip the hassle of finding the most convenient and reliable video converter and converts your files safely in a few seconds! You can choose from over 100 different formats, and the quality of your files stays intact!
We make sure your data is protected by deleting it from our database 24 hours after the conversion. You can also convert your documents easily on both Mac and Windows since our product is supported on all operating systems.
To start converting your videos with our app, register for DoNotPay and follow the next steps:
Open the File Converter product
Upload your video
Choose the output format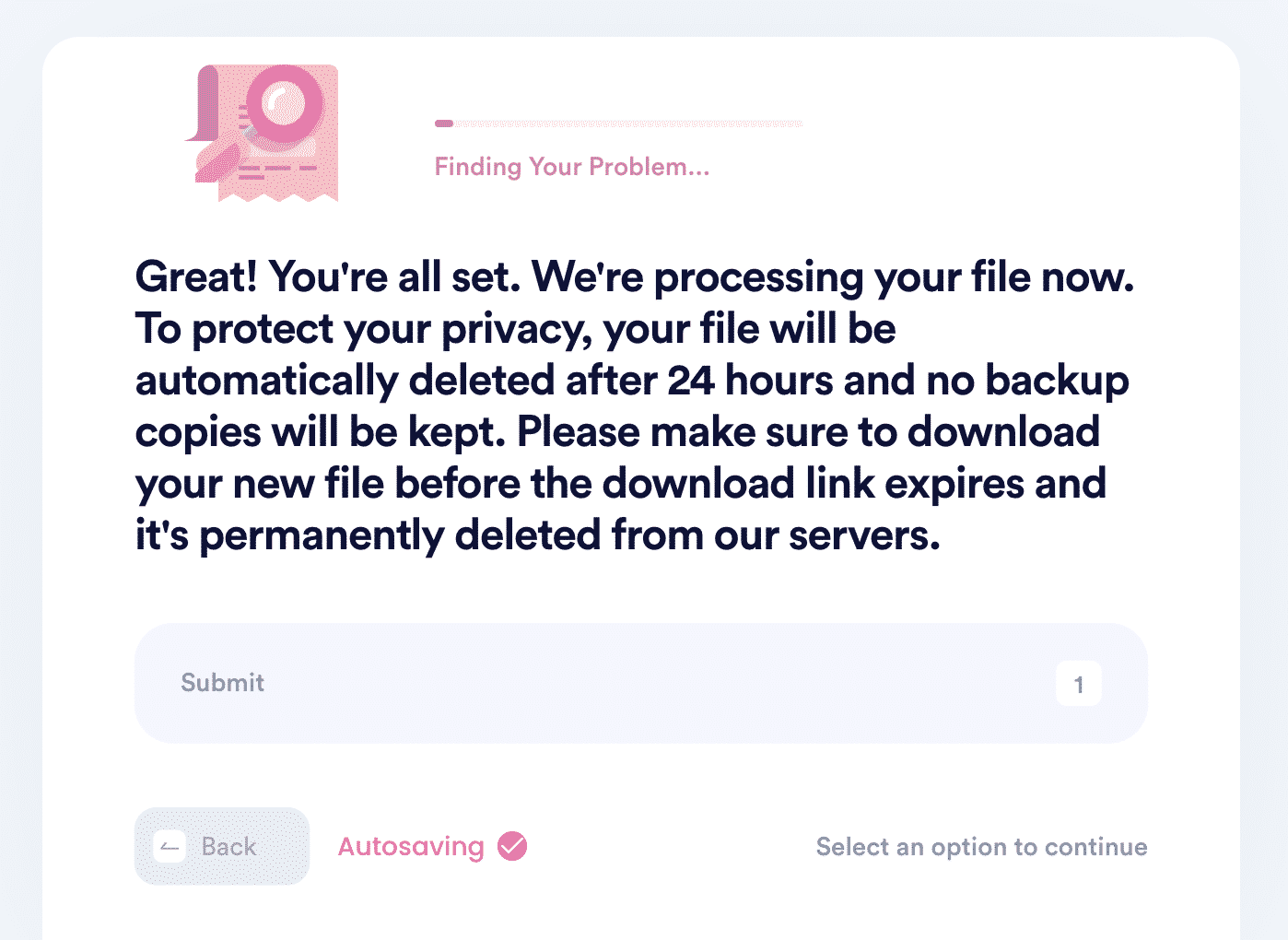 We'll convert your file in the next few seconds, and you'll be able to download it from the My Disputes page instantly.
What Other File Types Can DoNotPay Convert?
Converting your videos isn't everything DoNotPay can do for you! There are various other file types our app supports! Check out the table below to see some of the other files you can convert using our nifty app:
Much More Than a Simple File Converter
When you're converting files, keep in mind you'll need hard disk space for both the original and the converted file. While the HDD space individual files take up is barely noticeable, if you're planning on converting multiple files, it can quickly add up.
Luckily, DoNotPay also lets you compress files to make them easier to store. You can also use our award-winning app to convert online videos to MP3s, as well as download videos from social media and the web and save them on your device.
DoNotPay Offers Unmatched Functionality
DoNotPay offers a lot more functionality than a regular file converter. On top of these file management features, you'll find hundreds of different products within the app that can facilitate, streamline, or automate a wide variety of tasks, saving you time, money, and nerves!
Here are just some of the areas in which you'll find DoNotPay's assistance invaluable:
| Legal | Time-Saving | Money-Saving |
| --- | --- | --- |
| | | |
The possibilities truly are endless with DoNotPay!