The
Victims Restitution and Compensation Payment Act
Legislates for Your Losses
If you are the victim of a violent crime, nothing can take away the pain you suffer. Experiencing financial loss on top of physical or mental trauma can at least be alleviated through state and federal compensation programs.
DoNotPay understands your pain and is here to help you access compensation funds. Here is all the information you need on the victims restitution and compensation act and how the compensation system works.
What Is the Victims Restitution and Compensation Act?
The victims restitution and compensation act—officially known as the Mandatory Victims Restitution Act—was passed in 1996, and it regulates how victims of crime can receive compensation.
It adds more weight to the 1985 Victims of Crime Act and gives courts in each state the muscle to hold criminals personally liable for the damage they have caused.
What Is the Difference Between Compensation and Restitution?
In the U.S., there are two ways through which you can receive recompense as the victim of crime, as follows:
Compensation

Restitution
Compensation
Compensation is money that you can claim as a victim of a violent crime and is available for the following expenses:
Expense
Explanation

Medical expenses

You can receive compensation to cover:

Hospital treatment

Mental health counseling

Dental repair work

After-care or rehab

Loss of earnings

If you are unable to work, you can claim compensation for your loss of earnings. The surviving family or dependents of a homicide victim can also claim compensation

Direct costs

Out-of-pocket expenses are claimable as compensation for the following:
Compensation is regulated by the Victims of Crime Act (VOCA) and administered through state crime victim compensation boards, all of which belong to the National Association of Crime Victim Compensation Boards (NACVCB).
The amount you can receive in compensation is limited in each state, and the average across the U.S. is around $25,000.
Compensation is not available for personal property lost or damaged as a result of a crime.
Restitution
Restitution is slightly different from compensation in that it is an amount you can receive directly from the criminal in recompense for your injuries or losses.
The amount of restitution you receive forms part of the convicted criminal's sentence and is separate from any fine or custodial sentence they may receive.
The court will set a restitution amount based on:
Your claim

The criminal's ability to pay
Once you have been identified as the victim of a crime, you fill out a victim impact statement that details your losses. This statement is handed to the court and helps the judge determine how much restitution is due.
The judge then looks at the criminal's current financial status and prospects and orders an amount of restitution that is viable, sometimes stipulating part-payments over a long time.
The major differences between compensation and restitution are:
Compensation is paid from state and federal funds, restitution by the convicted criminal

Restitution can be used to recompense lost or damaged property, while compensation cannot

Only direct and indirect victims can claim compensation, whereas restitution is claimable by third parties and even the government

Restitution is awarded in cases of fraud and identity theft, whereas compensation is usually only available for crimes involving violence
How Can I Claim Restitution?
As part of the investigation of a crime, you will be interviewed as a victim to determine the extent of your injuries or losses. This will be summarized in a victim impact statement that the judge will use to determine the appropriate level of restitution.
The restitution amount forms part of the court's judgment and, as such, does not need to be claimed.
How Can I Claim Compensation?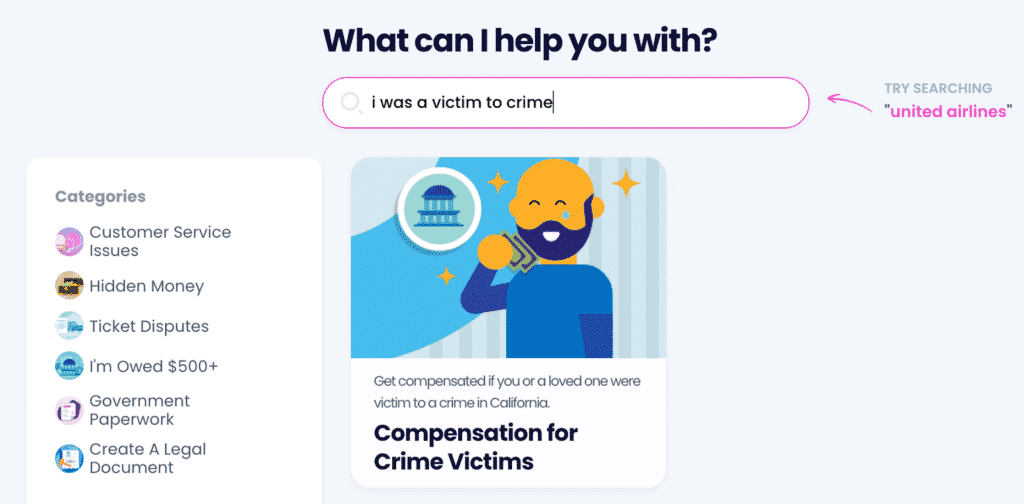 Claiming compensation is a complex process and is the last thing you need to worry about as the victim of a violent crime.
DoNotPay understands, so we have developed a tool to help your claim compensation with a few clicks. No matter what crime you are a victim of—the 9/11, a car accident that wasn't your fault, or a domestic violence incident—DoNotPay is here to help you.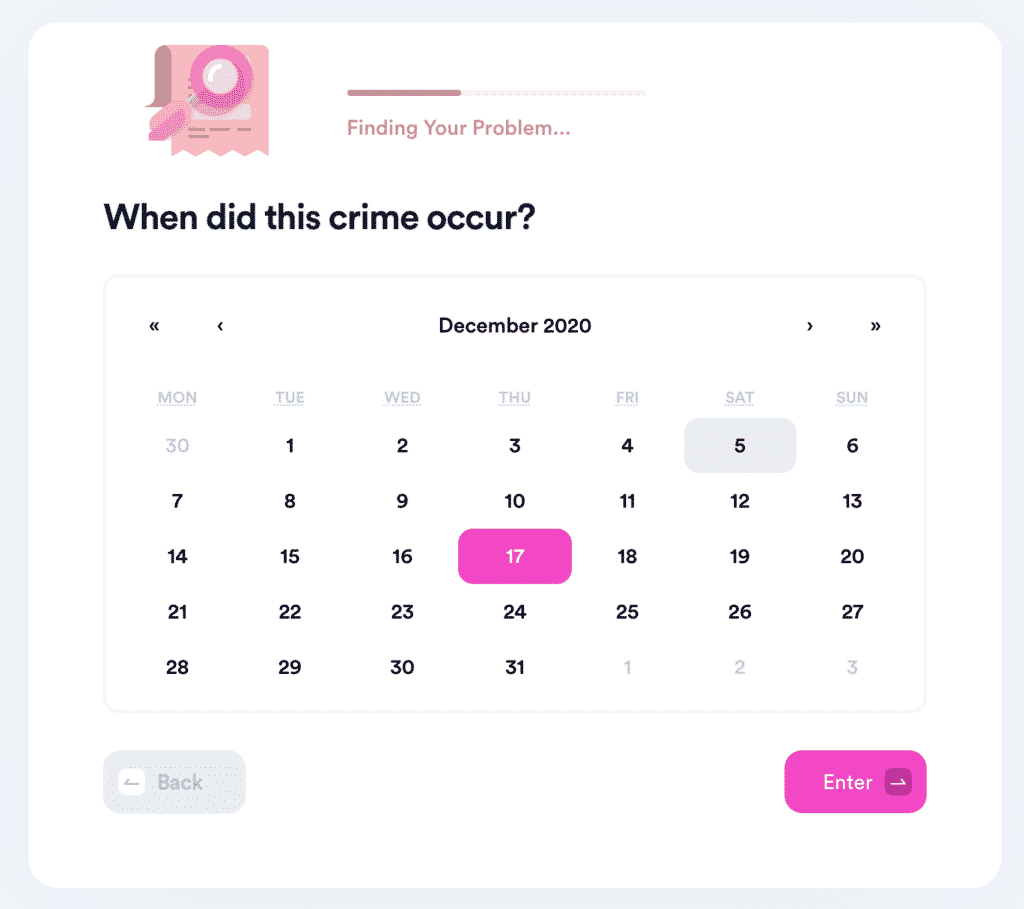 Here is what you need to do:
Go to DoNotPay in your web browser and

sign up

Look for the

Compensation for Crime Victims

feature

Let us know whether you are the victim or another claimant

Give us the details of the crime and verify your signature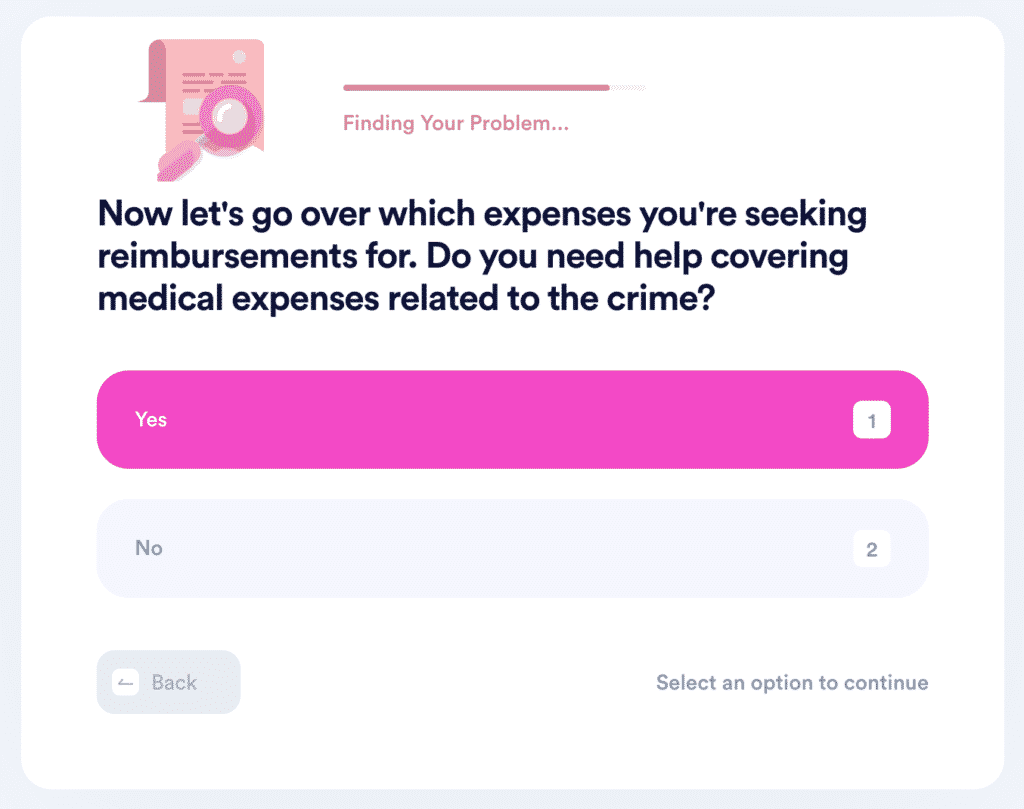 What Happens Next?
If you are looking for restitution, you will have to wait for the court's judgment to find out how much has been awarded, how it will be paid, and how long the process will last.
If you are claiming compensation, your state crime victims' compensation board may take up to 90 days to adjudicate your case. You also have the right to appeal if the board's decision does not satisfy your wishes.
Explore the Full Range of DoNotPay's Services
Don't let annoying bureaucracy stop you from exercising your rights or finding new opportunities. DoNotPay—the world's first robot lawyer—comes with a diverse portfolio full of practical shortcuts for:
Struggling with finances? Our app will help you manage unpaid bills, find and claim lost money in any state, or get college application fee waivers. 
Minimize Paperwork With DoNotPay
Writing letters, filing claims, sending requests—these chores are nobody's idea of fun. Thanks to DoNotPay, you can bypass these menial tasks with a few clicks in your browser. 
Our platform is full of useful tips and features for filing insurance and warranty claims, dealing with parking tickets, getting refunds and chargebacks, or writing harassment cease-and-desist letters. 
DMV offices don't have to be the place where hope goes to die. With DoNotPay, you will be able to schedule any DMV appointment without the nightmare of waiting in lines. While you're at it, you can check out our guides and practice tests for the best driving exam preparation!