The Fastest Way To File for
Victims of Crime Compensation in NJ
After experiencing violent crime, victims may struggle financially. Many are not aware that every state has a victim fund for violent crimes that provides reimbursement for crime-related expenses to eligible individuals. New Jersey victims that have trouble managing medical bills, travel costs, and other expenses can file a claim with the Victims of Crime Compensation NJ office.
Sign up for DoNotPay to get all the information and apply for victims compensation in The Garden State with zero hassle.
What Is the Victims of Crime Compensation Office
in New Jersey?
The Criminal Injury Compensation Act of 1971 supported the establishment of New Jersey's Victims of Crime Compensation Office (VCCO). The main goal of the VCCO was to help victims recover from the crime by providing financial assistance.
The VCCO is now trying to find more efficient ways to help and support victims of violent crimes, their families, and dependents by implementing:
New technology

Organizational streamlining

Training programs for service providers
With the training programs initiative, the Office plans to educate and re-educate those who are in direct contact with the victims, like:
Police officers

Firemen

Emergency medical technicians (EMTs)

Sexual assault nurse examiners (SANEs)
The VCCO offers crime victims compensation for injuries or deaths that followed the commission or attempt of the following crimes:
Murder

Manslaughter

Kidnapping

Aggravated assault

Disorderly conduct

Burglary

Tampering with a food, drug, or cosmetic product

Indecent acts including children

Lewd, indecent, and obscene acts

Threats to do bodily harm

Aggravated sexual assault or sexual assault

Aggravated criminal sexual contact or criminal sexual contact

Driving under the influence (DUI)

Eluding a police officer

Hit and run

Human trafficking

Domestic violence

Stalking

Car theft

Aggravated arson and arson
Who Qualifies for
Victims of Crime Compensation in New Jersey
?
The Victims of Crime Compensation Office in New Jersey approves or denies victims compensation claims based on their eligibility.
In the following table, you can find out what makes someone eligible:
Eligible for victims compensation in New Jersey
Not eligible for victims compensation in New Jersey

Direct victims of violent crimes who suffered injuries like bodily harm, pregnancy, or emotional trauma

Family members who are in charge of paying the burial and funeral expenses

Dependents of deceased victims who suffer the loss of financial support

Parents or legal guardians of victims who are minors

Personal representatives of incapable adult victims

Individuals who were injured while trying to prevent a crime or assist police officers during the arrest

Secondary victims who have developed an injury or mental illness as a result of the crime

Victims who live outside of New Jersey

Persons who experienced a crime outside of New Jersey

Individuals who don't cooperate with law enforcement

Claimants who did not suffer physical or emotional harm

Accomplices in a crime

New Jersey residents who have outstanding warrants

Crime victims who were incarcerated during the assault

Injured parties who were participating in illegal activities during the crime (excluding the human trafficking victims)
NJ Victims of Crime Compensation—Application
Requirements
A victim or another claimant must meet the following requirements to apply for victims compensation in New Jersey:
Reporting the crime to the proper law enforcement agency within nine months from the date the crime occurred

Submitting the application no later than five years from the date of the crime or, in the case of victims who are minors, five years from the date they turn 18

Cooperating with the police, prosecutors, and the VCCO investigators
Every claimant is also required to submit the following documents alongside the application form:
A police report, restraining order, and any other law enforcement-supported report

Documentation proving financial loss

Psychological assessment form

Insurance coverage documentation

Copies of bills, receipts, and other proofs of expenses
Reimbursement from the VCCO should be the victims' last resort. A victim should first check with insurance companies, state medical insurance programs, and other sources before applying for victims compensation.
DoNotPay Helps You Apply for
NJ Victims of Crime Compensation
Stress-Free
The more rules and requirements, the easier it is for claimants to make mistakes and have their applications denied. To ensure the application you're submitting meets all the criteria, use the assistance of the world's first robot lawyer—DoNotPay!
We created a reliable and easy-to-use service for filing claims with any state's victims compensation program.
To get New Jersey's victims compensation, log in to DoNotPay and follow these steps:
Find the

Compensation for Crime Victims

product

State if you are a victim or another claimant

Respond to our chatbot's questions regarding the crime and expenses

Verify your signature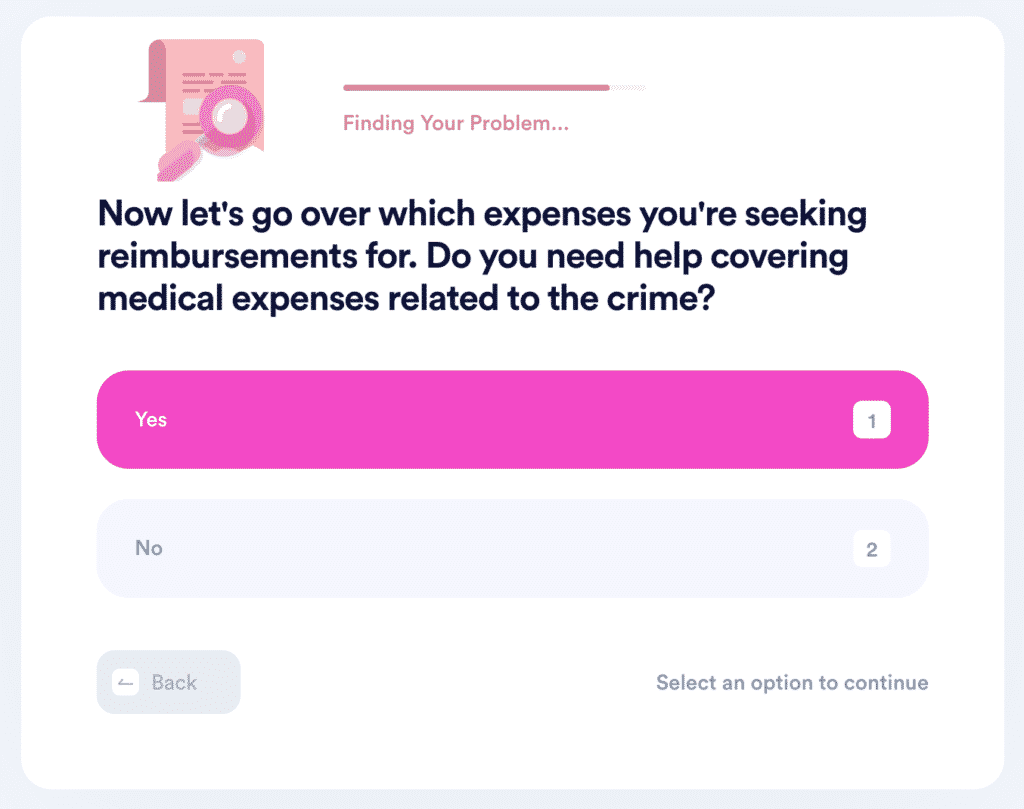 DoNotPay will submit the filled-out application to New Jersey's Victims of Crime Compensation Office in a flash!
You can browse our learning center to find useful information about other funds, like the 9/11 Victim Compensation Fund, or learn to file claims with any states' victims compensation programs, including Kansas, Tennessee, Colorado, Arizona, and Wisconsin.
What Benefits Does the
NJ Victims of Crime Compensation Office
Provide?
The following table provides insight into compensable costs and the highest compensation amounts:
| | |
| --- | --- |
| Compensable Costs | Highest Compensation Amounts |
| Medical expenses | Not specified |
| Loss of earnings | Not specified |
| Loss of support for dependents | Not specified |
| Loss of support from the offender in domestic violence cases | Not specified |
| Daycare, child care, and after-school care | $6,500 |
| Mental health counseling for victims or family members | $20,000 |
| Funeral and burial expenses | $7,500 |
| Crime scene clean-up | $4,000 |
| Relocation expenses | $3,000 |
| Attorney fees | $3,000 |
| Emergency financial support | $1,500 |
Keep Your Data Safe With DoNotPay
Do you love free trials but are reluctant to disclose your credit card details, phone number, or email address?
Our app lets you try out different subscriptions in a risk-free way!
Use DoNotPay's Burner Phone feature to sign up for services without providing your phone number! We'll make sure robocall scammers and text spammers cannot harass you!
With our virtual credit card, you can sign up for any free trial and not worry about canceling it! Since the card is not linked to your bank account, no one will be able to charge you once the trial expires. An additional perk is that the card comes with a free email address, which means no spam emails from the company. 
DoNotPay Helps You Fight for Your Consumer Rights
Did you know that companies often reject first-time warranty claims?
You're probably familiar with how complicated the process of appealing parking tickets is. Trying to get a refund for an unsatisfactory purchase or a delayed flight has likely made you mad at least once.
Not anymore! DoNotPay makes all these issues go away in less than five minutes, and that is not all we can do for you!
You don't have to deal with customer service reps of any company on your own anymore—we do it all for you!
DoNotPay bypasses any bureaucratic obstacle for you—scheduling DMV appointments, delaying bill payments, getting in touch with your incarcerated loved ones, filing lawsuits in small claims courts, and claiming insurance policies.