How To Get Victims of Crime Compensation in Los Angeles the Easy Way
Victims of violent crimes usually have a lot on their plates. Besides having to deal with trauma and physical injuries, victims and their loved ones also have to meet various crime-related expenses, including hospital bills, counseling, and similar. All states in the U.S.—including California—have funds for violent crime victims to make the situation more bearable. Victims of crime can get compensation in Los Angeles by applying for the California Victim Compensation Program.
To apply for crime victim compensation in Los Angeles in a few clicks, you should sign up for DoNotPay and let us handle your application.
Learn About California Crime Victim Compensation
The Los Angeles District Attorney's Office helps Los Angeles victims by providing assistance, support, and valuable info regarding the compensation program. The California Victim Compensation Board helps violent crime victims in California counties by granting financial assistance for their crime-related expenses through the Victim Compensation Program. The program grants compensation to:
Victims who suffered physical and emotional trauma due to a violent crime, such as:

Car accidents

caused by drunk driving

Stalking

Child abuse

Homicide

Online harassment

Family members and dependents of the injured or murdered victims

People who were living with the victim at the time of the crime

Minors who witnessed domestic violence

Individuals responsible for funeral costs of homicide victims
The program covers only the expenses that your other sources—such as insurance, Medicaid, donations, and similar—can't meet. 
The CalVCB gets the funding from federal awards—such as the Victims of Crime Act (VOCA) grant—and offender fines, fees, and penalty assessments.  
Who Is Eligible To Get Victim of Crime Compensation in Los Angeles?
To get crime victim compensation in Los Angeles, you must meet certain criteria. To find out if you're eligible, consult the table below:
Eligible
Not Eligible

You will get reimbursement for your crime-related costs if you:

Are a California resident 

Were a victim of a crime that took place in California

Have reported the crime to the police

Cooperate with law enforcement

Apply for the Victim Compensation Program within seven years of the crime

Cooperate with the Board upon applying for the program

Your Victim Compensation Program application will be rejected if you:

Were an accomplice in the crime that caused your injures

Participated in an illegal activity when you got injured

Don't cooperate with law enforcement 

Refuse to cooperate with the Board
DoNotPay Helps You Apply for Crime Victim Compensation in LA in a Matter of Minutes!
The traditional application process can be long and tiresome even if you ask the Los Angeles District Attorney's Office's staff to help you out. To avoid going to the District Attorney's Office to fill out a seven-page-long application, you should rely on DoNotPay.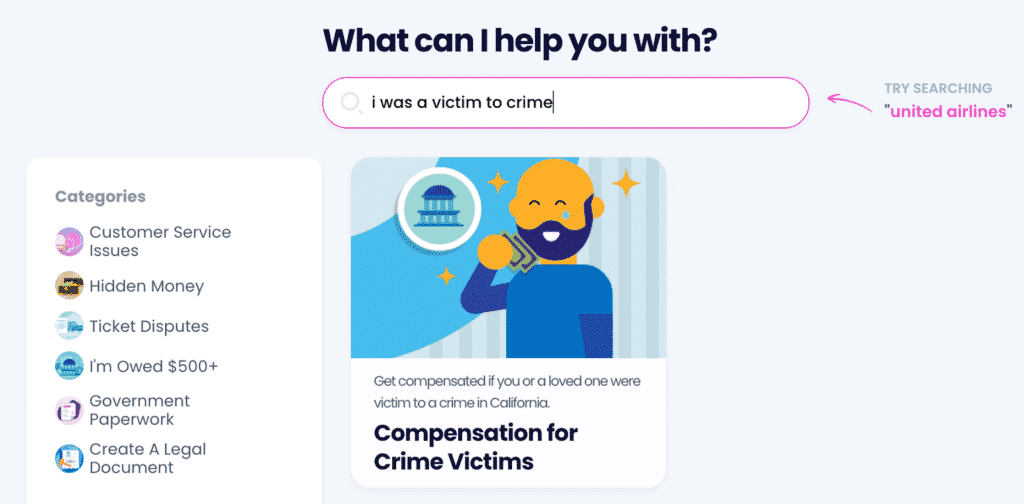 Our Compensation for Crime Victims feature enables you to file your crime victim compensation application in a snap. Instead of spending ages completing the application form by hand, you can apply for the program in a few clicks from your tablet, computer, or smartphone. Here are the steps you should follow:
Open

DoNotPay

Pick our

Compensation for Crime Victims

product

Indicate whether you're the victim or a dependent of the victim

Respond to our questions and verify your signature
DoNotPay will fill out the application on your behalf according to the answers you provide and send it to the Los Angeles County District Attorney's Office. We can help victims of any violent crime—including robbery, the 9/11 terrorist attack, and similar—file their applications quickly and hassle-free.
Besides using our product in any county in California, we can also handle your application for crime victim compensation programs in other states, including:
Find Out Which Costs Are Covered by the California Victim Compensation Program
California Victim Compensation Program covers most crime-related expenses, except for:
Identity theft costs

Lost, stolen, or damaged property

Pain and suffering
The highest compensable amount that the program grants is $70,000 per claim. The program covers the following expenses:
Medical and dental exams, treatments, and prescriptions

Mental health counseling and psychiatric hospitalization

Funeral and burial costs

Loss of income and support

Home adjustments for victims that are permanently disabled as a result of the crime

Home security improvements

Relocation

costs

Crime scene cleanup 

Guide or service dog

Travel costs for dental, medical, and counseling appointments
Did the CalVCB Reject Your Application? Learn How To Appeal Their Decision
After the Board reviews your application and required documents, they will decide whether you're eligible to get compensation. If they choose to reject your claim, you can file an appeal within 45 days from being notified about the Board's decision. Once you write an appeal letter, send it to the following address: 
Legal and Appeals Office
PO Box 350
Sacramento, CA 95812
DoNotPay Can Do Your Paperwork for You! 
Feeling like you're in bureaucratic hell? Our app will draft the paperwork you need and get you out of any hurdle before you know it! 
We can compose most of the documents that you require for any administrative purpose in your jurisdiction, most notably:
More of What We Can Do for You 
Our multifaceted app can call and record the conversation with the customer service of the company that just won't let you go! If you are having trouble canceling an unwanted service via the traditional channels, use DoNotPay to get it over and done with!
We can help you stop the persistent robocalls and robo texts from the nagging company and request a refund for unused services in a matter of minutes.
We'll also lend a helping hand in stopping spam mail—whether it's electronic or paper. Our Spam Collector product unsubscribes you from unwanted emails and cleans up your physical mailbox too!