Victims of Crime Compensation Amounts
—How Much Money To Expect
If you are a victim of a violent crime and decide to apply for your state's victims compensation program, you probably want to know how big the reimbursement may be.
In this article, you can find all the details about victims of crime compensation amounts, as well as any other useful information regarding the crime victims compensation.
Victim Compensation Programs Definition
Victim compensation programs are government-funded programs that offer substantial financial reimbursement to victims of violent crimes or their personal representatives.
The federal government established the Victims of Crime Act (VOCA) Fund in 1984 to provide funding for all the states unable to offer compensation to the victims of violent crimes that occurred within their jurisdictions.
Who Pays
for
Victim Compensation
Programs?
The Crime Victims Fund (CVF) and local victim funds for violent crimes collect the money for crime victims compensation. The money is non-taxable and comes from fines that convicted federal perpetrators have to pay.
Victims compensation shouldn't be confused with restitution, which is a direct payment to the victim and a part of the offender's sentence. The revenue can also come from public donations and bequests by private parties, such as wealthy individuals and organizations. 
What Is Compensable?
Every state has its set of rules and guidelines regarding victim reimbursement. Not every crime-related cost can be covered by the victims compensation program. Take a look at the following table to learn what costs and crimes most states consider compensable:
Compensable Costs
Compensable Crimes or Crime Attempts

Medical bills

Physical therapy and rehabilitation

Mental health counseling and treatments

Relocation expenses for domestic violence victims

or rape victims attacked in their homes

Transportation expenses for investigation or treatment purposes

Crime scene clean-up

Lost wages

Loss of support to dependents

Reimbursement for personal property held as evidence

Burial and funeral expenses

First and second-degree murder

Reckless homicide

Involuntary manslaughter

Assault and aggravated assault

Kidnapping and aggravated kidnapping

Battery and aggravated battery

Criminal sexual abuse

Criminal sexual assault

Predatory sexual assault

Arson and aggravated arson

Child pornography

Child exploitation

Order of protection violation

Stalking

Hate crime

Driving under the influence, involving injury or death
Some expenses and crimes are covered by specific organizations, like the 9/11 Victim Compensation Fund.
Victim Support Compensation Amounts
According to the National Association of Crime Victim Compensation Boards (NACVCB), states can offer maximum benefits of $25,000 for crime victims, with some states being able to offer more than others. The Crime Victims Fund administers millions of dollars to crime victims compensation boards and programs of every state in the U.S. 
The CVF and VOCA funds collect and analyze crime victim reimbursement data for every fiscal year. These numbers provide insight into the compensation amounts and answers to questions like which type of expense receives the largest coverage by victim compensation programs.
In the following table, you can find out how compensation amounts varied from one crime type to another in 2017:
| | | |
| --- | --- | --- |
| Type of Crime | Total Applications Paid | Compensation Amount |
| Assault | 89,298 | $169,957,605 |
| Arson | 293 | $501,234 |
| Robbery | 9,152 | $14,832,140 |
| Sexual Assault | 47,282 | $36,902,814 |
| Child Neglect or Physical Abuse | 9,106 | $5,412,473 |
| DUI/DWI | 3,654 | $10,615,995 |
| Homicide | 20,446 | $71,149,233 |
| Burglary | 1,693 | $922,575 |
| Kidnapping | 1,139 | $1,143,248 |
| Human Trafficking | 338 | $593,274 |
| Child Pornography | 193 | $115,294 |
| Child Sexual Abuse | 59,795 | $37,772,637 |
| Stalking | 1,555 | $1,629,407 |
| Terrorism | 327 | $643,987 |
The expenses that got the most financial coverage in 2017 were medical and dental costs with a total compensation amount of $136,667,704, followed by burial and funeral costs with a $55,410,973 total compensation amount.
Crime Victims Compensation Application Requirements
Requirements for receiving victims compensation include doing the following:
Reporting the crime to law enforcement on time

—The time frame can differ from one state to another, but it's usually 72 hours with an exception for child sexual abuse, in which case the victim or claimant can report the crime whenever

Cooperating with law enforcement

—All states require victims to work with detectives and prosecutors on the case

Applying according to your state's deadline

—Depending on the state, the application deadline can vary from 180 days to two years

Considering your other options first

—Victims compensation is available if insurance policies or other insurance options don't cover the costs
Apply for Crime Victims Compensation With DoNotPay's Help
Being a victim of a violent crime—be it kidnapping, domestic abuse, or sexual assault—causes severe physical and emotional trauma, but it can also cause financial damage.
People that are familiar with victims compensation programs sometimes don't even apply for them to avoid going through exhausting and complicated procedures.
We believe that you don't have to go through any more trouble—the world's best AI assistant makes the victims compensation application process as easy as ABC.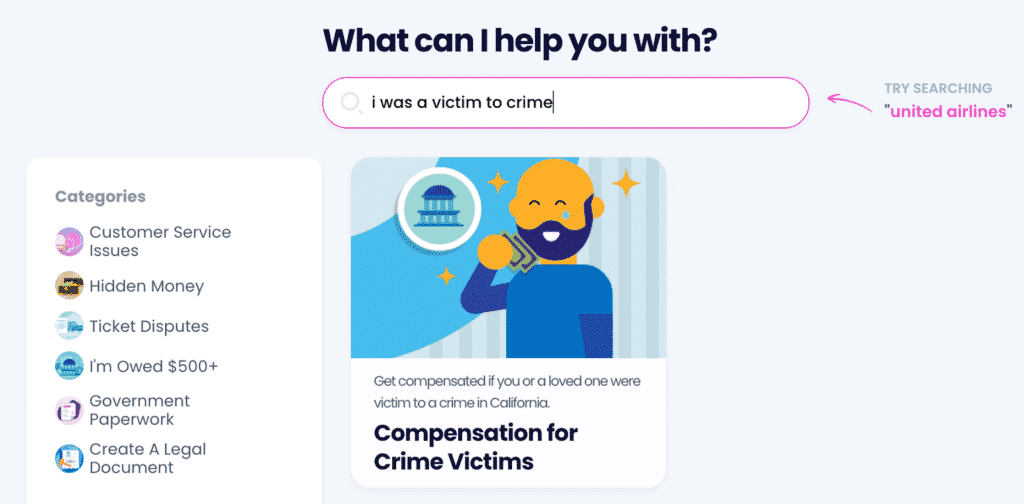 Here's how to apply for a victims compensation program:
Open DoNotPay in a

web browser

Locate the

Compensation for Crime Victims

feature

Indicate if you are the victim or victim's representative

Answer our bot's questions regarding the crime and costs you want to cover
Once you verify your signature, we will submit the application on your behalf.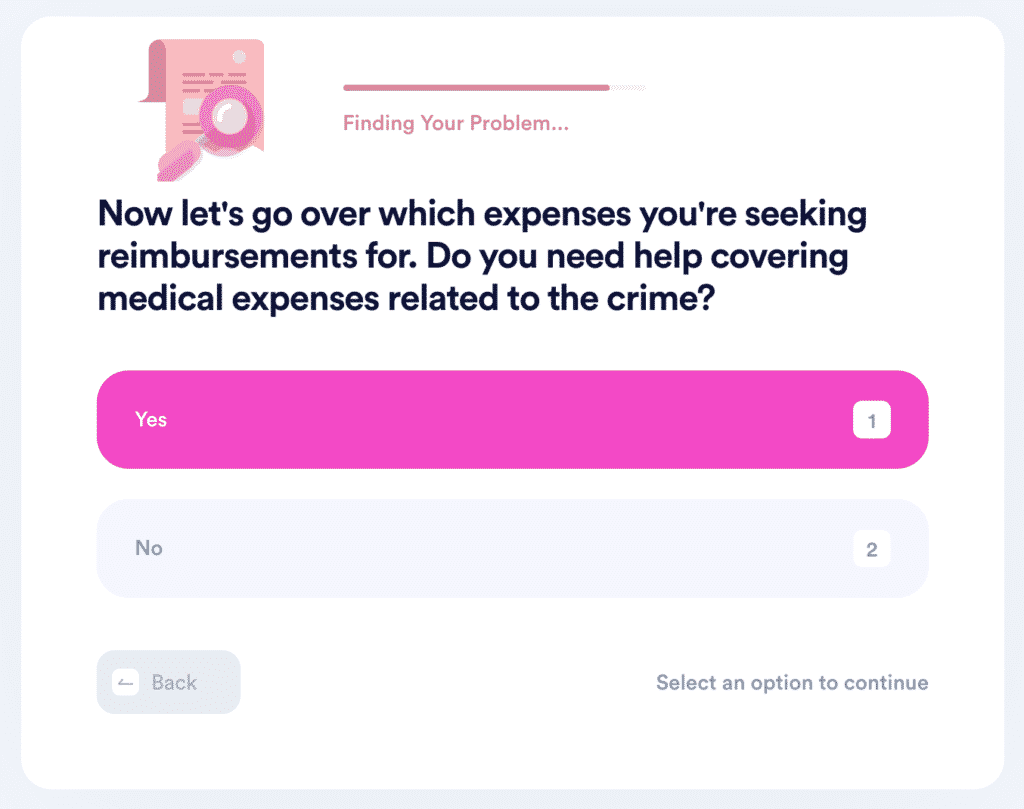 DoNotPay Is a Time-Saving App
How many customer service reps do you have to deal with only to file an insurance claim or book your DMV appointment?
DoNotPay helps you sort out these tasks and much more in only a few clicks. 
Get your revenge on robocallers, report text scammers, find validated clinical trials, claim your warranties, get in touch with your loved ones in prison, and protect your creative content—all in less than five minutes. 
No more hours-long phone calls, emails, or in-person visits. 
We cover everything from freeing your inbox from spam to providing excellent prep tests for government exams! Save time with your all-in-one app!
Keep Your Money Safe With DoNotPay
Don't let greedy companies threaten your consumer rights by holding back refunds, refusing to cancel your subscriptions, or charging you after your free trial ends.
DoNotPay helps you try out different services without providing your credit card info or phone number—you will never again have to deal with unexpected post free trial charges!
Our app also helps you avoid paying unnecessary parking tickets, delay challenging bills, or waive your college application fees. 
If any company refuses to issue you a refund or an airline won't compensate for canceled flights, we can help you sue them in small claims court.