The Easiest Way To File a Claim for
Victims Compensation
Victims of violent crimes and their families are often experiencing physical and emotional but also financial damage. Losing income, medical treatment costs, and property damage repair costs can be too much to take, especially when you've experienced trauma.
This article will guide you through the process of getting victims compensation from your state's victim fund for violent crimes.
What Is Victim Compensation?
Every U.S. state has a crime victims' compensation program. The purpose of these government-funded programs is to provide substantial financial assistance to survivors of violent crimes and families of deceased victims. The financial aid they provide is nontaxable.
The U.S. government passed the Victims of Crime Act (VOCA) to ensure every state is financially able to provide compensation for crime victims. The VOCA later enabled the foundation of the Crime Victims Fund (CVF), a source of funding for the services that help victims and survivors of violent crimes, as well as the victims' families.
What Are
Compensable Expenses for Victims of Crime?
The exact amount of compensation a crime victim gets depends on the state, eligibility, type of crime, and other case-specific factors. Victims compensation covers the expenses that are not already covered by other compensation programs, like:
Auto insurance

Health insurance

Disability insurance

Workers compensation

Restitution that the offender pays
Victim relief funds do not compensate victims for every crime-related cost. You can find a brief overview of what relief funds can and cannot compensate in the table below:
Compensable Expenses
Non-Compensable Expenses

Medical expenses

Lost wages

Physical therapy or rehabilitation

Mental health counseling for adults and children

Burial and funeral costs

Loss of support to dependents

Crime scene clean-up

Moving expenses

Transportation costs

Reimbursement for property held in evidence

Pain and suffering

Stolen property

Damaged property

Expenses caused by identity theft
Who Is Entitled to
Victims Compensation
?
Whether a person is eligible to receive crime victims compensation depends on the state. Each state has its set of rules and regulations regarding eligibility requirements. Most of the time, an individual is eligible for victims compensation if they:
Are an innocent victim of a violent crime or a car crash caused by a drunk driver

Came to help another victim of a crime and got injured or died

Were first responders and died or were injured while responding to a crime

Have an authorization to work in the name of a minor, incapacitated adult, or deceased victim

Are a dependent of the deceased victim
Aside from eligibility criteria, there are requirements a victim has to meet to receive compensation, including:
Reporting crime to law enforcement

Cooperating with law enforcement in the investigation

Not participating in the crime

Not committing other illegal activity during the crime (excluding human trafficking victims)
How To Seek Compensation for Victims of Crime
The National Association of Crime Victim Compensation Boards (NACVCB) regulates and connects victims to crime victims compensation boards in their states. Checking their state's rules and regulations enables victims to apply and get the reimbursement faster.
The application process varies from one state to another, but it usually involves filling out the application form and submitting it to the law enforcement agency. Having an attorney is not a requirement for filing victim compensation application forms, but if you need reliable and budget-friendly assistance, DoNotPay is the right option.
Is There an Easier Way to File a Victim Compensation Case?
According to a study by the College of Criminal Justice, only a small percentage of violent crime victims apply for a victim compensation program. Many people are not aware of the benefits that federal and state governments are providing. Those that know about the compensation are reluctant to apply due to unclear or complicated procedures.
Maximum benefits per person can range between $10,000 and $100,000. While no amount of money can erase the awful events you went through, if you're a victim of a violent crime, compensation can cover the costs of therapy to help you deal with the trauma.
You don't even have to worry about the application process—DoNotPay makes it simple and straightforward.
We created the Compensation for Crime Victims product that you can use to submit victims' compensation claims in a flash. Our AI bots make sure that you don't have to go through any trouble—they do most of the work for you!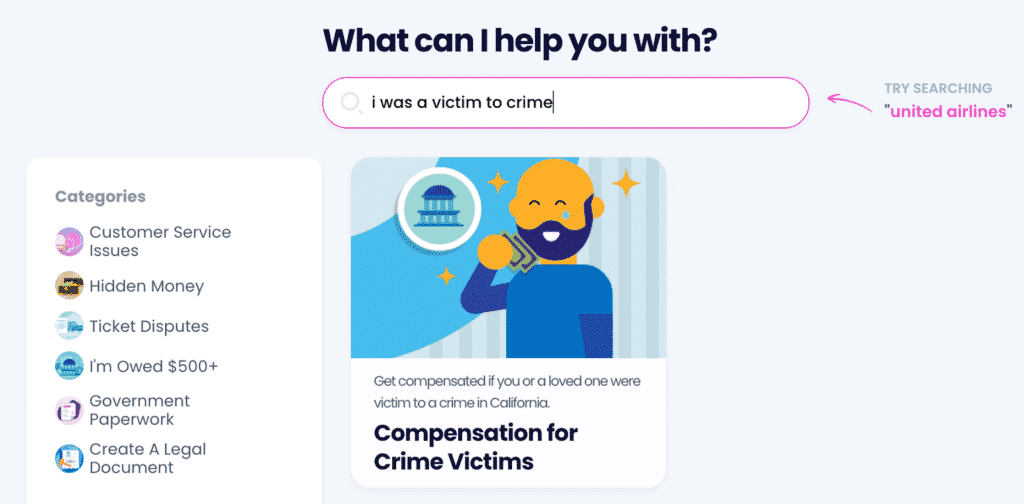 To use the Compensation for Crime Victims feature, access DoNotPay from a web browser and follow these steps:
Locate the

Compensation for Crime Victims

product

Inform us if you are a victim or claimant

Provide answers to a series of questions regarding the crime and costs you need the compensation for

Confirm the information and your signature
We will complete the application form and submit it to the appropriate office in the state where the crime happened.
DoNotPay can help you get compensation if you're a victim of domestic violence or financial relief from the 9/11 Victim Compensation Fund.
Keep Your Data Safe With DoNotPay
Do you love free trials but are reluctant to disclose your credit card details, phone number, or email address?
Our app lets you try out different subscriptions in a risk-free way!
Use DoNotPay's Burner Phone feature to sign up for services without providing your phone number! We'll make sure robocall scammers and text spammers cannot harass you!
With our virtual credit card, you can sign up for any free trial and not worry about canceling it! Since the card is not linked to your bank account, no one will be able to charge you once the trial expires. An additional perk is that the card comes with a free email address, which means no spam emails from the company. 
DoNotPay Helps You Fight for Your Consumer Rights
Did you know that companies often reject first-time warranty claims?
You're probably familiar with how complicated the process of appealing parking tickets is. Trying to get a refund for an unsatisfactory purchase or a delayed flight has likely made you mad at least once.
Not anymore! DoNotPay makes all these issues go away in less than five minutes, and that is not all we can do for you!
You don't have to deal with customer service reps of any company on your own anymore—we do it all for you!
DoNotPay bypasses any bureaucratic obstacle for you—scheduling DMV appointments, delaying bill payments, getting in touch with your incarcerated loved ones, filing lawsuits in small claims courts, and claiming insurance policies.