How To Get Victims Compensation in PA—A Complete Guide
Besides physical and psychological harm, crime victims also experience financial hardship due to the expenses caused by the crime. Every state in the U.S. has a victim fund for violent crimes, but many people are not aware of that.
This article will provide all the information about the eligibility, requirements, and application process for obtaining victims compensation in PA.
All About the
Pennsylvania Victims Compensation Assistance Program
The Pennsylvania Victims Compensation Assistance Program (VCAP) was established under the Office of Victims' Services (OVS). The program reviews roughly 10,000 claims per year and pays around $13 million in crime victims compensation.
Victims Compensation Assistance Program can reimburse health insurance copays, out-of-network provider costs, and other out-of-pocket expenses that may occur as the result of the crime. VCAP—like any other crime victims compensation board—does not compensate victims for pain and suffering or property theft and damage.
There are limits to victims compensation amounts with the overall maximum award of $35,000 per case.
What Expenses Does
PA Crime Victims Compensation
Cover?
You can get crime victims compensation for the following costs:
Medical costs like hospital bills and rehabilitation expenses

Mental health counseling and psychological treatment

Funeral and burial costs for family members of deceased victims

Loss of earning due to the ongoing investigation or treatment

Loss of financial support

Childcare

Travel costs for investigation or treatment purposes

Cash that was stolen during the crime

Relocation expenses for victims of stalking, domestic violence, or sexual assault attacked in their homes

Crime scene clean-up

Other case-specific costs
Who Is Eligible for
PA Victims Compensation
?
The following table shows categories eligible for getting victims compensation, together with eligible claimants and compensable crimes:
Eligible To File Claims
Eligible To Receive Victims Compensation
Eligible Compensable Crimes

Victims

Intervenors

Family members of deceased victims

Dependents

Medical institutions

Parents or legal guardians for victims who are minors

Guardians or legal representatives for incapable adult victims

Direct victims

Intervenors

Surviving parents, spouses, or children of deceased victims or intervenors

Any person who assumes the responsibility or pays for burial, funeral, or crime scene clean-up expenses that resulted from the crime

Individuals who qualify for mental health counseling

Any person who is dependent on the deceased victim's or intervenor's financial support

Hospitals, medical centers, or other health care providers that request reimbursement of expenses that resulted from the forensic rape examination

Homicide and manslaughter

Kidnapping

Rape, sexual assault, indecent exposure, or institutional sexual assault

Arson and related offenses

Corruption and sexual abuse of minors

Burglary and criminal trespass

Robbery

Theft and theft by deception

Assault, terrorist threats, stalking and harassment, reckless endangerment, and neglect of a care-dependent person

Intimidation of the victim and witness
There are exemptions to these categories—a person cannot get reimbursement if they:
Were responsible for the crime in question or acted as an accomplice

Are a family member of the person that committed the crime in case the offender and the direct victim are living in the same household
PA Victims Compensation Assistance Program
Requirements
The requirements for filing a claim with the Victims Compensation Assistance Program in Pennsylvania include the following:
The crime happened in Pennsylvania

The victim, witness, or third person reported the crime to the proper law enforcement authorities within 72 hours

The person is filing a claim no later than two years after the crime

The crime that occurred is eligible for compensation

The victim is cooperating with the prosecutors, law enforcement, and the Victims Compensation Assistance Program

The victim did not participate in the crime that caused their injuries
If you meet all the requirements and eligibility criteria, you should file a claim with the Victims Compensation Assistance Program. The best way to do that is with the help of the world's first robot lawyer—.
Get
Crime Victims Compensation in Pennsylvania
With Zero Effort Using DoNotPay
Many victims of violent crimes are not aware that victims compensation programs exist. Some individuals that do know prefer not to take action due to the usually overlong and complicated processes. DoNotPay's goal is to change all that!
That is why we created the Compensation for Crime Victims product—a service that enables victims and other claimants to apply for any state's victims compensation program and file claims with the 9/11 Victims Compensation Fund without hassle.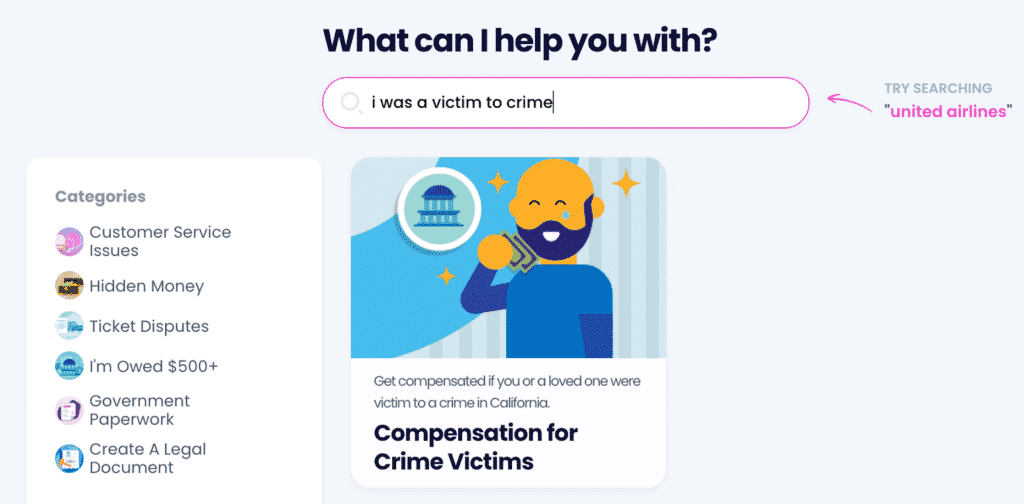 Here is everything you need to do:
Choose the

Compensation for Crime Victims

service

Define whether you are the victim or another claimant

Answer our chatbot's questions about the crime and costs you need compensation for

Verify your signature
Once you complete these steps, DoNotPay will automatically send the application to the officials at the Victims Compensation Assistance Program in Pennsylvania.
What if the
Victims Compensation Assistance Program in PA
Denies Your Claim?
Here is what can happen if the Victims Compensation Assistance Program rejects your claim:
You request the reconsideration—Complete and send the

Request for Reconsideration

form within 30 days from the date of the decision

The Claims Review Official who worked on your application decides whether to reconsider the claim or reaffirm the decision

You request a hearing if the decision was reaffirmed—Complete and return the

Request the Hearing

form within 30 days from the decision's date
Keep Your Data Safe With DoNotPay
Do you love free trials but are reluctant to disclose your credit card details, phone number, or email address?
Our app lets you try out different subscriptions in a risk-free way!
Use DoNotPay's Burner Phone feature to sign up for services without providing your phone number! We'll make sure robocall scammers and text spammers cannot harass you!
With our virtual credit card, you can sign up for any free trial and not worry about canceling it! Since the card is not linked to your bank account, no one will be able to charge you once the trial expires. An additional perk is that the card comes with a free email address, which means no spam emails from the company.
DoNotPay Helps You Fight for Your Consumer Rights
Did you know that companies often reject first-time warranty claims?
You're probably familiar with how complicated the process of appealing parking tickets is. Trying to get a refund for an unsatisfactory purchase or a delayed flight has likely made you mad at least once.
Not anymore! DoNotPay makes all these issues go away in less than five minutes, and that is not all we can do for you!
You don't have to deal with customer service reps of any company on your own anymore—we do it all for you!
DoNotPay bypasses any bureaucratic obstacle for you—scheduling DMV appointments, delaying bill payments, getting in touch with your incarcerated loved ones, filing lawsuits in small claims courts, and claiming insurance policies.