The Easiest Way To Apply for Crime Victims Compensation in NH
Victims of violent crimes should get all the help they need to overcome mental trauma, financial obstacles, physical injuries, and other crime-related challenges. That's why all states—including New Hampshire—established funds for violent crime victims to help them cover medical exams, lost wages, and similar costs caused by crimes.
Applying for crime victims compensation in NH can be a tedious task. To avoid wasting time on the complicated procedure, and allow us to take care of your crime victims compensation application for you!
New Hampshire Victims Compensation Program—Crucial Aspects
The Attorney General's Office of the Department of Justice administers New Hampshire's Victims Compensation Program, created to help violent crime victims cover their crime-related expenses. Victims of the following violent crimes can apply for the program:
Child abuse

Human trafficking

Driving under the influence

Homicide

Manslaughter
The program offers compensation to victims, their dependents or family members, and parents or legal guardians of child victims.
The Victims Compensation Program in New Hampshire receives money from:
Criminal fines

Restitution from offenders

The

Victims of Crime Act (VOCA)

award

Violence against Women Act (VAWA)

programs
The main characteristic of all crime victims compensation programs is that they are considered payers of last resort. It's important that you exhaust all of your collateral sources—such as donations, Medicaid, insurance, and similar—first, and then apply for the program if you still need reimbursement.
Which Expenses Does the Victims Compensation Program in NH Cover?
The maximum compensable amount that the Victims Compensation Program in NH provides is $30,000 per claim. While the program covers most crime-related expenses, not all costs are considered compensable:
Covered
Not Covered

Medical expenses

Counseling (up to $3,000 or 40 visits)

Loss of income

Loss of financial support for dependents of homicide victims

Relocation

costs

Funeral and burial costs (up to $5,000)

Grave marker (up to $500)

Crime scene cleanup after homicides

Expenses for security systems and monitoring (up to one year)

Replacement of bedding and clothing kept as evidence (after sexual assaults)

Emergency costs for sexual abuse and domestic violence victims (up to ten days)

Removal of markings and tattoos (for human trafficking victims)

Stolen or damaged property

Pain and suffering

Living expenses

Costs covered by other sources
How To Know if You're Eligible To Apply for the Program
To receive crime victims compensation in New Hampshire, you must:
Be a victim of a compensable crime that took place in NH

Have filed a police report within five days of the crime

Cooperate with law enforcement

File your crime victims compensation application within two years of the crime
If you're a victim of sexual assault, you don't have to file a police report, but you must report to the nearest hospital no later than five days after the crime. You also need to cooperate with doctors and nurses during the exam and the collection of evidence.
Looking for a Quick and Easy Way To File Your Application? DoNotPay's Got Your Back!
Applying for the NH Victims Compensation Program usually takes a few days because you need to:
Download the correct application forms from the Department of Justice website

Fill out each field while making sure you don't make a mistake

Mail the form to the appropriate address
Why waste time going to your local post office if you can finish the entire application procedure from the comfort of your home? With DoNotPay's Compensation for Crime Victims feature, you can apply for the NH Victims Compensation Program in a few clicks.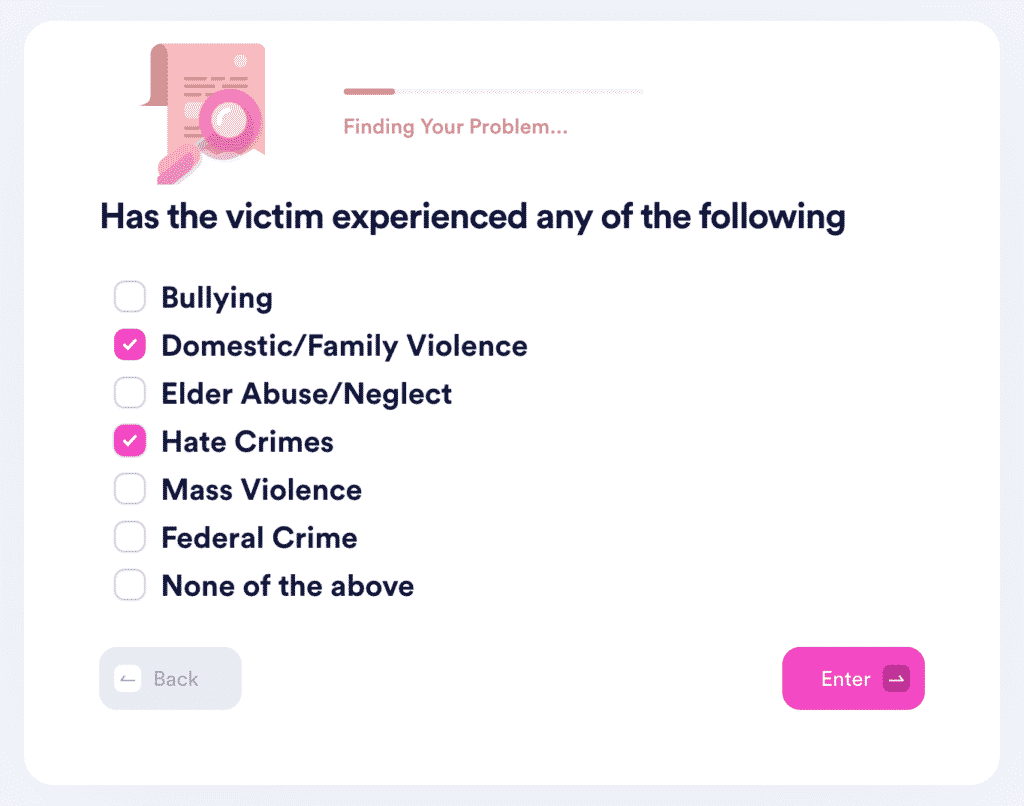 Here's how you can file your application:
Pick our

Compensation for Crime Victims

product

Tell us whether you're the victim or another claimant

Answer our questions

Verify your signature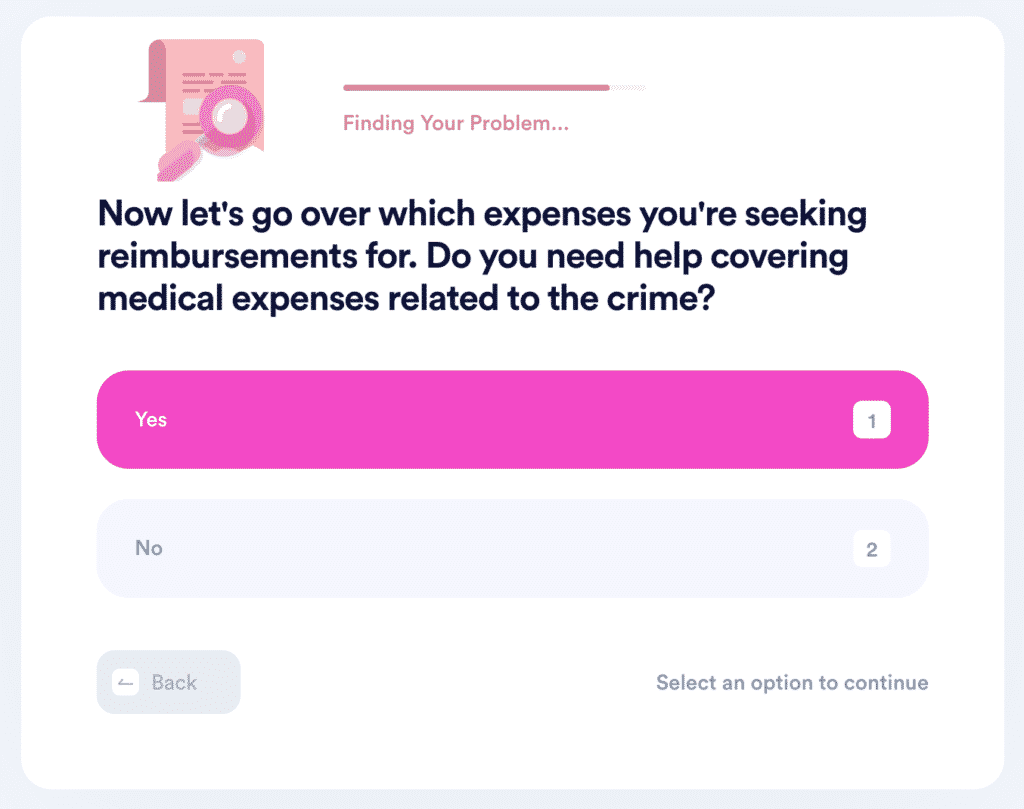 We will complete the appropriate application form right away and send it to the Department of Justice in New Hampshire.
With us, you can apply for compensation as a victim of any violent crime, including kidnapping and terrorism (e.g., the 9/11 attack). Some other states you can use our app in are:
What Happens After You Apply for the Program?
The program staff will contact you by mail or email within two weeks of receiving your application to ask you to provide any additional info they need. After that, the staff will request the police report from the relevant law enforcement agency and then send everything to the Victims Compensation Commission.
The Commission consists of five members:
Attorney

ER nurse

Licensed mental health professional

Crime victim or an eligible claimant

Chief of police
The Victims Compensation Commission meets once a month to discuss compensation claims, which means that you might have to wait several months to be informed about their decision.
Clear Your Schedule With the Help of DoNotPay
DoNotPay is renowned for making our users' lives infinitely easier. Not only can we root out unwanted subscriptions for you—you don't need to do it manually one by one any longer—but we can unsubscribe you from unwanted email and snail mail lists.
Fire up our app and let it navigate the phone tree instead of you or use it to make a DMV appointment at your earliest convenience. Forget about googling clinical trials near you—DoNotPay can sort them out according to your needs and their individual eligibility criteria.
We can fill out the paperwork that you need to file at your local small claims court to initiate a dispute. You can work around the U.S. penal system and have DoNotPay locate an imprisoned loved one instead of you trying to reach individual prisons attempting to do it yourself.
You don't need to go to great lengths to get in touch with a counselor to sign your college fee waiver either—DoNotPay does it for you and then forwards the necessary documents on your behalf.
DoNotPay Never Ceases To Amaze
Where there's one useful feature, there are nifty features galore!
Use our Virtual Credit Card to sign up for free trials and stop robocalls and spam text messages from reaching your phone. If you feel a free trial unrightfully turned into an expensive paid membership, we can help you request a refund or chargeback for the inconvenience.
We can further assist you in exercising your consumer rights by making a warranty claim in your place and verifying your online accounts with temporary phone numbers.
We can also break down the Freedom of Information Act for you and introduce you to online fax options and property tax reductions.