Key Aspects of the Crime Victims Compensation Fund in RI
Other than going through physical and psychological pain, violent crime victims and their dependents also have to handle a myriad of crime-related costs. The crime victims compensation fund in RI helps violent crime victims and other claimants cover the expenses caused by a violent crime that occurred in Rhode Island.
DoNotPay will assist you in filing your RI crime victims compensation application in under five minutes!
Everything You Should Know About the Rhode Island Crime Victims Compensation Program
The Rhode Island Office of General Treasurer administers the Crime Victims Compensation Program. The purpose of the program is to provide financial assistance for crime-related costs to:
Victims of violent crimes—such as robbery, assault, kidnapping, sexual abuse, and similar—that took place in Rhode Island

Family members or dependents of homicide victims

Residents that were victims of violent crimes—including terrorist attacks—outside of Rhode Island if the state where the crime occurred doesn't provide victims compensation

Minors who suffered an emotional injury because they witnessed a homicide or domestic violence

Legal guardians of minor victims
The CVC Program in Rhode Island receives the funds from:
Court fees:

$150 for major felonies

$90 for minor felonies

$30 for misdemeanors

The

Victims of Crime Act (VOCA)

and other federal grants

Gifts (donations)
The program won't grant compensation for the expenses that can be covered by other collateral sources, including life and health insurance, workers' compensation, donations, and similar. You should use all other sources first and then apply for the RI CVC Program.
Who Qualifies for Crime Victims Compensation in RI?
To be eligible to get crime victims compensation in Rhode Island, you should fulfill certain requirements, as shown in the table below:
Eligible To Apply for the CVC Program
Not Eligible To Apply for the CVC Program

You will get crime victims compensation if you:

Reported the crime in the first ten days

Cooperate with law enforcement authorities

Apply for the CVC Program in RI within three years of the crime

Send the required documents to the CVC Program administrator

Your crime victims compensation application will be rejected if you:

Caused your own injuries

Were an accomplice in a crime that caused the injuries

Initiated a physical dispute with the offender

Were incarcerated when the incident occurred

Refused to file a police report
If you think you qualify for crime victims compensation, you should the easy way—with DoNotPay.
DoNotPay Makes the Rhode Island Victims Compensation Application Process Quick and Easy
While compensation programs for violent crime victims can help a lot, the traditional application process is usually complicated and lengthy. If you'd like to apply for the CVC Program in Rhode Island but feel discouraged by the entire procedure, you should rely on DoNotPay.
Our product enables you to file an application in two minutes by following these steps:
Open our

Compensation for Crime Victims

feature

Tell us whether you're the victim or another claimant

Respond to our questions and verify your signature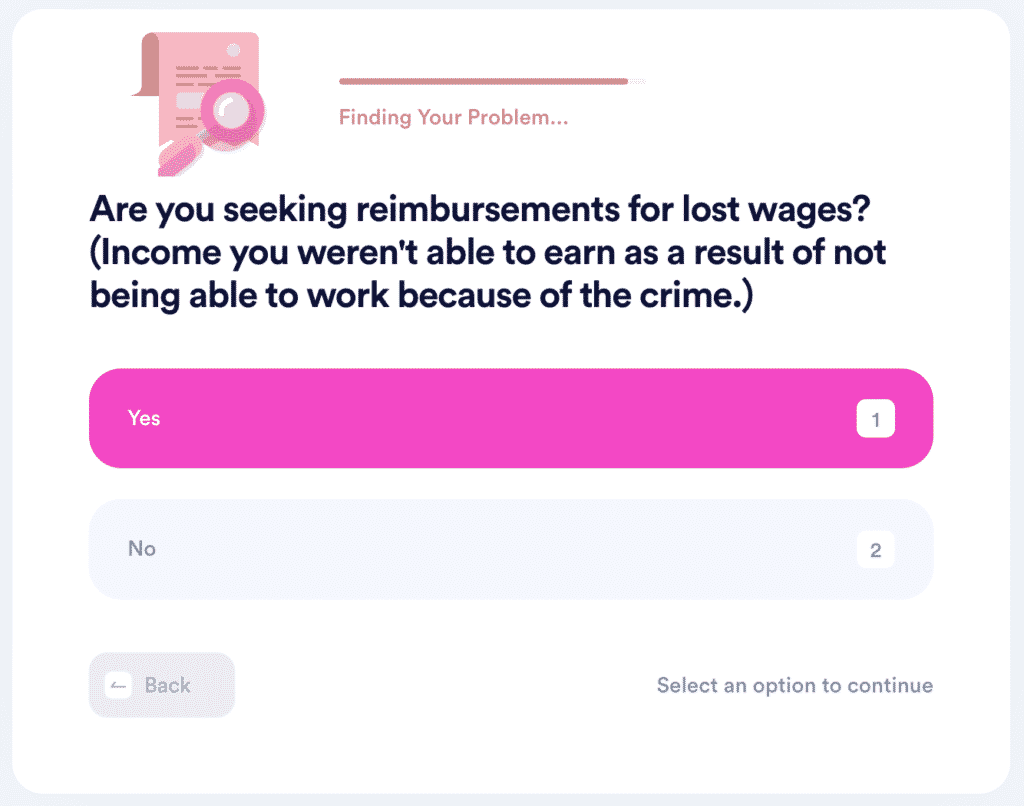 DoNotPay will complete and send your application to the appropriate office. With us, you can find out more about various funds for violent crime victims—including the 9/11 Victim Compensation Fund and emergency funds for domestic violence victims.
You can use our product in other states as well, including:
Which Are the Compensable Costs for Crime Victims in Rhode Island?
The Crime Victims Compensation Program in Rhode Island provides up to $25,000 per claim for compensable crime-related costs. The following table shows which expenses the program covers:
Compensable Costs

Medical expenses, such as:

Examination

Treatments

Prescriptions

Equipment

Replacement or repair of eyeglasses

Hospital fees

$200 for eyeglasses

Not specified for other services

Mental health counseling for primary and secondary victims as well as their family members

$130 per hour for licensed psychiatrists

$110 per hour for licensed clinical psychologists

$90 per hour for licensed clinical social workers, marriage and family therapists, and mental health nurses

$1,500 for secondary victims

Loss of earnings for victims or parents of minor victims who can't go to work because of crime-related injuries

Not specified

Loss of support for dependents of homicide victims

$250 per week for wholly dependent claimants

$125 per week for partially dependent claimants

Funeral and burial expenses

$10,000

Attorney fees

15% of the award or $2,000, whichever is less

Crime scene cleanup

$2,000

Relocation expenses if:

The crime happened in the victim's primary residence

The victim's safety would be jeopardized in his or her home

$5,000 for all costs

$100 per night for up to ten nights for temporary housing

$300 for utilities

$1,000 for moving expenses (rental trucks, moving companies, and similar)

$500 per person for one-way transportation
The CVC Program doesn't cover:
Pain and suffering

Property loss and damage

Travel for medical treatments and court hearings
Can You Appeal the CVC Program Administrator's Decision?
Should the program administrator reject your application, you can request a reconsideration of his or her decision or file an appeal with the Superior Court.
DoNotPay Can Do Your Paperwork for You!
Feeling like you're in bureaucratic hell? Our app will draft the paperwork you need and get you out of any hurdle before you know it!
We can compose most of the documents that you require for any administrative purpose in your jurisdiction, most notably:
More of What We Can Do for You
Our multifaceted app can call and record the conversation with the customer service of the company that just won't let you go! If you are having trouble canceling an unwanted service via the traditional channels, use DoNotPay to get it over and done with!
We can help you stop the persistent robocalls and robo texts from the nagging company and request a refund for unused services in a matter of minutes.
We'll also lend a helping hand in stopping spam mail—whether it's electronic or paper. Our Spam Collector product unsubscribes you from unwanted emails and cleans up your physical mailbox too!