How To Complete Victims Compensation Forms Quickly and Hassle-Free
As a victim of violent crime or a dependent of a victim, you're probably dealing with medical, funeral, counseling, and other crime-related expenses. While all U.S. states have funds for violent crime victims dedicated to covering some of the costs, the application process can be rather lengthy. The last thing you want is to waste hours trying to complete numerous victims compensation forms. The good news is—you don't have to.
DoNotPay is here to help you apply for the crime victims compensation program in Arkansas, Oregon, Rhode Island, or any other state in a matter of minutes!
What Are Crime Victims Compensation Programs?
Each state provides financial assistance to violent crime victims through its crime victims compensation (CVC) program. The purpose of CVC programs is to reimburse victims for the crime-related expenses that can't be covered by other sources, such as restitution, insurance, and donations.
The states get funding for their CVC programs from felony, misdemeanor, and other offender fees, as well as the Victims of Crime Act (VOCA) grant. The programs usually impose a limit on the compensable amount, depending on a state's budget. In most states, the programs grant between $10,000 and $100,000 per claim.
Some of the crimes that are compensable by most CVC programs are:
The following table shows which crime-related costs are covered by most CVC programs and which ones aren't:
Covered Expenses
Not Covered Expenses

Pain and suffering

Lost, stolen, or damaged property

Car accident

injuries unless the accident was caused by driving under the influence or reckless driving
Ways To Apply for Crime Victims Compensation
The application procedure for crime victims compensation is different in every state. You should check the website of your state's CVC program to check the options you have. Most programs enable multiple application methods, such as:
Completing an online application form

Visiting the appropriate office and applying in person

Applying for the program over the phone

Sending the application form via:
While the online application process is usually the most convenient one, many platforms aren't user-friendly. If you're not sure how to submit an application or find and download a PDF file, this option might not be for you.
Applying for your state's CVC program over the phone or in person are valid options if you're not tech-savvy, but the process can be exhausting and time-consuming.
Most CVC programs have long application forms. For example, to apply for the California CVC program, you need to fill in an application form that is seven pages long. Having to complete all of those pages increases the chances of making a mistake or forgetting to fill out the required fields. This can be tedious and take a few days, especially if you make a mistake and have to start over.
Do you want to avoid going through numerous pages and filling out each field on your own? You should and let us handle your application in a matter of minutes!
Victims Compensation Forms—Which Info and Documents Do You Need To Provide?
All application forms have various sections dedicated to different aspects of the crime. The first section is usually reserved for the claimant's info, while the second part of the application requires the victim's details, such as:
Name

Age

Gender

Address

Social Security Number

Insurance info

Contact number

Email address
You will also need to provide info regarding the crime and your expenses, for example:
Date and location of the crime

Crime report number

Name of the suspect (if known)

Injuries the victim suffered

Expenses incurred as a result of the crime
You don't have to include any document with your application (unless stated otherwise on your state's program's website). Program directors usually require additional info such as bills, police reports, and similar after reviewing the CVC program applications.
Need Help Filling Out Paperwork for Crime Victims Compensation? Rely on DoNotPay
DoNotPay enables you to apply for the crime victims compensation program in your state in a few clicks, whether you're the victim or another claimant. Our AI-powered chatbot will ask you a few questions about the crime and your expenses. Once you answer all of the questions, we will complete the application form on your behalf.
Here's how you can use our app:
Open the

Compensation for Crime Victims

product

Tell us whether you're the victim or another claimant

Respond to our questions

Verify your signature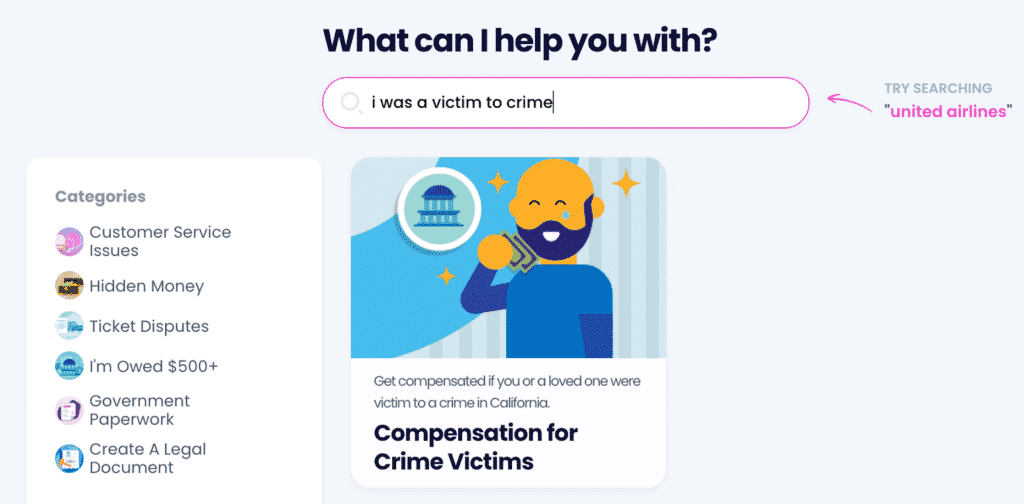 You can use DoNotPay's product in any state, including:
How To Know Whether You're Eligible To Apply for Crime Victims Compensation
Primary victims aren't the only ones who qualify for crime victims compensation. CVC programs also grant reimbursement to:
Spouses, children, and other family members of violent crime victims

Dependents of victims who can't work or have passed away because of the crime-related injuries

Individuals who were victimized while trying to help another victim or the police

Secondary victims who witnessed the crime

Anyone who has to deal with funeral costs of homicide victims
To qualify for reimbursement, you have to:
Have filed a police report within the time limit imposed by your state's program

Cooperate with the police

Apply for the CVC program within the imposed time limit

Provide necessary documents upon request
DoNotPay Can Do Your Paperwork for You!
Feeling like you're in bureaucratic hell? Our app will draft the paperwork you need and get you out of any hurdle before you know it!
We can compose most of the documents that you require for any administrative purpose in your jurisdiction, most notably:
More of What We Can Do for You
Our multifaceted app can call and record the conversation with the customer service of the company that just won't let you go! If you are having trouble canceling an unwanted service via the traditional channels, use DoNotPay to get it over and done with!
We can help you stop the persistent robocalls and robo texts from the nagging company and request a refund for unused services in a matter of minutes.
We'll also lend a helping hand in stopping spam mail—whether it's electronic or paper. Our Spam Collector product unsubscribes you from unwanted emails and cleans up your physical mailbox too!