Can a Victim of Domestic Violence Get Compensation in the U.S.?
Domestic violence affects nearly 10 million Americans each year. Victims usually stay with the abuser because they lack financial and moral support. While some people are familiar with crime victims compensation programs, not everyone knows that victims of domestic violence get compensation as well. 
DoNotPay is here to help you apply for domestic violence victims compensation programs easily in any state, including:
Domestic Violence Victim Compensation From A to Z
All U.S. states provide annual funding for victims of violent crimes to help them cover crime-related costs through various compensation programs. Domestic violence is one of the crimes covered by these programs. If you were a victim of domestic violence, there's a good chance that you qualify for crime victims compensation in your state.
Shelters, safe homes, non-governmental organizations, and other programs that provide help to domestic violence victims usually get money from: 
Offender fees 

Various federal funds and programs, including:

Allstate

,

National Resource Center on Domestic Violence (NRCDV)

, and other organizations

Donations
The maximum compensable amount for crime victims ranges from $10,000 to $100,000. Besides receiving money from federal funds, organizations dedicated to providing financial assistance to domestic violence victims also get funding from local programs. 
Most states have only one crime victims compensation (CVC) program that takes care of victims of all violent crimes. Some states—such as Oregon, Virginia, and Illinois—have separate programs dedicated solely to domestic violence victims, including emergency funds for domestic violence victims and relocation funds for domestic violence victims. Here are some links to state-specific domestic violence victims compensation programs:
Who Qualifies for Domestic Violence Victim Compensation?
While every crime victims compensation program has different eligibility requirements when it comes to any type of violence, most of them grant compensation to victims who:
Filed a police report within two to five days of the incident, depending on the state. Some states, such as

Washington

, have a more generous time limit for this (up to one year)

Cooperate with the police

Apply for the CVC program within a certain time frame, usually within one to three years after the crime
Victims aren't the only ones who can apply for the program. In some cases, a family member can be a claimant for the victim. You should check your state program's rules to find out who can file an application and which documents are required.
Which Costs Are Covered by the Domestic Violence Compensation Programs?
Most domestic violence victims compensation programs cover the following costs:
Temporary housing 

A few months of rent

Utility bills

Clothing 

Gas

Moving costs 

Medical examinations and treatments in case a victim was injured 

Mental health counseling
Other than providing financial assistance to direct victims of domestic violence—usually spouses or partners—these programs also cover the costs for secondary victims (children who witnessed the crime).
How To Get Compensation for Victims of Domestic Violence
Each shelter for domestic violence victims will provide emergency services to victims who flee their homes, including emergency housing, food, and clothes. You still need to apply for one of the crime victims compensation programs if you need help covering other crime-related costs, such as counseling and medical treatments. The safe house you go to should explain the application process and help you apply for compensation. 
The application process for crime victims compensation is different in every state. Some states might require you to fill out an online application, while others might accept applications sent by mail. If you'd like to bypass complicated application procedures, you can sign up for DoNotPay and let our app handle the application for you.
Apply for Any Crime Victims Compensation Program Hassle-Free With DoNotPay!
DoNotPay wants to help victims of any violent crime—including assault, domestic violence, and sexual abuse—get the financial assistance they deserve. You don't have to stay in an abusive relationship because you're worried about the expenses related to relocation and proper medical treatments. Applying for a crime victims compensation program with DoNotPay will help you deal with the situation without stressing over money. 
To apply for a domestic violence compensation program in your state in under five minutes, follow these steps:
Open our

Compensation for Crime Victims

product

Let us know whether you're the victim or a family member of the victim

Answer our questions and verify your signature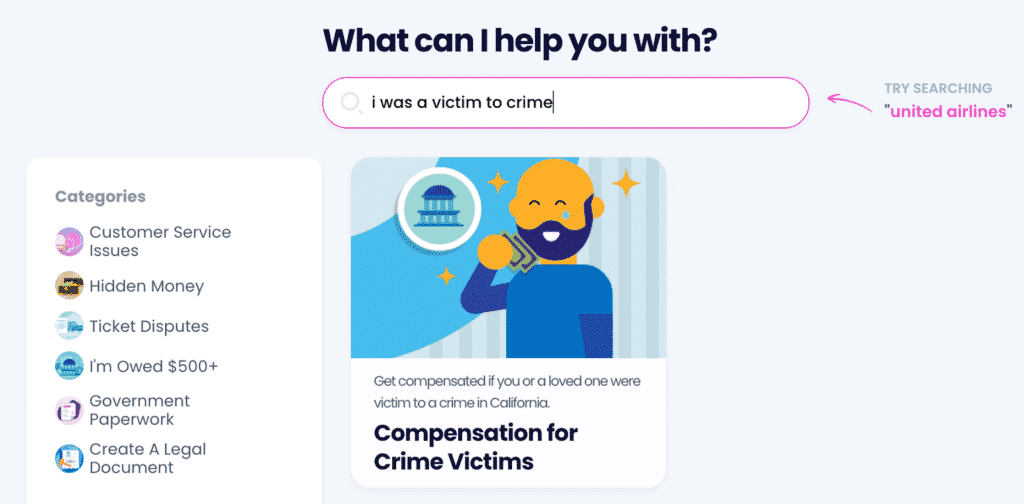 DoNotPay will complete your application and send it to the appropriate office in your state. We can also help you apply for any other type of crime victims compensation, including the 9/11 Victim Compensation Program. 
Are you still unsure which application method to choose? The following table will help you decide:
| | | | | |
| --- | --- | --- | --- | --- |
| Application Method | Effective | Convenient | User-Friendly | Time-Efficient |
| DoNotPay | Yes | Yes | Yes | Yes |
| Through the Program's Website | Yes | Yes | Not always | Not always |
| Via Mail | Yes | No | No | No |
What Else Can Our Award-Winning App Do for You?
If you think that's impressive, wait until you've heard about other features we boast!
Our powerful app can draft paperwork for you, locate unclaimed funds under your name, cancel subscriptions, sue robocallers, and protect you from stalkers and harassers—all in one nifty browser app!
Our services have been recognized by the esteemed ABA Brown award, serving as a testament to our abilities to assist you with your small claims issues, free trial auto-renewals, college fee waivers, public records, copyright protection, and much more!
More Benefits of DoNotPay
DoNotPay is a useful tool for handling many otherwise annoying life's trifles, including: