Are You a Victim of Assault and Battery? Get Compensation in a Flash!
Most violent crime victims and their immediate family face high hospital, funeral, and other crime-related costs, and not everyone has enough money to cover them. Applying for crime victims compensation in your state might be the only solution for taking care of crime-related expenses as a victim of assault and battery. Compensation funds for violent crime victims are available in every state in the U.S., including Florida, California, and Kansas.
DoNotPay is here to help you apply for the appropriate crime victims compensation program in your state as effortlessly as possible!
A Word or Two About Crime Victims Compensation Programs
Are you dealing with high medical bills as a result of an assault? Getting restitution after suing the offender and using your other collateral sources—including insurance and worker's compensation—will help you pay some of those costs.
If your collateral sources don't cover all of the expenses, you should apply for your state's crime victims compensation program. These programs are dedicated to providing financial assistance to eligible violent crime victims.
The highest compensable amounts vary from state to state and usually range from $10,000 to $100,000. Some states—such as Iowa—don't impose the maximum on total expenses but only the benefit cap for individual costs.
Most CVC programs get funding from offender fines and federal grants (e.g., the Victims of Crime Act grant). Besides providing financial assistance to victims injured in a violent crime, crime victims compensation programs also cover the expenses of:
Family members of homicide victims

Dependents of victims (if the injured individuals can't work due to crime-related trauma)

People who got injured trying to:

Prevent the crime

Help the victim

Help the police

Individuals who witnessed the crime—also called secondary victims (usually children who witness domestic violence)

Any person responsible for covering the funeral costs of a homicide victim
Do Only Victims of Assault and Battery Get Reimbursement?
Besides assault and battery, crime victims compensation programs in most states also cover the expenses caused by other crimes, including:
Traffic accidents

caused by driving under the influence or reckless driving

Child abuse

Kidnapping

Homicide
You should visit the website of your state's CVC program to check if the crime you were a victim of qualifies for compensation.
Crime Victims Compensation Eligibility Requirements
Crime victims compensation programs in most states have similar eligibility requirements. As a victim of assault and battery, you should qualify for the program in your state if you:
Suffered physical injuries or trauma as a cause of an assault

Have reported the crime to the police within a certain time frame. Most states require victims to file a police report in the first 48 or 72 hours, but

Washington

victims have up to one year to do it

Cooperate with law enforcement during the investigation as well as the prosecution

Apply for crime victims compensation in your state within the time frame imposed by the program's rules (usually within one to five years of the crime)
Your state's program probably won't grant reimbursement if you:
Caused your own injuries

Were an accomplice in the assault and battery that caused your injuries

Refuse to cooperate with law enforcement

Weren't injured during the crime
While most programs have similar conditions, you should still contact the proper office in your state to check the rules.
Find Out Which Costs Most CVC Programs Cover
Victims of assault, battery, and other violent crimes who apply for crime victims compensation programs in their states should get reimbursement for the following costs:
Medical treatments, examinations, and prescriptions

Mental health counseling

Eyeglasses, hearing aids, and other medical devices damaged during the crime

Forensic exam for sexual assault victims

Lost wages for victims who can't go to work due to crime-related injuries

Lost support for children and other dependents of homicide victims

Funeral and burial or cremation expenses

Relocation and emergency shelter costs (some programs)

Travel for court proceedings or medical treatments (some programs)

Attorney fees (some programs)

Crime scene cleanup (some programs)

Objects held as evidence (usually clothes)
None of the programs cover the costs for pain and suffering or lost, damaged, and stolen property.
Ways To Apply for Crime Victims Compensation
The common ways of applying for crime victims compensation in most states are:
By completing an online

compensation form

In person

Via mail

By sending an email

Via fax
These methods are usually time-consuming, especially if the website of your state's program isn't user-friendly. Would you like to save a lot of time and apply for crime victims compensation as a victim of assault and battery in less than five minutes? You should consider .
The following table shows why DoNotPay is the most convenient way to apply for the CVC program in your state:
| | | | |
| --- | --- | --- | --- |
| Ways To Apply | Effective | Time-Efficient | User-Friendly |
| DoNotPay | Yes | Yes | Yes |
| Online form | Yes | Not always | Not always |
| In person | Yes | No | No |
| Email | Yes | No | Yes |
| Mail | Yes | No | No |
| Fax | Yes | No | No |
Apply for a CVC Program as a Victim of Assault and Battery Quickly With DoNotPay!
DoNotPay has developed a product that can help violent crime victims apply for crime victims compensation hassle-free in Indiana, Oklahoma, or any other state.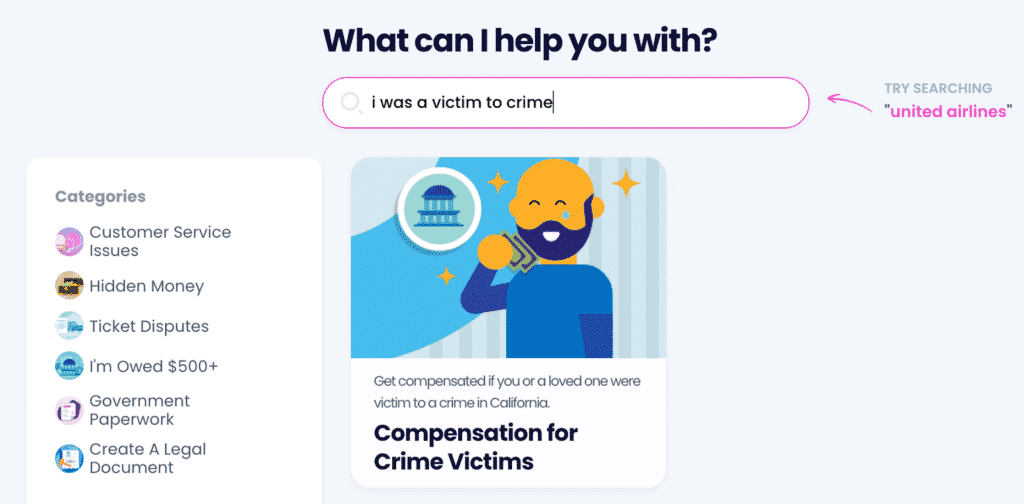 To file for your state's CVC program quickly and stress-free, do the following:
Open the

Compensation for Crime Victims

feature

Answer our questions

Verify your signature
We will send your application to the right office in your state and bring you one step closer to solving your crime-related financial issues. You can rely on DoNotPay whether you want to get reimbursement after an assault or apply for various crime victim compensation funds, including:
Clear Your Schedule With the Help of DoNotPay
DoNotPay is renowned for making our users' lives infinitely easier. Not only can we root out unwanted subscriptions for you—you don't need to do it manually one by one any longer—but we can unsubscribe you from unwanted email and snail mail lists.
Fire up our app and let it navigate the phone tree instead of you or use it to make a DMV appointment at your earliest convenience. Forget about googling clinical trials near you—DoNotPay can sort them out according to your needs and their individual eligibility criteria.
We can fill out the paperwork that you need to file at your local small claims court to initiate a dispute. You can work around the U.S. penal system and have DoNotPay locate an imprisoned loved one instead of you trying to reach individual prisons attempting to do it yourself.
You don't need to go to great lengths to get in touch with a counselor to sign your college fee waiver either—DoNotPay does it for you and then forwards the necessary documents on your behalf.
DoNotPay Never Ceases To Amaze
Where there's one useful feature, there are nifty features galore!
Use our Virtual Credit Card to sign up for free trials and stop robocalls and spam text messages from reaching your phone. If you feel a free trial unrightfully turned into an expensive paid membership, we can help you request a refund or chargeback for the inconvenience.
We can further assist you in exercising your consumer rights by making a warranty claim in your place and verifying your online accounts with temporary phone numbers.
We can also break down the Freedom of Information Act for you and introduce you to online fax options and property tax reductions.