Can a Victim of Armed Robbery Get Compensation?
Being a victim of a robbery is a traumatic experience, especially if the incident involves firearms. Victims who suffered crime-related physical and emotional trauma usually seek medical assistance or counseling. Since all these treatments are expensive, the financial burden that most victims feel can make the entire situation worse.
If you're wondering whether a victim of armed robbery can get compensation for his or her crime-related expenses, you're in the right place. DoNotPay is here to provide answers and help you apply for crime victims compensation in Texas, California, or any other state hassle-free.
Is Armed Robbery a Violent Crime?
Armed robbery qualifies as a property crime and a violent crime against a person. With over 250,000 filed cases in 2019, robbery is one of the most frequent violent crimes in the U.S.
Besides losing their valuables, victims of armed robberies also suffer from trauma due to a life-threatening experience. Some people even get physically injured.
Coping with any violent crime is challenging, especially if you have to deal with high subsequent costs at the same time. Getting compensation might not help you forget the incident, but it can resolve your financial issues and allow you to concentrate solely on getting better.
How To Get Reimbursement for Costs Caused by an Armed Robbery
Since crime-related costs tend to drain your wallet, you should try getting compensation for some expenses. While you should get restitution from the offender if he or she gets convicted, it probably won't be enough to cover all the expenses caused by the robbery.
One of the options you have is to use your collateral sources, such as:
Have all these sources failed to cover the total amount of your crime-related costs? Your last resort should be in your state. DoNotPay can help with that.
Learn More About Crime Victims Compensation Programs
If you're a victim of any violent crime—armed robbery included—you probably qualify for the crime victims compensation program in your state. These programs help victims and their dependents deal with any unexpected costs directly resulting from a violent crime.
States use offender fines paid for felonies and misdemeanors and the annual Victims of Crime Act (VOCA) grant to fund programs for violent crime victims.
Besides armed robbery, there are many other violent crimes that most CVC programs consider coverable, such as:
Car accidents

caused by drunk or reckless driving

Homicide

Child abuse

Kidnapping
Besides the primary victim, an eligible claimer can be a:
Secondary victim (usually an individual who witnessed the crime)

Dependent of a homicide victim

A family member or relative of a victim

"Good Samaritan" (an individual who got hurt trying to help a victim or police officer)
Bear in mind that you must file a police report, cooperate with law enforcement, and apply for the program on time to be eligible for reimbursement. Your state's program's website should provide the necessary info regarding all eligibility criteria.
How Much Money Do CVC Programs Grant?
The amount you can get for the expenses depends on the program's budget. The average compensable amount is around $25,000, but some states can offer much more. For example, the CVC program in Washington grants up to $190,000 per claim, which is generous.
The following table shows the highest compensable amount in some of the states with the highest violent crime rate:
Is the CVC Program's Application Process in Your State Too Lengthy? Rely on DoNotPay and File Your Application in Minutes!
CVC programs are super important and can provide significant financial assistance to victims, but the application procedure is tedious and complicated. Victims usually have to spend hours completing the application forms, which are tricky to find in the first place.
To make this process as quick and easy as possible for the already traumatized victims, DoNotPay has developed a nifty product called Compensation for Crime Victims. With our app, you can file your application for crime victims compensation in a few clicks.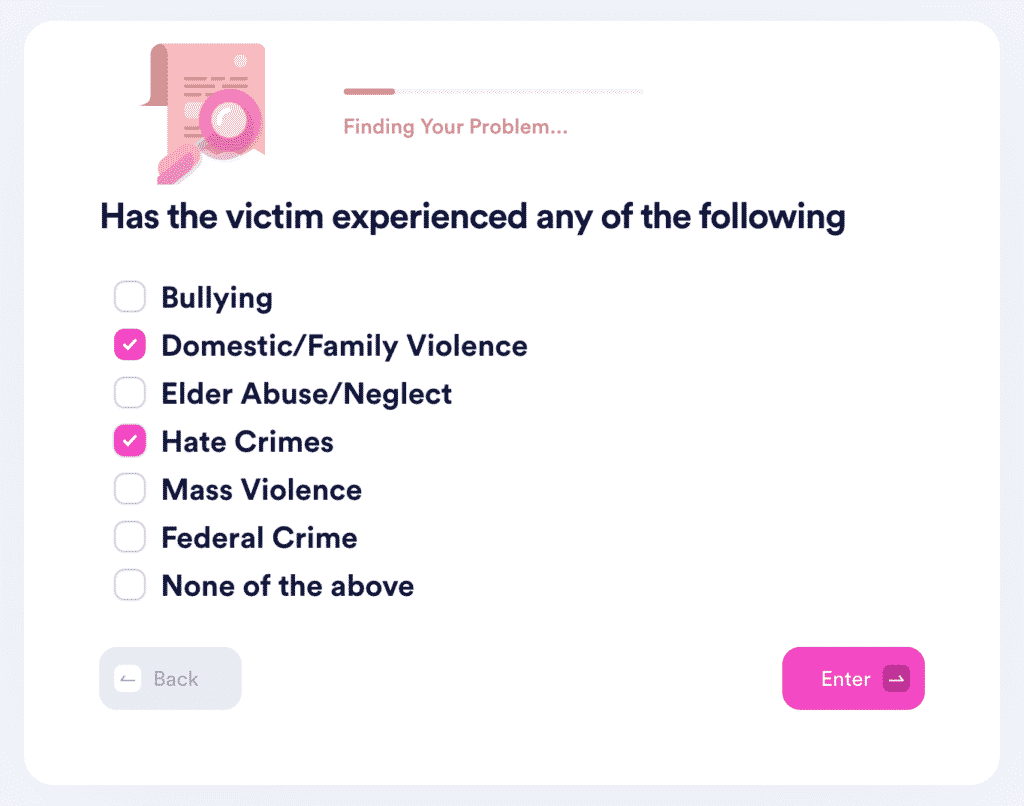 Once you answer a few questions, we complete all the required forms and send your application to the proper office. To file for crime victims compensation in two minutes, follow these steps:
Pick our

Compensation for Crime Victims

feature

Tell us whether you're a victim or a dependent

Respond to our questions and verify your signature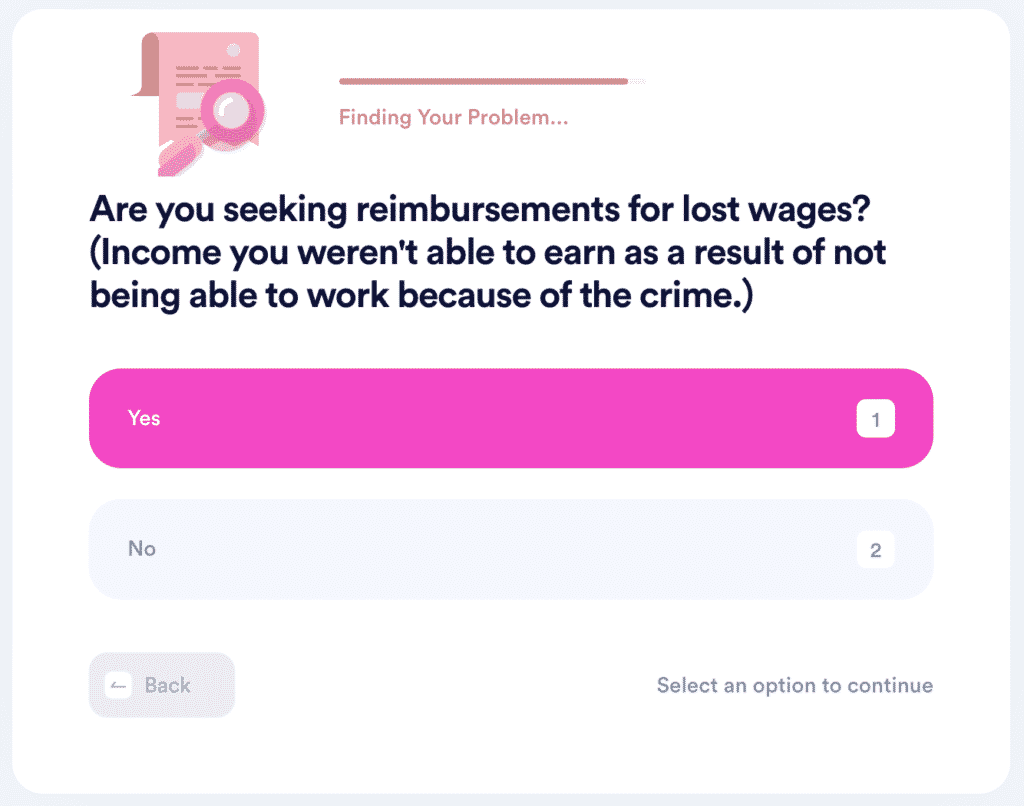 DoNotPay can assist you in filing your victims compensation application in Ohio, Florida, Wisconsin, New Jersey, or any other state. We can also inform you about different funds for violent crime victims, including:
Which Crime-Related Expenses Do CVC Programs Cover?
While CVC programs don't cover the costs of property that got stolen or damaged during the robbery, you can get compensation for many other crime-related expenses, including:
Medical and dental expenses

Lost income or support

Mental health therapies

Funeral costs

Relocation expenses

Travel for medical treatments and court attendance
More Benefits of DoNotPay
DoNotPay is a useful tool for handling many otherwise annoying life's trifles, including:
What Else Can Our Award-Winning App Do for You?
If you think that's impressive, wait until you've heard about other features we boast!
Our powerful app can draft paperwork for you, locate unclaimed funds under your name, cancel subscriptions, sue robocallers, and protect you from stalkers and harassers—all in one nifty browser app!
Our services have been recognized by the esteemed ABA Brown award, serving as a testament to our abilities to assist you with your small claims issues, college fee waivers, public records, copyright protection, and much more!