Learn About the World Trade Center
Victim Compensation Payouts
Around 3,000 people died, and two times more were injured in the 9/11 terrorist attack on the World Trade Center in 2001. Shortly after the attack, the government established the 9/11 Victim Compensation Fund (VCF) to help survivors and family members of the deceased victims deal with out-of-pocket expenses resulting from the attack.
In this article, you can learn all about the VCF victim compensation payouts and find out how to apply for them.
What Is the
WTC Victim Compensation Fund
?
Besides numerous injured and deceased victims, the attack on the World Trade Center brought additional problems—potential lawsuits.
The government founded the 9/11 Victim Compensation Fund to prevent the lawsuits that were likely to happen. The initial purpose of the Fund was to serve as a mediator between victims and airline companies—victims and their families would get reimbursement in exchange for not suing the airline companies involved in the attack.
The WTC Victim Compensation Fund has a long history—after several reauthorizations, the Fund got permanent financing when the Senate almost unanimously voted for its permanent authorization. 
The VCF enables compensation for the following categories:
Victims of the 9/11 attack

Family members of the deceased victims

Parents or legal guardian of underaged victims 

Personal representatives of incapable adults
Victim Compensation Payouts
—How Much Do Victims Get?
The information about how much each victim gets through the VCF is not readily available, but the following table can offer some insight into the compensation payouts for the 2018 fiscal year:
| | | |
| --- | --- | --- |
| Claimant Category | Number of Approved Claims | Victim Compensation Payout Amount |
| Responder—New York | 16,525 | $3,849,021,080 |
| Responder—Pentagon | 30 | $8,970,012 |
| Responder—Shanksville | 7 | $1,441,017 |
| Non-Responder NYC—Cleaning or Maintenance Work | 693 | $80,939,483 |
| Non-Responder NYC—Other Capacity | 2671 | $634,886,384 |
| Resident Within NYC Exposure Zone | 471 | $102,953,949 |
| Attendant of School, Childcare, or Adult Care Facility | 55 | $10,754,643 |
| NYC—Other Capacity | 164 | $40,725,194 |
| Non-Responder—Pentagon | 15 | $3,623,901 |
| No Response | 370 | $67,191,002 |
Who Can Get the
WTC Victim Compensation Fund Payouts
?
Crime victim compensation was previously intended solely for victims whose injuries and deaths were directly related to the Twin Towers attack. More people are now dying from the illnesses that they developed after the attack, usually cancers. 
Because of that, the Fund now offers compensation to the people who fell ill after being present at the New York City Exposure Zone between September 11, 2001, and May 30, 2002.
To file for compensation, the Fund requires you to:
Register with the Victim Compensation Fund according to the deadline

File a claim before October 1, 2090

Dismiss, settle, or withdraw any legal proceedings concerning the 9/11 attack you may have

Show that you have physical injury certified by the World Trade Center Health Program

Prove that you were present at the New York City Exposure Zone or the debris removal sites during the specified period

Show you have legal authority if filing a claim on someone's behalf

Prove that your injuries or illnesses worsened after you had already claimed compensation
In the following table, you can find the deadlines for registering and filing claims with the VCF:
Deadline for Filing Claims

Deadline for Registration

October 1, 2090

July 29, 2021 

If you received the WTC Health Program certification for a 9/11-related illness or injury before July 29, 2019 

If you are registering to get compensation for a person that you believe died from a 9/11-related illness before July 29, 2019

Within two years from the date of death for a person that you believe died from a 9/11-related injury or illness after July 29, 2019
Apply for
WTC Victim Compensation Fund Payouts
With DoNotPay
Even 20 years later, the 9/11 World Trade Center attack remains the worst terrorist attack in the history of the U.S. After so much time, you maybe aren't even thinking about filing for victims compensation, but it remains rightfully yours.
DoNotPay's Compensation for Crime Victims product enables you to file claims with the VCF in the blink of an eye and without hassle. We made sure that the process is simple and straightforward so that the victims don't have to experience additional trouble.
Access DoNotPay and follow these instructions to get compensation from the VCF program:
Open the

Compensation for Crime Victims

product

Tell us if you are filing a claim on your or someone else's behalf

Answer several questions about the attack and out-of-pocket expenses

Sign and verify
Our AI bots will momentarily complete the application and send it to the 9/11 VCF office.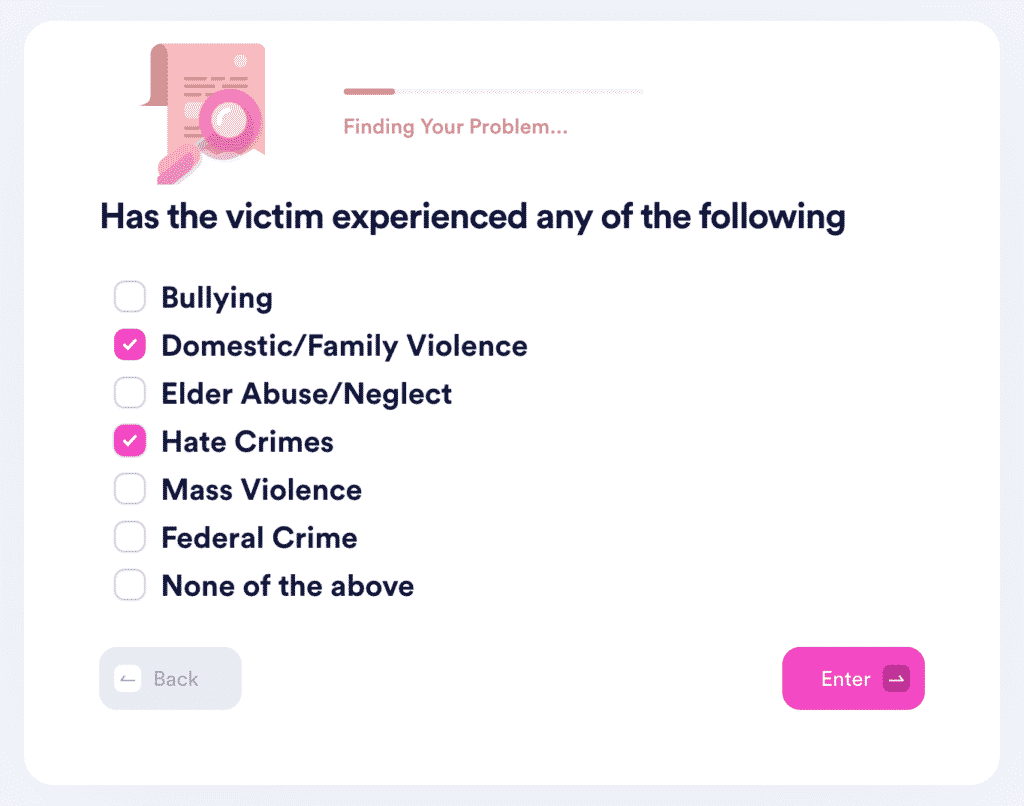 DoNotPay Can Help Victims of Violent Crimes
Besides helping you get reimbursement for terrorist attack-related costs, we can provide all the necessary information about the:
You can log in to your DoNotPay account to file for victim compensation in:
Keep Your Money Safe With DoNotPay
Don't let greedy companies threaten your consumer rights by holding back refunds, refusing to cancel your subscriptions, or charging you after your free trial ends.
DoNotPay helps you try out different services without providing your credit card info or phone number—you will never again have to deal with unexpected post free trial charges!
Our app also helps you avoid paying unnecessary parking tickets, delay challenging bills, or waive your college application fees. 
If any company refuses to issue you a refund or an airline won't compensate for canceled flights, we can help you sue them in small claims court.
DoNotPay Is a Time-Saving App
How many customer service reps do you have to deal with only to file an insurance claim or book your DMV appointment?
DoNotPay helps you sort out these tasks and much more in only a few clicks. 
Get your revenge on robocallers, report text scammers, find validated clinical trials, claim your warranties, get in touch with your loved ones in prison, and protect your creative content—all in less than five minutes. 
No more hours-long phone calls, emails, or in-person visits. 
We cover everything from freeing your inbox from spam to providing excellent prep tests for government exams! Save time with your all-in-one app!