File for
Victim Compensation
in
Florida
With Zero Hassle
Victims of violent crimes suffer physical injuries and emotional trauma long after the crime happens. Besides the direct consequences, crime victims often experience financial hardship due to many crime-related expenses. The good thing is that Florida, like other states, is obligated to compensate you for the financial loss that the crime caused.
This article provides all the necessary information about covering those costs and shows you how to apply for victim compensation in Florida.
Florida Victim Compensation Fund
—All You Need To Know
Every U.S. state must provide financial reimbursement to victims of violent crimes. Each state has a victim fund for violent crimes, and Florida is no exception.
The Florida Victim Compensation Fund allows victims, family members, and personal representatives to receive reimbursement for the following crime-related issues:
Disability

Medical and hospital bills

Medication costs

Lost wages

Loss of financial support

Rehabilitation and treatment costs

Mental health counseling expenses

Burial and funeral expenses
Who Pays for Florida Victim Compensation
?
Even though the State of Florida gets the revenue from various sources—like restitution from offenders, parole and probation fees, and DUI fines—the main source of financial support is the Victims of Compensation Act (VOCA) Fund.
The VOCA Fund is a federal program established to manage crime victim compensation boards across the nation and provide funding.
The amount of crime victim compensation each individual gets depends on the type of compensable crime and expenses the victim needs to cover.
Who Qualifies for
Florida Crime Victim Compensation
?
The following categories are eligible to file a claim with the Florida Victim Compensation Fund:
Victims who suffer:

Personal injury from the crime

Psychiatric or psychological harm because of the forcible felony

Emotional trauma because they experienced child abuse as minors

Witnesses of crime who suffer from emotional trauma and mental health problems because of what they experienced

Family members who need to cover burial and funeral expenses for deceased victims

Individuals who relied on the financial support of the deceased victim

Personal representatives of the incapable adults

Parents or legal guardians of child victims
The Florida Victim Compensation Fund offers financial assistance only to innocent victims, witnesses, and representatives. Financial reimbursement is not available in case the person was:
Injured while committing a crime or being an accomplice to a crime

Found guilty of a forcible felony

Injured while in custody or prison

Classified as a repeated felony offender or violent career criminal
If you believe you or your family members deserve compensation from the Florida Victim Compensation Fund, DoNotPay is the best way to file a claim.
How To Apply for the
Florida Victim Compensation Program
In the following table, you can find all the information you need to file a claim with the Florida Victim Compensation Fund:
Florida Victim Compensation Application Steps

Explanation

Report the crime

You have to report the crime to a law enforcement agency within 72 hours. When filing a claim, you have to include time, date, and the agency where you reported the crime

Complete the application

Once you make sure you qualify for

crime victim compensation

in Florida, here is what you have to do:

Download the

Victim Compensation Claim Form

from the

Office of Attorney General website

Insert personal information

Define your injuries

Specify the type of compensation you're requesting

Provide details about the crime

Add health insurance information

Gather the required documentation

Besides the completed application, you have to provide the following documentation:

Documents that prove a compensable crime occurred

Proof of crime-related expenses

Proof of payments by third parties

Documentation from the employer and treating physician for disability, loss of wages, and loss of disability supports

Certification documentation from an official domestic violence or rape crisis center for relocation benefits

Submit the application

You can send the application and supporting documents to the

Office of the Attorney General

at

PL-01 The Capitol Tallahassee, Florida 32399
Apply for
Victim Compensation
in
Florida
the Easy Way—With DoNotPay
Being a victim of a crime or losing a loved one to it is difficult enough without having to deal with the financial hardship that comes along.
The Florida Victim Compensation Fund encourages victims to apply for monetary reimbursement, but the application process is complicated. You can easily make mistakes and forget to include important information. The incomplete or inadequately written form gets your application denied.
To prevent this, DoNotPay created a simple and easy-to-use product for filing victim compensation claims in no time.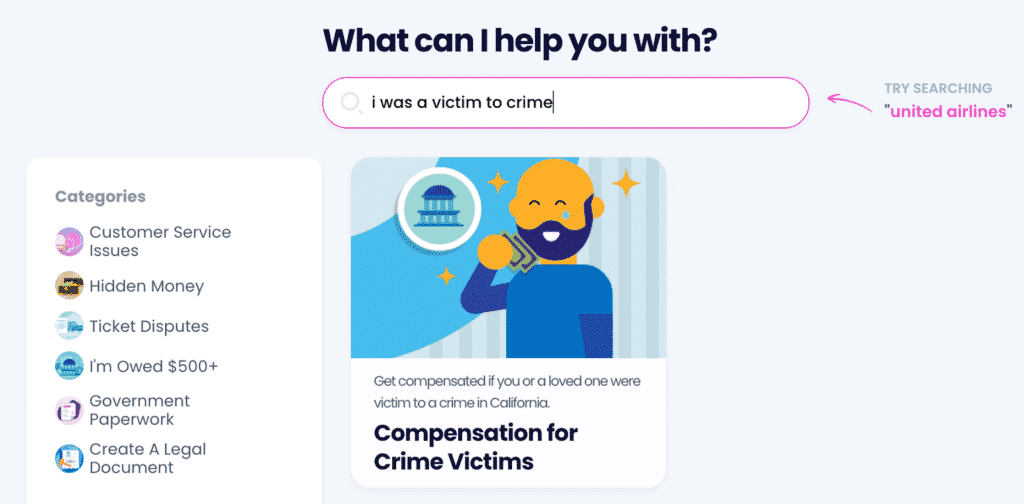 Sign up for DoNotPay and follow these steps:
Open

Compensation for Crime Victims

product

Indicate if you are the victim or claimant

Answer our chatbot's questions about the crime that happened and the expenses you want to cover

Confirm the information by adding a signature
Your virtual assistant will automatically file the application in your name to the Florida Office of the Attorney General.
Besides helping you apply for violent crime victim compensation in Florida, Ohio, Georgia, Oregon, Arizona, and anyone else in the U.S., DoNotPay has all the information you need about filing a claim with the 9/11 Victim Compensation Fund.
Your Online Safety Is Our Priority
The benefits of the internet are numerous, but so are the opportunities for scams of all kinds. DoNotPay can help you fight scammers left and right with easy-to-use features, highly customizable to match your needs. 
Our app can provide invaluable resources for fighting:
If you're an avid online shopper, we have your back. In case something goes wrong, we will help you contact customer service without holding, request a refund, or even sue the company in small claims court.
Diversity Is Our Middle Name
DoNotPay doesn't stop at online safety. Do you need to set up an appointment at the local DMV, but keep procrastinating because you know how awful the lines are? Are you a prospective college student trying to save on application fees? Have you lost track of all unnecessary subscriptions and memberships that keep draining your bank account?
If the answer is yes, DoNotPay is the right platform for you. Whether you're preparing for government-issued tests or looking for ways to lower your bills, our app will be of assistance.