How to Claim Veterans Unemployment Benefits Online
Most would agree, the men and women who served our country in uniform deserve the best when it comes to returning to civilian life. Yet, many American veterans struggle to find work. In 2020, 7.3% of Gulf War II veterans fell under the category of unemployed.
Additionally, 40% of those Gulf War veterans deal with service-related disabilities. Overall, 26% of veterans qualify as disabled. The 26% figure means that about 4.7 million veterans receive disabilities. Many veterans who receive disability still want to work part-time, which also leaves roughly 1.4 million veterans not collecting disability looking for work.
Filing for employment represents a complicated process for anyone, and though some advantages exist, the process for veterans may seem even more arduous. Of course, the COVID-19 pandemic impacted the overall unemployment rate, further adding steps and policies to the filing procedures.
The fact that every state deals with the application procedures for unemployment, slightly differently, also adds to an already frustrating process during a stressful time. But, no matter which state you reside in if you're a United States veteran, DoNotPay offers a streamlined approach to filing for your veteran's unemployment benefits.
Two Types of Unemployment Benefits Exist for Veterans
The two basic types of veterans unemployment benefits that you may qualify for include the following:
The usual scenario in which the veteran loses a job through a layoff or termination or firing situation. In this situation, the veteran needs to follow the unemployment procedures of his particular state of residence.
The recently discharged veteran experiences difficulty acclimating to civilian life and finding employment. Veterans who cannot find work shortly after discharge may register with a UCX or Unemployment Compensation program for ex-service members.
To apply for UCX, the veteran must adhere to these requirements:
Apply in their state of residence
Not taking part in a terminal leave
Served their entire term of duty or at least 180 days if in the National Guard or Reserve
Actively seek employment
Received an honorable discharge
The UCX benefits vary according to the individual's situation, but the basis for the monetary benefits stems from the wages and compensation received in the service. Additionally, applicants must meet the state's unemployment requirements.
The following circumstances may reduce the UCX benefit:
The veteran earns full or part-time wages
The veteran received a severance check
Social security payments
Worker compensation payments or settlements
Accessing Veteran Unemployment Benefits From Your State
Though requirements to file for unemployment benefits vary from state to state, California's requirements serve as a good guideline as to what you'll need to file for unemployment:
Contact information for your most recent employee
Last day of work
Reason for leaving
Gross earnings for the last week of work
Information on previous 18 months of employment
Former federal employees need to complete Standard Form 8
Ex-military need to provide a DD 214 Member 4 copy
Citizenship status and supporting documentation for citizens and non-citizens eligible to work in the United States
Advantages of Using DoNotPay for Obtaining Veteran Unemployment Benefits
If your situation requires filing for unemployment, most likely, you're experiencing added stress in your life already. Figuring out your state guidelines in addition to added military benefits may prove frustrating and time-consuming.
Using DoNotPay's services to help you apply for veteran unemployment makes sense for the following reasons:
| | |
| --- | --- |
| Fast | It solves the issue in a fraction of the time it would take to do on your own. |
| Easy and Convenient | You don't need to keep track of your progress or various websites. |
| Successful | DoNotPay, as the first legal robot, prides itself in getting not only fast but accurate results. |
Let DoNotPay Take the Frustration Out of Obtaining Veteran Unemployment Benefits
How to find Veteran Benefits in any state with DoNotPay
If you want to find Veteran Benefits in your state with DoNotPay but don't know where to start, DoNotPay has you covered in 3 easy steps:
1. Search for and open the Military Protection product on DoNotPay.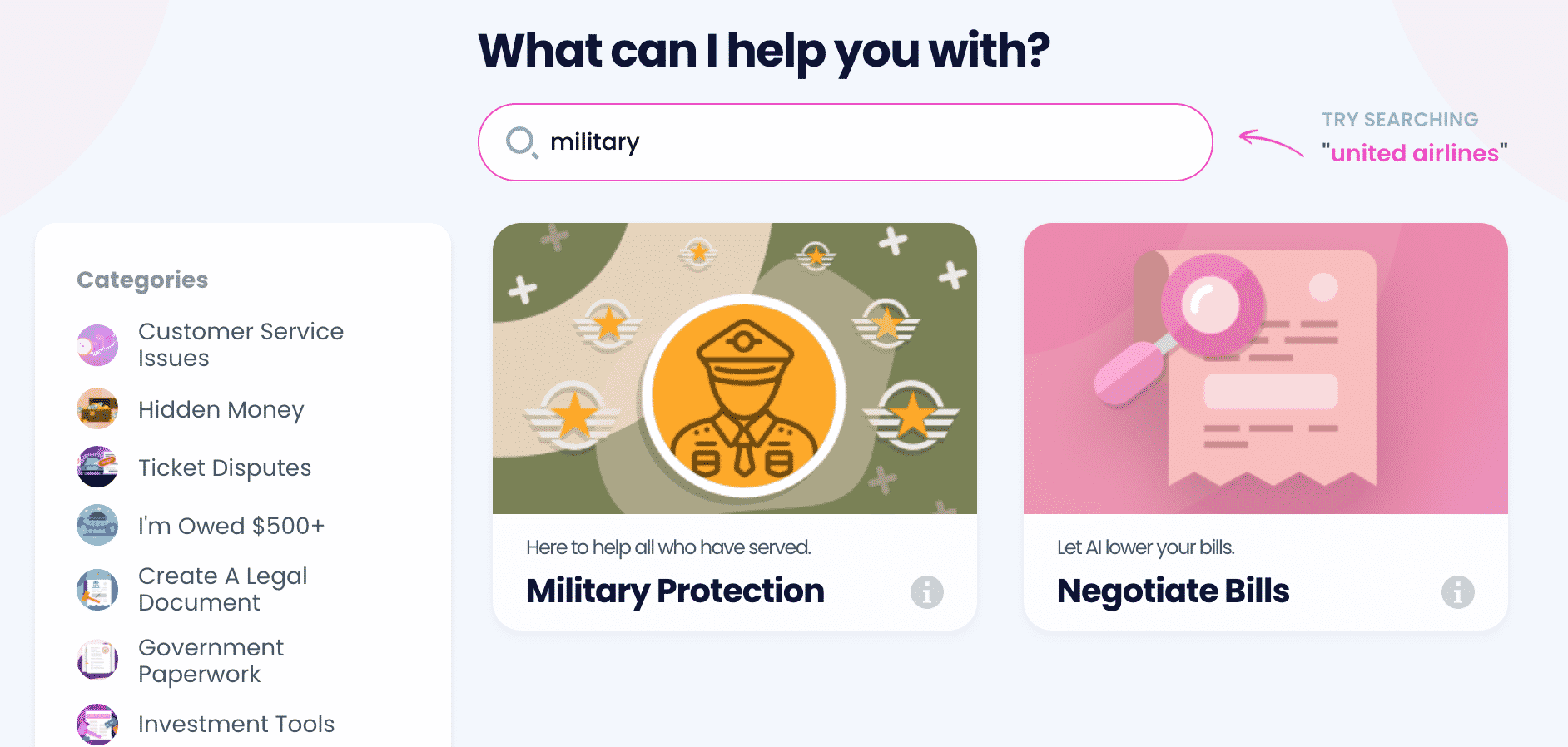 2. Select whether you want to 1) locate the nearest VA office, 2) access veteran benefits, or 3) locate service records.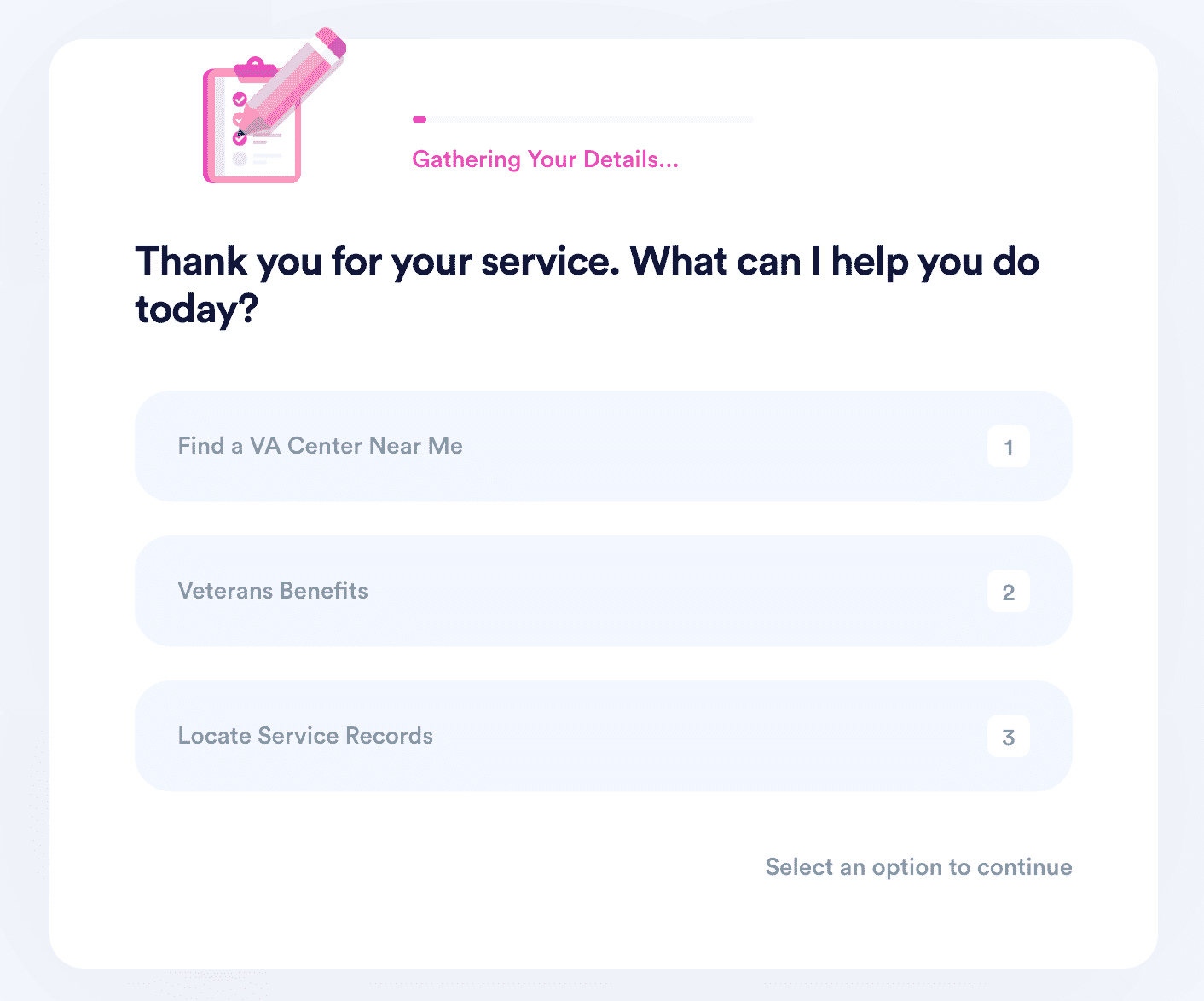 3. Answer a simple set of questions so our chatbot can collect the necessary information to help you and find the nearest office or fill out the appropriate forms.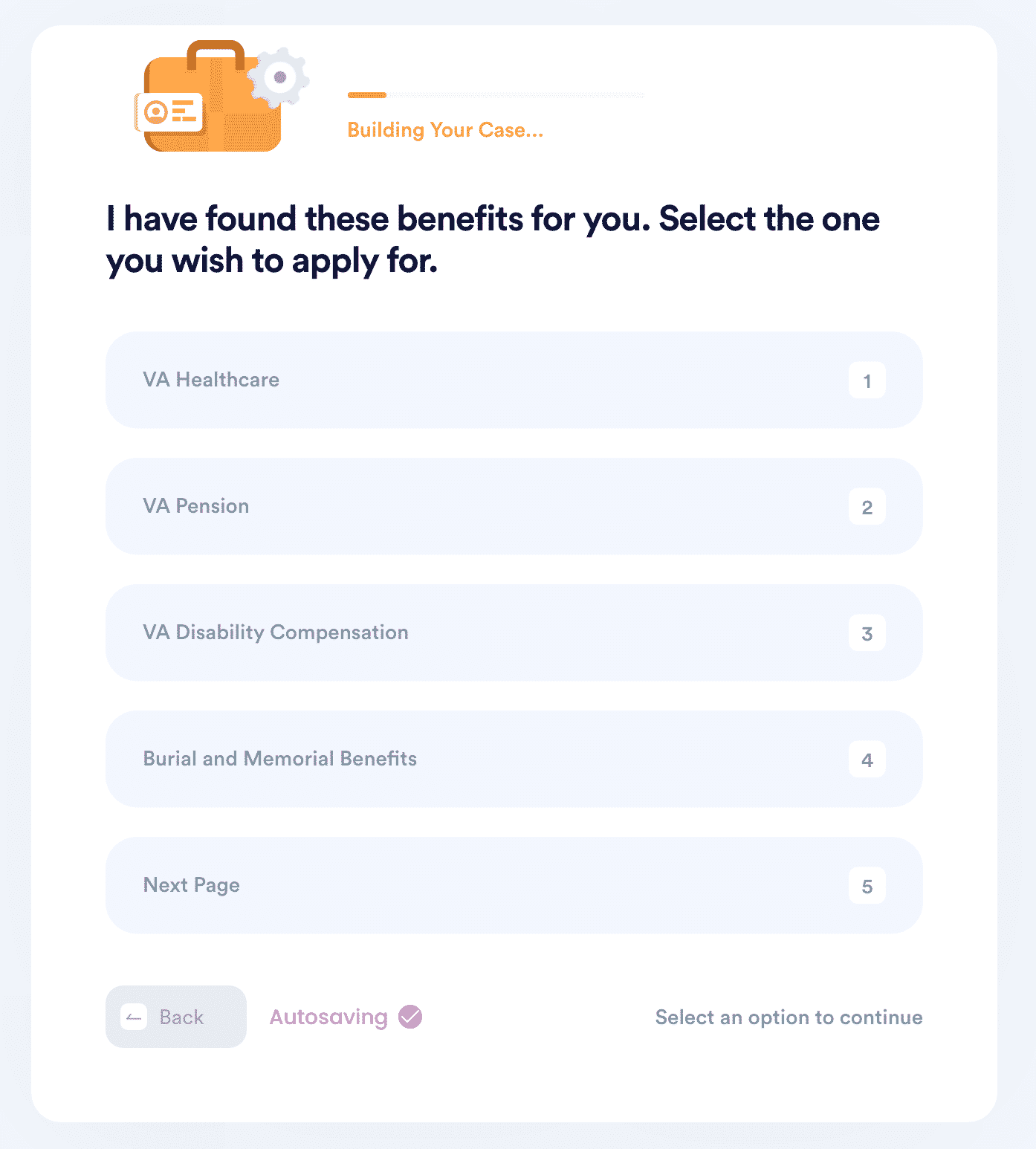 Other Military and Veteran Benefits DoNotPay Will Help You Access
Helping veterans with unemployment benefits represent a fraction of the service DoNotPay offers to veterans. When you need veteran support services, consider these offerings:
What Else Can Donotpay Do for You?
At DoNotPay, we assist military personnel, veterans, and civilians with everything from legal, financial, and other issues in a fast and convenient way while offering excellent results and customer service. Simplify your life by letting DoNotPay help with the following:
For information about your needs or if questions arise, please get in touch with customer service.