Key Aspects of
Veterans Property Tax Exemption in NY

Learning about property tax exemptions is crucial if you want to reduce your property tax and save money. Are you a New York citizen who has served in a war and received an expeditionary medal? You are probably eligible for veteran's property tax exemption in NY. 
In this guide, you'll learn how to lower your property taxes as a NY veteran and file a property tax appeal if necessary. DoNotPay will help you take advantage of veteran property tax exemption in New York, Illinois, Florida, or any other state in a matter of minutes.
Everything You Need To Know About Property Tax
If you own a property, you have to pay property taxes. States usually tax the residents on an annual basis. While each jurisdiction has different tax regulations, the tax amount is usually based on the value of the property and land around it. Some jurisdictions might also charge a tax for the so-called tangible personal property, such as vehicles and boats. 
Money collected from property taxes is used to fund services that benefit a local community, such as:
Law enforcement

Education

Sewer improvements

Fire protection

Road constructions

Libraries

Hospitals
You can check out the states with the highest and lowest property taxes in the following table:
| | | | |
| --- | --- | --- | --- |
| State With the Highest Property Tax | Tax Rate | States With the Lowest Property Tax | Tax Rate |
| New Jersey | 1.89% | Louisiana | 0.18% |
| New Hampshire | 1.86% | Hawaii | 0.26% |
| Texas | 1.81% | Alabama | 0.33% |
| Nebraska | 1.76% | Delaware | 0.43% |
| Wisconsin | 1.76% | District of Columbia | 0.46% |
Property Tax Assessment Explained
To determine how much to charge for taxes, the municipality you live in hires a tax assessor. He or she should estimate the market value of your property and perform property tax assessment:
By coming to your property or

Remotely with the software that shows updated tax rates
The market value of the property depends on multiple factors:
Location

Size 

Facilities

Aesthetic

Houses in the neighborhood
Once the assessor determines your property's value, he or she will multiply it with the tax rate of the state to establish your annual tax bill.
The Best Ways To Lower Your Property Taxes
If you're worried that your tax bill will be too high, there are some strategies you can try to lower it:
Walk alongside the assessor while he or she is estimating your property's value to ensure fair assessment

Avoid renovations before the assessment to prevent the increase of your property's market value

Search for the inaccuracies on your tax bill

Look for property tax exemptions. Some of the common categories eligible for a property tax exemption in most American states, including New York, are:

Agricultural property owners

File a tax appeal
Learn About
Veterans Property Tax Exemption in New York
Eligible veterans who'd like to get property tax relief in NYS should submit a property tax exemption application to the assessor. You will also need to provide one of the following:
You can get one of three New York State property tax exemptions for veterans: 
Alternative veterans

Cold War veterans

Eligible fund
Property Tax Exemption
Available To

Alternative Veterans 

Veterans of foreign wars

Expeditionary medalists

Spouses or widow(er)s of veterans

Gold Star parents

(parents whose child died while serving)

Cold War Veterans

Veterans who served during the Cold War

Spouses or widow(er)s

Gold Star parents

Eligible Fund Veterans

Veterans who used eligible funds—such as bonuses, pension, and insurance—to purchase homes
The property in question needs to be the primary residence of the veteran qualified for the property tax exemption.
Veteran Property Tax Exemption NY
—Reduce Your Property Taxes With DoNotPay
If you need help paying your property taxes and you'd like to reduce them, DoNotPay has got your back. Our convenient feature will help you determine if you qualify for an NYS veterans property tax exemption in a few clicks:
Open

DoNotPay

Click on the

Property Tax

feature

Respond to the required questions

Wait a few moments to receive a personalized guide to handling the tax reduction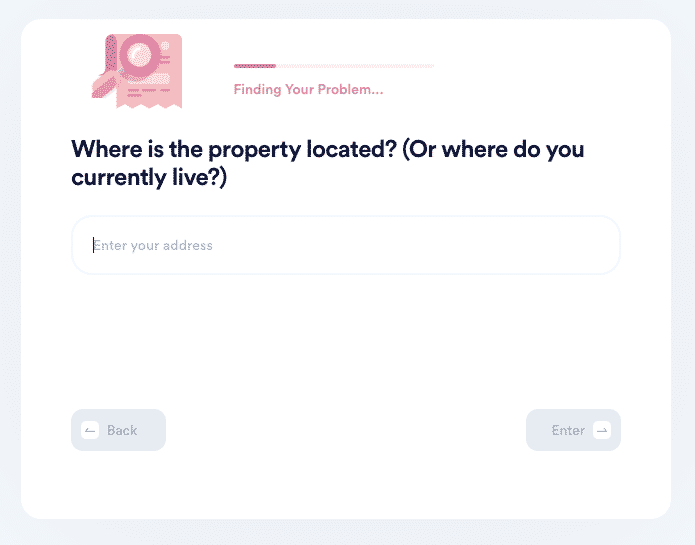 Helping our users take advantage of the veteran property tax exemption in New York isn't the only solution DoNotPay offers. We can also provide instructions for property tax exemptions in other states and counties in the U.S., including:
How To File Property Tax Appeals
Did the assessor or the board refuse to reduce your taxes even if you're eligible for NY State veterans' property tax exemption? You should consider filing a property tax appeal. While you can probably find property tax appeal sample letters online, DoNotPay offers a better and more efficient solution.
Once you provide the required info, DoNotPay will generate a guide on how to:
Complete the right property tax appeal forms

Negotiate with the local assessor

Collect evidence 

Prepare for property tax appeal hearing
What Else Can Our Award-Winning App Do for You?
If you think that's impressive, wait until you've heard about other features we boast!
Our powerful app can draft paperwork for you, locate unclaimed funds under your name, cancel subscriptions, sue robocallers, and protect you from stalkers and harassers—all in one nifty browser app!
Our legal services have been recognized by the esteemed ABA Brown award, serving as a testament to our abilities to assist you with your small claims issues, free trial auto-renewals, college fee waivers, public records, copyright protection, and much more!
More Benefits of DoNotPay
DoNotPay is a useful tool for handling many otherwise annoying life's trifles, including: