A Rundown on Veterans' Property Tax Exemptions by State
Paying your property taxes is no easy feat. Unless you live in states with low property taxes, such as Alabama, Hawaii, and West Virginia, you may need help covering your tax bills.
If you or your loved one is a veteran, you may qualify for a partial or full property tax exemption.
Our breakdown of veterans' property tax exemptions by state will save you precious time combing through different websites.
Property Taxes Explained
Property tax is the amount of money a person needs to pay for the property they own. The collected money is one of the main sources of income for local governments. Property tax is put to good use since it's supposed to fund:
Schools

Libraries

Hospitals

Transportation

Fire departments

Emergency centers

Parks and recreation
How low or high your property tax bill is depends on various factors, such as your property's market value and the local property tax rate. A tax assessor performs a property tax assessment in person or remotely and calculates your tax bill.
Some states with the lowest property tax rates are the following:
| | |
| --- | --- |
| U.S. State | Property Tax Rate |
| Louisiana | 0.18% |
| Alabama | 0.33% |
| Delaware | 0.43% |
| West Virginia | 0.49% |
Do Veterans Pay Property Taxes?
There isn't a clear-cut answer to the question of whether veterans pay property taxes. If and how much veterans need to pay varies depending on their:
Age—whether they are over or under 65 years of age

Place of residence—states and even counties have different tax exemption policies

Health—degrees of disabilities
States With No Property Tax for Disabled Veterans
The most common tax exemption eligibility factor for veterans is disability. Check out some states that don't charge property tax to disabled veterans in the list below. Certain conditions may need to be fulfilled, so it's best to check with your state and county:
Alabama

Arkansas

California

Hawaii

Mississippi

New Hampshire

New Jersey

New Mexico

Oklahoma

Pennsylvania

South Carolina

South Dakota

Utah

Virginia
You can check out our articles covering the details of veterans' tax exemptions in different states, such as:
What If I Don't Qualify for a Veterans' Property Tax Exemption?
In case you're not eligible for a veterans' property tax exemption, you may qualify for one of the other exemptions if you're a:
Agricultural property owner
Learn more about tax exemptions in different locations by reading our articles:
| | |
| --- | --- |
| Property Tax Exemptions in Different U.S. States | Property Tax Exemptions in Different Cities and Counties |
| | |
How Else Can I Lower My Property Taxes?
Property tax exemptions are not the only way you can lower your taxes. Here's some advice on dealing with high property taxes:
Method
Details

Stay alongside the tax assessor when they come to assess your property

Ensure you're getting a fair assessment by:

Answering the assessor's questions

Asking questions if you have any doubts

Checking whether they are missing or miscalculating something

Avoid home improvements right before tax assessments

Plan home renovations ahead

Keep in mind that home improvements may change your property's market value and your property tax rate

Check whether your tax bill is correct
DoNotPay's Guide on Applying for Veterans' Property Tax Exemptions
Discovering a way to lower your property taxes even a little bit can be a huge victory and a relief for your wallet. You can rely on DoNotPay to provide tips and tricks and save you precious money in more ways than one.
We have created a Property Tax feature to help people reduce their property tax bills. After a few clicks on your end, this feature will generate a unique property tax guide for you. It will consist of two main parts:
The property tax exemptions

A list of property tax exemptions you qualify for

Instructions on how to gather evidence and fill in forms

Instructions regarding ways to submit the applications for the property tax exemptions

The property assessment appeals

Steps to appealing past property assessments

Strategies for negotiating with your local tax assessor

Methods of gathering evidence to reduce your home's assessment value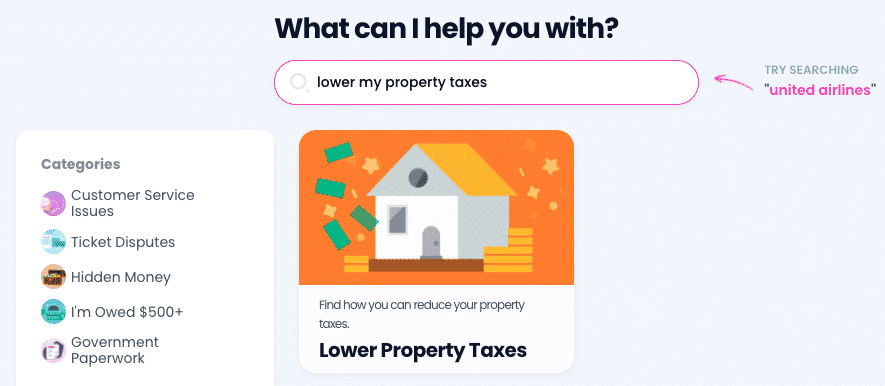 How Does DoNotPay's Property Tax Feature Work?
Follow these instructions to snatch your property tax guide:
Access DoNotPay from a

web browser

Tap on the

Property Tax

feature

Provide the necessary info (e.g., your age, income, and location)

Answer questions regarding your property
Our AI-powered app will whip up your guide so that you can find ways to save money on your property taxes as soon as possible.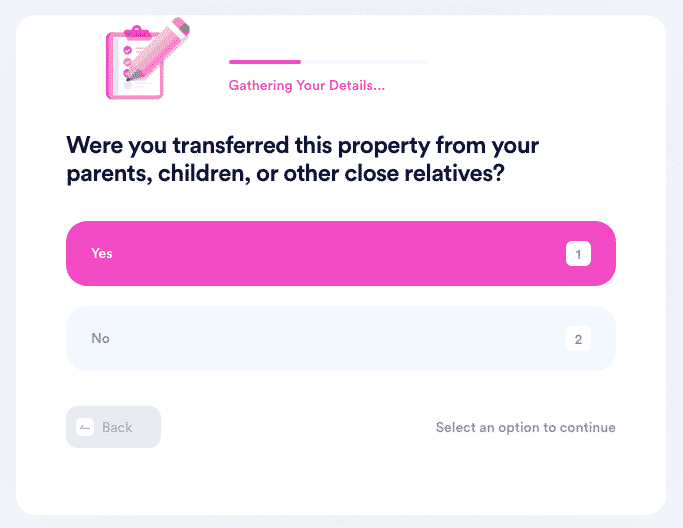 Admin Issues Giving You a Headache? Resolve Them With DoNotPay!
Scheduling a DMV appointment, applying for clinical trials, requesting refunds from companies, and getting in touch with your loved ones in prison are all difficult and time-consuming tasks. You have to take many steps before you can get any of these over with, and that's why our robot lawyer app is here to help.
No matter if you need assistance with appealing parking tickets, signing up for free trials, canceling various subscription services, or maybe preparing for government tests, DoNotPay will provide you with easy solutions.
Going Through Financial Struggles? Rely on the World's First Robot Lawyer
Many Americans struggle to make their ends meet at the end of each month. With that in mind, we've created plenty of features that will save you both time and money in the most efficient way. 
Using our AI-driven app, you can get help with bills, get refunds from airlines, find unclaimed money in any state, or earn off annoying robocalls or stalkers and harassers. If you want to fight for your right, DoNotPay will also assist you in suing any person or company in small claims court.
No matter the admin task at hand, our robot lawyer will provide swift and effective assistance.