How to Claim Veterans Health Insurance In 3 Easy Steps
Even though you may no longer be on active duty in the military, the many sacrifices that you have made are cause for some continuing benefits, including Veterans' Health Insurance. You may qualify for health insurance that will cover an old injury, rehabilitation, addiction treatment, and counseling, or many other health-related needs.
Often, getting the information you need about benefits, enrollment, or service locations can be time-consuming and confusing.  DoNotPay can help you sort through the confusion and locate your service records, find a veterans center near you, or assist in applying for your benefits.
What Veteran's Health Insurance Benefits Do I Qualify For?
Though each person is different, generally, veterans' health insurance benefits include:
Preventative Care 
Exams
Education
Immunization
Counseling
Inpatient Hospital Services
Surgeries
Medical treatments
Kidney dialysis
Specialized care
Acute care
Urgent and Emergency Care at VA-Approved Facility                             
Walk-in retail health clinic
Urgent care facility
 Others
Mental health services
 Assisted living and home health care
Prescriptions
How Can I Find and Apply for Veteran's Health Insurance by Myself?
Before applying for veteran's health insurance, you must determine eligibility:
You must have completed 24 continuous months or the full period for which you were called into active duty. There are exceptions to this if you were discharged because of a disability caused during your service, were discharged for a hardship, or served prior to September 1980.
If you are currently in the National Guard or Reserves and have been called into active service and completed your full period of active duty.
You were honorably discharged.
Once you are found to be eligible, you need to gather the following documentation:
 Your social security number and the social security numbers for your spouse and qualified dependents.
Your military discharge papers.
Insurance card information for any other health insurance that is currently providing coverage.
Gross household income from the prior calendar year, for you your spouse, and any dependents.
Your deductible expenses for the prior year, including health care and education costs.
Prepare your application. Choose one of four ways to apply.
| | |
| --- | --- |
| Apply by Phone | You can call a hotline between 8 AM and 8 PM ET, Monday through Friday to get help with your application. |
| Apply by Mail | Fill out an Application for Health Benefits (VA Form 10-10EZ). You will need to download the application and mail it to the address provided. Stamp and either take it to the post office or mailbox. |
| Apply in Person | Complete VA Form 10-10EZ, sign and date the form, and take it to your nearest VA medical center or clinic. |
| Apply Online | If you are comfortable preparing your application online, you can go to the VA's website and process it through their online application process. You will still need to upload the required documentation. |
What if I Can't Do This by Myself?    
The application can be time-consuming and very confusing. You have forms to download, documentation to present, and you are limited on where you can go and what time you can apply. But there is an easier way to process your application! Check out DoNotPay's Military Protection product to streamline the process and make applying stress-free.
Get Your Veteran's Health Insurance With the Help of DoNotPay
If you want to apply for veteran's health insurance with DoNotPay but don't know where to start, DoNotPay has you covered in 3 easy steps:
1. Search for and open the Military Protection product on DoNotPay.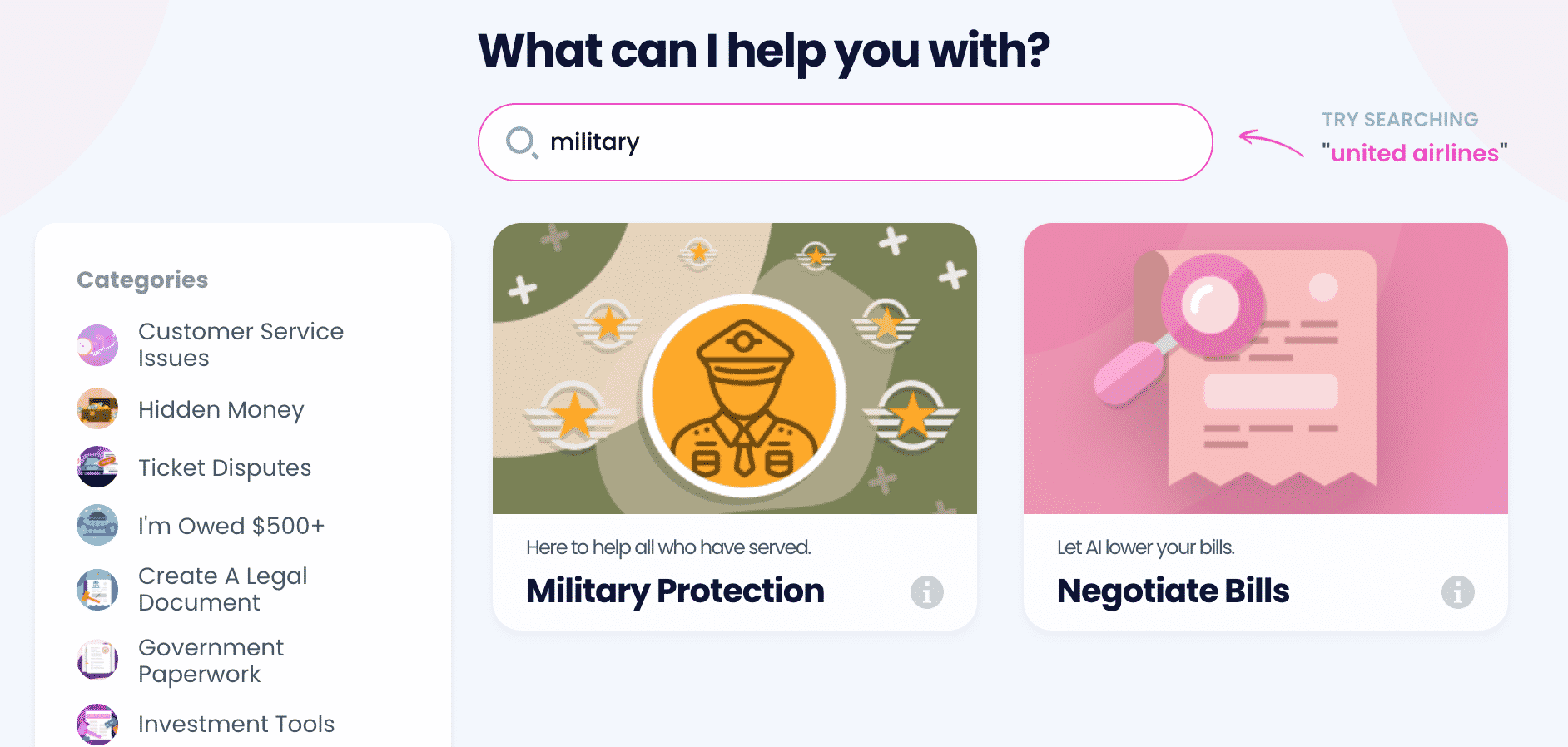 2. Select whether you want to 1) locate the nearest VA office, 2) access veteran benefits, or 3) locate service records.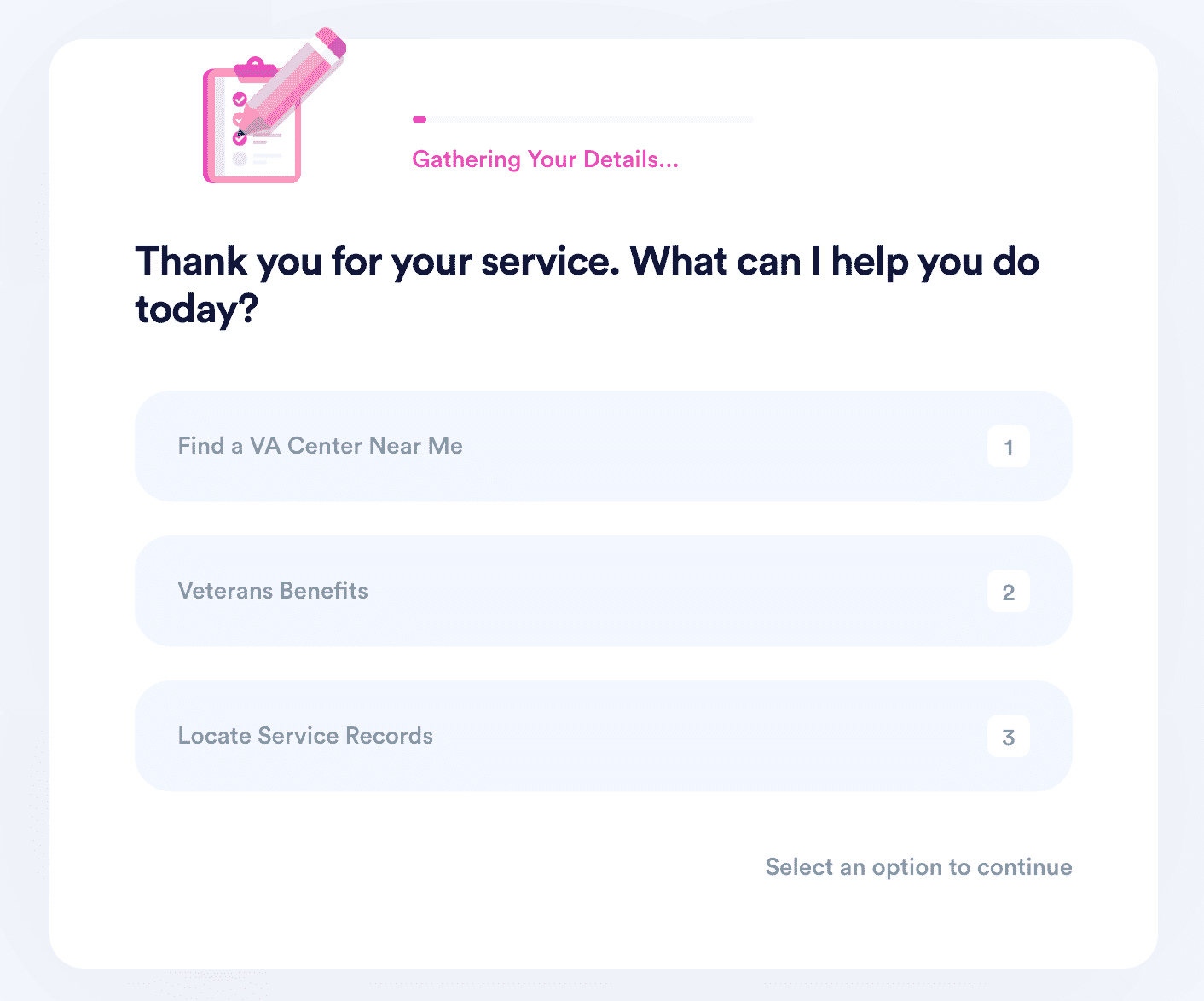 3. Answer a simple set of questions so our chatbot can collect the necessary information to help you and find the nearest office or fill out the appropriate forms.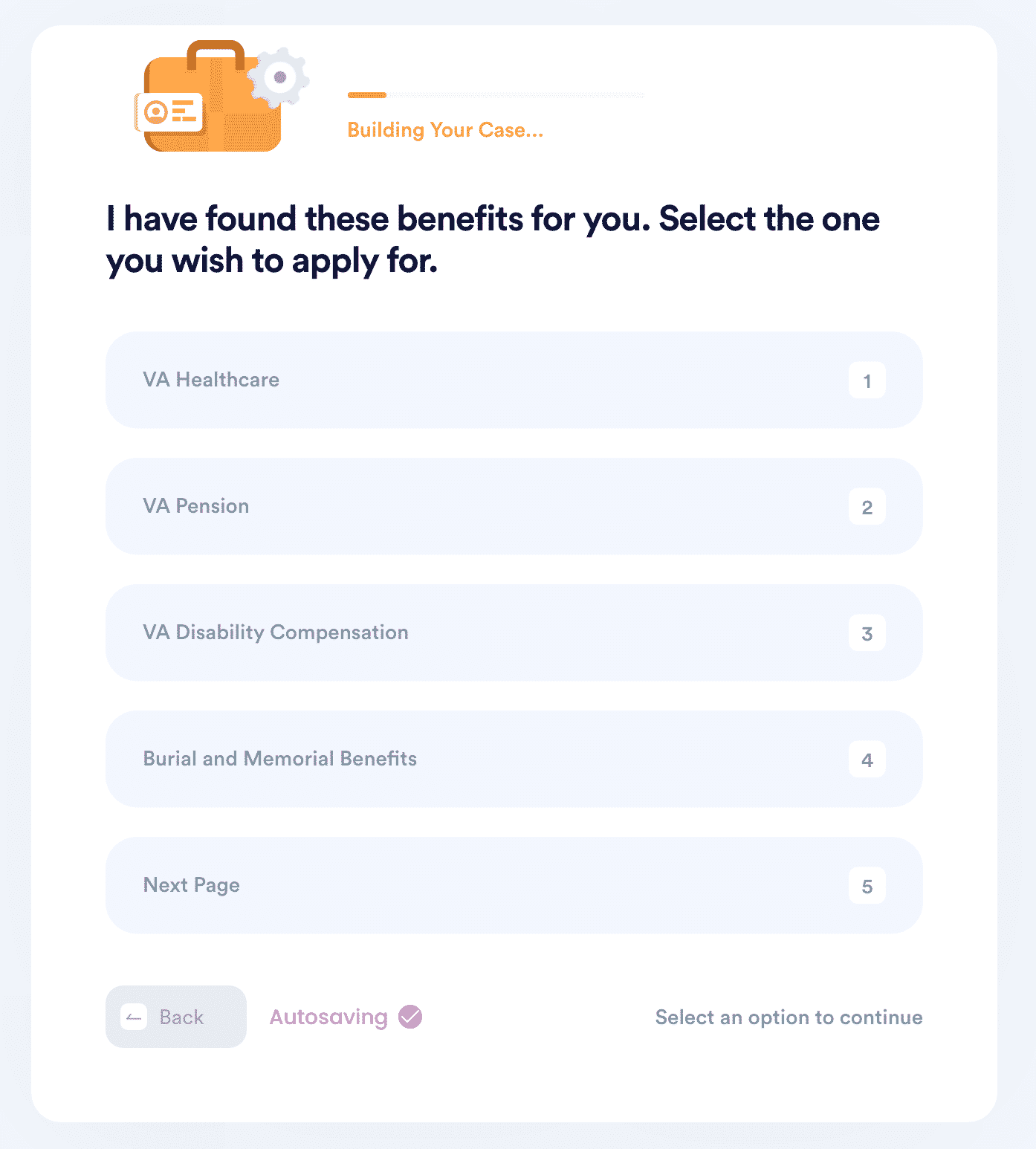 Why Should I Use DoNotPay to Apply for Veteran's Health Insurance?
DoNotPay wants to take the worry out of applying for veteran's health insurance.  Not only is the application process fully explained, but it is also:
Fast.  Don't waste time making appointments, waiting on hold, or standing in lines.
Easy.  DoNotPay helps you easily navigate through the application process.
Successful.  Rest assured that DoNotPay can successfully and securely help you get your application prepared.
Can DoNotPay Help Me With Other Veteran's Benefits?
Absolutely! DoNotPay can help you apply for veteran death benefits and burial benefits. We can help sort through the red tape when applying for a home loan, or payment towards education. We also can guide you through applying for pensions, disability, or assisted living.  
What Else Can Donotpay Do?
In addition to helping you apply for your veteran's benefits, DoNotPay can help with solving many of the problems that you encounter, making the solutions easier and faster. Choose from a wide range of our products to help with things like: