Easily Claim Education Benefits for Veterans In 3 Steps
Veterans that have served our country are rightfully entitled to several benefits, like health insurance assistance and access to disability programs. Former service members are also entitled to veterans' education benefits… but many don't take advantage of them!
That's because the application process is often too long and complicated. Even before you can apply, searching for benefits online might lead you to dead ends. Fortunately, it's much easier for veterans to access all of their benefits with DoNotPay!
What Kind of Veterans Education Benefits Are Available?
Military members can choose to have their education partially or fully compensated by either the Montgomery GI Bill or Post-911 GI Bill. The Post-9/11 GI Bill is typically preferred over the GI Bill because it offers more benefits to veterans.
To qualify for all of these benefits, veterans must have served for at least three years. The minimum you must serve is 90 days, which entitles you to 50% of Bill's education benefits.
The Post-9/11 GI Bill can cover costs from:
Tuition for Associate's or higher degrees
Technical or vocational school
SAT or other National Testing programs
Apprenticeship training programs
Correspondence training
Work-study programs
Flight training
Certification and licensing programs
Tutorial assistance
School supplies (including textbooks)
Monthly housing fees
Additionally, there are specific veterans education benefits for residents of certain states. For example, if you live in:
The Northern Plains
The Minnesota GI Bill provides veterans with up to $10,000 more for schooling if they are under 62 years of age. If you've already used all your standard GI Bill benefits, Montana will waive your remaining fees if you were honorably discharged.

North Dakota has its own VET (Veteran Education Training) program that provides a broad range of educational courses. South Dakota offers some tuition coverage for veterans that aren't eligible under the requirements of the GI bills.

The Wisconsin GI Bill forgives tuition for eight semesters if veterans attend a Wisconsin University school. There's also an education grant for veterans who have yet to receive a bachelor's degree.

Southwest States
Arizona will waive the schooling fees of veterans who have yet to be approved by the federal GI Bill for 120 days. Medically discharged veterans are also eligible for tuition waivers.

National Guard members in Colorado can have up to 100% of their tuition covered. Any Vietnam veteran can have their books and tuition costs covered in New Mexico.

Utah residents can get additional tuition assistance, or have it covered completely if they hold a Purple Heart. Wyoming offers 10 extra months of tuition coverage if you've served overseas.

Midwestern States
Illinois offers several extra grants to both veterans and their dependents. In Missouri, tuition will be reduced to $50 for each credit hour after GI Bill savings are applied.
Southern States
Texas provides up to 150 extra hours of tuition assistance. Both Florida and Alabama will waive veterans' tuition fees if they have a Purple Heart.
Northeast States
West Virginia veterans that have a Medal of Honor or Purple Heart can have their tuition fees completely dismissed. New York provides additional tuition awards for certain veterans.

If you are a disabled veteran in Rhode Island or Maine, you may be entitled to 100% free tuition. Veterans of any kind can get their tuition fees waived in Massachusetts or Connecticut, and New Jersey offers extra benefits for Vietnam veterans.
How to Apply for Veterans Education Benefits by Yourself
If you're ready to apply for veterans' education benefits, here is the general process:
Select a GI Bill-approved school and choose your desired education program.
Fill out the appropriate education benefits form and apply online. You can also print out the application and send it by mail or in person.
All forms require your social security number, military history, education history, information about the school you wish to attend, and banking info.
Be sure that all the information is correct… the form cannot be changed after submission!
Once you submit the form, wait at least 11 days for processing.
It seems simple, but it's easy to confuse which form you need for each educational course. Just to access the online application, you need to answer several preliminary questions and make an account on the Veterans Affairs website. Even if you have all the required materials, it takes an average of 15 minutes to complete a form!
Applying for Veterans Education Benefits the Better Way: Using DoNotPay!
Several veterans miss out on their benefits because of the lengthy application processes. That's why we created a line of quick and user-friendly solutions specifically tailored for our honored service members.
If you want to find veterans education benefits in any state but don't know where to start, DoNotPay has you covered in 3 easy steps:
1. Search for and open the Military Protection product on DoNotPay.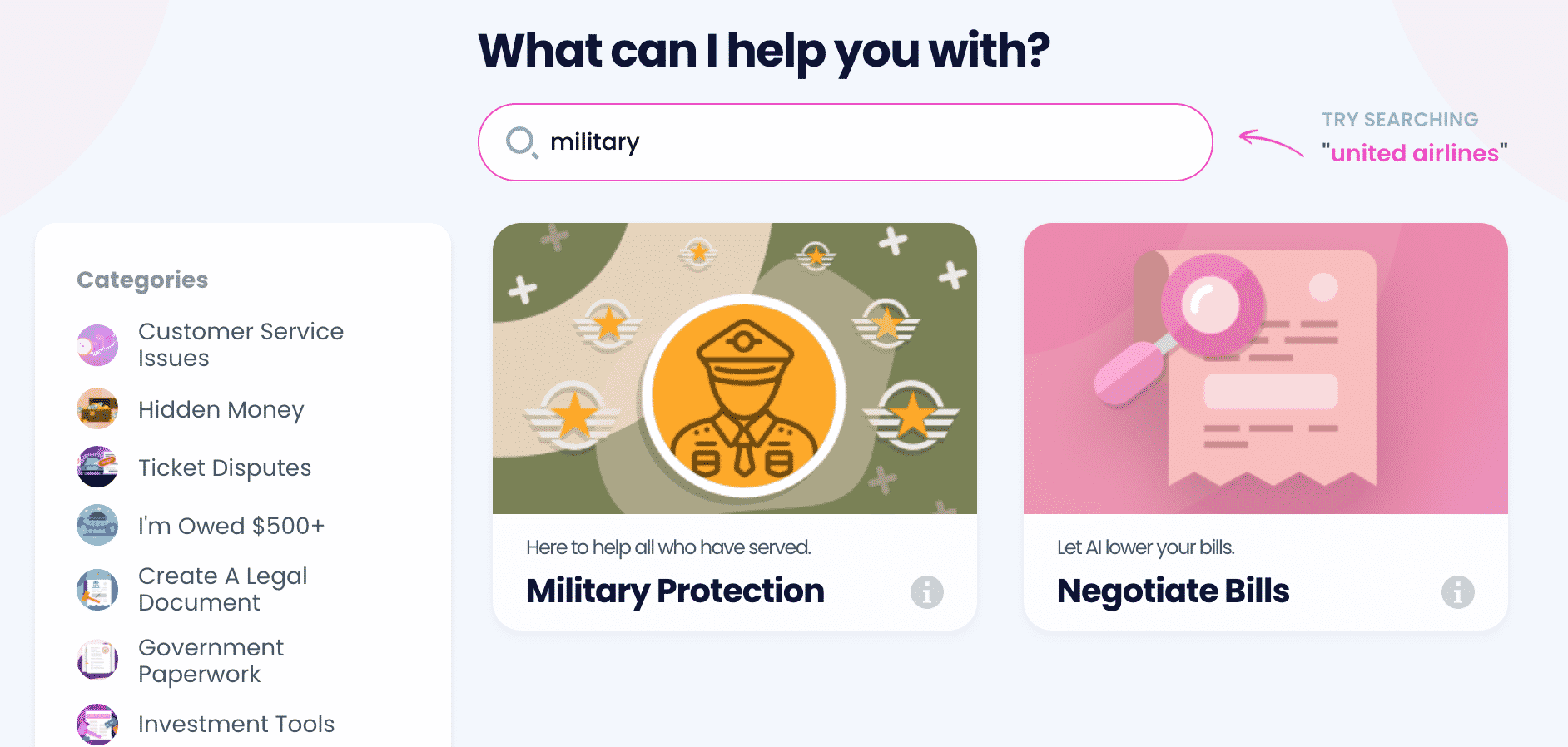 2. Select whether you want to 1) locate the nearest VA office, 2) access veteran benefits, or 3) locate service records.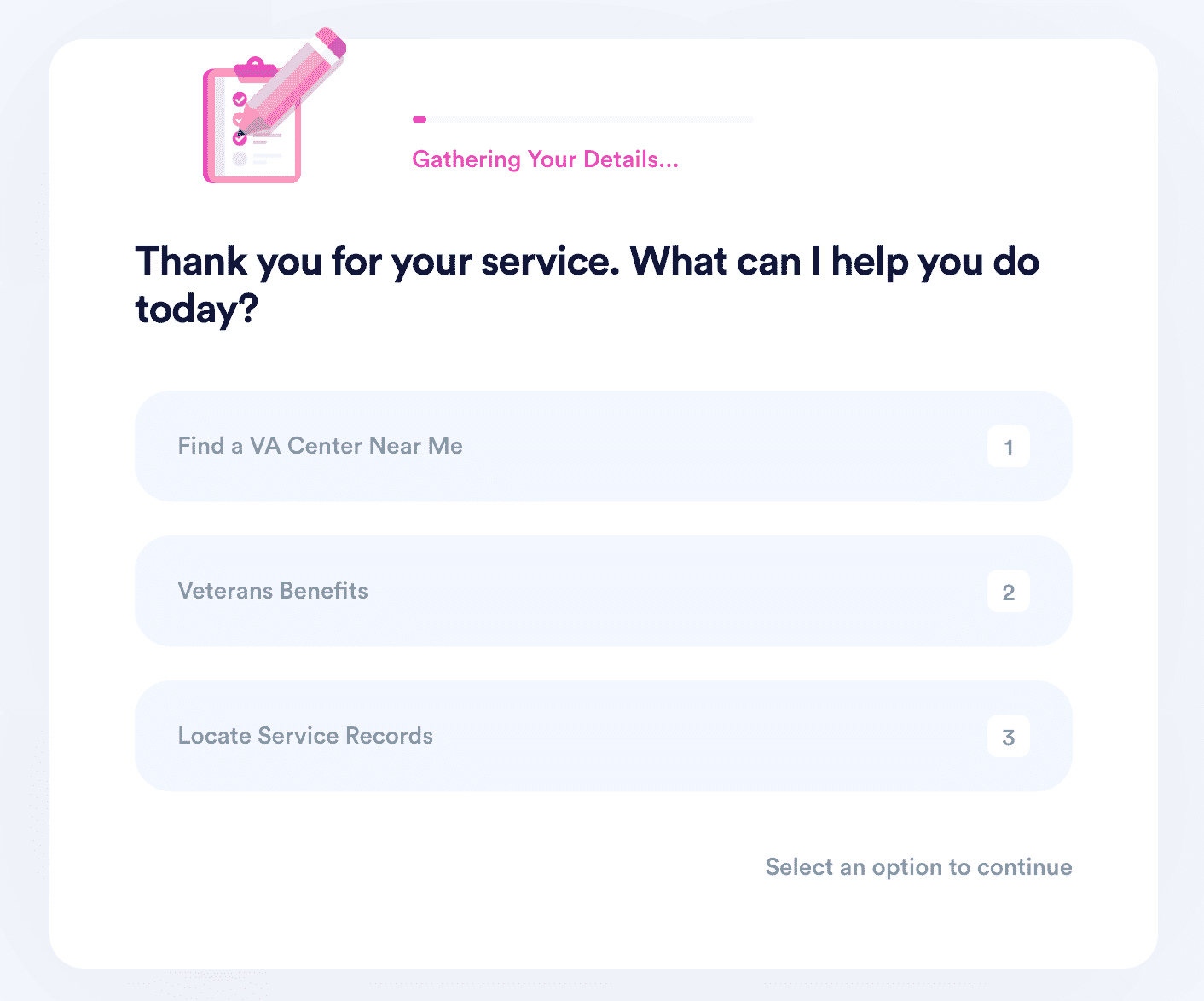 3. Answer a simple set of questions so our chatbot can collect the necessary information to help you and find the nearest office or fill out the appropriate forms.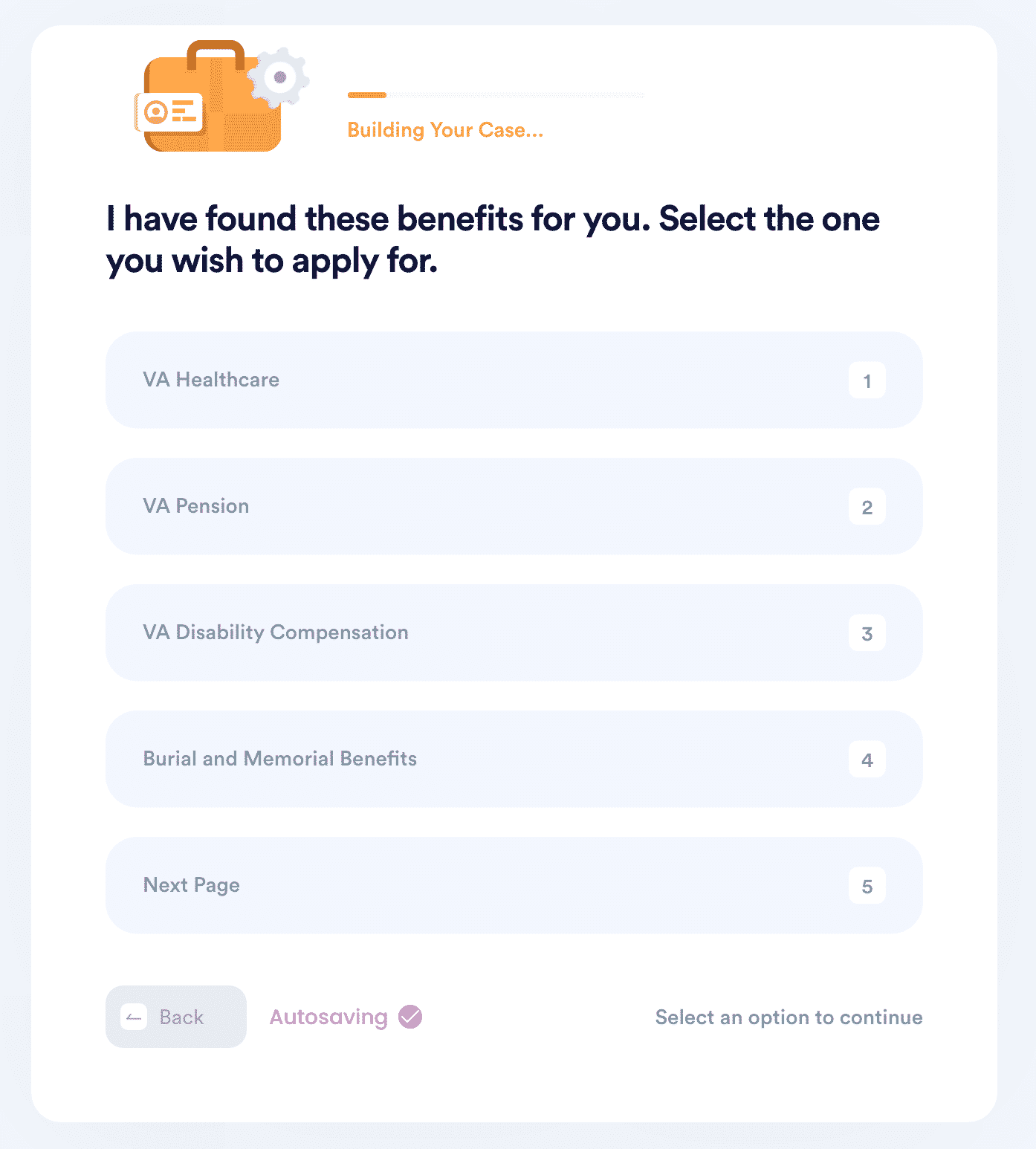 Why Use DoNotPay to Access the Veterans Education Benefits
Each product is always:
Fast… no more time wasted finding the right forms!
Easy to use… we just need a few questions to give you the right information!
Dependable… we've done the research for you, allowing you to get your benefits faster!
DoNotPay Helps Veterans Access All of Their Benefits
DoNotPay also assists veterans with accessing:
Other Benefits Provided By DoNotPay
You don't need to be a veteran to access DoNotPay's great products. Anyone can benefit from our college fee waiver services, financial aid solutions, and successful scholarship applications!