How to Claim Veterans Burial Benefits Online
Losing a loved one is never easy, and planning a funeral in the following days can be a difficult task. When planning a burial for a veteran, there are certain benefits provided by the government to honor them. Veterans' burial benefits vary based on the location of burial and require a claim to be submitted depending on the specific you'll want to honor your loved one with. Filing for these benefits requires a variety of details to be submitted and arrangements made with the funeral home leading up to the burial itself.
Veterans' burial benefits are provided at no cost to the family. We understand that during this difficult time, making arrangements and filling out more paperwork to ensure your loved one is remembered with the highest level of honor and respect can feel like the last thing you want to sit down and do. That's why DoNotPay allows you to find and apply for these benefits in 3 quick steps. Our goal is to ensure that you can spend less time worried about the planning and organization of the burial and more time with your loved ones in attendance.
Thank you to all of our heroes that have served with courage and pride. We are eternally thankful for your sacrifices and selflessness, and we hope to honor you in memory.
Types of Burial Benefits for Veterans
Veterans' burial benefits include the option of a gravesite at any National cemetery that has available space. This includes the opening and closing of the grave and perpetual care. Other burial benefits include:
A government headstone, marker, or medallion
Burial flag
Presidential memorial certificate
Additionally, some veterans may be eligible for burial allowances that assist in covering funeral costs, help with the cost of the plot for burial, and transport reimbursement for the cost of transporting the veteran's remains to their final resting place. Burial benefits may be used in part for burial in private cemeteries rather than national.
How to File for Veterans Burial Benefits on Your Own
Filing for veteran burial benefits can be done online through the VA or in person at your local VA office. By creating a VA.gov account, you may be able to save time and pre-fill the application with your account's information. You can also save your application and finish it later if you need to stop and find additional documentation that's requested. Saved forms will be kept for 60 days from the day of starting or updating.
When you start filling out the VA's online application, you can check to see if you qualify for a burial allowance to get started. From there you'll need to include the following information about the deceased veteran:
Social Security number or VA file number (required)
Date and place of birth (required)
Date and place of death (required)
Military status and history
You may also need to upload additional information such as:
A copy of the deceased Veteran's DD214 or other separation documents
A copy of the Veteran's death certificate
Documentation for transportation costs (if you're claiming costs for the transportation of the Veteran's remains)
After submitting the burial benefits form, you'll receive a confirmation message that you need to print out for your records. The VA will review your request and process the claim or request additional information via mail if necessary. All claims are reviewed in the order they're received, so there may be a slight delay with processing.
Once a decision is made, and the claim is approved or denied, you'll receive notification via mail letting you know.
Getting Assistance With Veteran Burial Benefits
Filing for burial benefits is a lengthy and sometimes frustrating process. It can also be confusing to figure out. If you need help filing for a loved one's veteran benefits, DoNotPay can assist you. With DNP, you can choose between submitting your claim online or in person at your local VA office. If you choose to visit an office, DoNotPay will help you ensure you have all the necessary documents and information before you visit.
How to Find Veteran Burial Benefit With DoNotPay
If you want to find veteran burial benefits with DoNotPay but don't know where to start, DoNotPay has you covered in 3 easy steps:
1. Search for and open the Military Protection product on DoNotPay.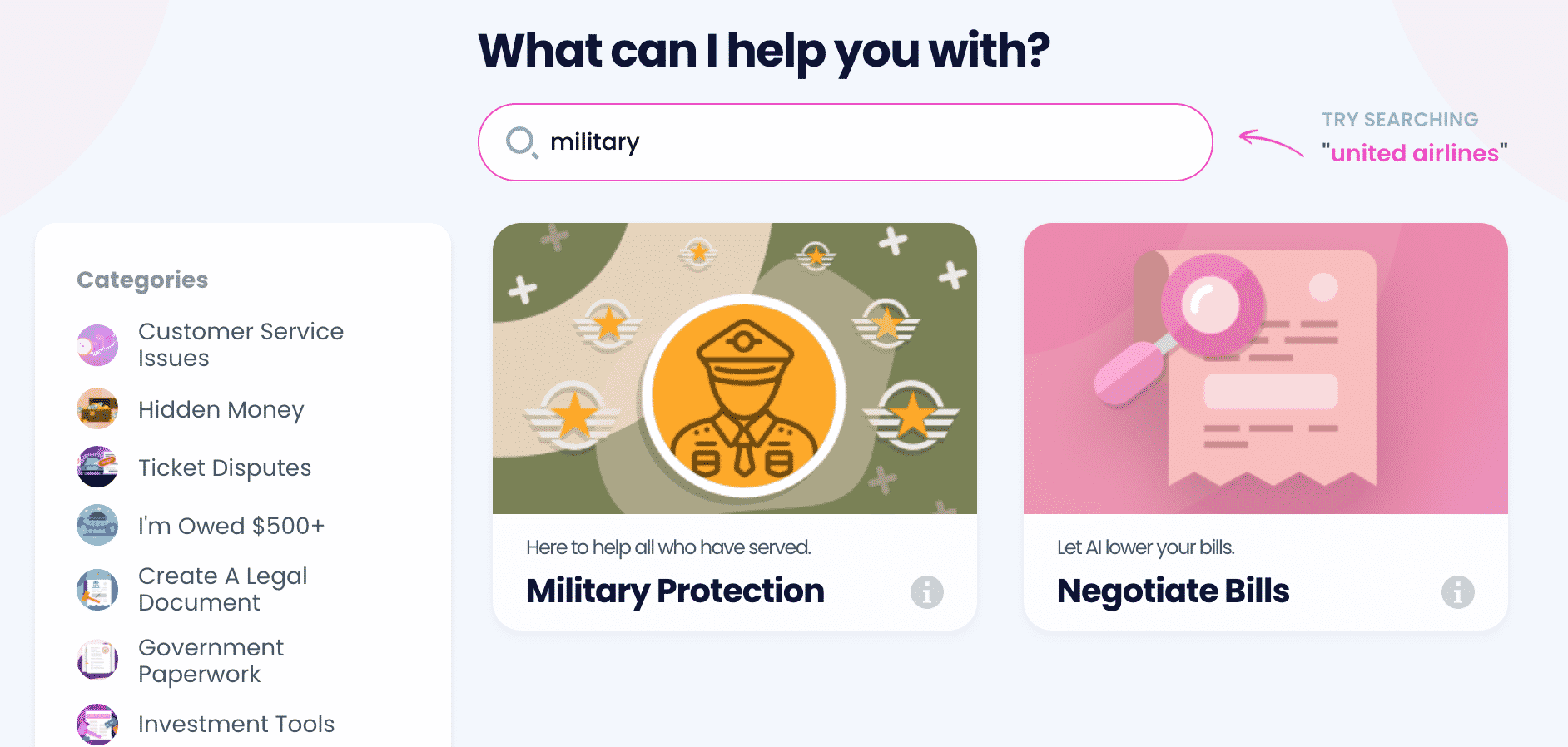 2. Select whether you want to 1) locate the nearest VA office, 2) access veteran benefits, or 3) locate service records.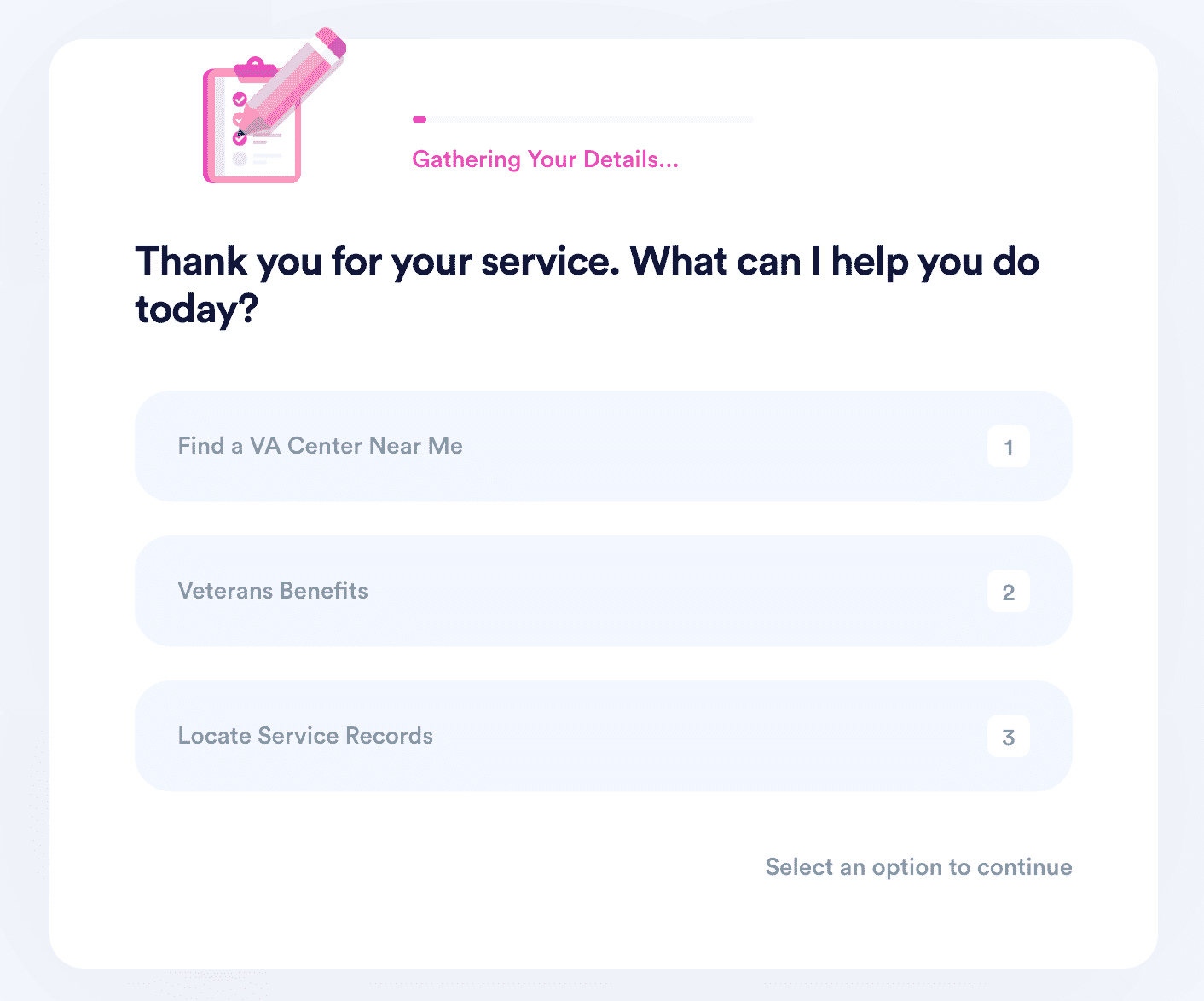 3. Answer a simple set of questions so our chatbot can collect the necessary information to help you and find the nearest office or fill out the appropriate forms.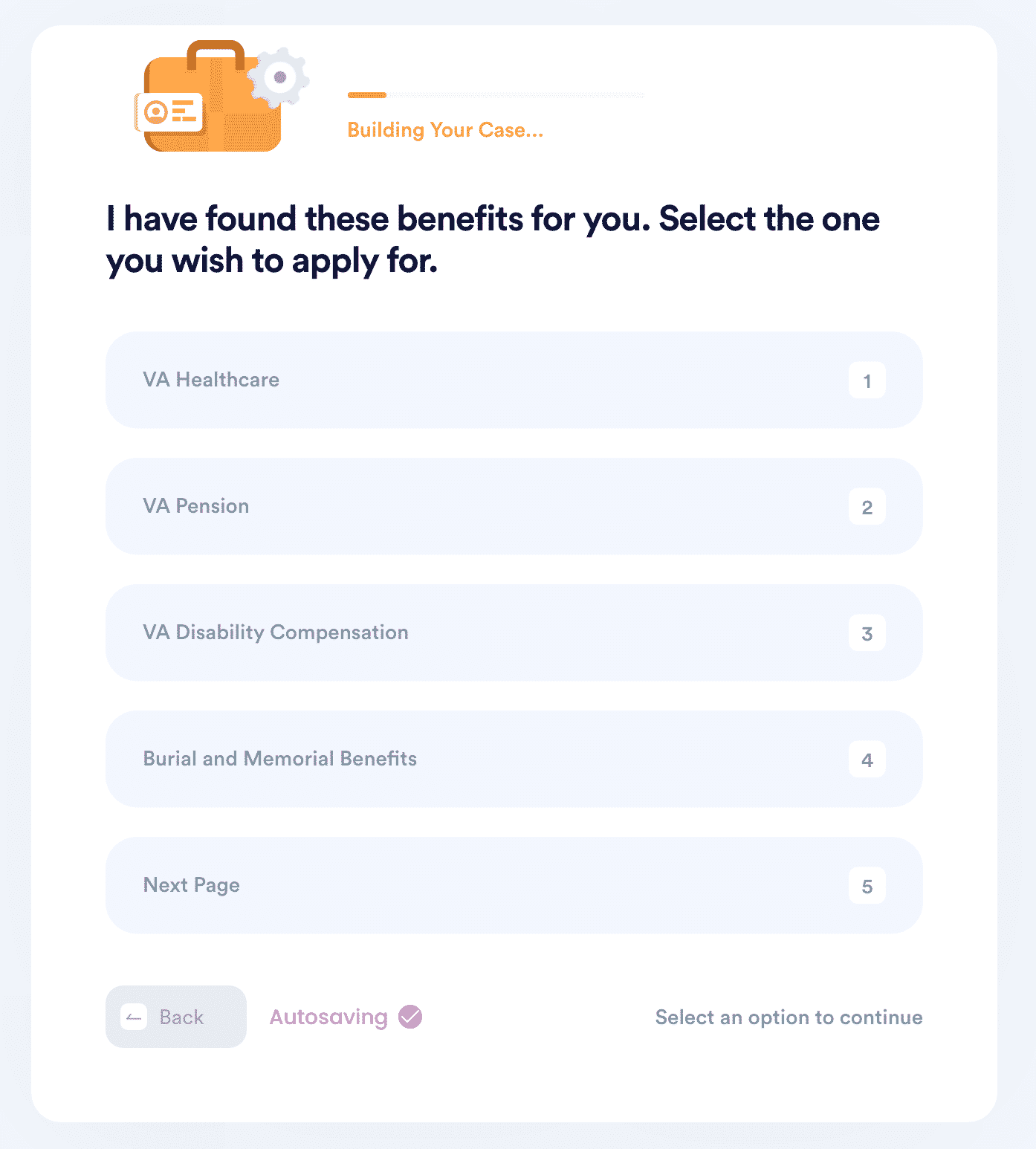 Why Use DoNotPay to Find Veteran Burial Benefit
There are a lot of reasons why you should choose DoNotPay:
| | |
| --- | --- |
| It's Fast | You don't have to spend hours trying to file for veterans benefits. |
| It's Easy | You don't have to struggle to fill out tedious forms or keep track of all the steps involved in filing for benefits. |
| It's Successful | You can rest assured knowing we'll make the best case for you. |
Find Additional Veterans Benefits With DoNotPay
Burial benefits aren't the only benefits veterans can receive. To find more benefits you or a loved one can claim, check out these easy-to-follow DoNotPay guides: