How to Complete the Veterans Burial Benefits Form
When caring for a Veteran, burying them, or honoring them, it's often the last thing people often want to think about when they consider their loved ones. DoNotPay has researched the benefits that Veterans receive when they die, which includes benefits and makes the procedure more affordable for family members. DoNotPay provides this information and has a guide to the Veterans' burial benefits form.
DoNotPay has access to the Department of Veteran Affairs' Application for the Death Benefits Form and can complete it so loved ones have time to grieve instead of completing paperwork.
DoNotPay can also assist the inquiry and application process for a variety of products to help Veterans with a variety of services pertaining to:
While these forms are usually lengthy, complicated, and time-consuming to fill out, DoNotPay makes this process easy and streamlines it within the app. DoNotPay is friendly to Veterans and offers a variety of services catering to their needs.
Burial Benefits for Veterans
What Burial Benefits Do Veterans Receive for Their Service?
It can be difficult for Veterans to identify all their benefits, especially when these are complex processes and involve next-of-kin in regard to the Veterans' burial benefits form and benefits. In general, the VA can help pay for the cost of the burial plot and funeral costs. The VA will also pay for a gravesite and maintain the cost of it if it is a matter of monthly or annual fees. Additionally, the VA assists with paying for the cost of being transported to the grave and typically conducts a salute or respectful ceremony for the deceased. In order to receive the death benefits, Vets or their next-of-kin must fill out the Department of Veteran Affairs Application for Death Benefit Form.
How Do Veterans Apply for Burial Benefits Themselves?
If a Vet or their spouse is eligible, they can go to the government's website for filing this form and read about the documents they need to apply as well as submit the actual form.
The Veteran or spouse should visit The Veterans Association website here.
They must file a claim for a burial allowance within two years after the date of death of the Veteran. This also includes those whose status has been changed from dishonorable to another status.
The spouse or Veteran must locate the military discharge papers of the Vet, the DD214, which might be difficult to obtain. When these documents pertain to a spouse, son or daughter, or another individual, it can be difficult to locate the correct paperwork. Since the individual is deceased, it might be perplexing and difficult for another person to understand the paperwork and military jargon.
Verification of the Veteran's name, military status, and costs rendered. The issue here is that it would be difficult to bury someone on credit and without cash upfront.
Lastly, many people are unaware of how to meet this particular juncture in life, especially when they are close to the deceased. They may be bereaved and have difficulty completing the requisite paperwork, or speaking to strangers on the telephone about their loved one. In this case, going with a service like DoNotPay can be easier and help people negotiate the proper allocations for their loved one.
How to Apply for Burial Benefits for Veterans With DoNotPay
If you want to apply for veteran benefits with DoNotPay but don't know where to start, DoNotPay has you covered in 3 easy steps:
1. Search for and open the Military Protection product on DoNotPay.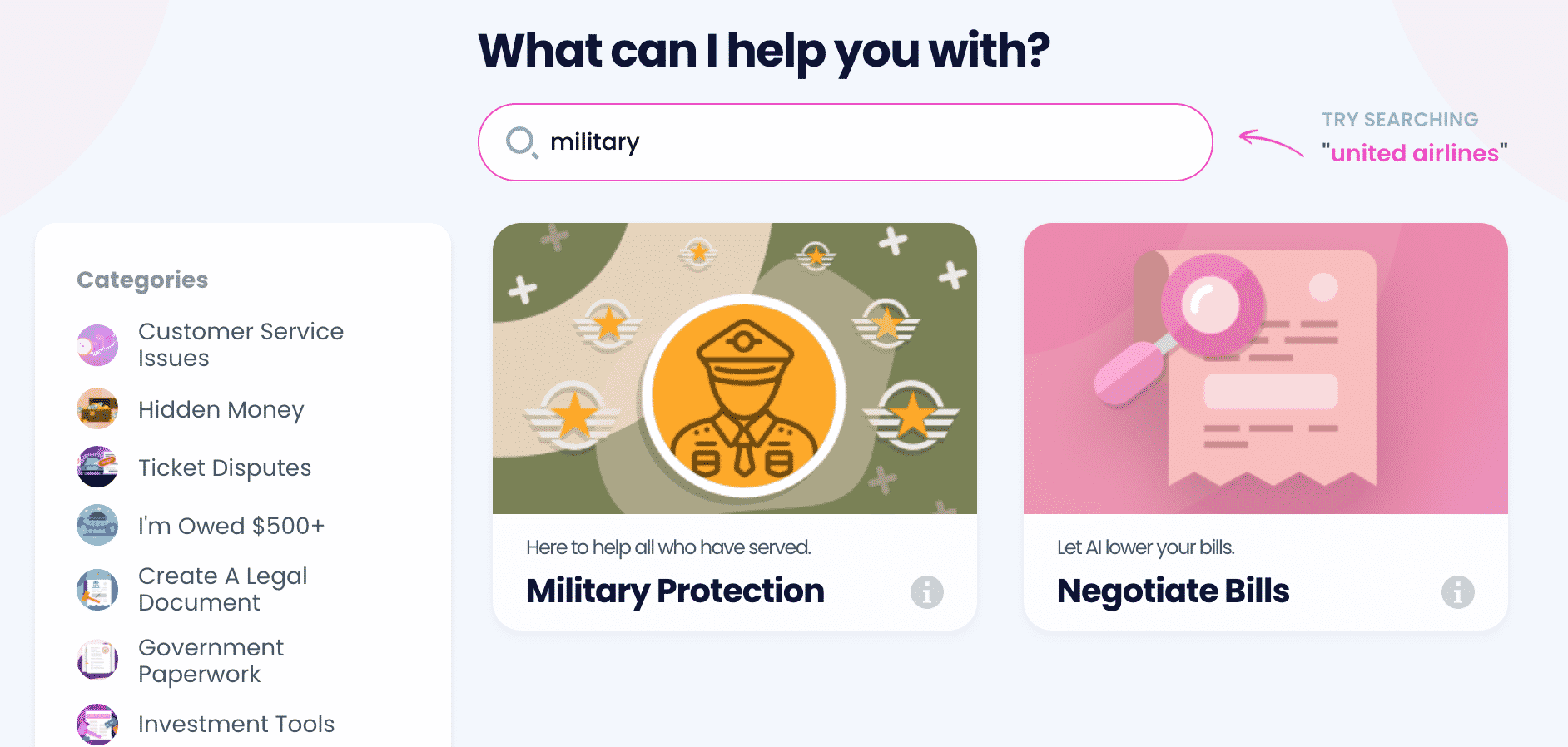 2. Select whether you want to 1) locate the nearest VA office, 2) access veteran benefits, or 3) locate service records.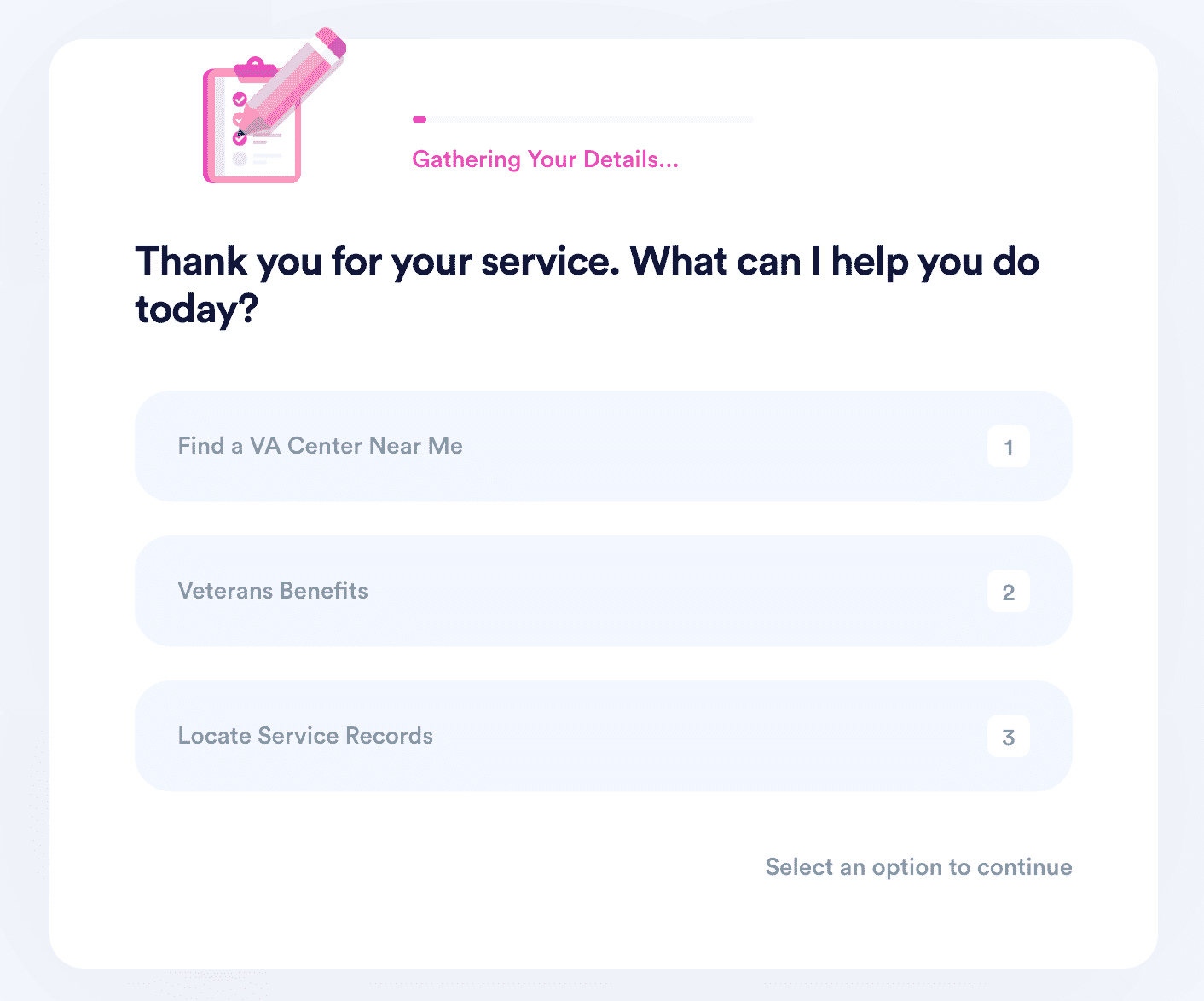 3. Answer a simple set of questions so our chatbot can collect the necessary information to help you and find the nearest office or fill out the appropriate forms.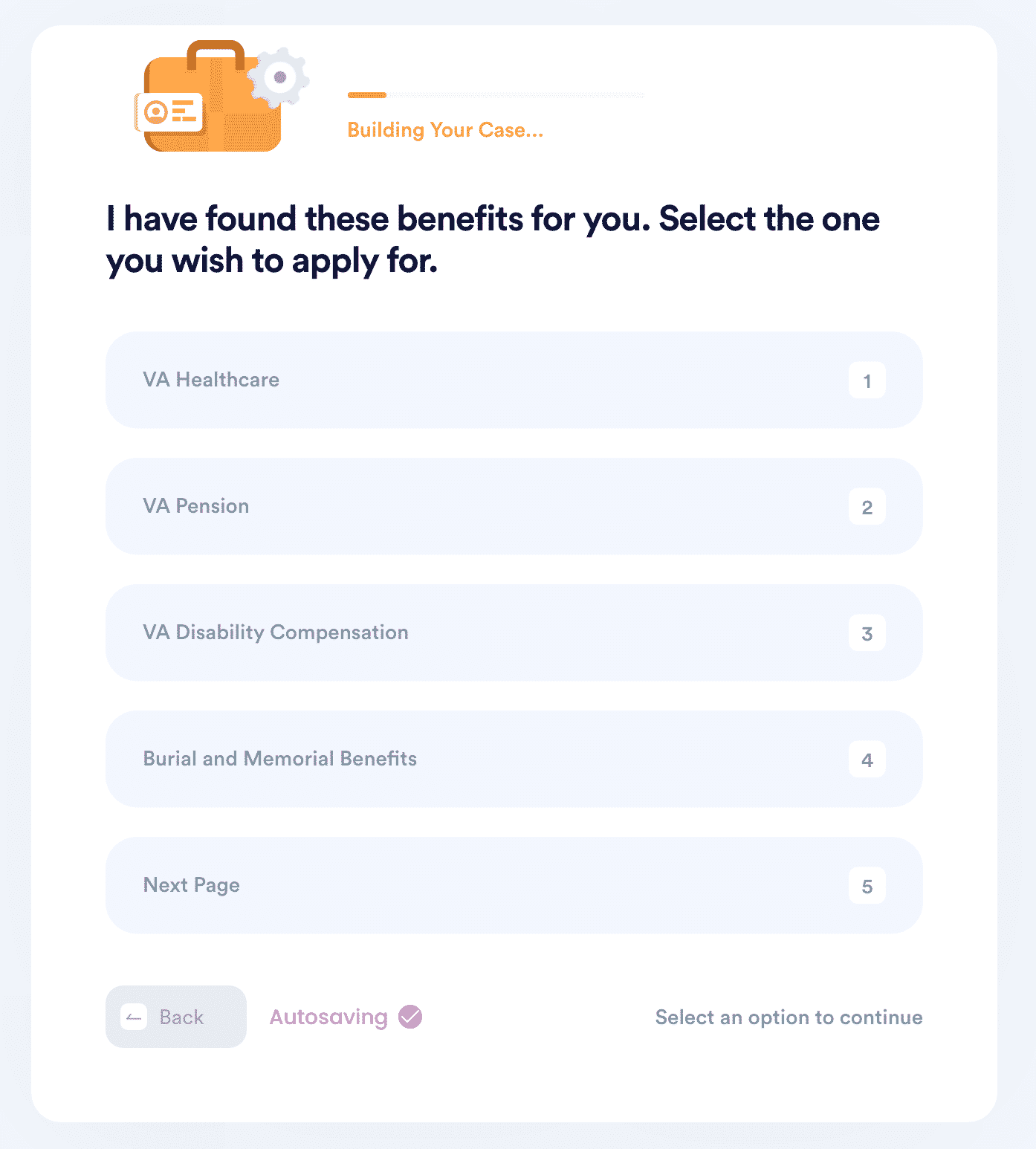 Use DoNotPay to Apply for Burial Benefits
American soldiers have earned the right to a respectful burial due to their service. It's important to consult with a service like DoNotPay to find the requisite service for helping Veterans and their loved ones find the appropriate services when they are buried. No one should be lost in confusing and complicated paperwork when burying their spouse, loved one, family members, or friends. DoNotPay is:
| | |
| --- | --- |
| Fast | DoNotPay can help speed up the process to ensure the proper ceremony takes place by providing the legal expertise, framework, and navigating the forms correctly during times when a family is otherwise under duress. |
| Easy | You don't have to struggle to fill out tedious forms or keep track of all the steps involved in applying for burial benefits. |
| Successful | You can rest assured knowing we'll make the best case for you. |
What Else Can DoNotPay Do?
DoNotPay can help you solve other problems such as: