The Easiest Way to Claim Your Veterans Benefits
Talk to any veteran and there is a certain sense of pride that comes with having worn the uniform. Even so, that proud feeling can soon turn to disappointment whenever it is time to claim one's veteran's benefits. Too often, veterans must fight to obtain the benefits they rightfully have earned, and many are even denied for seemingly no reason. Some will never even pursue their benefits at all because they do not want to deal with the hassle.
Fortunately, those who served do not have to fight their battles with the VA alone. If you're a former service member who needs help obtaining benefits for veterans, DoNotPay has got your back.
What Benefits Are Available to Veterans?
American veterans' benefits vary based upon the length and time of service, disability status, and other factors. A list of veterans benefits can include:
The above are federal benefits. However, you could be eligible for certain statewide benefits, as well such as:
Survivor Benefits
A surviving spouse or dependent child can sometimes be eligible for certain benefits like:

Survivor's pension
Survivor's compensation
Death benefits

Current Service Member Benefits
Service members do not have to complete their current obligation before becoming eligible for certain benefits. Some benefits that current military personnel, including Guardsmen and Reservists, might be eligible for are:

Life insurance
Educational and training benefits
Career counseling and transition assistance
Members of the U.S. military are not always briefed about their VA benefits until it's time for them to leave the service. By then, many have missed out on some important assistance they might otherwise have been able to take advantage of. Are you serving in the Armed Forces and would like to know more about what rewards might be available to you? If so, DoNotPay would be honored to help you navigate them.
How to Sign Up for Veterans' Benefits by Yourself
The Veteran's Administration provides numerous ways for you to apply for benefits. The method was chosen as well as the timeframe will vary based upon the type of benefit you are requesting. This is often a rather arduous process with virtually no rhyme or reason to it. Even so, it's important to follow the protocol exactly as it is written to prevent your claim from being denied.
Applying for benefits is arguably one of the biggest frustrations a veteran will encounter after his or her military service. Extensive coverage has been given to veterans being denied benefits or even dying while waiting to receive healthcare.
To avoid becoming a statistic, you should use every tool at your disposal to ensure the benefits you have already earned do not slip away. For veterans who are struggling to obtain their benefits, DoNotPay provides an additional tool they can use to fight with.
Next Steps for Obtaining Veterans' Benefits if You Can't do It Yourself
What options are available for those who were denied benefits or are having difficulty navigating the process? A few possibilities include:
Contacting your member of Congress
Hiring an attorney
Attempting to file an appeal on your own
While any of the above are solutions, none of them are ideal. For example, contacting your representative or filing an appeal on your own can both be lengthy ordeals. And hiring a lawyer could cause you to rack up a considerable amount of legal fees. If you would like to save time and money, there's a better way available through DoNotPay. 
Solve the Problem of Missing Veterans' Benefits With the Help of DoNotPay
DoNotPay understands the frustration veterans face when trying to obtain their rightful benefits. We also appreciate your service and want to make getting VA benefits for veterans as uncomplicated as possible. If you're interested in finding veterans' benefits information, including state-specific info, here's how we can help.
How to Find Veterans' Benefits with DoNotPay:
If you want to learn about finding veterans' benefits through DoNotPay but don't know where to start, the platform has you covered in 3 easy steps:
1. Search for and open the Military Protection product on DoNotPay.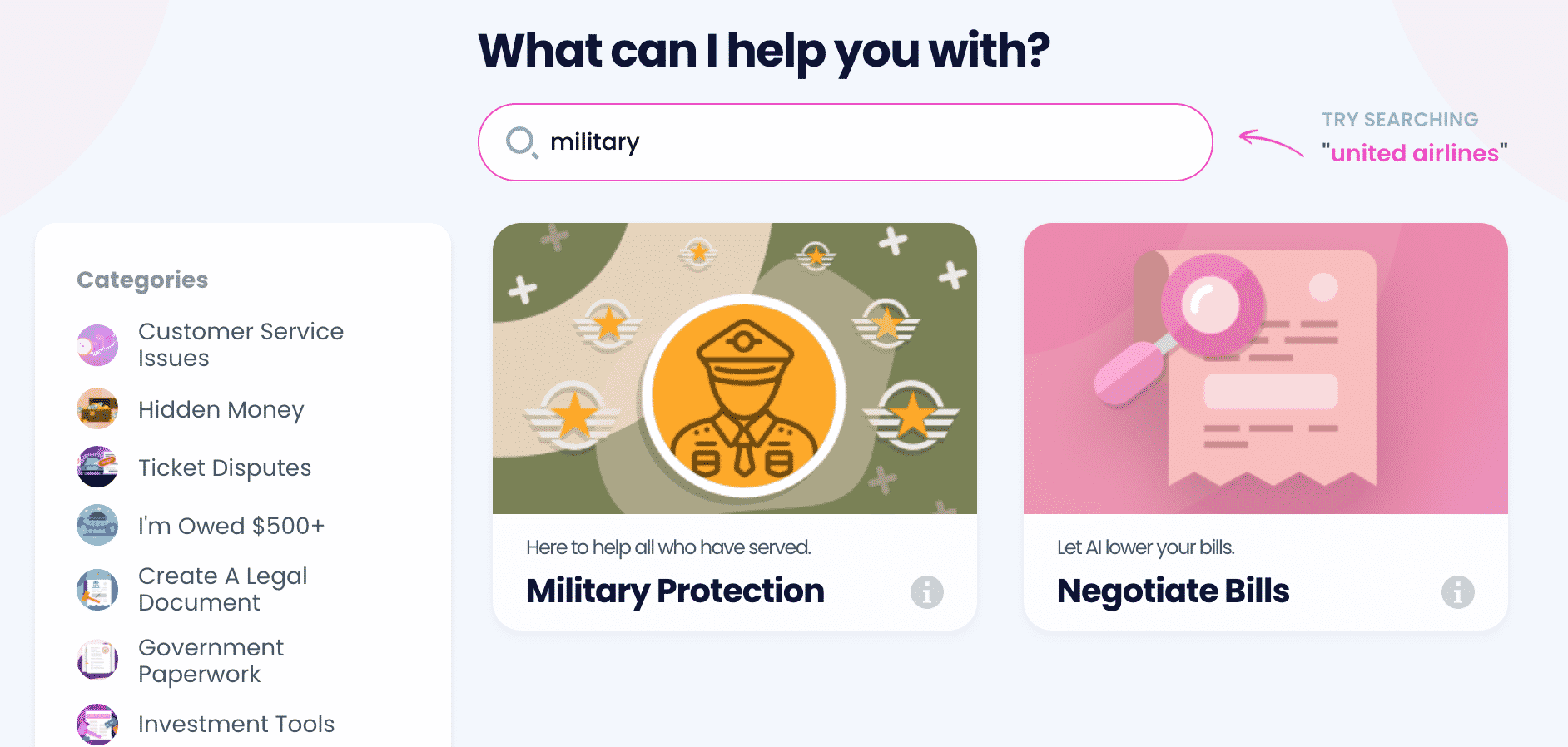 2. Select whether you want to 1) locate the nearest VA office, 2) access veteran benefits, or 3) locate service records.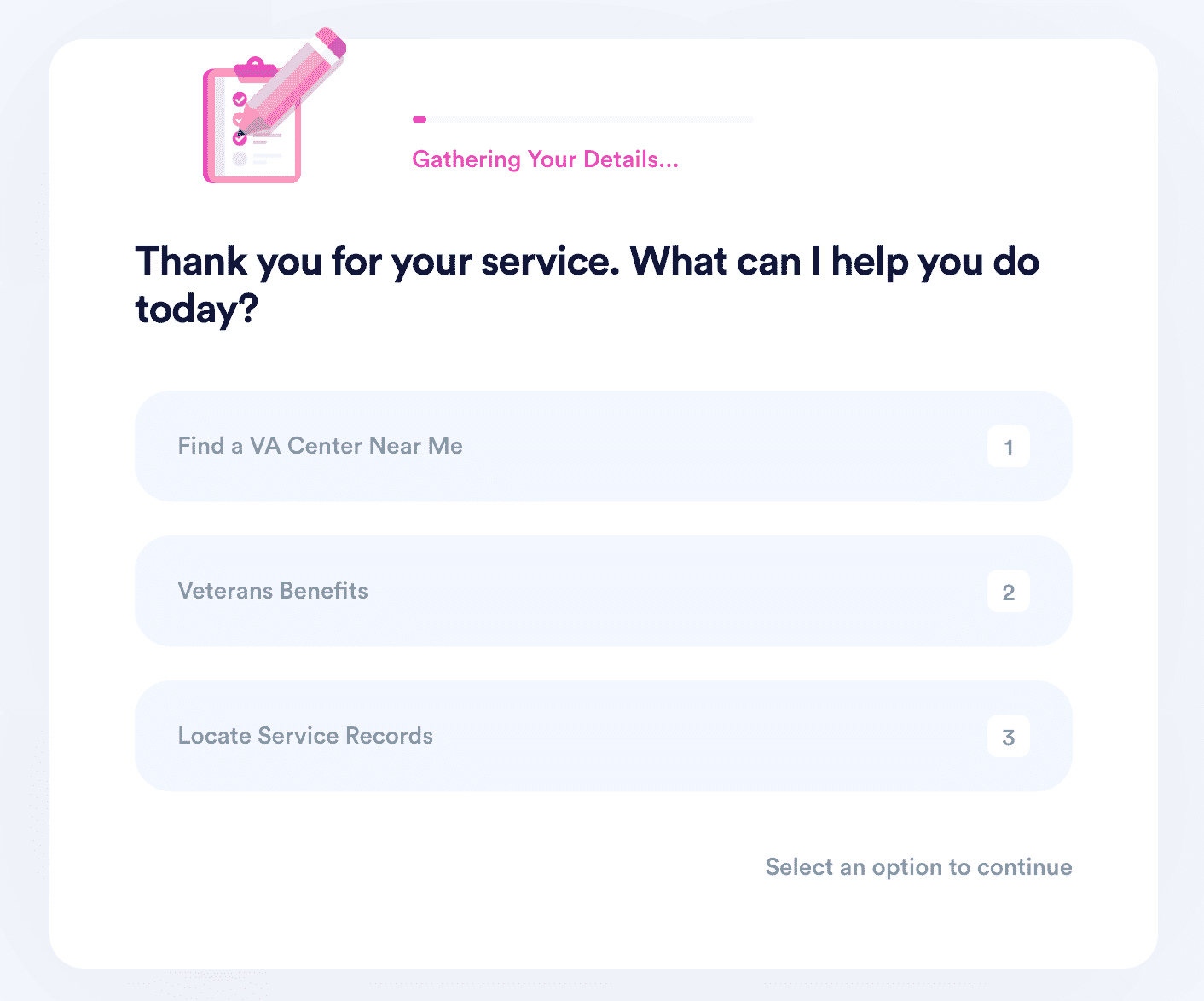 3. Answer a simple set of questions so our chatbot can collect the necessary information to help you and find the nearest office or fill out the appropriate forms.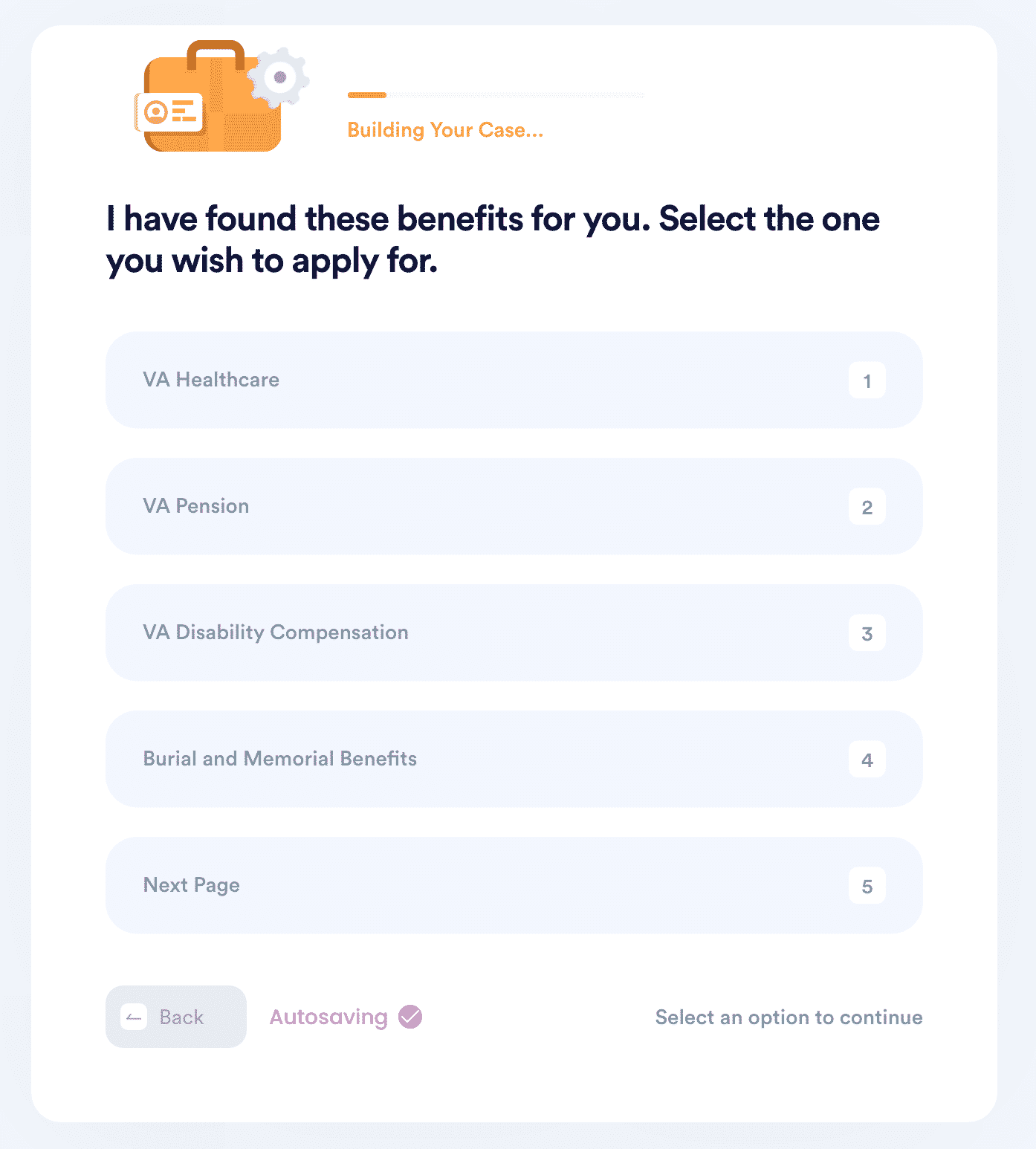 Why Use DoNotPay to Enroll in Veterans' Benefits?
Unfortunately, for many veterans, there is a sense of dread involved with applying for VA benefits. Here at DoNotPay, we believe this should not be the case at all. Accordingly, we've come up with a method that is quick, easy, and most of all, effective. If the idea of obtaining your veterans' benefits has you feeling discouraged, we would be honored to provide you with a sense of hope.
DoNotPay Works Across All Groups With the Click of a Button
Many first-time users of our service are amazed at how quickly DoNotPay can slice through the government bureaucracy. They're even more astonished to learn how we can assist them with other agencies as well. The fact is that DoNotPay provides veterans' benefits assistance much in the same way it helps with canceling subscription services or paying bills online. If you need help with an ordinary task but are finding it is unnecessarily complicated, odds are we have a solution.
What Else Can DoNotPay Do?
Just what else can DoNotPay do? We actually offer a nearly endless number of solutions to ordinary yet frustrating problems. Some are bigger issues such as obtaining benefits for veterans, while others are simple requests like resetting passwords. A few things we might be able to assist you with include:
And much, much more!
Get in Touch With DoNotPay
Receiving benefits is not something any veteran should ever have to worry about. Unfortunately, many veterans face unnecessary hardships when attempting to claim what is rightfully theirs. Our Veterans' Benefits Assistance Program can level the playing field and significantly reduce your chance of denial. Don't wait any longer to obtain your U.S. veterans' benefits. Join DoNotPay today!