The Scoop on Veterans Administration Life Insurance Claims
Veterans Affairs (VA) insurance exists to provide current service members, veterans, and their spouses and children with financial security. If you are eligible for VA life insurance, you can find the insurance program that's right for you and not worry about the future.
DoNotPay is here to help you claim the insurance and file an appeal if it gets denied for any reason.
VA Life Insurance Available Programs
If you are a current or former service member, you should know what type of VA life insurance you qualify for. Take a look at the table below to see the programs and your options:
VA Life Insurance Program
Description
Eligibility
Servicemembers' Group Life Insurance (SGLI)

Low-cost life insurance, which can be prolonged for two years in case the service member is completely disabled

Active members of:

Ready Reserve

National Guard

the Commissioned Corps of the National Oceanic and Atmospheric Administration and the Public Health Service

U.S. military academies (cadets and midshipmen)

Reserve Officers' Training Corps (ROTC)

Veterans' Group Life Insurance (VGLI)

Veterans can convert their SGLI to a civilian program of lifetime protection after they leave the service

Everyone with full SGLI coverage

Family Servicemembers' Group Life Insurance (FSGLI)

Serves as protection for spouses and children of Servicemembers who have SGLI coverage. Children are covered automatically without charge

Spouses and dependent children of service members with SGLI coverage

Servicemembers' Group Life Insurance Traumatic Injury Protection (TSGLI)

An automatic feature of SGLI that pays service members who have experienced losses (amputations, blindness, and paraplegia) as a consequence of injuries that happen while serving

Everyone with SGLI protection

Service-Disabled Veterans' Life Insurance (S-DVI)

Life insurance for Veterans who have earned a VA rating for a new service-connected disability in the last two years

Totally disabled Veterans are eligible for free coverage

Service members released from active duty after April 25, 1951, and have any disability (even 0%) within the last two years

Veterans' Mortgage Life Insurance (VMLI)

Mortgage life insurance protection VA Specially Adapted Housing (SAH)-approved grant for disabled veterans

Veterans who got a Specially Adapted Housing Grant (SAH)

Veterans who have title to the home and have a mortgage on their house
How To File a VA Life Insurance Claim With DoNotPay
Filing your insurance claim can end up being a time-consuming process that seems not to show any progress. Companies and other institutions try to prolong the procedure and avoid paying you. DoNotPay has a simple solution, and it is a few steps away:
Access DoNotPay from a

Find the insurance type you want to claim

Provide us with your contact details and policy number

Let us know why you are filing a claim

Elaborate on the details of the accident
DoNotPay will send the claim to the VA on your behalf immediately. Their staff may contact you if they need to ask you some additional questions regarding your claim.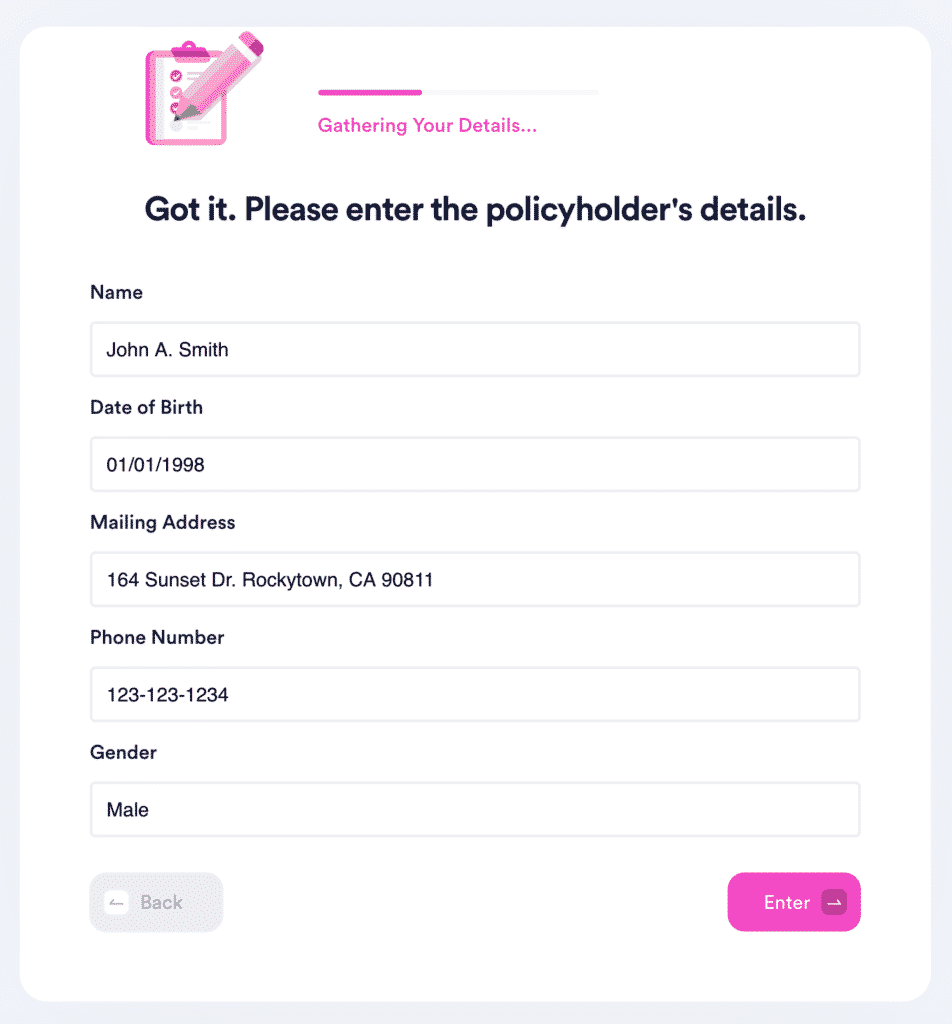 DoNotPay has all the info on accident insurance and how unemployment insurance claims work.
DoNotPay Can Help You Appeal a Rejected Insurance Claim
Sometimes a company or institution you're dealing with might refuse your insurance claim. They'll find reasons to do so, but you shouldn't let them get away with it so easily. Send an appeal letter for the denied insurance claim with DoNotPay's help! These are the only steps you need to perform:
Open DoNotPay in any

Find the insurance type

Select the

Appeal Denied Insurance Claim

option

Finalize the process
Once you fill out our simple questionnaire, you'll have to wait for VA's response and find out the current status of your claim. Veterans Affairs will have to explain the reason for denying or terminating your insurance coverage.
How To File a VA Life Insurance Claim by Yourself
If you want to trouble yourself with going through the insurance claiming process on your own, prepare yourself for a dull and tiring task. There are two ways for submitting your VA life insurance claim:
How To File a VA Life Insurance Claim Online
If you wish to file a VA life insurance claim by visiting a website, you'll have to follow these steps:
Open the

Claim for Sum Payment

form

Answer numerous questions

Provide the required info

Attach all the required documentation

Upload the completed form
Completing the form alone will take more of your time than filing an insurance claim and an appeal with DoNotPay.
How To File a VA Life Insurance Claim via Mail
You can also submit your claim to the VA life insurance by mail. Heed these instructions:
Complete the

Claim for Sum Payment

form

Print it

Collect all the required documentation

Send everything to

Department of Veterans Affairs, Insurance Center, PO Box 7208, Philadelphia, Pennsylvania 19101
If you opt for this way of submitting your claim, you can expect the entire process to last much longer, and the risk of mail getting lost is higher.
DoNotPay Is Your Pocket-Sized Treasurer
To pay or to DoNotPay—that is the question! Our nifty app finds money where you didn't even know you had it.
With our app, you can avoid college application fees, cancel unused subscriptions, explore free trials, and get out of paying for unfair parking tickets.
We can also help you with high bills by composing due date extension letters or reducing property taxes, just as we can locate missing money that you can reclaim in any state you've ever lived.
To top it all, we'll even assist you in requesting compensation from any airline—whether it is for poor in-flight Wi-Fi, a delayed, or a canceled flight.
Can't Find Your Head in All the Paperwork? DoNotPay Sorts It Out for You!
You no longer have to cash out on pricy legal advisors to do simple paperwork for you—our app can draft legal documents for you in a matter of minutes!
We can write small claims court scripts, dispute letters for chargebacks and refunds, personalized letters to connect with inmates, DMCA takedown notices for copyright protection, and cease and desist letters for stalking and harassment protection.
If you need to get a DMV appointment before taking a driving exam or any other government test, we're there to schedule it in your stead!