How to Submit Your Veterans Administration Health Care Application
Successfully making an approved Veterans Administration health care application can require a number of steps that may seem a bit complicated at a glance, but the process can be managed efficiently with the right approach. In addition to the specific steps that should be taken to properly apply, there is also the matter of being aware of what the actual benefits to expect are.
Properly connecting the junction between how to properly make your application and what most likely the benefits that you're entitled to will require knowledge of both administrative guidelines and uniquely specific factors related to your own status and service history. The following are some of the most important things to know if you want to make sure that you can have all of your VA healthcare needs to be taken care of in the most efficient and comprehensively supportive way. And furthermore, you will learn how DoNotPay can be a strong resource to help secure your benefits swiftly.
Healthcare Benefits for Veterans
The specific benefits that a veteran is entitled to when they make a Veterans Administration health care application can oftentimes be contingent upon the state that they reside.  Though the most comprehensively accurate list of what specific benefits you're entitled to will require taking a close look at what's dictated by the state. The following are some of the most common core benefits provided in most states to those with Veterans Administration health care coverage:
Specific community health care provision requests in case of VA treatment unavailability.
Treatment for mental health care needs.
Personalized, living space, and income-adjustable treatment accommodation plans for long-term inpatient care.
Customized outpatient care provisions for services such as prescription delivery and assisted living support.
Unique prescription fulfillment based on availability from select VA p providers in the area.
Gender-specific treatment plans to meet male or female-centric care needs for relevant conditions, supplementations, and operations
How to Apply for Veterans Administration Health Care on Your Own
In order to apply for VA benefits, you're going to need relevant identifying documents such as:
The Social Security numbers for yourself, your spouse, and all other qualified dependents
Military discharge papers
Insurance cards with information on all forms of coverage that you currently have
Records deductible expenses
Proof of collective household income for the previous calendar year, pertaining both to yourself and your spouse along with all the aforementioned qualified dependents
After you collect the necessary documents, you have a number of options that can serve as equally valid for submitting your application manually.
| | |
| --- | --- |
| By Mail | Submit your application through the mail with the 10-10EZ Health Benefits form. |
| By Phone | Apply by making a phone call to the Administration directly. |
| In-Person | Apply in person by taking the relevant forms to the nearest VA Medical Center or your local state's Department of Veterans Affairs. |
What Determines Eligibility for VA Benefits
VA healthcare benefits are available to all who meet the minimum qualifications of having served in the active military, naval, or air service without leaving due to a discharge other than honorable. The specific minimum service deployment length is at least 24 continuous months of active duty (if enlisted after September 7th, 1980 or having entered active duty following October 16th, 1981).
Certain exceptions may be made to the minimum deployment time requirement eligibility.  If the exact conditions that you were discharged for were due to a form of disability worsened by active-duty service, or if your service was prior to September 7th, 1980.  For a discharge other than honorable, though, you may not qualify for VA benefits; however, you may still have the opportunity to appeal for a discharge upgrade or discharge review process in order to have a chance at benefits approval depending on the circumstances.
Solve Your Veterans Administration Health Care Application Struggles With DoNotPay
While the aforementioned basic steps for submitting a conventional VA healthcare application manually are relatively straightforward, you might be able to save yourself a lot of effort and confusion by investing in a professional service to take care of the fine details for you such as DoNotPay. If you want to know how to handle your Veterans Administration health care application with DoNotPay, but don't know where to start, DoNotPay has you covered in 3 easy steps:
1. Search for and open the Military Protection product on DoNotPay.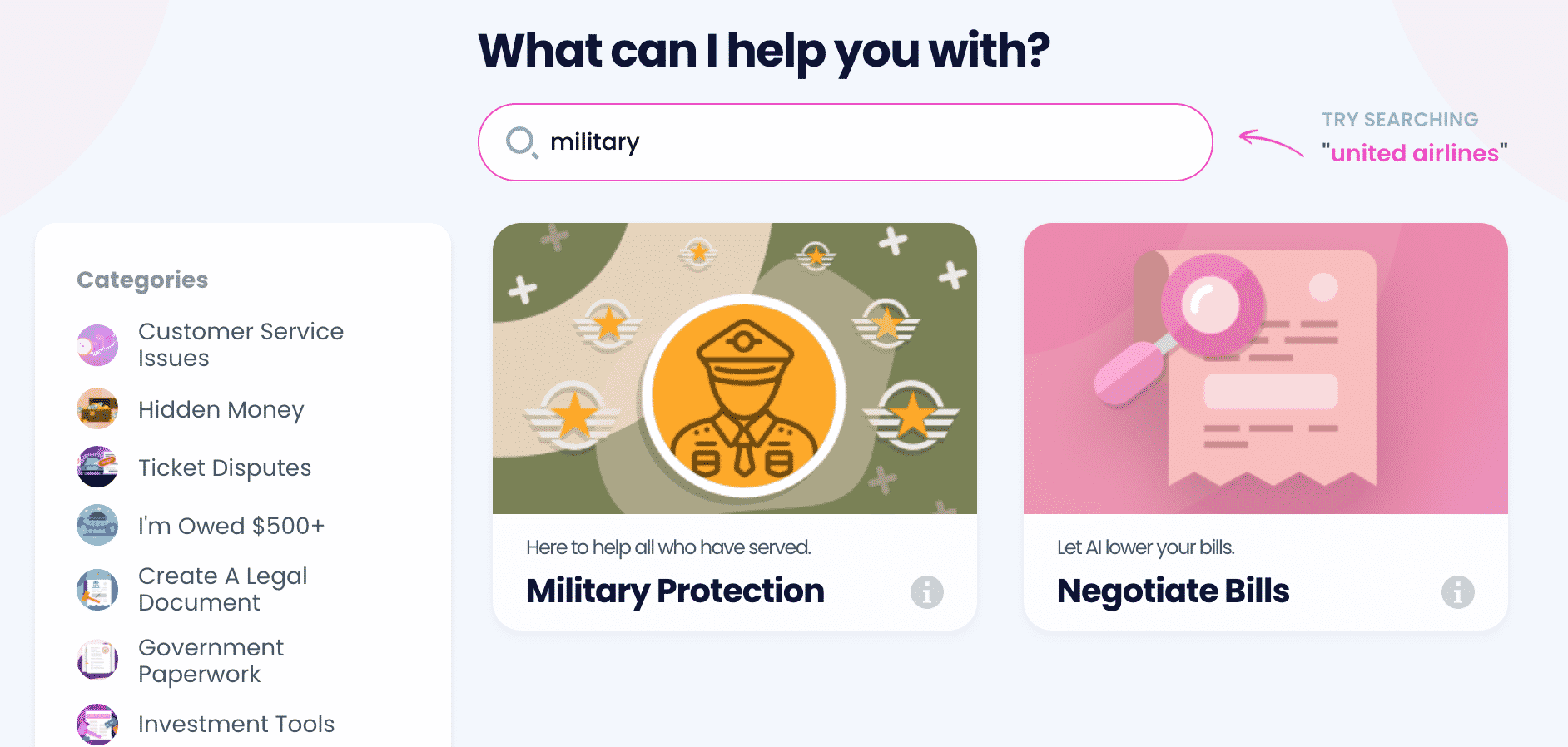 2. Select whether you want to 1) locate the nearest VA office, 2) access veteran benefits, or 3) locate service records.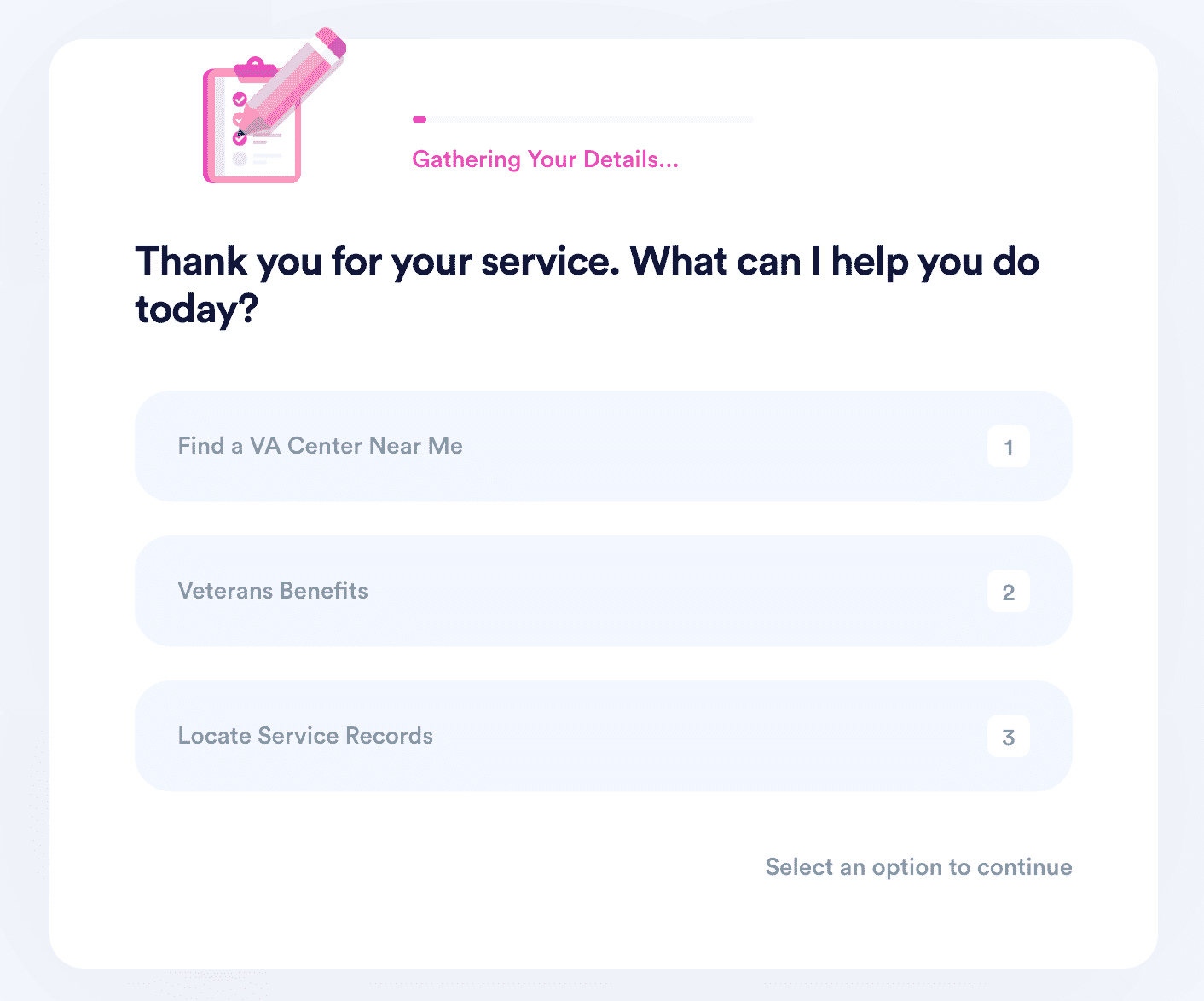 3. Answer a simple set of questions so our chatbot can collect the necessary information to help you and find the nearest office or fill out the appropriate forms.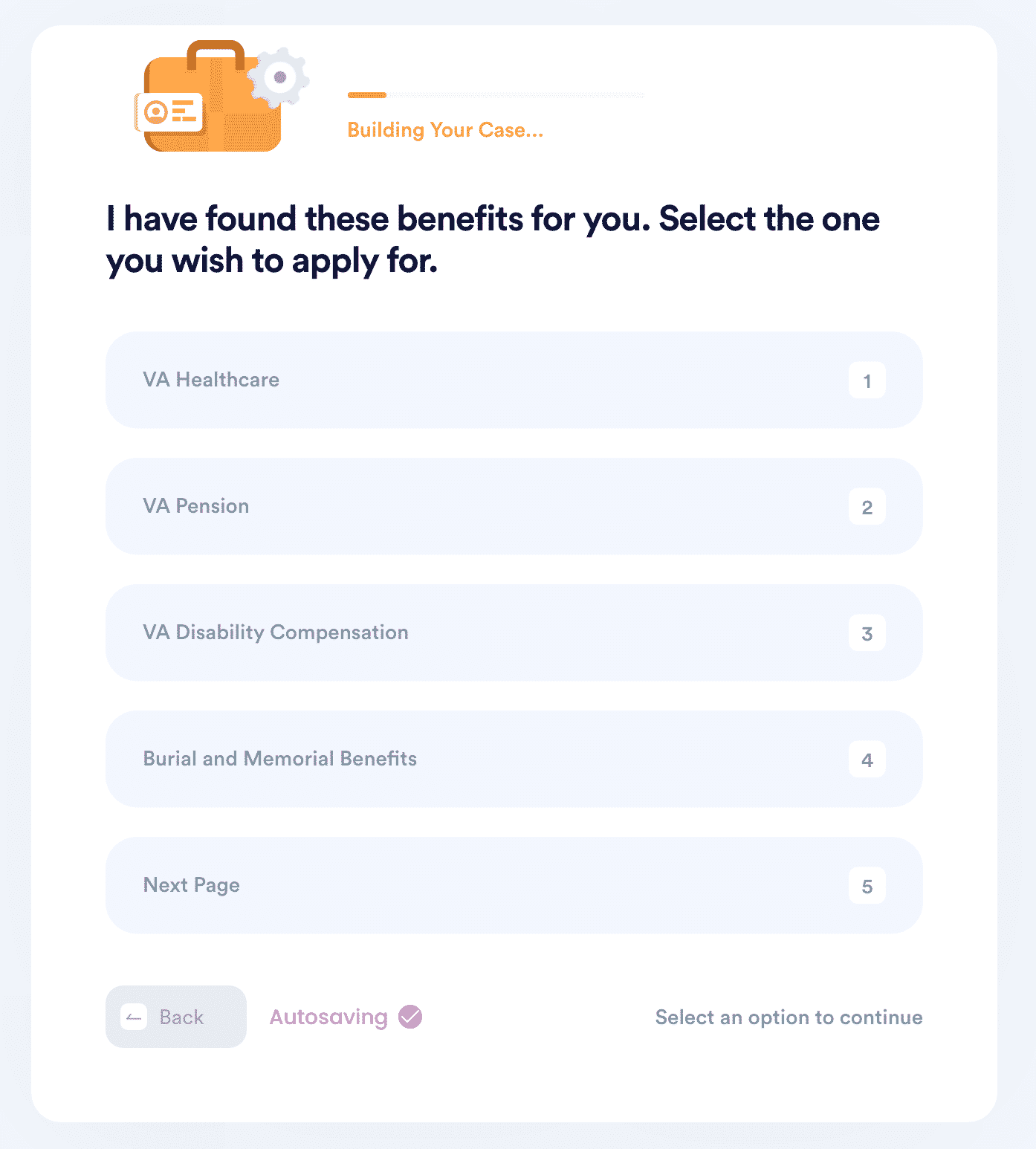 Why Use DoNotPay to Manage Your Veterans Administration Health Care Application
The following are some of the most compelling reasons that you might want to invest in a DoNotPay health care application management plan.
Completely does away with the risk of human error.
Ensures that all the right information in crucial required areas is consistent and accurate based on what you supply in your profile.
Is a satisfyingly fasting yet efficient method that saves an enormous amount of time and stress, guaranteeing the most realistic blend of promptness and thoroughness.
Maximizes the overall chance of success in having your application approved, due to all the proper requirements being accounted for and fulfilled.
DoNotPay Works Across All Companies/Entities/Groups With the Click of a Button
DoNotPay is a flexible resource that can be used for applications for a generous variety of different VA benefits categories that include but are not limited to:
If you are prepared to begin your VA healthcare application with DoNotPay today, you can register here with your email or phone number.