What Are Death Benefits for Veterans and How to Claim Them
Serving in the armed forces is both an honor and a sacrifice. Losing a loved one, whether through military service or otherwise, is never easy, but when a veteran passes, their service to the United States can be recognized in many ways. The Department of Defense and the United States Department of Veterans Affairs have various programs and services available that provide counseling, payments, healthcare, and more to veterans, their families, or in the event of their death, to their surviving family members. If you are wondering what type of veteran death benefits you may be entitled to as a surviving family member of a veteran or how to access them, DoNotPay can help. 
What Veteran Benefits Are Available?
While spouses and dependents may be eligible to receive a variety of benefits, survivors of veterans/service members may also qualify for additional benefits.
Benefits that surviving spouses, dependents, or parents may be eligible for include: 
Health Care
Surviving spouses and children may qualify for health care through CHAMPVA, TRICARE, or other programs related to a veteran's service-connected disability.
Education and Training
If you are the surviving spouse or child, you may be eligible to receive help paying for education or job training through "Chapter 35" (Survivors' and Dependents' Education Assistance Program), or the Marine Gunnery Sergeant John David Fry Scholarship. Additionally, a veteran may transfer unused post-9/11 GI benefits.
Home Loan Programs or Financial Counseling
Surviving spouses can apply for a Certificate of Eligibility for a VA home loan to help buy, build, repair, or refinance a home. They can also get financial counseling and help to avoid foreclosure on a VA-backed loan.
Life Insurance Options, Claims, and/or Beneficiary Assistance
Surviving spouses or children may be eligible for life insurance coverage and can get assistance managing an existing policy. They can also receive free financial advice as the beneficiary of a Veteran's policy.
Pre-Need Eligibility Determination for Burial in a VA National Cemetery
You can apply in advance for eligibility and to plan ahead for VA national cemetery burial.
Burial Benefits and Memorial Items
You can receive assistance with planning a burial in a VA national cemetery, as well as a state or tribal government Veterans' cemetery. Survivors can also apply for various veteran burial benefits, including: 

burial benefits
Military funeral honors
headstones, markers, and/or medallions
burial flag
Presidential Memorial Certificate
bereavement counseling and transitional support

Survivor's Pension
The surviving spouse and/or children may be eligible for monthly pension payments for a veteran's wartime service.
Compensation for Surviving Spouse and Dependents
Surviving children, spouses, or parents may be eligible for a tax-free monetary benefit if the service member died in the line of duty or from a service-related injury or illness.
How to Apply for Veteran Death Benefits on Your Own
As you can see, there are a variety of veterans benefits available to survivors of veterans and service members. Your eligibility for different services and payments will depend on things such as how long the veteran served, if they died in the line of service, and your relationship with the veteran, among other factors.
To find out if you qualify or to apply for specific services or veteran death benefits, you can:
Go to the Department of Veterans Affairs page entitled Benefits for Spouses, Dependents, Survivors, and Family Caregivers.
Read through the page and click on the link for each type of benefit to read more about eligibility and how to apply.
Each type of benefit has different qualifying factors and application processes, so you will need to understand the different requirements and steps to follow.
Fill out all applications and submit them as required.
Submit any required supporting documentation, such as death certificates, service records, etc.
Be aware that applying for and receiving benefits can be a lengthy and/or tedious process.
DoNotPay Can Help You Find and Apply for Veteran Death Benefits
If you are grieving the loss of a loved one, you shouldn't be tasked with researching and applying for benefits as well. DoNotPay is here to guide you through the entire process. We can help you locate service records, and access and apply for veteran death benefits quickly and efficiently.
If you want to know how to find veteran benefits but don't know where to start, DoNotPay has you covered in 3 easy steps:
1. Search for and open the Military Protection product on DoNotPay.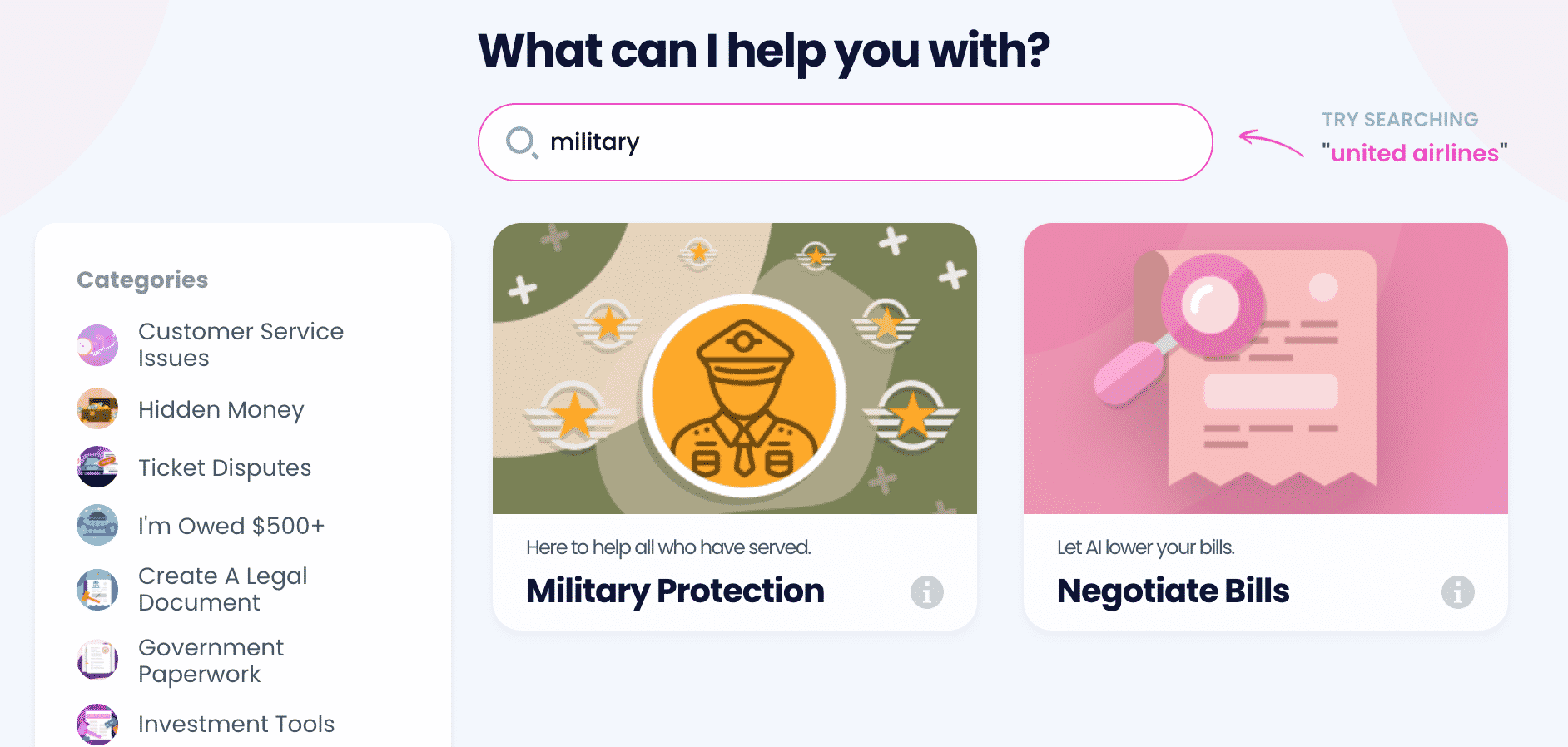 2. Select whether you want to 1) locate the nearest VA office, 2) access veteran benefits, or 3) locate service records.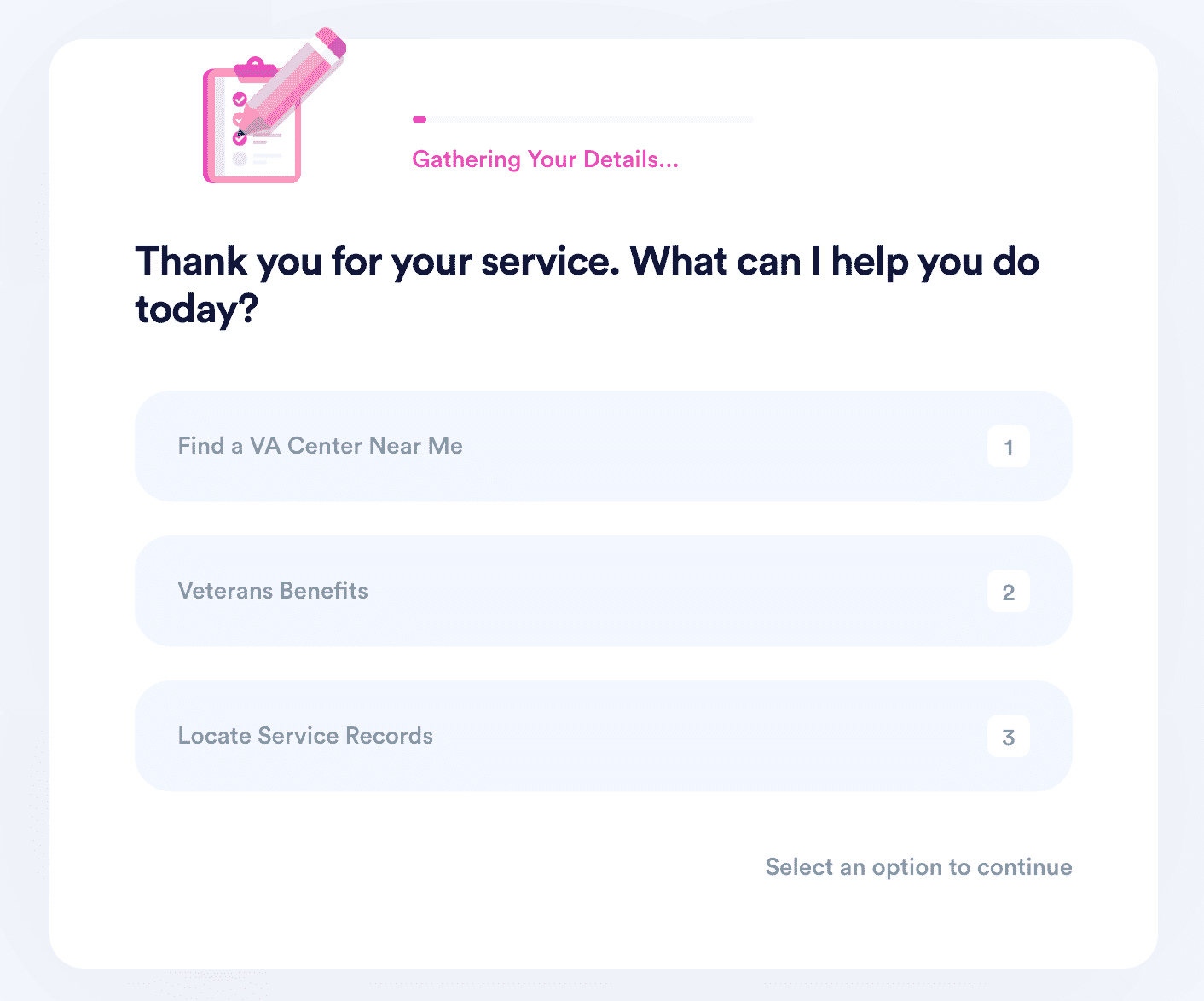 3. Answer a simple set of questions so our chatbot can collect the necessary information to help you and find the nearest office or fill out the appropriate forms.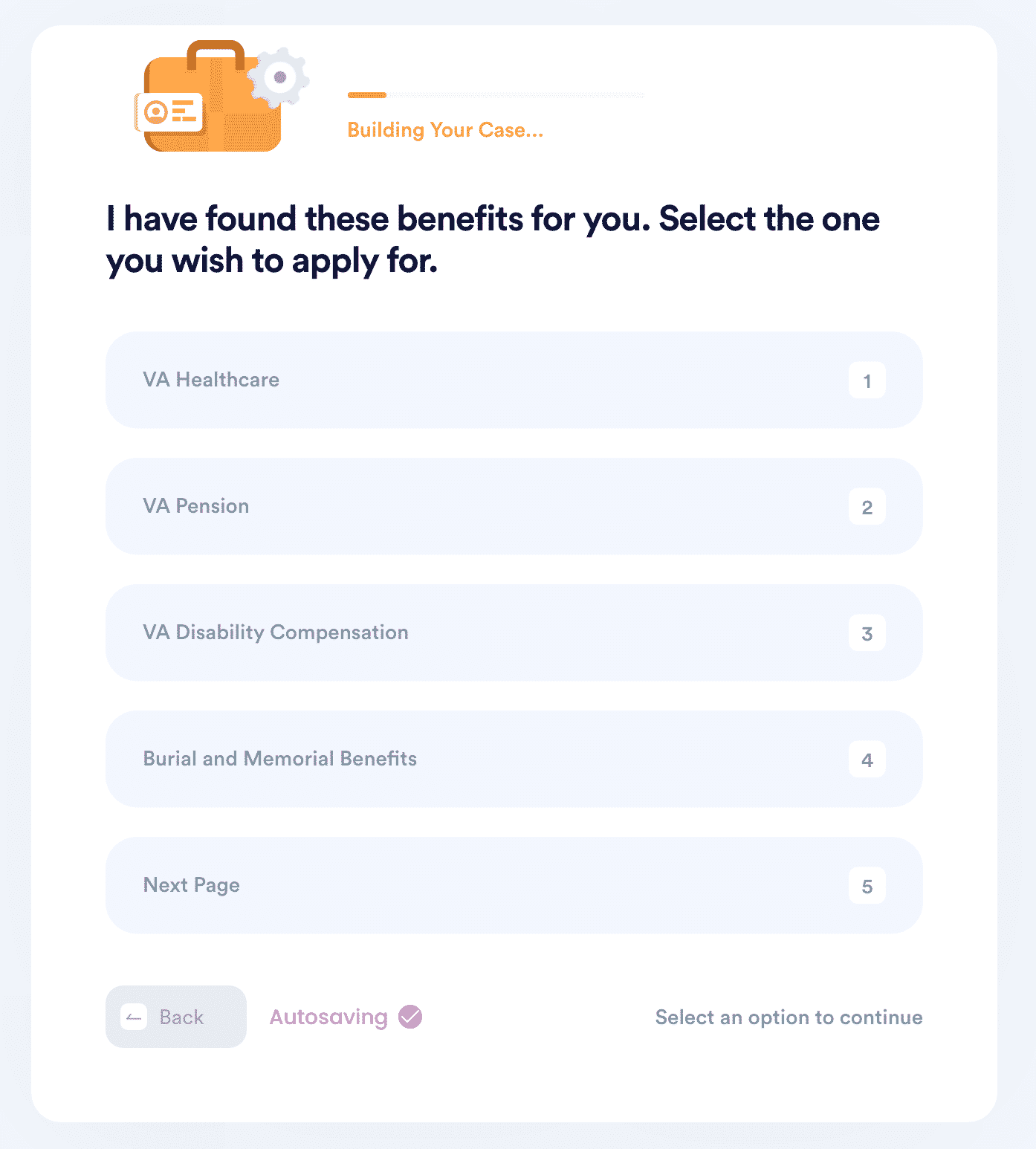 Our service is fast, easy, and successful. DoNotPay believes you should have access to the services and benefits you deserve, and we will make the best case on your behalf.
What Else Can DoNotPay Do?
DoNotPay can not only help you with military protection and veteran benefits, but we can also help you with:
No matter what your problem or concern, DoNotPay has a solution! 
Veteran Death Benefits — Frequently Asked Questions
What to do when a veteran dies?
When a veteran dies, you should report the death to VA agencies, secure a DD214 form, complete the SF180 form to make an urgent burial request and work with a cemetery to make funeral arrangements.
If a veteran dies, who pays for the funeral?
The VA's burial and funeral expenses allowance for a non-service-connected death is $300 and $2,000 for service-connected death.
How long does it take to get VA burial benefits?
The waiting time depends on the number of applications in the backlog. It also depends on whether the application your submitted is complete and includes all the necessary forms. You can call 800-533-1117 (TTY: 711) to request the status of your application.