A Detailed Guide to Applying for Vermont Victims Compensation
Surviving a violent crime or being a family member of a homicide victim can leave severe consequences on one's mental and physical health. Healing takes a lot of time and usually requires pricey medical assistance. Most victims struggle to make ends meet due to various crime-related costs. That's why all states—including Vermont—have funds dedicated to violent crime victims to help them bear all crime-related expenses. 
In this guide, you'll learn more about Vermont victims compensation and discover the quickest way to apply!
Key Aspects of the Vermont Victims Compensation Program 
The State of Vermont established the Victims Compensation Program to provide the much-needed financial help to victims of various violent crimes, such as:
Arson

Child abuse

Driving under the influence

Fraud or financial crimes

Human trafficking

Homicide

Terrorism

Vehicular crimes (including

hit and run

)

Stalking
The Victims Compensation Board administers the program. The Board consists of five members—one attorney, one licensed physician, two public members, and the victim or dependent who applied for compensation.
The program gets funding from:
Offender fees

A portion of inmate salaries

The annual

Victims of Crime Act (VOCA)

grant 
Crime victims compensation programs in all states are payers of last resort—Vermont is no exception. You will get reimbursement from the Board only for the expenses that your other sources—such as Medicaid, Medicare, insurance, restitution, and similar—fail to cover. 
Are You Eligible To Apply for Crime Victims Compensation in Vermont?
The Victims Compensation Board in Vermont grants compensation to:
Victims who suffered physical and psychological trauma due to violent crimes that occurred in Vermont

Vermont citizens who were victims of:

Crimes in states that don't offer crime victims compensation programs

Terrorist attacks outside of the U.S.

Family members and dependents of crime victims
To qualify for the Vermont Victims Compensation Program, you must:
File a police report 

Cooperate with law enforcement

Be an innocent victim (if you were an accomplice in a crime that caused your injuries, you won't get compensation)

Provide the necessary documents upon your application for the crime victims compensation
Do you think you qualify for the compensation program? You can register for DoNotPay and apply for crime victims compensation in a matter of minutes!
DoNotPay—A Quick and Easy Way To Apply for the Victims Compensation Program in Vermont
The main drawback of all crime victims compensation programs is the complicated application process. You probably don't want to spend hours looking for the application form on the website, downloading the right PDF version, and filling out every field. 
DoNotPay has created a helpful and time-efficient product that enables you to file your Victims Compensation Program application in a few clicks. We will: 
Ask you a few questions about the crime and your expenses 

Complete the necessary application forms according to your answers

Send the forms to the right office in Vermont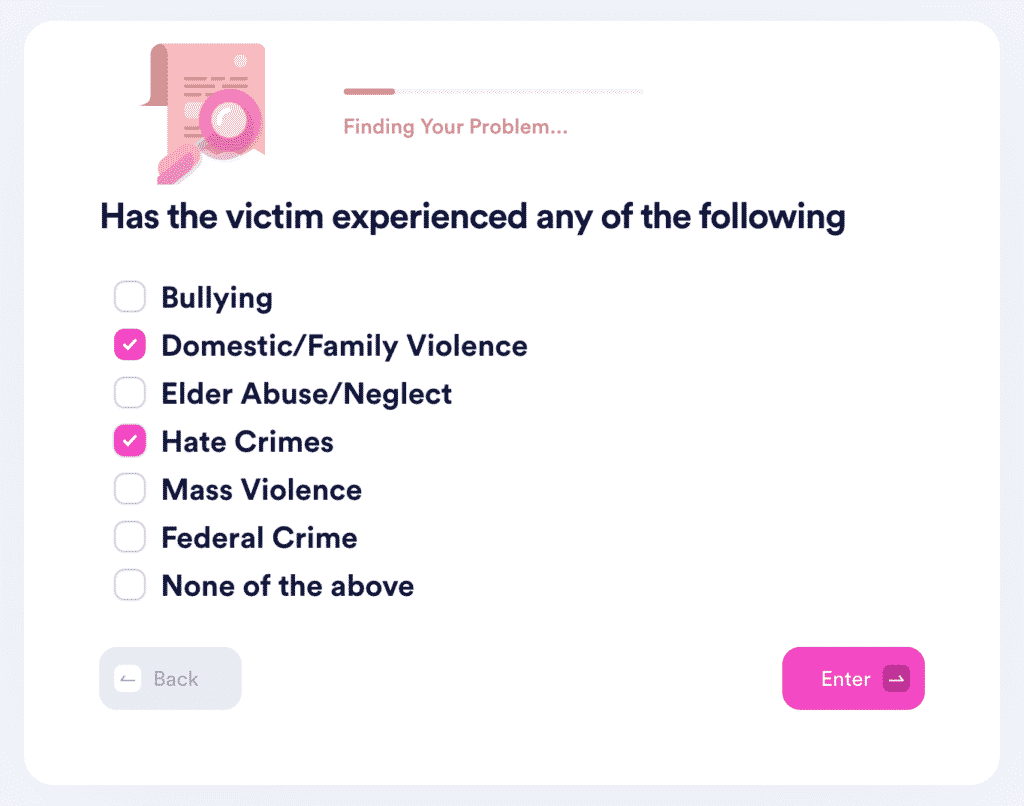 Here are the steps you should follow to apply for the Victims Compensation Program with our help:
Open our

Compensation for Crime Victims

product

Indicate whether you're the victim or a family member of the victim

Respond to our questions 

Verify your signature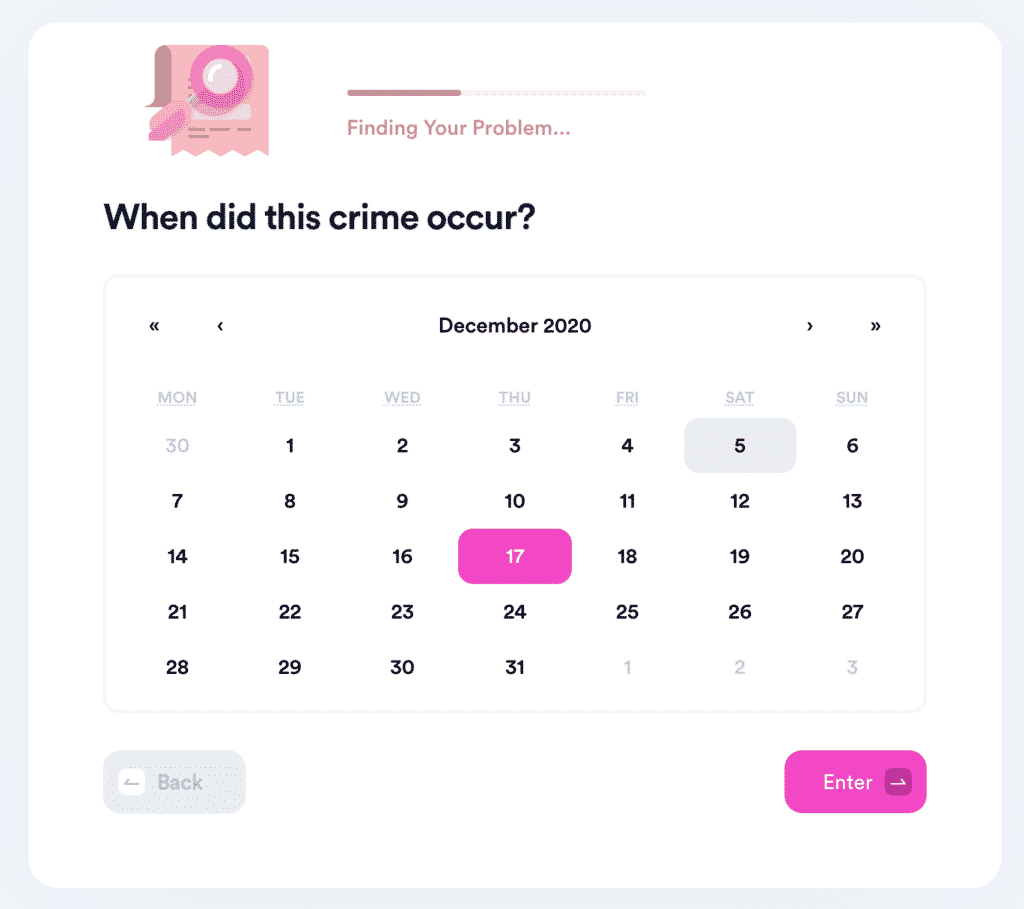 You can use our Compensation for Crime Victims feature to apply for compensation programs in any state, including:
Our product can even help you learn more about various compensation funds. Make sure to check out our articles about the 9/11 Victims Compensation Fund or relocation and emergency funds for violent crime victims to see if you're eligible to apply!
Find Out Which Costs the Victims Compensation Program in Vermont Covers
The highest compensable amount that the Victims Compensation Program grants is $10,000 per crime. While the program covers most crime-related costs, some expenses aren't considered compensable. 
The table below shows which costs are covered by the Victims Compensation Program in Vermont and which ones aren't:
Covered
Not Covered

Medical and dental costs

Mental health counseling for victims and all family members that are in the same household as the victim

Lost income

Lost support

Temporary living expenses for dependents

Funeral costs

Travel expenses

Rent or relocation costs

Crime scene cleanup

Child care services 

Treatment for pets injured during the crime

Lost, stolen, or damaged medical items, such as:

Eyeglasses

Dentures

Hearing aids

Prosthetic devices

Pain and suffering

Attorney fees

Property that's lost, stolen, or damaged during the crime (except for medically necessary items)

Expenses already covered by another collateral source
Sexual Assault Program in Vermont
Are you a victim of sexual assault that took place in Vermont, but you don't want to report the crime to the police? You can apply for a separate compensation program.
The Sexual Assault Program covers the expenses of the following procedures:
Collection of evidence

Prophylaxis

HIV and STI screening

Treatment of crime-related injuries

Pregnancy testing

Mental health counseling (up to 20 sessions) 
DoNotPay Can Do Your Paperwork for You! 
Feeling like you're in bureaucratic hell? Our app will draft the paperwork you need and get you out of any hurdle before you know it! 
We can compose most of the documents that you require for any administrative purpose in your jurisdiction, most notably:
More of What We Can Do for You 
Our multifaceted app can call and record the conversation with the customer service of the company that just won't let you go! If you are having trouble canceling an unwanted service via the traditional channels, use DoNotPay to get it over and done with!
We can help you stop the persistent robocalls and robo texts from the nagging company and request a refund for unused services in a matter of minutes.
We'll also lend a helping hand in stopping spam mail—whether it's electronic or paper. Our Spam Collector product unsubscribes you from unwanted emails and cleans up your physical mailbox too!