The Gist of
Vermont Property Transfer Tax Exemptions
Well-informed homeowners know a few ways to lower their property taxes. These options vary among the states. In Vermont, property transfer tax exemptions are one of the best methods to reduce the amount on your tax bill. If you don't want to dig through numerous government websites, fire up DoNotPay and learn how to save some cash on property taxes!
What You Need To Know About Property Transfer Tax in Vermont
A tax on the transfer of title to real property is called property transfer tax in Vermont. This tax applies to:
Property transfers by deed

Acquisitions of a controlling interest in an entity with title to a property
The transferee (the buyer of the property in the transaction) is liable for the transfer tax. This tax needs to be paid to the Vermont Department of Taxes directly at the time of transfer.
Property Transfer Tax Exemptions in Vermont
The buyer can use an exemption for the property transfer tax on the first $110,000 in value of the property transferred when they obtain a mortgage loan. This is possible if:
Mortgages purchased by the Vermont Housing and Finance Agency are exempt for the first $110,000 in value because these are mortgages that VHFA bought from the originating lender. USDA Rural Development Direct Home Loans are exempt for the same amount in value because they are mortgages that USDA Rural Development has made to the borrower.
What Are Other Property Tax Exemptions in Vermont?
If you are a homeowner living in Vermont and having trouble paying property taxes, you should check out other property tax relief options available in this state. To get a better picture, go through the table below:
Property Tax Exemption
Qualifications:

Disabled Veterans Exemption

Veterans who have a:

Disability compensation for 50% or higher disability

Non-Service connected pension

Military retirement pay for a permanent medical military retirement

Property in their ownership

Public, Pious, And Charitable Use Exemption

The property that:

Is dedicated unconditionally to public use

Has use that benefits the society

Is owned and operated on a not-for-profit basis

Property Tax Credit

Homeowners who:

Have a property that qualifies as a homestead

Meet the household income criteria

Are not dependents of another taxpayer

Were domiciled in Vermont for the entire previous calendar year
If you want to understand available property tax exemptions and learn if you qualify the easy way, you should use DoNotPay!
Can You Apply for a Vermont Property Tax Exemption? DoNotPay Will Tell You!
It is difficult to figure out if you meet the requirements for a property tax exemption on your own. The official websites can be a nightmare to navigate. With our simplified guide, you will have the answer you were looking for in a matter of minutes. 
Heed these instructions:
Sign up for DoNotPay

in any web browser

Find and choose the

Property Tax

product

Answer some questions about yourself

Provide some info about the property you own
DoNotPay will present a list of exemptions you're eligible for and be by your side when you go through the application process as well.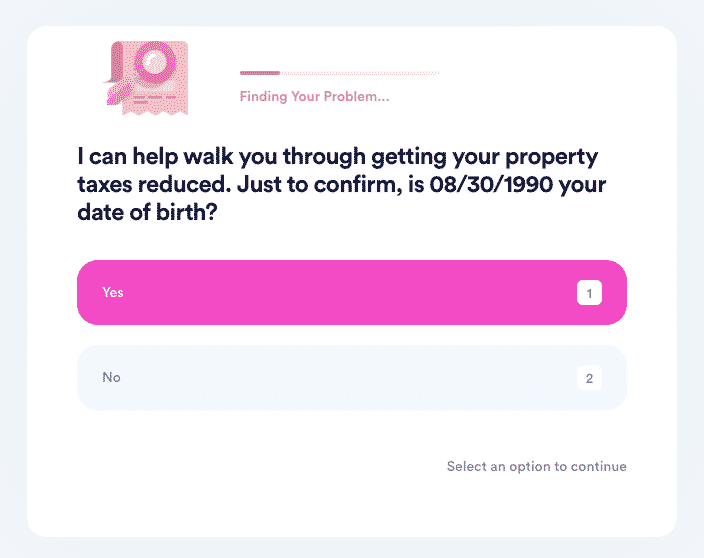 Our app can help you with filing property tax appeals if you want to use this property-tax reduction method.
Use DoNotPay's Help To File a Property Tax Appeal in Vermont
In certain situations, filing a property tax appeal is the only appropriate solution to handle property tax issues. You might notice that the assessed value is much higher than the ones from previous years or that your property was evaluated twice. In these cases, it is smart to file a property tax appeal.
DoNotPay is a great resource for understanding the process of appealing property tax assessments in Vermont. If you sign up for our app, you will get a detailed guide on property tax appeals. You only need to open our Property Tax product and answer a few questions about your property.
You will gain insight into the best approaches to negotiating with the property tax assessor and gathering evidence to win the case. This will ensure you have a property tax appeal hearing with a good ending.
States With Lower Tax Rates Than Vermont
Vermont is a state with an average tax rate of 1.86%, which is considered high. If you wish to move to another part of the country, you should consider a state with low property tax rates. Some of these states are:
In case you'd rather stay put but want to set aside less money for your tax bills, you can try out some other tax-reducing techniques.
Other Ways To Lower Property Taxes
You should bear in mind that only property tax exemptions and appeals bring sure results when it comes to lowering property taxes. This does not mean that you shouldn't try some other methods, such as:
Shadowing the tax assessor around your residence to ensure they are making a fair evaluation

Inspecting your property tax bill for any discrepancies

Waiting for the tax assessment to pass to make any home improvements
Don't Let Companies Take Your Hard-Earned Money!
People love to subscribe to all sorts of services—especially if there are free trials involved. The problem is that most of them forget that they signed up for anything in the first place. Companies are aware of this, which is why they auto-renew memberships as soon as the free trials expire.
Don't let them get away with it—use DoNotPay to sign up for free trials and cancel subscriptions right before they renew. If you want to save even more money, use our platform to learn how to handle high bills, parking tickets, college application fees, canceled or delayed flights, or faulty services you should get refunded for.
Use DoNotPay To Stop Illegal Activities and Earn off Scammers!
Our AI-powered platform can assist you in dealing with all sorts of scammers. If you got any of the following, the world's first robot lawyer will help you seek justice:
Do you want to protect yourself and your loved ones from stalking and harassment as well? Use DoNotPay to learn how! If the situation with a stalker escalates, our app is going to help you take them to small claims court by preparing all the paperwork and your court statement.
Don't stop there—check out how you can bypass phone number verification, claim any type of warranty, or pass any government test with flying colors!