All You Need To Know About Vermont Jury Duty
Serving on a jury is an important civic duty because every person in the U.S. has the right to an unbiased trial. If you are summoned for jury duty, you will need to know how it works, how to prepare for it, and why you need to do it.
This article will tell you all about Vermont jury duty, including whether you can get fired for it, how long it will last, and whether you can expect compensation. If you need to inform your employer of your jury duty, to create a request letter for jury duty leave.
What Should You Do When You Get the Summons?
Once you get the jury duty summons, you will need to report for it. You can see court-specific reporting instructions on the Vermont Judiciary website. Follow the steps below:
Visit the Vermont Judiciary website
Click on Court Specific Reporting Instructions
Select your county
You should also complete a jury service questionnaire online or mail the paper copy within 14 days. To qualify for jury duty, you must be:
A citizen of the U.S. and 18 or older
Mentally and physically capable
Resident of the county where you got the summons
Able to read, write, understand, and speak English
You will not qualify if you have served a term of imprisonment in the state of Vermont after a conviction or felony. The court will not call you to be a juror for two years after you performed this service.
If you qualify for jury duty, you will need to call the number on the front page of your summons. You should call after 5 p.m. the day before your scheduled appearance date, and the recorded message will tell you whether you are needed.
Jury Duty in Vermont—The Important Details
To understand how jury duty works, you should review answers to the following questions:
How long will the jury duty last?
Can you be exempt from jury duty?
The Length of Jury Duty
The number of days you will serve depends on:
The workload of the court
Number of trials
Length of the trials
In most cases, you will be needed at the courthouse for ten days. An average jury duty day starts at 8 a.m. and ends by 4:30 p.m., but there's always a chance that the trial might run later.
Exemptions to Jury Duty
You can request postponement or excusal if you:
Have a mental or physical condition that prevents you from serving as a juror
Have a hardship that makes it difficult to serve
Are caring for another person
Have a conflict with a service date
To be excused from jury duty, you will need to submit a detailed letter that explains your situation. In addition to the letter, you will need to provide other documents, such as a doctor's note, a copy of travel reservations, or a copy of the student's ID and class schedule.
Payment for Jury Duty
According to Vermont law, you cannot get fired for jury duty, but your employer isn't required to compensate you while you serve, and that is why the court provides compensation. You will need to complete forms to request compensation, but you will not receive it if your employer is paying you for the time off.
Check out the table below to see how much you will be paid:
| Amount | Hours |
| --- | --- |
| $15 | Up to four hours |
| $30 | For more than four hours |
If you want to learn more about other state laws regarding pay, you can visit DoNotPay's learning center.
Use DoNotPay To Request Leave
If you keep getting called for jury duty, you shouldn't skip it on account of your work. DoNotPay can help you if you don't know your rights regarding your time off. Your employer must verify your leave, and our app will help you create and send a professional leave request letter.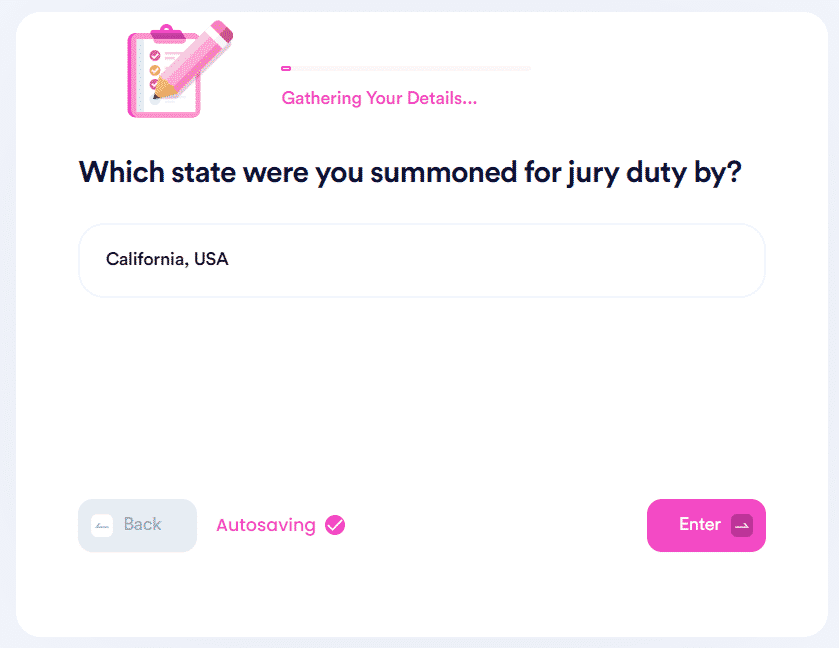 All you need to do is and follow the steps below:
Locate the Request Jury Duty Leave tool
Indicate whether you were summoned to a state or federal court
Provide information about your employer
Enter the number of days you will be absent
Upload a photo of your jury summons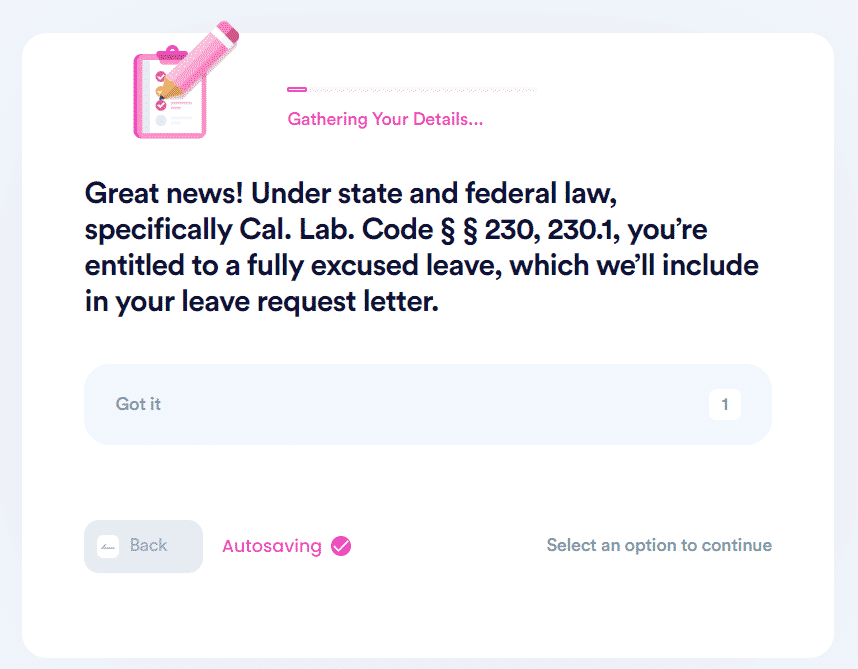 Deal With Administrative Issues With Ease
Drafting contracts and agreements, getting your documents notarized, disputing parking tickets, and creating passport photos will become a breeze once you sign up for DoNotPay.
We can also help you:
DoNotPay Helps You Protect Your Consumer Rights
Don't let companies take advantage of you! With our help, you'll be able to cancel any subscription or membership and request a refund.
As a consumer, you may be overwhelmed with endless steps and piles of paperwork you need to go through to get what you're owed. This is where DoNotPay comes in—let us be your assistant and fast-track the following:
Have you forgotten about a free trial you signed up for? Avoid being charged by using our app! With DoNotPay's virtual credit card, you'll get unsubscribed automatically without the company taking any money from you.
Are you getting spammed via email or text? Get rid of spam for good with our nifty app!