Your
Vermont Homestead Property Tax Exemption
Can Bring Big Savings
Vermont is a property tax anomaly in that it is one of the few states to levy both county and state property taxes.
The state property tax funds education throughout the Green Mountain State, and this is the largest portion of your annual property tax bill.
Property tax is high in Vermont, sitting at an average of 1.86%, which places it far away from the list of states with low property tax.
DoNotPay is your best resource for getting help with your property taxes or securing a property tax reduction in Vermont.
How Does Vermont's Property Tax System Work?
Vermont calculates its property tax slightly differently from most states.
While most states leave the calculation and collection of property tax to their county administrators, the State of Vermont keeps a tight rein on the education-related portion of your property tax, only allowing its counties to levy property taxes for:
County administration

Municipal services

Water services
As a Vermont resident, you effectively pay two types of property tax—county levies and state education property tax.
What Is the Vermont State Education Tax Rate?
On top of your county property taxes, Vermont calculates the amount of money it needs from each property to fund the state's public schooling.
Once schools' budgets have been finalized each year, the state Department of Taxes sets an education tax rate for non-homestead and homestead properties, with a homestead being defined as an owner-occupied primary residence.
The education tax rate for non-homestead properties is considerably higher than for homesteads, so it is worthwhile making sure your property has been categorized correctly.
The basis for the education tax rate is the amount of money spent per pupil in each area in the state. To ensure that the education tax rate remains uniform across the state, the Department of Taxes applies a Common Level of Appraisal to all the counties, which serves a similar function to other states' Boards of Equalization.
What Is the Vermont Homestead Property Tax Exemption?
As a homeowner in Vermont, you want to reduce your property tax liability as much as possible.
The first thing to do is make sure you apply for the Vermont homestead property tax exemption, which can offer a significant reduction in the assessed value of your home and is applicable to the state education tax.
If your property fulfills the criteria to be declared a homestead, you can file a Vermont homestead declaration and property tax adjustment every year. The definition of a homestead is as follows:
You are the owner or co-owner of the property

The property is your primary residence as of April 1 each year

If your home is leased to a tenant, the lease does not extend beyond 182 days in the calendar year
Once you have fulfilled the criteria, you can apply for the exemption, which will ensure that your state education tax rate is classified correctly. This will reduce that portion of your total property tax bill.
The different education tax rates are currently $1.68 per $100 of property value for non-homestead properties and $1 for homesteads.
How Do I Apply for the Vermont Homestead Property Tax Exemption?
DoNotPay is your expert on all property tax matters, and we can help you secure your Vermont homestead exemption.
We can generate a property guide customized to your location and circumstances that can help you with:
Property tax exemptions

—including which exemptions are available, what documents you need, and where you can apply

Property assessments

—dealing with

how to lodge an appeal

, what documents are required, and where your appeal will be heard
Where Can I Get the DoNotPay Property Guide?
Your customized guide is available on our website if you follow these steps:
Find the

Property Tax

feature and fill in some details about yourself

Wait a short while as we generate your guide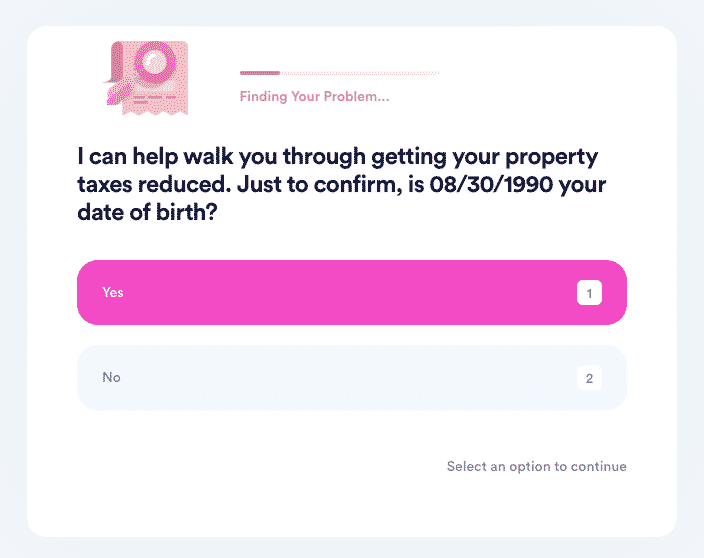 What Other Help Can I Get From DoNotPay?
DoNotPay can help you with other Vermont property tax exemptions, such as:
How Is Vermont's County Property Tax Worked Out? 
The county property tax is calculated by multiplying these two elements together:
Tax rate

Property appraised value
Tax Rate
The county tax rate is calculated by adding all the budgetary requirements for county and municipal services together and setting a mill rate, i.e., a number of dollars per $1,000 of assessed property value.
Residential property is generally taxed at a lower rate than commercial property, and county rates (excluding the state education property tax) are fairly low. Any hope of overall low property tax in Vermont is killed off by the state education tax, though.
Appraised Property Value
County assessors, known as listers, determine the value of your property annually using two approaches for residential property:
| | |
| --- | --- |
| Approach | Explanation |
| Cost approach | This approach calculates the current cost of buying your land and building your home on it |
| Market data approach | The market data approach looks at recent sales of properties similar to yours and calculates your fair market value accordingly |
Properties are only physically inspected if they are sold or if building work has taken place since the last assessment.
Once the tax rate and your property's assessed value have been determined, they are multiplied together to produce your county property tax liability.
How High Are Vermont's Property Taxes?
The result of the state education tax rate being added to county property taxes is that total property tax rates in Vermont are punishingly high. The breakdown by county is as follows:
| | | | |
| --- | --- | --- | --- |
| County | Median Home Value | Median Annual Property Tax | Average Effective Property Tax Rate |
| Addison | $241,900 | $4,624 | 1.91% |
| Bennington | $209,100 | $3,757 | 1.80% |
| Caledonia | $168,200 | $3,304 | 1.96% |
| Chittenden | $288,200 | $5,353 | 1.86% |
| Essex | $131,700 | $2,344 | 1.78% |
| Franklin | $213,400 | $3,637 | 1.70% |
| Grand Isle | $270,800 | $4,506 | 1.66% |
| Lamoille | $228,000 | $4,106 | 1.80% |
| Orange | $191,700 | $3,788 | 1.98% |
| Orleans | $162,200 | $2,854 | 1.76% |
| Rutland | $176,600 | $3,607 | 2.04% |
| Washington | $222,600 | $4,491 | 2.02% |
| Windham | $212,500 | $4,377 | 2.06% |
| Windsor | $216,800 | $4,480 | 2.07% |
DoNotPay Breaks Down Communication Barriers
Communication and new technologies walk hand in hand, and DoNotPay can smooth out any bumps on that road. On our platform, you can find useful tools for avoiding phishing emails and text messages, sending faxes online, stopping annoying robocalls, or signing up for new services without phone verification.
Contacting customer support is no party, but DoNotPay can make the process so much easier, whether you need to request a refund, demand compensation for a canceled flight, or file a warranty claim.
You can even use our platform for locating your loved ones in prison and sending them letters the proper way!
Can Your Virtual Assistant Do This?
Hey, Siri! Make me ready for my upcoming small claims court appearance. No luck? OK, Google! Prepare a DMCA notice for that website that uses my photos without authorization. Still nothing?
DoNotPay is the virtual assistant that won't back away from issues that require legal expertise. Our lawyer bots work around the clock to get you due date extensions for utility bills, reduce your property taxes, or stop stalking and harassment before it gets ugly.
The world's first robot lawyer will provide assistance even with securing compensation for victims of crime!